These are the 5 things professional organizers always use in a bathroom to make use of every inch
These space enhancers for bathrooms will not only clear the clutter, but also make the room feel larger than it is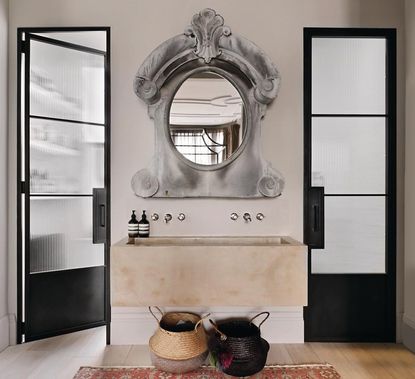 (Image credit: Future)
The Livingetc Newsletter
For style leaders and design lovers.
Thank you for signing up to LivingEtc. You will receive a verification email shortly.
There was a problem. Please refresh the page and try again.
When was the last time you took stock of the clutter in your bathroom? Whether you've been living in your home for 15 years or 15 weeks, the bathroom is a space that quickly show signs of chaos if you haven't got the right storage in place.
Effective storage solutions that curb the knick-knacks and bathroom accessories without taking up too much space are a must; no matter the size of the room. These help keep the room tidy, and by creating a dedicated space for everything, you won't find yourself wasting time hunting for missing items.
However, with all kinds of storage gadgets out there, which are the best to invest in to make a real difference to your home. We asked organizing experts what products truly help keep the clutter at bay. Here's a list of five quick things that will enhance your bathroom storage and make this room a relaxing haven.
5 easy additions to enhance space in your shower
1. Stick-on shower caddies
Shower corner shelves can be the most simple and functional small bathroom storage ideas to store shampoo bottles and other necessities. Installed along the walls, in awkward shower niches, or above the shower head, these can save space on the vanity and other shelves, allowing you to keep the needed products at hand's reach.
If you live in a rental, chances are you cannot drill holes in the walls to install a caddy. Consider the stick-on ones that are just as useful and effective.
'For bathrooms, the simplest way to create space is by installing some shelves up on the walls of the vanity, or by the shower,' says Charlotte Sitton, founder of Organised By Charlotte. 'For me, the most useful items are stick-on shower caddies and toothbrush holders.'
Traditional shower caddies have fallen out of favor recently for more streamlined shower shelves in glass or acrylic.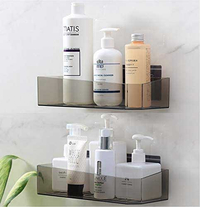 Want an easy-to-reach place for your soaps and shampoos? These acrylic bathroom shelves don't require drilling, and can be stuck wherever is more convenient in your shower.
2. Mirrored medicine cabinets
The area above the bathroom sink is the prime real estate for storage. Add a bathroom mirror that incorporates a medicine cabinet with shelves for the most effective use of this space.
It's the perfect spot for everyday toiletries, but also anything you want to keep out of reach of small hands. Meanwhile, use open shelves for your prettiest containers, plants, and other decoratives.
A mirrored vanity will provide the reflective surface you need in the room, bring in storage, and create the illusion of more space, making it seem larger.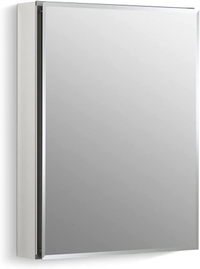 Medicine Cabinet with mirrored door, Amazon
This full-overlay mirrored unit with beveled edges and mirrored interior is the ideal inclusion for your bathroom. Install it above the sink and increase storage and style.
3. Baskets for more storage
'Consider bringing in decorative bins and boxes, or even wicker baskets into your bathroom,' says Laura Cattano, founder of Organizational Design. 'These not only add a decorative touch to the space but also allow you to hide things you don't want to look at every day. Plus it will disallow the room from looking too crowded with things.'
If you have space under the bathroom shelf, consider adding larger baskets here to hold bath towels, gowns, and more, and use the smaller baskets for hand towels, washcloths, or hair-styling tools. Note: Don't place woven or fabric baskets under the sink where water may damage them.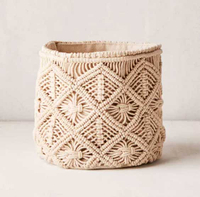 4. Hang a towel rail
Ah, towels! The most used elements, and ones that if not stored properly, can make any bathroom seem instantly cluttered and unorganized. Keeping them folded and in line can be a struggle, but here's where towel rails come into use.
These can be installed on shower walls, by the vanity, in front of it, or next to the WC. When hung on walls, these take up very little space while offering ample storage for your towels.
Hanging towels also helps them dry faster. If you have guests coming in though, we'd suggest you fold and place them, hotel-style. 'Lay down the towel flat, and fold its long edge into the middle, so both long edges meet in the center,' says Joanna Ross, manager of design at Sheridan. 'Then hang the towel over your towel bar if you feel really fancy. You could also order your towels by size starting from the largest at the bottom and working your way to the top with smaller towels.'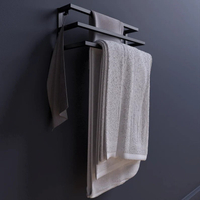 Choose this towel hanger that looks elegant and adds a functional addition to the small bathroom. The triple bars allow several towels and other bathroom accessories to hang from it.
5. Bring in trays
Trays and catch-alls can go a long way in curbing the mess inside a bathroom by collecting stray items on surfaces and presenting them in a more elegant way. These are the perfect addition to a bathroom vanity countertop to group accessories like soap dispensers and toothbrush holders.
If you have a side table to a bath, a tray can also be the place to keep shampoos and conditioners, especially if you like high-end products and want to show them off.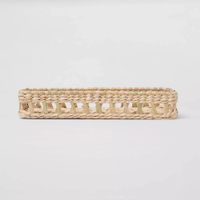 Add a boho touch to the bathroom vanity with this natural tray that offers space for your watch, earrings and other accessories to help you maintain a neat and organized space.
For style leaders and design lovers.
Aditi Sharma Maheshwari is an architecture and design journalist with over 10 years of experience. She's worked at some of the leading media houses in India such as Elle Decor, Houzz and Architectural Digest (Condé Nast). Till recently, she was a freelance writer for publications such as Architectural Digest US, House Beautiful, Stir World, Beautiful Homes India among others. In her spare time, she volunteers at animal shelters and other rescue organizations.