IKEA and Sonos tease a new collaboration – Including speakers disguised as wall art
Art, music, and interior lovers rejoice. This collaboration is especially for you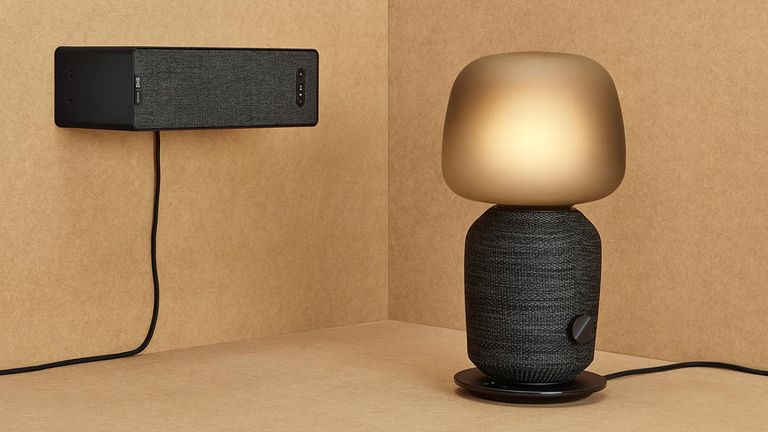 (Image credit: SYMFONISK IKEA X Sonos Collection)
By Megan Slack
Swedish home decor powerhouse IKEA and American music manufacturer Sonos are set to announce an arty collaboration that will be the talking point of every future house party. 
Following the success of SYMFONISK – their recent collaboration – the pair indicated a further partnership on Instagram, which hinted at a speaker that is camouflaged as a piece of art. 
While many details remain unknown, some rumors suggest the collection may include a painting or print with a concealed speaker, or a separate speaker that can be added to a frame that already includes an existing piece of art. If the collection follows the same style as SYMFONISK, we can expect to see an exquisitely designed piece that will slot into our modern homes whilst offering Sonos' signature sound quality. This is multifunctionality at its most stylish. 
In addition to the artwork, the pair are reportedly redesigning their Symfonisk table lamp, which doubles as a chic light and high-quality speaker. It is expected to sell for approximately $179. Meanwhile, other products in their first series include a wifi bookshelf speaker, which discreetly sits alongside your BILLY bookcase, naturally. 
In the discussion of their first partnership, IKEA designer Iina Vuorivirta highlighted how the collaboration 'challenged' the conventional look of high-tech appliances. She adds how the light stemmed from a 'fireplace' concept, which makes a sound while spreading a comforting glow. 
See: Revealed: Interior designers share their all-time favorite IKEA products
It is expected that the anticipated collection will similarly reflect both companies' expertise – creating aesthetic home decor pieces with a sound quality you would expect from a high-quality sound system. In a similar way to the SYMFONISK collection, they will also act as ingenious space-saving solutions – so you can spend partying and less time worrying about the size of the dance floor. 
See: Take a peek at IKEA's latest collection for the summer – including our Editor's best picks
Despite neither IKEA nor Sonos explicitly confirming when the new light or statement artwork will be available in-store, a spokesperson revealed in an interview with Pocket-lint that they 'look forward to sharing more when the time is right.' 
We'll be keeping a very close eye on IKEA and Sonos over the next few months, but in the meantime, it's never too early to get our playlists ready.