Matt Damon's mansion in Los Angeles is for sale - explore the tropical property
California dreaming: The actor's home has an impressive wine cellar and a cascading waterfall in the garden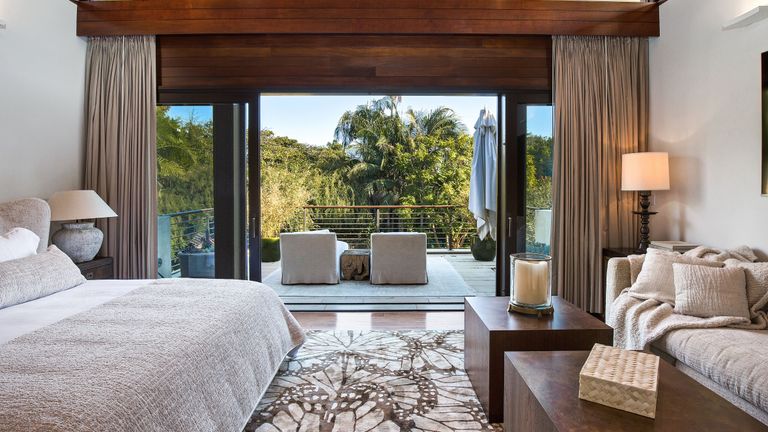 (Image credit: Alexis Adams)
By Megan Slack
One must question why Matt Damon would ever want to leave his sun-kissed mansion in the Upper Riviera district in the City of Angels. The 13,500sq ft property is complete with a private cinema, swimming pool, gym, and magnificent wine cellar- that must be stocked with a Californian Chardonnay, surely.
Mr. Damon, and his wife Luciana, bought the mansion for $15 million, but are selling the property through Eric Haskell of The Agency for $21 million.
The house, which is surrounded by a 68-acre estate on one of Pacific Palisade's most exclusive streets, is a 'Zen-inspired, architectural masterpiece,' in the words of the real estate agent. It is the product of local designer, Grant Kirkpatrick, from the chic KAA Design Group, which gives the property an unmistakable Californian identity.
1401 San Remo Drive has seven bedrooms, ten bathrooms, and an open-plan living and dining area which is drenched with natural light from the clerestory windows and Asahi glass walls. Further to this, the mansion has an array of star-studded interior amenities, including a massage room, wine tasting room, plush media room, and home theater, but the latter is somewhat unsurprising, if we're a little honest.
Beyond the natural softwood and natural stone walls of the home, the garden is a rainbow-kissed paradise - with an Expansi pool, koi pond, waterfall, and a Lanai with an al-fresco terrace that pays tribute to the natural splendor of Hawaii.
The fun also continues beyond the gates of this outstanding property, which is only a short hop to the neon jungle of Palisades Village and Santa Monica, where there is no shortage of culinary masterpieces, cocktails, and boutiques, which will easily allow you to fill your dual dressing room.
Where does Matt Damon live now?
Reports suggest the actor is switching from the west to east coast and will permanently reside in his penthouse in Brooklyn Heights in New York City.
Want to look around another Los Angeles haven? Explore this modern ranch in California's Wine Country.
Photo credit: TopTenRealEstateDeals.com and Alexis Adams.