This cool log cabin could be yours to beat a retreat in
If you've ever dreamt of living in your own log cabin your dreams could be about to come true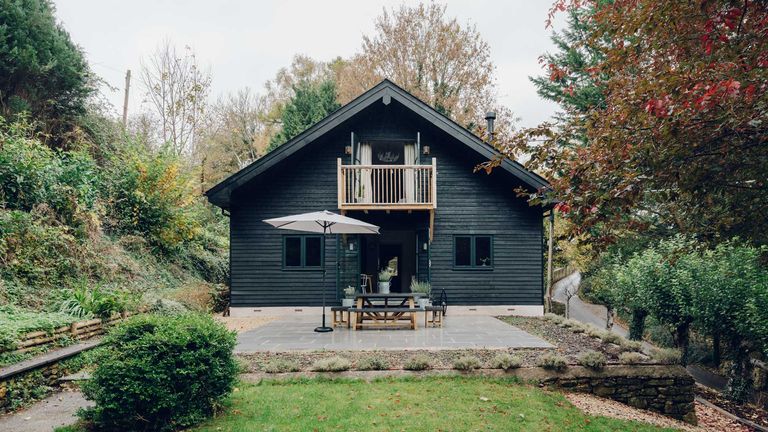 (Image credit: The Modern House)
Fancy a log cabin to log off in? With or without lockdown it's tempting. Maybe it's due to too much Grizzly Adams in our childhoods, or an urban overload thing, but if you live in a speedy city, who wouldn't hanker after a woodland retreat to escape to now and then?
This one, conveniently named The Log house was built earlier this year in May 2020 and has popped up for sale on The Modern House. 
The Log House lies less than six miles south of Bath, positioned between the town of Bradford-on-Avon and the charming hamlet of Turleigh.
Situated in a beautiful woodland setting in the Wiltshire hillside, this charming three-bedroom, timber-framed house combines a stylish rustic exterior finish with a warm, modern interior. 
Newly built in May 2020, the house has a ten-year structural warranty and eco-credentials, with solar panelling subtly built into the roof.
The main entrance is positioned at the front of the house along a gated front garden and shingle pathway, with a traditional dry-stone wall marking the perimeter.
The kitchen has been beautifully designed with the practicalities of daily life and entertaining in mind. 
Long, oiled-oak worktops offer a ample cooking and preparation space and hand-crafted cabinetry house generous pantry storage.
A solid-oak porch leads through to a bright entrance hall, with underfloor heating and herringbone timber running throughout. 
The living space is mostly open-plan and the modern interior follows a distinctly Scandinavian design aesthetic, with clean lines and light, calm colouring. 
The living space is warm and welcoming, with a modern log-burner complementing the rustic setting. A pair of glazed doors frame views to the garden, opening the entire space onto the terrace in warmer months.
One of the three bedrooms is positioned at ground level, with an adjacent bathroom, and a utility / laundry room opposite.
There are two home working areas – a generously-proportioned office decorated in light colours with dark painted-wood panelling and an additional desk space cleverly tucked under the staircase.
The upper floor is light with pitched ceilings. Glass doors in the master bedroom open onto a large balcony, overlooking the garden and surrounding wooded glen.
The family bathroom has been finished with modern sanitaryware and Scandi-style fixtures and fittings.
Velux windows in the roof make the bedrooms feel open and spacious. 
Beautiful landscaped gardens stretch out at both the front and back of the house, while the immediate surrounding landscape is densely planted with native firs, spruce and pine trees, having been previously developed as a Christmas tree nursery. 
See more modern homes