Inside a one-of-a-kind Aspen chalet with smart, high-tech design James Bond would love
This glamorous Aspen chalet is just a stone's throw from a large ski gondola and ski resort. It's on the market for £55 million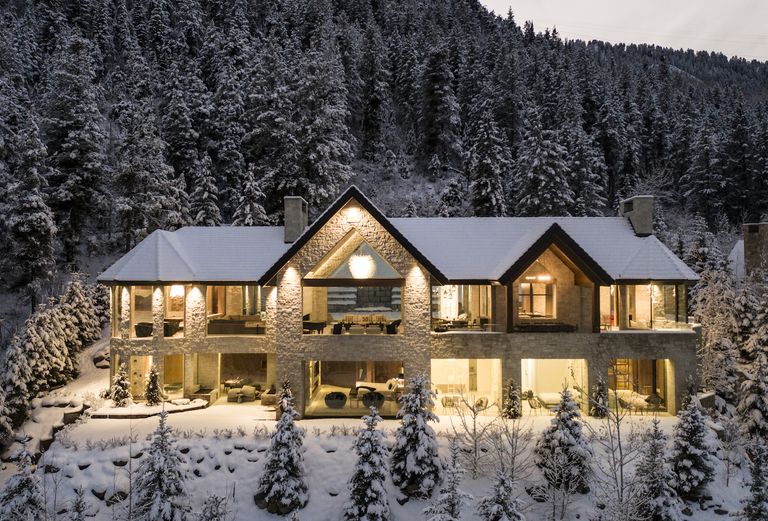 (Image credit: Christie's International Real Estate)
With its dramatic mountain location, it's no wonder that Aspen is one of the world's most desirable skiing destinations.
Aspen is both a very private and very luxurious place – a combination epitomised by this stunning modern home in Aspen's Ute Mesa area, just a short walk from downtown Aspen and the Ajax gondola.
The Aspen mansion, listed by Christie's for $75 million (£55 million), is owned by Leathem Stearn, who is also the designer behind the property. With a background as a naval architect, Stearn applied the meticulous attention required for ships and sailboats to design his own mansion home.
He tells us: 'I optimised the design of this downtown core property to complement Aspen with a lifestyle home incorporating signature amenities and activities. The result is 30,000 square feet of functionality in the comfort of a 20,000 square foot home'.
Stearn searched high and low for the perfect pieces and materials to complement his home – though of course he had a pretty good starting point with his little black book of contacts.
Walnut panels were brought over from Poland, fireplace stone was sourced from the Ukraine, custom windows were manufactured in Europe, while the bathrooms feature Italian porcelain tile and illuminated onyx marble.
On top of his experience in naval architecture, Stearn also has a background in aerospace engineering, which inspired his home's super high-tech, smart home set-up.
The 30-foot tall planes of glass in the main living area retract in the summer to allow fresh air in. Discreetly integrated remote controls can be used to operate the home's media projectors, fireplaces, blinds, and lighting.
In case the surrounding ski slopes and nearby town in't enough to satisfy guests, the house also features a games room, home cinema and a heated indoor swimming pool.
The heart of this home is the large, broken plan living room which is divided into two section by a central fireplace.
Jennifer Banner of Christie's International Real Estate Aspen, comments: '1001 Ute Mesa is the perfect blend of art and beauty. This new home is exactly what Aspen clients are seeking in a legacy property. We're thrilled to bring it to the market during a remarkable time when your home is so important.'