11 incredible kitchens without backsplashes – the modern, fresh and freeing way to design
Taking a less traditional approach to kitchen design? Let these backsplashless spaces inspire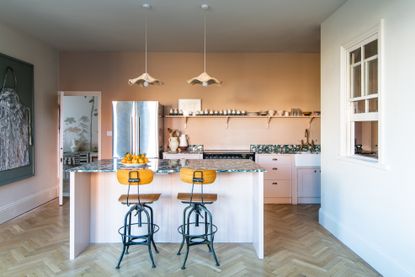 (Image credit: British Standard by Plain English)
Trends are something we are conscious of all year round, but there's something about a new year that really makes us far more trend-focused. It's the interior design equivalent of having a declutter – reflecting on trends we are leaving behind and discovering new trends to bring into our homes for 2023.
And an emerging trend we are keen to jump on this year is the shift towards making our kitchens look, well less like kitchens. Taking a more laid-back, informal approach to kitchen design – breaking traditional rules in order for kitchens to become (and appear) more like the more lived-in rooms of our homes. Hence why we are making a case for kitchens without backsplashes. Or more specifically kitchens without the obvious, tile backsplash we have become so accustomed to.
Tile is a super practical addition to a kitchen. We still love tiles. However, there's no denying that they are synonymous with modern kitchens. You wouldn't often find them in softer spaces like a living room – and it's this softness we are so keen to recreate in the kitchen. So what are the other options? How can you still have a functional kitchen that can deal with everyday wear and tear but forgo a backsplash? We've asked the experts for their advice...
Do you always need a kitchen backsplash?
Before we jump into showing you plenty of chic backsplashless kitchens, let's assess whether a hardworking kitchen can function without one. As with all design decisions it really comes down to how you use your space.
'I think whether or not you need a backsplash depends on the space and the level of use,' explains designer Marie Flanigan. 'Backsplashes are great for containing the mess and allowing for easy clean up. Further, backsplash materials can add a certain level of interest and drama looks beautiful in a kitchen. I do love how backsplashes have been turned into thoughtful shelving to place artwork and other small styling details.'
Adrian Bergman, design manager at British Standard by Plain English agrees that 'Yes, in most cases a kitchen does need a backsplash. But there are many ways to achieve this, stone, tiles, paint, it's often an opportunity to add a level of detail and possible drama to a kitchen. And there are some exceptions where you can forgo a backsplash, for example, if the cooker is located on a kitchen island.'
Reuben Ward, Lead Designer at Blakes London, adds that 'In a kitchen that is infrequently used, where perhaps the homeowner is more of a tea/coffee, microwave meal style user can afford to be less concerned with installing a backsplash. We tend to see kitchens with no backsplash in studio flats and inner city studio apartments that have small peninsular style kitchens or flats that are used as pied-à-terres.'
'However, if you are keen to avoid a backsplash altogether but still need a practical surface, an interesting alternative is the use of a polished plaster such as kourasanit which is made of volcanic lava and has a finishing layer that allows you to wipe it clean almost as if it were a stone. We used this successfully at our Livingetc award-winning Bonham project to great effect.'
1. Embrace the trend for monochrome
This gorgeous pink kitchen is the perfect example of that less kitcheny kitchen we talked of earlier. Okay, the fridge and the oven are a bit of a giveaway but the lack of wall cabinets and backsplash make this a far softer space than a traditional kitchen.
Freeing up all that wall space, and not just covering it in tile, gives you the chance to play a bit more with kitchen colors too. Striping a kitchen back to just the essentials means there's not too much going on visually so you can be bolder with your paint choices. Be inspired by this space and embrace the color-drenching trend – something we have seen a lot recently in hallways, bedrooms, and living rooms but not so much in kitchens.
'Having Farrow & Ball's Setting Plaster Modern Eggshell for the color of cupboards – the soft, muted pinky hue adds warmth to the kitchen,' explains Adrian Bergman. 'The lack of backsplash meant that Charlotte had greater space to complement the color of the cupboards with a new color from Farrow & Ball's collection on the walls: Templeton Pink Modern Emulsion. The result is an inviting and welcoming space.'
2. Use a water-resistant paint
While we love the simplicity of forgoing a backsplash there is the argument that it's a pretty high-maintenance approach. If a wall of tiles gets wet or splattered you simply wipe it down – not so easily done with a painted wall.
However, there are precautions you can take to make paint a slightly more practical choice for a backsplash. Always choose a kitchen-specific paint – look out for a formula that's greaseproof and washable and water resistant. Paint is never going to be as hardy as kitchen tiles, but if you are quick with the clean-up, you can avoid water damage and stains.
'This kitchen is intended for occasional cooking, so we could afford not to make the backsplash. We wanted the space to be light and bright and the stone or tiles would weigh it down too much,' explains Marta Chrapka founder of Colombe.
'To ensure not including a backsplash is still practical, we usually use glass to protect wallpaper or if using paint, as in this kitchen, choose a water-resistant pool paint. Mineral plaster is also a good solution but only in kitchens that aren't too heavily used.'
3. Create interest with wooden paneling
Wall paneling seems like that sweet spot between being more practical than just paint, but less hard and glossy than tiles. You still get the softness but paneling is going to cope better with the everyday wear and tear a kitchen faces. Plus, it adds a lovely texture and rustic feel.
'In this space, we decided against backsplash tiles as we were making such a statement with the tiles on the floor and the zig-zag pattern where they meet the herringbone wood floor,' explains Anna Burles founder of Run for the Hills who designed this wonderful yellow kitchen. 'So we chose a really lovely waterproof paneling by the English Panelling Company. It has lovely wide slats with a double bead, much softer than the usual thin matchboard paneling. We love it and it stretched from the countertop to the underside of the cabinets. Installed and then painted at the same time as the kitchen cabinets and shelves.'
The key there was waterproof – if switching a tile backsplash for paneling ensure to go for something waterproof so it won't warp and you can wipe away any splashes from the sink or hob.
4. Add texture with plaster walls
'Think outside the traditional stone or tile backsplash box,' suggests designer Lisa Sherry. 'I often like to cover the backsplash – or sometimes the entire wall – in plaster. It's functional, tactile and modern.'
Plaster walls are a huge trend right now, and while they look gorgeous, pick the right approach and it can be a really practical choice for your kitchen walls. Tadelakt - unlike clay - is a waterproof and mold-resistant lime-based plaster that's often used in wet rooms so would work perfectly as a backsplash. Just consider that is it prone to staining, so perfectly fine above a sink but wouldn't recommend using above a hob.
5. Protect your walls with an upstand
Not quite a backsplash, an upstand is a more subtle way to protect the parts of your walls that need it most, without having to take it more than a couple of inches up the wall. This approach is ideal if you want that no-backsplash look but need that little bit of something – say if you designing a family kitchen in which the sink is going to see a lot of action and splashes are a definite. Or if you are set on wallpaper, an upstand will ensure it last longer as is more water resistant, or if like in this green kitchen, you want to protect original features like beams or brick.
'In this specific kitchen, our clients opt for an upstand rather than a backsplash mostly for aesthetic purposes to blend the countertop in with the adjacent wall. As this was a former Sussex barn the clients wanted to keep some of the elements such as the restored beams,' explains Rhiannon Phenis, Head of Design at Sola Kitchens.
6. Bring in color and pattern with wallpaper
In our opinion, wallpaper doesn't get used enough in kitchens. It's such an easy way to bring in some pattern, color, and depth to a space that's so often in need of it. And if you are going to bring in a kitchen wallpaper, really commit and take it right from the countertop to the ceilings. This look works best if you keep visual clutter to a minimum – so ditch the backsplash and even the wall cabinetry if you can afford to and just let the wallpaper be the focus.
They are some practicalities to consider. Kitchens are often steamy places, which doesn't pair well with wallpaper. So prevent the effects of condensation and protect your paper with a matte varnish and do avoid the area directly above the sink– or be sure to add upstand.
7. Make a statement with a single slab
'We would always recommend a backsplash from a practical level,' says Tom Rutt founder of TR Studio. 'Without one, walls behind sinks and cookers would become quite grimy and show water marks – even with a good high-quality kitchen paint.'
'However, I think a lot of people think backsplash and think tiles, which feels a little dated. We would recommend one large format slab of marble which is used as a feature, not just as a backsplash. A stunning stone like Calcutta Violla or Carrara marble used as a work surface and backsplash and taken most of the way up the wall or even to the ceiling looks contemporary and stylish.'
8. Choose a subtle sheet of quartz
Want the practicalities of a backsplash but zero of the visual clutter? Take note of this blue kitchen designed by A New Day. 'There is generally a practical need for an easy-to-clean and hardwearing surface behind a hob and near the sink, but this doesn't have to be a traditional backsplash,' says designer Andrew Griffith.
'This kitchen has a very subtle backsplash – a sheet of quartz which matches the worktop. It's a seamless and clean look, designed to provide a practical wipe-clean surface behind the hob without detracting from the beautiful reeded oak finish of the upper cabinets.'
9. Blend in a backsplash
This black kitchen designed by Raili Ca is all about soft a subtle textures, a tile backsplash would look far too glossy and polished amongst all the soft matte black and the warm wood. While the backsplash might blend perfectly in the with cabinets and the paneling, and look like it's painted in that same matte black, it's actually a beautifully textured leather granite – a practical choice that creates the same effect as there being no backsplash at all.
'We used a leather granite rather than a tiled backsplash in this kitchen. The oversized concrete pendants are the star of the show so we wanted to keep the rest of the design minimal to not distract from the lighting installation,' explains Raili Clasen.
10. Make use of a window for a backsplash free kitchen
The main areas that usually need a backsplash are above the sink, however an easy way to get around that is by placing your sink underneath the window – the window almost becomes the backsplash, perfectly demonstrated in this space designed by Lisa Staton.
'In this design, a generous window comes down tight to the countertop, allowing for a backsplash-free sink area that is easy to maintain when splashes hit.' explains Lisa. Plus, the best place for a kitchen sink is under a window – a nice view and plenty of natural light.
11. Add a rustic feel with exposed brick
Ideal if you are designing a rustic or industrial kitchen, exposed brick adds instant texture and warmth. It also makes for a great backsplash material. Durable, splashproof, and heat and stain resistant, it's a strong rival to tile. And it can be painted any shade to fit your space. And if you haven't been blessed with original exposed brick in your kitchen, there are plenty of brick slip options and then you have the freedom to play around with layout too.
In this kitchen designed by Kingston Lafferty Design, 'the brick was original existing brick so we wanted to focus on retaining and making a feature of it as it had beautiful color tones,' explains CEO Becky Russel. 'We always think when a building presents you with lovely original details like that you should retain and expose them so they can be seen as these are unusual and really bring out the character of older buildings and is a detail that is unique to them.'
How can you protect kitchen walls without a backsplash?
'We have seen lots of changes in backsplash trends over the past few years. A common choice amongst our clients is to opt for a small upstand where the majority of their worktops meet with the walls, reserving a taller backsplash for particularly messy zones like behind the hob or the sink - a good option if you prefer a 'no frills' approach,' suggests Elizabeth Sherwin, Creative Director of Naked Kitchens.
'An upstand provides a water-resistant vertical surface to protect the section of wall that most frequently comes into contact with a cloth when wiping down surfaces. There are also lots of paints available specifically developed for use in bathrooms, kitchens, and high traffic areas – using one of these will make life a little easier if choosing not to install a backsplash.'
What is a good alternative to a backsplash?
'When designing your kitchen, a backsplash can be a small but monumental part of the design. For some, it's used as a way to add a pop of color or feature, and for others looking for a different style, it can be used to tie the room design together. However, for many, tiles or glass backsplash are not what they're looking for so there are a few alternatives,' says Rhiannon Phenis.
'Cork – for a more natural kitchen and sustainable approach, and naturally fire resistant. Mirrors such as antique panels it will make a kitchen feel lighter especially if you have windows in the kitchen it will reflect the light around the room. Copper has long been a popular material especially hammered copper. Marble is one of the most popular design choices and the natural patterns in the stone make for a statement backsplash.'
The Livingetc newsletter is your shortcut to the now and the next in home design. Subscribe today to receive a stunning free 200-page book of the best homes from around the world.
Hebe is the Digital Editor of Livingetc; she has a background in lifestyle and interior journalism and a passion for renovating small spaces. You'll usually find her attempting DIY, whether it's spray painting her whole kitchen, don't try that at home, or ever changing the wallpaper in her hallway. Livingetc has been such a huge inspiration and has influenced Hebe's style since she moved into her first rental and finally had a small amount of control over the decor and now loves being able to help others make decisions when decorating their own homes. Last year she moved from renting to owning her first teeny tiny Edwardian flat in London with her whippet Willow (who yes she chose to match her interiors...) and is already on the lookout for her next project.