How to design a small garden – an expert guide to making the most of a tiny outdoor space
Make the most of even the tiniest of spaces with our expert guide to how to design a small garden – design tips, decor advice, planting ideas, and furniture choices we cover it all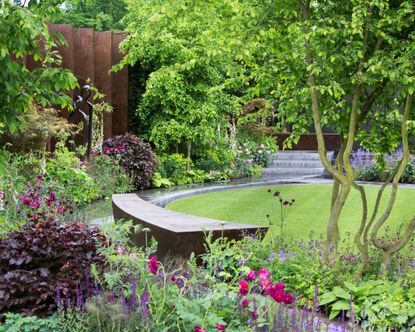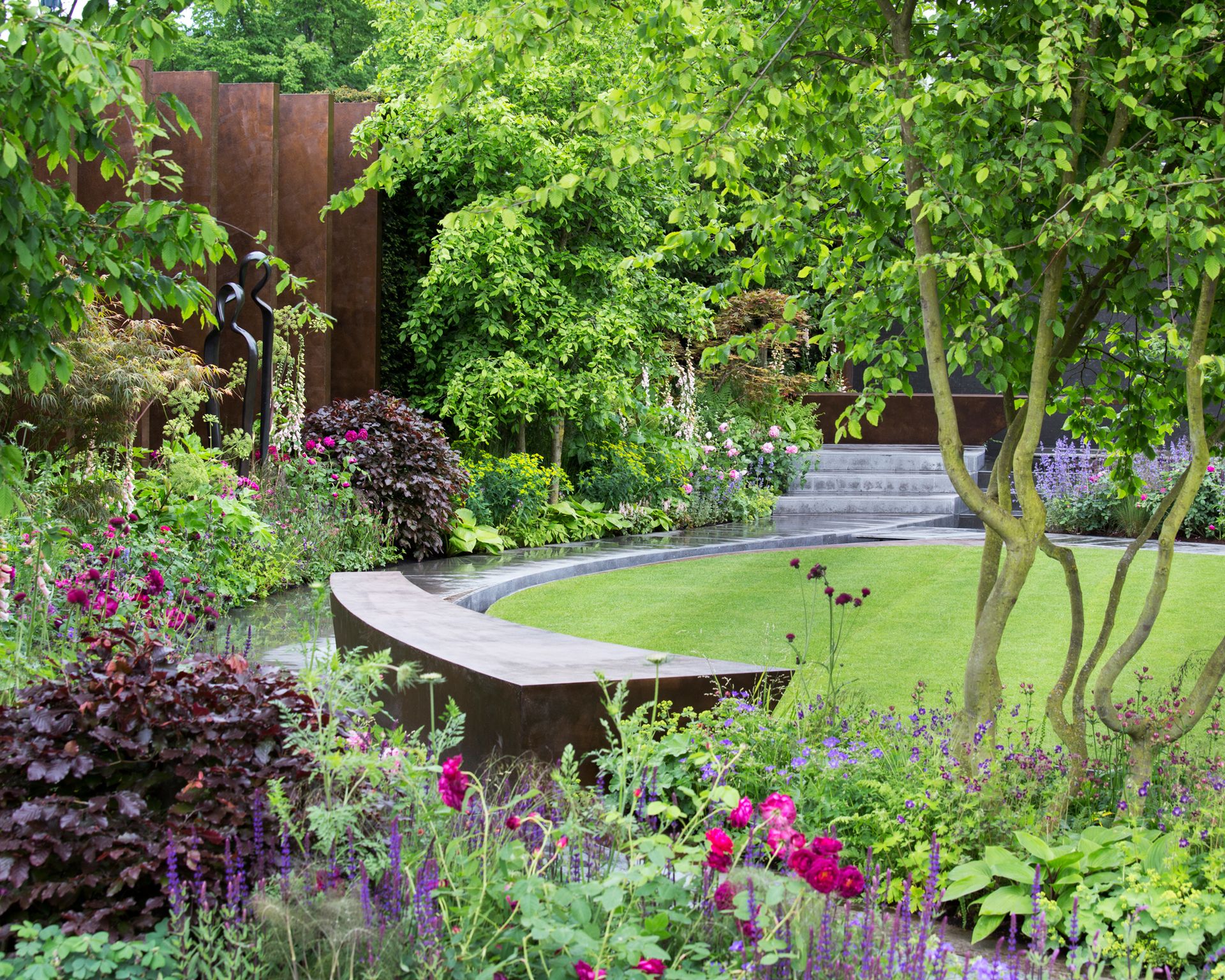 (Image credit: Garden by Jo Thompson MSGD)
So you've been blessed with the task of planning and designing a small garden? Of course you are thankful for that tiny piece of outdoor space to call you own, but deciding on how to make the most of it when square footage is limited can be a bit of a daunting task. However, there are so many ideas, layouts, and clever solutions when it comes to small garden design that can help you maximize your space, creating a garden that reflects your style and needs.
Whether you have a small courtyard garden you want to transform into a space ideal for relaxing on a Sunday morning, or a postage stamp of paving that you have visions of becoming a landscaped garden of dreams, we have plenty of advice and small garden ideas to get you started.
1. Decide on a style for your small garden
Before getting into the practicalities of designing a small garden, first get an idea of the style and feel you want your space to have. Do you want to keep things uber-modern and architectural with lots of sculptural shapes, a mix of materials and quote minimal planting? Or do you feel like a more English, country cottage style would suit your space better? Not sure which style you prefer? Go old school and pull together a mood board of garden ideas and you'll probably see some themes and trends emerging that will give a clearer idea of what you like
As well as your own personal tastes, think about what styles would work best in your garden too. For example, if you have a small urban garden that doesn't get much sunlight, maybe a design that uses a lot of hardscaping with some shade loving plants would be the best option. Or if you have a small garden that benefits from plenty of sun, creating an 'outdoor room' with plenty of seating and some Meditterean plants could be the route to take.
2. Make a plan for what you want to include
Once you've got an idea of the overall style you want in your small garden, you want to have a clear plan of what you want and need in the space. Think about what the garden will be mostly used for and consider what elements are vital.
'Whatever the garden size you are planning for, make sure you write a list of what you want from your outdoor space. It's important to really think about what you'd like to do in your new garden and how you wish to use the space, especially a small plot, as every bit counts.' explains Raine Clarke-Wills of Raine Garden Design.
Maybe you want to use your garden for outdoor entertaining so looking into patio ideas or decking ideas would be an essential. Or if you are a keen gardener and want loads of space for plants, ditch the patio and opt for plenty of lovely border ideas or raised beds.
When planning your small garden, you might find you have to compromise slightly, but don't fall into the trap of trying to create a large garden just in miniature, filling it with scaled-down versions of every garden design element available. This will only make it feel smaller and more cramped, in the long run picking out just elements you really want will create a garden that suits your lifestyle and will feel more spacious.
3. Assess your current space
So now you've got a clear idea of how you want your garden to look, you need to think about how you will make that vision happen in your space. If you intend to design your small garden yourself, rather than hiring a landscaper, start by measuring up your space. Take a measuring tape, pen, and paper and note down all the dimensions of your garden so you can start planning exactly what can fit where.
Then assess the space in its current state. What hurdles do you need to overcome before you can start putting your ideas into action? Is there zero privacy in your current garden? Potential drainage issues? Is it sloping or awkwardly shaped? Are the inherited plants going to cause an issue or can you use them in your design?
You'll also want to look at your garden's aspect as this could impact your layout and what you put where. Work out what way your garden faces and when it gets sun throughout the day, make a note of any spots that get zero sun as you might want to avoid using that as a seating area and you'll have to think carefully about what to plant there too.
4. Check if your small garden design needs planning permission
Chances are it won't but in small, urban gardens there can be cases where you would need permission to change the height of a boundary wall, if you are doing any substantial landscaping works or adding a decked area that's elevated more than 30cm. Plus, if you live in a conservation area there will be more rules you will have to comply with. If in doubt, always check with your local authority.
5. Set a clear budget
And once you have established what you want to end result to look like and have some idea of how much work it's going to take to get there, set the budget for the project. Work out how much you want to spend and where you want to splurge and where you want to save.
On average, a stylish, well-kept garden could add between 5 -15 percent to the value of your property, so if you are looking for a place to start with budgeting a garden redesign between 5 -15 percent of the value of your home would be a good jumping-off point.
Your garden may be small but completely redesigning the space can be expensive, and the costs will depend on so many factors – the amount of landscaping, the materials used, the choice and size of plants, and whether you are DIYing the job or hiring a garden designer or landscaper for the project.
A small garden with a simple design and no drainage issues or excessive hard landscaping could cost anywhere between £7,000 - £10,000. If your design is more complex or there is more groundwork to do to the initial plot, expect to pay double or even triple that.
6. Pick the perfect boundaries for privacy
Now with all the really practical plans out of the way, you can move on to the more creative aspect of designing a small garden. Something to think about early on in the process is the boundary walls, as in small gardens they tend to be an important feature if you want to create privacy. If your garden is enclosed by walls, planting is what will help soften the boundaries and make them less of a feature of the space – remember you can always add some extra height to them too using a trellis.
If fences surround your garden, picking a design that almost blends into the background will mean they won't appear so towering and stark. Choose a style that's going to suit the look of the garden. Slated fences have a more contemporary look for example and do let more light through too, creating less of a solid wall of wood. For extra privacy, you can always plant something fast-growing like laurels or bamboo in front or behind the fence. You could also paint fencing too to either help it blend in with the rest of the garden or to bring out the colors of the garden.
If you need any more advice on choosing the best fencing, we have a whole gallery of fence privacy ideas.
7. Choose a planting scheme
Look back at your mood board and the original ideas you had for the style of small garden you wanted to create and pick your planting based on this.
If you have gone down a more contemporary route with lots of hardscaping when choosing plants for a modern garden, pick ones that are going to compliment that architectural vibe. Plants with lovely sculptural qualities like yucca plants, hostas, grasses, tree ferns, and bamboo will soften the space but still have a striking form.
For a more Mediterranean look, potted olive trees, cypress trees and citrus trees will give that warm feel. As will small plants like lavender, rosemary, and geraniums. And of course, bougainvillea adds a classic Med feel to any garden of any size.
And when it comes to planting in a small garden, don't always think small.
'Think big.' says Raine Clarke-Wills of Raine Garden Design. 'Small borders in a small garden create the feeling of a small space, whereas being bold and thinking big, has the opposite effect.'
So try and opt for larger plants that are going to fill up containers and borders rather than float in a sea of soil. Planting fewer larger plants will feel less cluttered too and having all that lush greenery in a smaller space can trick the eye, blurring the boundaries and actually make a small garden feel bigger.
8. Pick out garden furniture that is to scale
In a larger garden, you might not need to plan on what garden furniture you are going to choose so early on, but in a small garden, it's worth having an idea of what style you want to go for and where it will be placed. You might even want to decide what furniture you plan on having while you plan your layout and the size of your patio or decking area. Remember you want to be able to comfortably move around the furniture so don't cram it into the area, allow for some breathing space.
If creating plenty of seating is top of your wishlist in your small garden design, why not build it into the landscape by adding a sunken seating area or a banquette so you don't need to take up room with extra free standing furniture.
How do you make a small garden look nice?
Making a small garden look nice is exactly the same as making a large garden look nice – fill it with texture and interest and decor that all come together to create a stylish, spacious feeling space.
Use mirrors to bounce light around and allude to more space, when planning your planting think about adding plenty of layers and depth so the garden looks more densely planted. Think about simple additions you can make too like using garden lighting ideas to create ambience. Hang fairy lights, add spotlights in the ground, and dot candles around too for a magical effect.
What plants are best for a small garden design?
The best plants for small gardens will depend on the style of garden you are after, the soil quality in your garden, and the aspect of your garden. But as a general rule, in smaller gardens, you want hardy plants and a scheme that looks good throughout all the seasons. You want to pick plants that add shape, texture, and color – try lavender, hydrangeas, salvia, ferns, and herbs. And don't crowd the garden with lots of small plants either, something a few select larger plants can have more of an impact than a busy border.
'Choose long flowering plants such as Nepeta 'Walker's low' that will take you right the way through from May to November with their pretty, purple, scented flowers, loved by bees and butterflies too.' explains Raine.
'Include other long flowering plants such as repeat-flowering roses, also with scent and color. Height is another important aspect to think about where plants are concerned in a small garden, so choose a few taller species such as digitalis, or Verbena bonariensis, plus climbers for limited space. Finally, ensure you have one or two feature plants, such as a small multi-stemmed tree if space allows, or a structural plant such as Fatsia japonica as a focal point.'
'Stay away from too many choices of plants, as too many species of plants will create a fussy effect in a small space….. Less is more. Also, remember that small borders create a feeling of a small space, so try and think big.'
Hebe is the Digital Editor of Livingetc; she has a background in lifestyle and interior journalism and a passion for renovating small spaces. You'll usually find her attempting DIY, whether it's spray painting her whole kitchen, don't try that at home, or ever changing the wallpaper in her hallway. Livingetc has been such a huge inspiration and has influenced Hebe's style since she moved into her first rental and finally had a small amount of control over the decor and now loves being able to help others make decisions when decorating their own homes. Last year she moved from renting to owning her first teeny tiny Edwardian flat in London with her whippet Willow (who yes she chose to match her interiors...) and is already on the lookout for her next project.