Yes, carpet trends are big for 2023 as cozy glamour is back in style. Here are the 19 best taking over from wall-to-wall
Experts explain the latest carpet trends, from colors to textures to size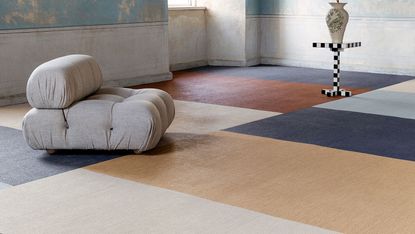 (Image credit: Bolon)
Not so long ago, the only carpet trends we could think of is rip them up or cover them with a rug. It's true, carpets have got a bit of a bad rep in the world of interiors, but we are feeling a comeback and 2023 looks like the year.
With the mood of decor firmly set to cosy glamour right now - that's spaces you can slip your shoes off but still feel smart while in - carpet has never felt more right for now. But when it comes to interior design trends, forget the classic flecked wall-to-wall, and instead think checkerboard, decorative borders and vast circling shapes. A carpet going all the way to the edge of a room? You'll hardly see that here.
'Carpet is making a serious comeback in part I think to the turbulent times we all have been going through and thus we are looking at ways to bring comfort into our homes,' says the designer Abigail Ahern. 'And there's nothing like carpet to make rooms feel cosier and more sumptuous than ever.'
'With its plush underfoot feeling and some intoxicating patterns and colors, it's no longer an afterthought and a key component in bringing rooms together. There are so many ways to embrace carpet from embracing its texture (choose a prominent weft or tuft) to using it as the perfect base in which to layer a complementary rug. From natural materials like wool, jute and sisal to luxurious chunky loops offering luxury underfoot to super bold and expressive patterns and colors.'
What are the carpet trends for 2023?
Now don't run away just yet. We aren't talking a return to shag carpets and eccentric 70s patterns. Carpets come in much chicer forms, from natural textures like jute and sisal which are perfect for more modern rustic styles, to luxury deep pile carpets in lush jewel tones that can transform a bedroom, there's plenty here to convince your carpets are back in style.
1. Bold colors
According to many designers, carpet is the new paint and by opting for bright and vivacious hues it adds a wow-factor to the home - a key focus of current color trends.
For those who might be wary of adding in such a statement, choose a tone which complements the wall colours to ensure the look remains cohesive. For maximalists, opt for a contrasting colour to ensure it remains a feast for the eyes!
2. Decorative Borders
Creating a bespoke carpet is a way in which designers are adding a unique touch to spaces and homes. When laying a carpet on top of a wooden or tiled floor (a key look when it comes to flooring trends), leaving a small gap around the edge allows it to stand out and gives space for a decorative border to be added.
Interior designers Salvesen Graham and Jennifer Manners added a scalloped border to this carpet in a recent completed project and we love how it contrasts, yet complements, the cabinetry alongside it.
3. Soft Lilacs
While grey carpets have always been a safe choice within both colorful and monochromatic interiors, choosing a pastel shade such as lilac is a lovely alternative and helps to avoid the interior space looking too drab. Pairing it with shades currently being seen in living room trends like darker wine hues or even warm greens and yellows can create a joyful ambience and the perfect base for an influx of color through furniture and accessories.
Textile designer and colorr alchemist Margrethe Odgaard's new colour palette for Ege Carpets includes this soft lilac shade which adds a gentle sensory experience to the room. Ege Carpets' designs are also made from regenerated and regenerable yarn.
4. Recycled Materials
In an urgent bid to change industry habits, designers are turning to waste to contribute to a circular economy and shift perceptions on materials. Taking a circular approach to design is key in taking accountability for products being made and
Nanimarquina is helping to raise awareness around the issue with a new collection of rugs being made from the leftover wool generated by its suppliers. Following a long research process, the brand has developed a way to use leftover wool scraps to create a new yarn that is suitable for weaving.
The collection is available in standard and bespoke sizes – a great option for rental homes where adding a wall-to-wall carpet may not be an option and a large rug, slightly smaller than the room dimensions, is the perfect way to nod to current living room color trends and add warmth and comfort.
5. Classic stripes
The timeless appeal of striped patterned carpets is still a firm favorite for many designers today. Giving structure to a space, stripes help to bring a variety of tones and shades into a scheme. Stripes work particularly well in a bedroom, being impactful enough to feel a little interesting but able to be subtle enough so they still create a restful space.
We are seeing striped carpets being used alongside other striped textiles which works well when the stripes are placed in contrasting directions. Opt for wider stripes and repeats to keep the look modern, in keeping with current bedroom trends, and less traditional.
6. Checkerboard patterns
As seen in accessories, textiles and other categories across the interiors world, the checkerboard fashion has reached carpets and rugs and we're obsessed! As showcased in this recent project by interior designers Barlow & Barlow, it creates a perfect base from which to build an interior scheme and can be styled both in minimalist and maximal environments.
"Checkerboard is a timeless pattern and works well in traditional and contemporary schemes," comments Lucy Barlow, Creative Director at Barlow & Barlow. "It is a great opportunity to play with colour as you tend to use a more neutral colour to ground it whilst incorporating a bolder colour or two."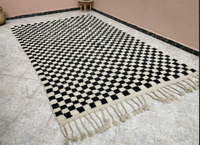 7. Carpet Artwork for the Wall
While conventionally we think of carpets for the floor, designers are rethinking concepts by applying carpets and rugs as dramatic works of art for the wall. Alluding to eras gone by, where large-scale tapestries would hang in great halls and drawing rooms, this is being reinterpreted for contemporary schemes, a smart way to soften living rooms and make them seem like they're cosseting you.
Displayed here by carpet manufacturer Pinton, in a recent collaboration with French architect Fanny Rozé, this application brings a touch of grandeur and opulence to the space and is perfect for period properties with higher ceilings and complementing architectural details.
8. Curvaceous Forms
Taking inspiration from architectural and structural configurations, many carpet and rug designers are incorporating curves and rounded silhouettes not only into their shape but also within the patterns themselves.
Proving to be popular with interior designers and architects, curvaceous lines bring contrast to more angular furniture choices helping to soften a scheme entirely. As shown here by artisanal carpet manufacturers Tai Ping, such patterns can bring joy and atmosphere into the home.
9. Contemporary Carpet Tiles
Associated with corporate premises and hospitality spaces, carpet tiles have been deemed a functional solution by many. However, designers are helping us to reimagine them in residential settings with new materials, unique shapes and energetic colours bringing them to life and offering a practical solution when laying over existing floors.
Also, thanks to companies like Tarkett and Bolon, recycling carpet tiles is now being made possible through innovation and technology. Carpet tiles in contrasting colours can be a simple way of incorporating the on-trend checkerboard pattern into a space too!
10. Sunny yellow hues and bold trims
Carpets are not just wall-to-wall anymore, and often take up only seven eighths of a room (no, that doesn't make it an area rug, trust us). What this means is you get the opportunity to add a trim, meaning bold color combos make their way dashingly into this year's trends.
Nowhere is this more prevalent than the new Contemporary Collection by Country Homes & Interiors for Fibre. In bright yellow, and with a sky blue trim, it is a true burst of decorative happiness.
'Yellow is such a sunny and uplifting color, and brings a real hit of joy to a room,' says Andrea Childs, editor of Country Homes & Interiors, who developed the range. 'It could be a single bold statement in a neutral scheme, or paired with another strong tone such as deep blue or green. I love the deep ochre of Gorse in The Contemporary Collection from Country Homes & Interiors x Fibre collection. If all-over yellow is too much, consider using it as an accent shade on the edge of a runner or rug.'
11. Natural materials
Perhaps the most on-trend, and definitely most popular carpet trend, is natural fiber rugs, materials like jute, sisal and seagrass. Jute rugs grace the floors or so many homes due to their hardwearing nature and versatility, so just take it a step further and go wall to wall with it. The simplicity of this look is similar to hardwood floors, you still get that organic style and plenty of texture but just with a little more softness underfoot. Plus, going simple with your carpet means you can layer rugs on top, ticking off another big trend for 2022. Use simple sisal as a backdrop for bold colors and patterns.
'Wall-to-wall carpets should be chosen wisely and these days there are plenty of cool choices that don't feel like your mom's silver-white/plush carpet.' says Jen, found of design studio Interior Fox.
'We tend to choose a patterned wool or natural fiber like sisal or seagrass. Wool is probably easier to clean while sisal is just stunning. (You have to use a dry powder to clean liquids). Look for a subtle pattern like herringbone or a checkered to avoid making it look cheap!'
Top tip: 'While they are aesthetically attractive and relatively hardwearing, they can stain easily and even water alone can cause a permanent stain or watermark. However, there are some excellent synthetic alternatives that look the part and can be wiped clean.' advises Saskia Howard, Creative Director, Howark Design. So if considering a natural carpet for a high traffic area like a hallway or staircase, don't rule out synthetic options. They can really effectively replicate the texture of the real thing.
12. Heritage prints for stairs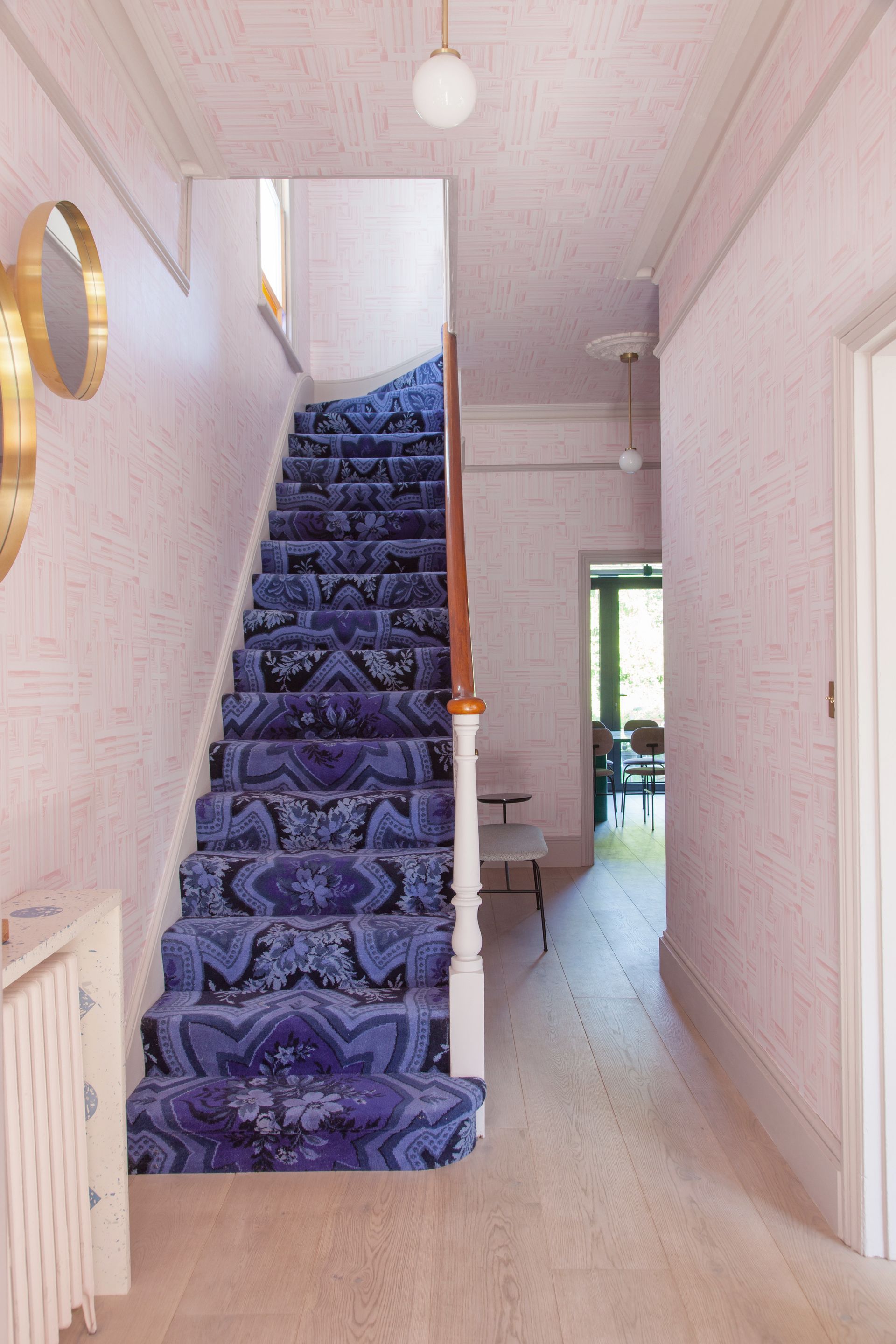 From one extreme to another, carpet trends for 2022 aren't all about just dipping your toe in with a nice neutral shade. Bold colors and prints have been on the rise these past two years and this want to embrace the maximalist aesthetic is reflected in the wonderful and macky carpets prints we've been seeing recently. Case in point this fabulous blue number – yes it's slightly reminiscent of something from the 70s but the blue scheme gives in a modern twist and paired with the pretty pink wallpaper the whole look really works.
'We just put carpet into our own bedroom in our home. We've lived with stripped original floorboards for a few years and are now in the mood for some softness and warmth, not just because it's feeling autumnal but because we want our bedroom to feel more layered and soft.' explains Russell Whitehead of 2LG Studio.
'The right carpet can have longevity and add a layer of comfort to a space. Don't be afraid of a patterned carpet or a color. If you are going to go for carpet then we say really go for it. Whether you love a monochrome minimalist scheme with wrap-around color or a more maximalist approach with clashing patterns on walls and floor, carpet offers many options to fit your scheme and we are here for it.'
And if you are wary of going bold with your carpet choices, start by experimenting with smaller areas, like staircase carpets which are relatively low commitment as they are simple to install and switch up.
13. Mixed finishes
But not all carpet patterns need be bold, we are seeing a real trend towards carpets that incorporate more subtle designs that stick to a simple color palette but add interest with a mix of finishes.
See in this bedroom carpet idea the base material is a simple flat woven design, with a lovely natural texture, then to give a touch of something more luxurious, a delicate abstract print in a softer, deeper pile creates a beautiful subtle print.
14. Multi-color carpets that pick up hues elsewhere
In the same vein as being bolder in our design choices, a big trend not just in the carpet world but interiors, in general, is decorating with a small color palette but really sticking to those selectedhues. Case in point with the living room carpet idea here. Rather than thinking about floor treatments last, this carpet was the jumping-off point for the look of the entire room, so fall for a carpet first and let that dictate the rest of the space.
Matthew Williamson also advocates that the floor is the easy starting point. 'One of the best places to start when bringing color and pattern into the home is with a floor covering, setting the tone and anchoring the rest of the space. A beautiful carpet can give you a palette or a sounding board for the rest of the room. You could pick out specific colors from the weave and take them onto the walls, into the soft furnishings, and even up onto the ceiling for a dramatic look. You could also experiment with pattern, pairing a leopard print with a striking floral wallpaper or sofa.'
15. Color blocking
Color blocking has taken many different forms over the last few years, but it comes up season after season in interior trends. Going bold on the walls isn't for everyone, and it's certainly not for every space, but taking that braver mix of hues onto the floor is a much more subtle and exciting way to embrace this ever-popular trend.
'Color blocking on the floor seems scary, as carpet is harder to change than accessories,' says Livingetc editor Pip Rich. 'But if you stick to pastel shades, like in this image above, then the overall effect is much softer than you might expect.'
16. Tartan
Tartan is a bit a marmite print, people tend to either love it or hate it but we think there's a case for bringing that traditional country pattern into more minimalistic interiors which can really update the look. You can still benefit from that lovely cozy feel that's synonymous with print but try pairing it with modern shapes and minimal clutter as can be seen in this dining room.
'We've seen an increase in desire for cozy, warming patterns too like tartans and stripes. Town or country, period or modern, tartans look striking in any room and can be used to bring a color scheme or theme together.' explains Jodie Hatton, Design Manager at Brintons. 'Exceptionally hard-wearing and versatile with a timeless aesthetic, they make the perfect recommendation for any room."
And don't just stick with the classic hues of mossy greens and browns, there are so many more exciting tartan colorways available that feel fresh and contemporary. Even just the hint of pale blue in this carpet gives the floor a lift.
17. 3D textures
While deep, textured carpets might feel reminiscent of the, hopefully never to return again, shag carpet, there are more stylish ways to do 3D textures. For on trend look choose a thick, high pile wool carpet where you can really see the loops. If you like more neutral living room ideas this is a good option to go for as you can keep the color muted and let the texture add the interest.
'The texture of the carpet is key to preventing a neutral scheme from looking dull. An alternative flooring like wood or tiles can make a room feel stark and bare, whereas a soft woven wool carpet, layered with accessories in cashmere, mohair, and linen will all work to soften a look and create an inviting scheme.' says Lisa Conway of Brintons.
So don't just stop at the carpet, bring that lovely nubbly texture into the rest of the room too with your soft furnishings, throws, and cushions. And to prevent it from all looking a bit slubby, contrast that softness with hard materials and clean lines, as can be seen here with the marble coffee table.
18. Earthy toned carpets
While carpet trends are showing that we can be going bolder with our colors and prints, there's also a strong trend for using carpets for their most renowned quality – adding warm, cocooning, comforting vibes to a room. And this coziness is only enhanced with toasty, earthy tones. These rich terracotta and ochre shades are ideal for bringing in deeper hues to a neutral space without overwhelming those softer, paler shades.
'The ever-popular and easy to live with greige, beige, and natural earthy tones, which have been so popular for rugs and carpets this year, can be paired with warm, deep hues to add richness of tone while maintaining the calm spaces we still crave.' explains Lynn Llewellyn-Jones, color consultant for fibre. 'Add rich shades of terracotta (Italian for burnt earth), deep Ochres; a naturally occurring pigment in clay and sophisticated and richly pigmented pinks to continue the natural theme while adding great warmth and depth to your scheme.'
'These colors make us feel grounded and secure, optimistic and energetic; ready for a new year, a room refresh or simply to lift us up after a long period of uncertainty. We are set to see more complementary 'mix and match' flooring where toning colors are used across multiple rooms to offer a varied yet cohesive feel to the flooring. Using this coordinated variety between runners, stairs, living rooms and bedrooms rather than the same flooring throughout the home can make a subtle statement and allows us to control a flow of energy for different moods in different rooms.'
19. Match a carpet to the walls
Carpets are all about creating that lovely cocooning feel, and matching your carpet to your wall color is only going to enhance that enveloping feel. This cohesive trend work really well with darker colors and in smaller spaces as it almost blurs the edges of the room, merging floor and wall and alluding to a larger room.
However, neutral lovers, this look also works with those soft, warm, calming tones that are a huge color trend at the moment. See how in this bedroom, that welcoming peachy tone runs from the walls to the soft plush carpet which not only creates an instantly calming vibe, the neutral backdrop allows the furniture and the colors throughout the rest of the room to be bolder.
So are carpets back in style?
The question we have also admittedly been considering up until right now. But yes, we can safely say that after speaking with designers and trend spotters, carpets do seem to be back in style if done right. So if you are considering giving up that bare floorboard life, go for it and use these carpet trends as inspiration.
Design Writer, presenter, panel host, consultant and journalist Roddy Clarke is a regular in the pages of Livingetc. He also writes frequently for FT Weekend and Forbes. Based in London, and with a breadth of skills and hands on industry experience, Roddy now offers an exclusive interior styling and design service.
With contributions from