Flooring trends 2022 - the most dynamic home updates explained
Flooring trends are here for 2022, updating your home with new materials, new methods and new moods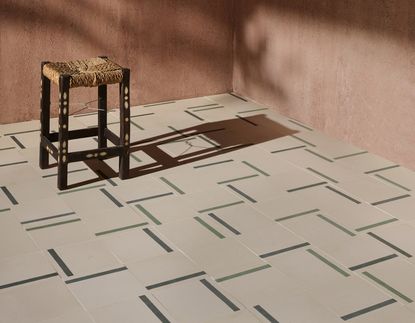 (Image credit: Otto Tiles and Design)
Flooring trends don't move as fast as in other area designs - they're just not something that get updated as regularly as, say, paint colors or living rooms. But they can make the biggest impact to a space, and new ideas still keep coming,
For next year, geometrics aren't going anywhere in a hurry in hard flooring and carpet. But at the same time, interior design trends are embracing, maverick, vibrant patterns and bold color will lead the way. Natural stone gets bold, and different shaped tiles will be mixed and matched, patterned with plain. Floor tiles are on the move too, being extended onto the wall, up onto a kitchen island, on stair risers or in alcoves. New technology plays a part with lifelike metallics for a new industrial look. Soft flooring is either natural and calming, dubbed quiet pattern, or an explosion of color and pattern, with rugs in new shapes and with complex surfaces adding to the list of floor types to choose from.
"What I am seeing more and more are ceramic and porcelain tiles with high-tech prints that imitate natural materials such as marble and wood," says innovative designer Zachary Pulman of Zachary Pulman Design Studio. "They are so realistic and have had a massive impact on flooring choices. It means you can have a top end look at a fraction of the price and they work so much better with underfloor heating."
Image: Porcelain wood effect tiles, Zachary Pulman https://zacharypulman.com/
The improvements in tech have revolutionized flooring generally which has created a demand for more unusual designs and a resurgence in linoleum and vinyl. Once seen as outdated, these materials are jostling with wood flooring ideas, having become desirable once more, and again work well with underfloor heating. And, because the flooring is thinner, the floor level in the room isn't affected as much. Linoleum and vinyl are also pretty indestructible.
Mixing plains and patterns together for a 'patchwork' effect means you can create your own individual look. As sustainable living becomes ever more important designers are also patching and repairing so that the floor looks deliberately different and means that they don't have to replace a whole floor, which is kinder to the environment too.
People's appetite for spending more time at home means they are being adventurous in their choices. In soft flooring they are moving away from the Moroccan vibe towards strong geometrics and blocks of color, something that has been influenced by graffiti artist, Camilla Walala. Of course, rugs are a quick way to change a room, and high-tech printing again comes into play, allowing different shapes and intricate surfaces both physically and visually. Jan Kath is at the forefront of this.
Designer Matteo Cibic for Scarlet Splendour has also produced carpets with a unique design to resemble Japanese dry landscape gardens that are meticulously tufted and trimmed by hand in India.
What are the flooring trends for 2022?
Statement marble
Patchwork tiles
Modern metallics
Soft stripes in neutral shades
Kaleidoscopic rugs
Flooring trend 1: Statement marble
Although marble has been around for a while in interiors, it's usually in shades of black, grey and white, like classic Carrara marble for example. Onyx is fairly new on the scene, but both link into the overarching trend of statement stone with bold veining, big patterns and exotic blends of shades seen generally in color trends for the year.
It's ideally used in modern bathroom ideas for a high-end luxe look but can also be used as a kitchen splashback or as a statement wall in a living space. At the influential ceramic tile trade show Cersaie in Bologna the biggest trend they showcased was complex, impactful marbles and stronger body veining in marble-look tiles.
Because people are becoming more adventurous, they want bolder, more unusual patterns and these new exotic designs are tapping into this. 'When in doubt, go big!' says Marie Soliman of Bergman Design House. 'Floors are works of art and it's one of the biggest surfaces in a room, so choose materials that enhance your daily life and bring beautiful vibes and energy to the space.'
These natural stones can be used on the walls, floors and to create basins and baths, and as a natural product they are eco-friendly. As Zachary Pulman says, porcelain tiles can be made to look like real marble, but with much bolder patterns and more exciting colors giving designers a much broader choice for a more individual look.
'We are seeing more luxury clients requesting faux stone and marble as opposed to the real thing,' says Rich Tomlin, Lead Creative of Tonik Associates. 'The tiles are so good, it's almost impossible to spot the difference, patterns rarely repeat, they are environmentally-friendly, not porous, have better slip resistance and are easier to install than marble.'

Using monochrome tones, these porcelain tiles are so dramatic and really make an impact in this shower room. They lend themselves to large format tiles to make the most of this incredible pattern.
Onyx is a natural stone that is having a resurgence. It's a silicate mineral chalcedony, similar to agate but with parallel bands of color which creates the look you can see here. It comes in many colors and has been used on the floor and also as a decorative front on the storage unit. It also looks stunning as a splashback or as part of your modern bathroom ideas.
This natural marble has been chosen carefully to create this sophisticated design, creating a focal point on the shower wall, with simpler, but still bold, veining on the floor and on the basin. Marble bathroom ideas are going nowhere for 2022. The brass fittings echo and enhance the color in the marble for a fabulous overall look.
Flooring trend 2: Patchwork tiles
There has been a growing flooring trend for patchwork or mix and match tiles as people look for more individual looks to express themselves.
'Choosing three or four complimentary designs and plains means you can create your own unique style, adding more or less pattern feels expressive whilst being entirely livable,' says founder of Otto Tiles and Design, Damla Turgut. 'It's a simple but effective tool for personalizing a space. Tiles can be turned on their side, upside down, any which way, or create patterns within patterns. This raises an ordinary interior into something unique.'
Patchwork tiles are a useful trends as they help to zone different areas such as a kitchen and dining room by adding more pattern in the kitchen and less in the dining space. These designs also work well in the bathroom, as part of your hallway ideas or in a garden room to add impact, even the bedroom.

'We are seeing cement encaustic tiles being used in two ways,' says Tom Rutt of TR Studio. 'Traditional square and diamond chequerboards and also 'patchworked' with complementary plain tiles. Unglazed Zellige tiles are handmade and unique, so the effect is beautiful.'
These Woodland Glade, nature-inspired porcelain hex tiles are from The National Trust Collection for Ca Pietra and have nine different leaf designs to choose from that can be mixed with plain to create as much, or as little pattern as you wish.
This shows the trend of following floor tiles onto the wall, in this case to create a headboard effect. The subtle patterned tiles can be used upright, upside down or on the side to create different looks as part of your bedroom ideas.
Flooring trend 3: Modern metallics
Metallic tiles were another trend to come out of Cersaie. Again, technology has created realistic designs ranging from deep lead and iron tones to lighter aluminium and steel effects. Oxidized finishes give the impression of decay from the passing of time, creating imperfections, such as verdigris, like the Chemistry Denim by Artisan Tiles of Devizes which are striking when teamed with the deep blue walls, and going straight into our catalog of living room ideas. They would add impact in a moody bathroom too, almost cave-like, and stunning in a hallway with their large format.
'A modern take on the industrial trend, the incorporation of metallic tiles into interior design schemes has been made easier thanks to new manufacturing developments,' says Andrew Sadler, Specification Manager of CTD Architectural Tiles. 'More finishes, colorways and styles are now available as porcelain tiles, meaning there is no compromise between style and practicality.'
A good example are these Oxyd grey porcelain tiles, CTD Tiles, below. They look like metal or slate with a rusty edge and have a highly polished finish.
Flooring trend 4: Soft stripes in neutral shades
Neutrals in soft flooring is an enduring trend as people are spending more time at home and want to feel comfortable and cocooned. For 2022, subtle stripes are growing in popularity, and in particular herringbone mixed with plain, perhaps inspired by the popularity of parquet flooring designs.
Wool carpets are hardwearing and soft underfoot. Wool is a natural fiber so it's breathable, and a natural insulator, so it's warm in winter and cool in summer, and also good for absorbing noise. Carpet can be used all over the house, but is generally used in bedrooms and lounges, anywhere you want to feel cosy and relaxed.
Lorna Haigh, creative director of Alternative Flooring says 'Naturalness and woven are two strong and interlinked interior directions going forward. The trend for stripes is a good way of layering textures offering a timeless look.'
Sisal, seagrass, coir and jute, all sustainably harvested, celebrate nature as along with wool, they emit low or no VOC's into our homes, so not only good for the planet but good for our health too.

Julian Downes, founder of natural flooring company, Fibre Flooring suggests 'we are set to see more complementary 'contrast and combine' flooring where toning colors are used across multiple rooms.'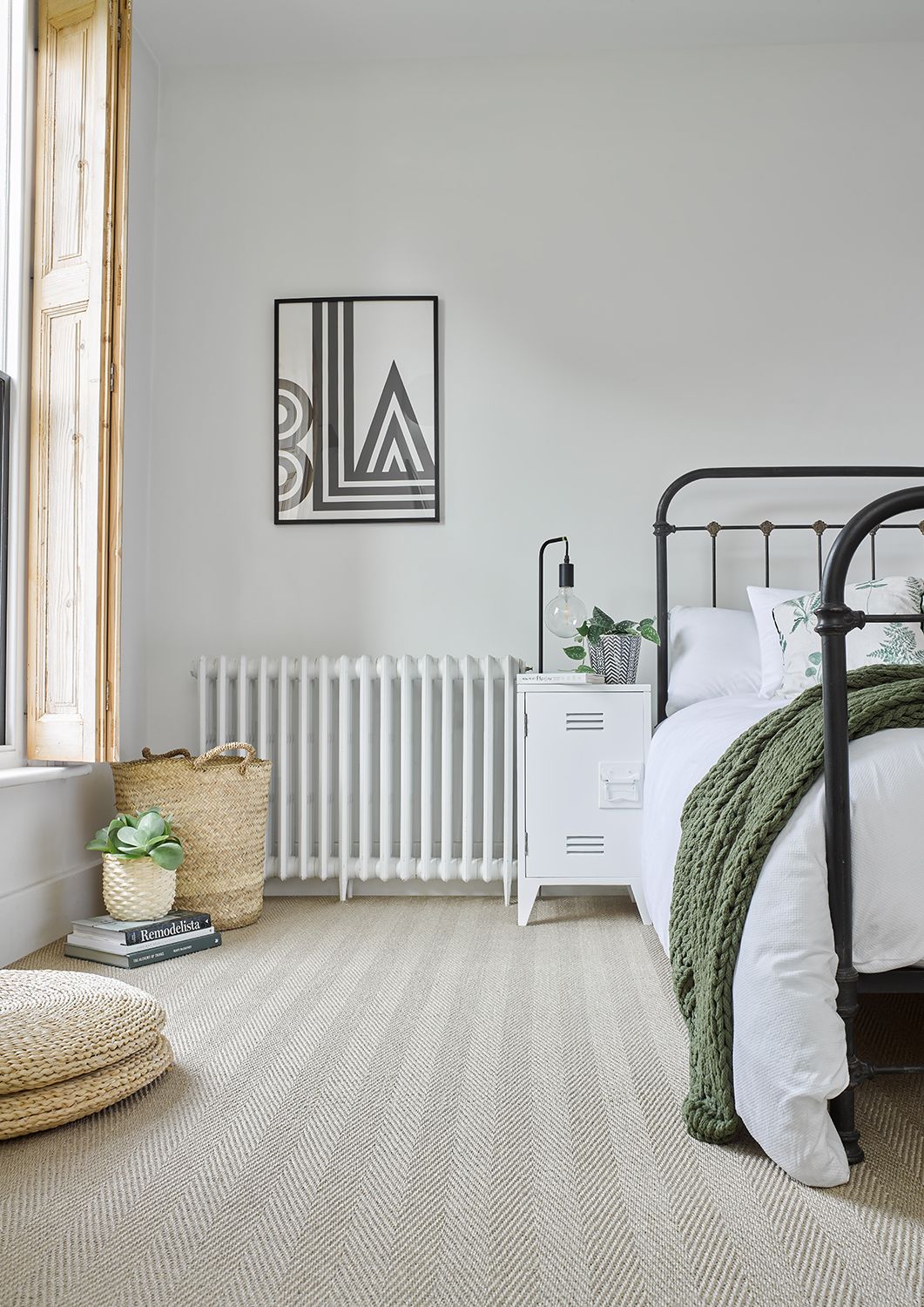 Flooring trend 5:
With many people staying put rather than moving, a good way to inject some color into your space is with rugs. And as they have become more important in interior schemes, designers have been thinking outside the box to come up with asymmetrical shapes, bolder patterns and colors, and more intricate designs.
'There are so many ways to create original rugs working with juxtaposing colors, texture, pile height, weaving techniques, yarn type and the overall shape of the design,' says designer Sonya Winner. 'It's a very exciting medium, shaped rugs are like artwork for the floor.'
'People come to us as we make colorful and unique rugs, so the trend we see is always about color,' says Simon Goff of Floor Story. 'We are seeing that people have more courage with shapes at the moment - the Henry Holland or the Mac Collins collection for example - and we have a very cool range coming out with Emily Forgot which is all about pile heights, shape and being modular….in short, for us, the trend is color and shape'
The Livingetc newsletter is your shortcut to the now and the next in home design. Subscribe today to receive a stunning free 200-page book of the best homes from around the world.
Alison Davidson is well-respected British interiors journalist, who has been the Homes Editor of Woman and Home magazine, and the Interiors Editor for House Beautiful. She regularly contributes to Livingetc, and many other titles, and often writes about kitchens, extensions, and decor ideas. She is the go-to for information about green energy, sustainable home improvement and eco design ideas.