10 living room carpet ideas to add warmth and coziness to your space
Fitted carpets are back (as our stylish living room carpet ideas prove).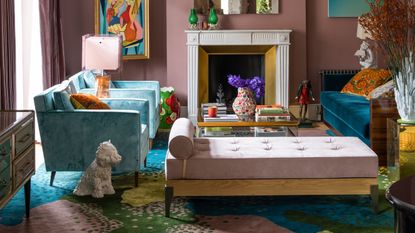 (Image credit: Future)
Living room carpet ideas are top of our redecorating list as we go into the cooler months. Yes, admittedly wall-to-wall carpet has fallen out of favor in the interiors world in recent years, but they have been making a resurgence. No longer just there to rip up, carpets are becoming a style statement in their own right, shedding their beige, brown, shag pile skin to become a must-have addition to a living room, adding texture, color, pattern, and warmth.
'While wooden floors have been center stage in many homes in the recent past, we have seen a dramatic rise in sales in the last few years, and in particular sales of patterned carpets. Fitted carpets are back, and back with gusto. We've seen an increase in desire for cosy, warming patterns too like tartans and stripes.' says Jodie Hatton, Residential Designer at Brintons. 'Town or country, period or modern, tartans look striking in any room and can be used to bring a color scheme together. Exceptionally hard-wearing and versatile with a timeless aesthetic, they make the perfect recommendation for any room.'
And just like rugs there are so many options out there to suit all styles, whether you are after a neutral backdrop for your Scandi minimalist living room ideas, or want to treat your floor as the fifth wall and go bold with your color and pattern. We've gathered together some of our favorite looks to get you inspired to embrace carpets once more.
1. Add texture with your living room carpet
We may not quite be ready to see the comeback of the shag pile carpet, but carpets that have a bit of texture to them, whether that be in a ribbed, herringbone, or looped wool, can add interest to as space as well as feeling wonderful underfoot.
And take the cozy layered look further by bringing those nubbly textures into the rest of your soft furnishings choosing a mixture of tactile fabrics and decorations to create a scheme with real depth. The perfect look if your like neutral living room ideas too as the interest comes from the mix of texture rather than color.
'Your carpet is the perfect place to start when creating a cozy living space. The texture of wool underfoot coupled with a warm color or welcoming pattern makes it the perfect base upon which to shape a comfortable and inviting interior scheme.' says Lisa Conway of Brintons. 'Consider tartan or large patterns in autumnal shades like reds, oranges and browns. Where an alternative flooring like wood or tiles might make a room feel stark and bare, a soft woven wool carpet, layered with accessories in cashmere, mohair and linen will all work to soften the overall look.'
2. Keep it minimal with a sisal carpet
We're all fans of our jute and sisal area rugs, so why not take it a step further and switch it for a wall-to-wall fitted carpet. The smoother fibers offer a cleaner design than say wool, that's perfect for more minimal, modern spaces but again you still get that lovely texture.
As Camilla Clarke, Creative Director of Albion Nord says, 'Interiors are all about evoking the senses and therefore texture is a vital ingredient to every design to get our sight and touch senses going. Try mixing different textures such as natural linens with soft velvets or robust leathers with thick wools.'
'My favorite material is Sisal. It's a natural material with durable qualities which works well in both contemporary and classic homes. As a natural material, it gives texture and warmth to any space.'
3. Stick with a neutral color for longevity
Selecting a color for your carpet is going to come down to your style and personal tastes, but do always consider the practicalities like how is the room used and by who and think about longevity too. Bold colors and funky patterns can be fun and add a ton of personality they do risk dating so if in doubt stick with the neautrals.
'A neutral color palette is best suited to rooms you spend a lot of time in, such as a bedroom or living room, where relaxing tones are key to creating a happy space. Neutrals are versatile with the ability to provide a platform and set the scene.' says Lisa Conway.
'Decorating with neutral shades like grey and beige ensures that your scheme will have longevity, as a base you can bring in accessories to add on-trend elements, whilst retaining an overall scheme that will remain timeless'
4. Or brave the bold and turn a carpet into artwork
And if playing safe just isn't your way treat your floor as you would an accent wall and opt for a bold pattern and colorway. As this living room proves it can work, and in fact not look too overpowering. Just keep the color palette simple, picking up colors from the carpet and using them throughout the rest of the space. Despite the bold scheme going on here, there's a grown-up, cohesive feel too and the blush pink walls tone down the bold colors of the carpet.
5. Factor in the wall color
It's an age-old question, light on the walls and dark on the floors or dark on the walls and light on the floors? Personally, we are of the opinion there's no hard or fast rule and both can work. But if you are leaning towards a dramatic color on all four walls, we'd recommend lifting those moody hues with a lighter carpet. We love how this dark living room clashes charcoal black walls and ceilings with a soft pastel-toned geometric carpet.
6. Embrace retro designs
Nod to carpets not so stylish past in a chic way by mixing retro designs with modern living room furniture. If you saw this print as a swatch, you'd think it looked like something salvaged from a skip, but in situ, when pared with simple Scandi-style pieces and a minimalistic approach it really works. A reminder to always order plenty of samples when making your decisions, it's important to be able to see and feel prints, colors, and materials before you commit.
7. Create a cocooning feel with an all over color
You want a living room to be one of the coziest spaces in your home. It should feel warm and cocooning, especially as we go into the cooler months. Carpet is of course going to add that instant comfort but take it further by matching your carpet color to your walls.
This cozy living room idea is making a serious case for griege, a warm mix of grey and beige. It looks clean and modern but has a welcoming feel to it especially when paired with the subtle orange accents and the mix of textures going on with the natural fiber carpet, velvet armchair, and even the subtly striped wallpaper.
8. Create a luxurious feel underfoot with a wool carpet
In terms of material, it doesn't get more luxurious than wool. If you want that plush, sink your feet into it feel, it's the best option to go for. It's a practical choice too being hardwearing and easy to keep clean.
'Wool is a fantastic sustainable choice for flooring. It insulates your home, is easily recyclable and biodegradable, plus shearing sheep is essential for their welfare.' says Lisa Conway. 'Thanks to wool's hypoallergenic and antibacterial properties, using it on the floor helps to make the air we breathe cleaner.'
9. Opt for a subtle pattern to expand a room
Just like certain colors and wallpapers can be used to trick the eye into thinking a space is larger, if you have a small living room or an awkwardly shaped space, consider using a carpet to 'expand' the space. The obvious choice to go for would be stripes, but for a less traditional look, opt for a busy pattern in a neutral colorway that can be a distraction from the smaller proportions and create the allusion of more floor space.
10. Create the allusion of a carpet by layering rugs
Not yet ready to commit to a fitted carpet? Create the same effect by layering large area rugs to cover the majority of your living room flooring. It's the ideal option if you just want to give your living room a cozy seasonal update but still want to option of switching it out throughout the year.
'"If you are looking for an easier alternative to a full carpet install, layering a couple of rugs in your living room will work a treat as an alternative option.' says Noemie Deed, founder of Cosy Coco. 'Stylistically and while still adding the ultimate cozy feel, layered rugs look beautiful and give people the opportunity to integrate varying colors and patterns into their scheme to create something new and unique. In terms of practicality, it's equally effective for underfoot comfort and warmth, and can be positioned around key furniture. All-in-all, a simple, beautiful substitute to permanent carpeted flooring.'
What is the best material for a living room carpet?
The best material for a living room carpet will depend on your personal style and budget. And there are so many options out there too long to list, however, some of the most popular choices are wool, sisal, jute, and synthetic man-made materials like viscose, nylon, and polypropylene.
'When choosing floorcoverings you need to think about how the room is going to be used and take into account practicalities; different floorcoverings are suitable for different conditions.' advises Jenna Kane, Product Developer at Kersaint Cobb. 'Wool floorcoverings are ideal for living rooms as they are hardwearing and soft underfoot. As a natural fiber, wool is also breathable and it will be warm in the winter but remain cool in the summer. Incorporating wool into your scheme can offer a selection of benefits including; being a natural insulator and is a great way to absorb noise to keep rooms peaceful. Not only does it have practical uses, it is also soft underfoot and can be a luxurious addition to the home. Sisal and seagrass have smooth fibers and offer a crisp, neat effect. Coir is a suitable for those seeking a rougher, more casual effect. Lastly, Jute is the softest of the natural floorcoverings, giving a comfortable feel underfoot. However, it is less hardwearing and more absorbent.'
Natural materials like sisal and jute are growing in popularity too, a good option for those fitted carpet phobes and this over a sleek, minimalistic look. 'Sisal is a natural, plant-based product and has always been popular. More recently it is enjoying a resurgence as we look to source more natural products for our homes. Not only is it a sustainable and renewable material but it is naturally moth and dust mite resistant too. This makes for a healthy solution for those who suffer from asthma, eczema and other allergies. It is also extremely hard wearing and if looked after, will look beautiful for years.' says Julian Downes of Fibre.
'Sisal looks as natural as its eco-friendly benefits suggest, allowing you to create a stylish and contemporary feel, that is kind to the planet. The neutral tones and textured aesthetic that sisal offers allow for a coordinated look to flow between rooms with wooden and stone flooring.'
What is the best color for a living room carpet?
Again, the best color for a carpet will mostly come down to tastes but do think practically too. If your living room is a high traffic area, used by children and pets alike, perhaps avoid anything too light and consider the size of the room too.
'Floorcoverings in soft, light colorways will brighten a room and create the illusion of space. Deep and rich colored carpets will make a room feel more cozy and can be particularly effective in high traffic areas where dirt can become an issue.' explains Jenna. 'Warmer tonal flooring can help create a more inviting appearance in the home, whilst adding a real designer touch. For the really bold, try experimenting with colour with a vibrant carpet for a real style statement. Think about making the carpet the base of your design scheme, compliment the colorful flooring with a more neutral palette for furniture and accessories to create a modern look.'
The Livingetc newsletter is your shortcut to the now and the next in home design. Subscribe today to receive a stunning free 200-page book of the best homes from around the world.
Hebe is the Digital Editor of Livingetc; she has a background in lifestyle and interior journalism and a passion for renovating small spaces. You'll usually find her attempting DIY, whether it's spray painting her whole kitchen, don't try that at home, or ever changing the wallpaper in her hallway. Livingetc has been such a huge inspiration and has influenced Hebe's style since she moved into her first rental and finally had a small amount of control over the decor and now loves being able to help others make decisions when decorating their own homes. Last year she moved from renting to owning her first teeny tiny Edwardian flat in London with her whippet Willow (who yes she chose to match her interiors...) and is already on the lookout for her next project.