How to choose cool colour combinations for your home
The right colour combinations will look good throughout your home. Dagny Thurmann-Moe of Koi Colour Studio shares the no-go palette pairings and power hues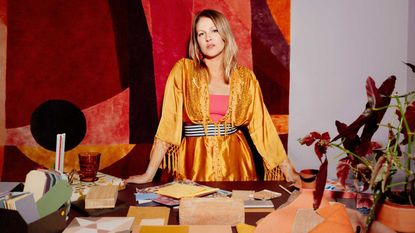 (Image credit: KOI COLOUR STUDIO)
Colour combinations are important - and when it comes to home decor ideas, we know that Livingetc readers are no strangers to colour.
Whether it's yellow living room ideas or blue kitchens you embrace new shades and hot hues wholeheartedly.
But whatever the home decor colour trends dictate, colour isn't used in isolation. So it's important to know how to make colour combinations and colour intensity work - not just in the living room or kitchen, but throughout the home.
For an interior scheme to look good, it has to be cohesive and flow visually from room to room. You might fancy a pink bathroom but how will it look next to a green bedroom?
One person who knows how to get the best from colour is Dagny Thurmann-Moe of Koi Colour Studio in Norway. Here she shares her tips.
POWER HUES
I'm a really calm person so I need an energetic atmosphere. In my home I've used red – often several shades in colour combinations. I avoid the brighter ones because I don't like intense rooms, but if a shade is warm and a bit bold I think it communicates strength. It also adds personality and atmosphere.
NO-GO PALETTE PAIRINGS
While I love a warm red, I rarely use it on walls and prefer it on furniture – like my sofa – and textiles. The beauty is that it works well with practically any colour apart from bright yellow (because it creates a fast-food restaurant vibe). I have a few rules like this in the studio. For example, I never use blue with yellow because it reminds me of the Swedish flag. And you can't use red and green because it looks like Christmas.
LIGHTEN UP
I'm currently renovating our new home and combining dusty and light colours. The dusty colours I have used in my home are Pure & Original's Lagoon Water, Jade and Olive Drab, which are toned down and not too intense. They have a certain percentage of black in them, but not too much. I prefer to combine hues with different lightness levels – it results in an all over more interesting look.
COLOUR COHESION
I avoid using greyscale shades, not only in my own home but also in the homes of my clients. The problem with grey is that it's not a part of the colour wheel, it is not a colourway. So when you try to combine it with the colour wheel you create visual chaos. For example, if you have white walls and you buy yourself a red sofa, all you're going to see in that room is the red sofa because the contrast between the two is so high.
BACK TO BLACK
The only greyscale colour I can live with is black, but it has to work with the architecture – specifically modernist architecture from the 1930s with its black window frames and black doors. But even in these cases, we usually soften the black with a little bit of blue, red or green.
NATURAL PIGMENTS
It's very important that I work with colours that have natural colour pigments in them – Farrow & Ball, for example, and Pure & Original. A paint with plastic pigments makes a wall look a little flat, while natural pigments add more depth and also transport more light into the room.
LINSEED (SOLVENT-FREE) OIL PAINT
I'd recommend using linseed oil paint. It used to be a bit difficult to work with – you had to have it at a certain temperature or it would take forever to dry. However, it's now much easier to use: it dries quickly and produces more consistent results.
NATURAL PAINT
Using natural paints is a bit different from rolling on other paint. You need quite a bit of paint on your roller or brush, but generally you'll only have to apply two coats, unless it's a really special colour, such as Pure & Original's Old Ocre, which is almost made up of more pigment than paint.
See more inspiring paint colours
The Livingetc newsletter is your shortcut to the now and the next in home design. Subscribe today to receive a stunning free 200-page book of the best homes from around the world.
Shining a spotlight on the now and the next in home design and decor, Livingetc is the UK's best selling high end and contemporary home design magazine. As a brand, Livingetc showcases the world's very best homes, breaks and makes the trends, and has access to leading international designers for insight and ideas. It was first published in 1998, and is currently edited by Pip Rich.