Jewelry maker's Clerkenwell home is a treasure trove of beautiful finds against a calm and neutral backdrop
Alighieri founder Rosh Mahtani lets us inside her central London home, which feels like an oasis inside the city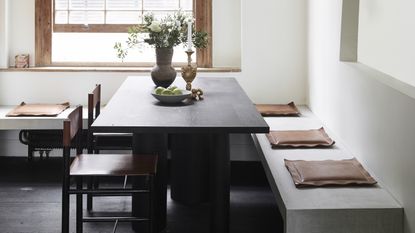 (Image credit: Mary Wadsworth)
From growing up in Zambia, Africa, and reading French and Italian at Oxford to creating a demi-fine jewelry brand rooted in literature and art, Rosh Mahtani, Creative Director of Alighieri, has now created the most elegant and zen-like modern home in the middle of London.
As a young girl, she spent her childhood collecting 'magical' stones and imbuing them with meaning. Now, inspired by Dante Alighieri, Rosh sculpts modern heirlooms and fragmented talismans in a spiritual and cathartic process that dates back centuries.
Rosh is driven by telling stories through the universal language of jewelry that brings people together by unlocking narratives and embarking on adventures. 'I wanted to celebrate the beauty in imperfection, and discover the strength to be found in human vulnerability,' she explains. The modern heirlooms are designed to travel with you on your adventures, bringing strength and courage.
Rosh didn't create this beautiful home alone. Her partner is designer Fred Rigby, who runs London-based furniture and interior design practice Fred Rigby Studio. Together, Rosh and Fred are a very dynamic but down-to-earth young couple with a home that reflects their individual aesthetics perfectly: clean lines and form by Fred with imperfect, rustic, and fragmented additions from Rosh.
Rosh talks to us about her treasure trove of a home tucked away in central London...
What attracted you to the property?
'I absolutely love how hidden away my little square is; an oasis in the middle of central London. I can walk to work to the Hatton Garden studio and it's so close to Exmouth Market - one of my favorite places,' says Rosh. 'There's so much history in Clerkenwell and it feels really tucked away – I like the anonymity of it. Not many people I know live around here. You've got something in every direction. I never want to leave.'
'The flat itself was not in great condition when I saw it, but the area and the square was the real draw for me,' explains Rosh. 'There were also some beautiful original features in the flat like the big old wooden doors and large windows. I loved the open-plan nature of the ground floor; I dreamt about hosting dinner parties in the space.'
Custom-made cloud-like boucle covered furniture, created by Fred, fill this modern living room with texture and comfort, while Rosh's treasures decorate the walls, mantel, and coffee table.
What did you envisage for your new home?
'I envisaged the space to be like a gallery; super clean and modern as a palette for which to display all my artifacts and artwork,' says Rosh. 'I was really lucky to have Fred by my side. He did everything from drawing out the plans, sourcing the most amazing materials, and potentializing the space.'
The couple met when she commissioned him to design her showroom in Hatton Garden. They became friends during the process, then he invited her out to dinner to celebrate when it was finished. Fast forward three years and they have created this beautiful home together.
'He had amazing ideas such as creating Crittall glass doors downstairs to bring beams of light into the space and MicroCreting the entire bathroom with bronze tap details,' she adds. 'He understood the brief so well and really created a magical space. I wanted the flat to feel like a calm oasis with a big kitchen table to work on, and a bedroom that felt like a spa with a freestanding roll-top bath.'
'I have my jaggedy, crumbling artifacts and objects, but Fred is amazing at spotting where those curves, arches, and linear forms will work,' she says.
How did you find working with your partner?
'Because we're going out, in many ways it made the process easier because he knew my quirks and loves,' Rosh says. 'But it was also challenging and stressful to be having conversations about the long to-do lists in bed even before having our morning coffee! There was no separation between relationship and renovation which was challenging at times. I definitely drove him mad!'
Fred recommends considering the impact light will have on your color scheme, especially when decorating with neutrals. 'I like a greige or a beige but light plays such a big part in the colors you paint walls.' the designer explains. 'Light in different rooms can affect the shade of a paint color, especially through the changing seasons and as the sun rises or sets, so a paint color – although the same in two rooms – can seem completely different. Here, we intentionally made the material palette muted so Rosh's collection of objects would be the heroes.'
Were there any challenges with the renovation?
'There were so many challenges doing the renovation through lockdown and Brexit, from long delays on material deliveries to living in the space while walls were being knocked down!' explains Rosh. 'It was 15 months of dust and chaos but it was so worth it. The contractors and tradespeople were really brilliant and Fred had worked with them before which made things a lot easier.'
'Now I just love sitting at the dining table, enjoying my morning coffee and looking out of the window,' she adds. 'I love that morning lull when nobody's awake yet – that's my quiet time.'
What inspired your interiors?
'I love old churches, the British Museum, the Francis Gallery in Bath and the Gagosian, as well as artifacts and rare books. I really enjoy mixing crumbling objects with modern, clean and sustainable architecture,' says Rosh.
'I spent some time living in Italy, and I studied French and Italian at university so I love Etruscan references and old Italian architecture; the crumbling nature of those buildings. I'm constantly collecting and buying sculptures from antique markets. I go every weekend to find things.'
Calacatta Viola marble was chosen for the kitchen countertop and it has the most incredible colored veins. Marble and other natural stones are perfect for bringing a neutral scheme to life,' mentions Fred. 'The natural stone – although heavily veined and deep in color – still feels elegant and calm combined with wooden kitchen cabinetry and neutral walls.
Are there links to your jewelry brand?
'Absolutely! Alighieri jewelry is rooted in literature, modern heirlooms balancing ancient practices with a modern sensibility,' says Rosh. 'The space definitely speaks to the brand. You can see that same juxtaposition between the modern white walls and linear details and my old relics. It's all about that constant balance between history and modernity.'
When and why did you start Alighieri?
'Alighieri launched in 2014; we've just turned 8 years old! I was inspired to create forever jewelry that was not trend-driven, rooted in the literature I had studied at university - Dante Alighieri's 'Divine Comedy',' says Rosh.
'It's a story of being lost in a dark wood, trying to find light. The Modern Heirlooms are handcrafted in London with recycled gold and silver, celebrating imperfect textures to symbolize the strength that can be found in vulnerability.'
Downstairs Rosh wanted it to feel like her own sanctuary, especially in her modern bedroom. 'My home is somewhere I can come back to and just completely switch off,' she says.
What's your favourite room in the house?
'I love the bedroom. I spend a lot of time in the bath surrounded by flickering candles, woody fragrance and music.' she says. 'The bath in my bedroom makes it feel like a boutique spa. It's my favorite way to relax at the end of the day.'
Rather than separating her sleep and soak space, Rosh opted for a bath in the bedroom, separated by a curvy Alvaro Aalto wooden divide.
Covered in MicroCrete, the bathroom is a delight to spend time in, complete with an amazing stone sink Fred found lying in the street.
'There's lots of traveling for the brand this year, but I'm always excited to come back home,' says Rosh. 'To me, a house is never finished. There are still blank walls and empty spaces – they're a mark of all the adventures to come.
The Livingetc newsletter is your shortcut to the now and the next in home design. Subscribe today to receive a stunning free 200-page book of the best homes from around the world.
As the Houses Editor on Livingetc, Rachel has been obsessed with property ever since she was a kid. With a diploma in interior design and more than a decade working on interior magazines under her belt, she feels very at home sourcing the best contemporary houses the world has to offer for Livingetc. It's not just the day job either, she admits she's spent a scary amount of her own time researching schemes for her own renovations - scrolling Instagram, stalking Rightmove and Modern House, flicking through magazines and snooping in other peoples' windows - so she really does live and breathe houses on a daily, if not hourly, basis. Before Livingetc, Rachel had a stint finding homes for Ikea Family magazine where she was lucky enough to gallivant around the world on shoots meeting and interviewing interesting people, all with a very keen eye for blending high-end design with everyday items from Ikea. It inspired her to not be afraid of mixing new and old, expensive and affordable, vintage and modern and so Rachel's current Victorian terrace in north London is very much an updated, contemporary take on a period property; think open-plan modern kitchen with concrete floors, feature fireplaces and her grandmother's paintings on the walls. Rachel is currently crushing on reeded glass, large gingham prints, squishy curved furniture; like Buchanan Studio's Studio chair, and vintage wall sconces; she especially adores Retrouvius for sourcing antique finds and feels inspired by Lonika Chande, Beata Heuman and Matilda Goad and already can't wait to start planning her next home, wherever that might be.