Tour this gorgeous Edwardian house in southwest London
This chic, contemporary Edwardian house in southwest London is full of personal touches and clever decorating ideas.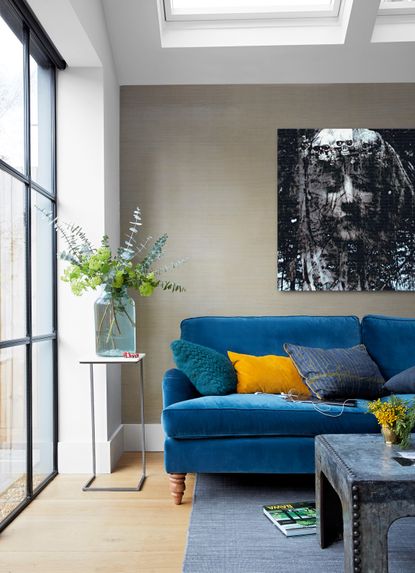 THE PROPERTY
An Edwardian terrace in southwest London. The open-plan ground floor of this modern home comprises a kitchen, dining area and living room. On the first floor is Bill's bedroom, the family bathroom and the master suite. On the extended top floor is Imogen's bedroom, which includes a shower and separate WC,plus a study on the half landing.
See more stylish modern homes across the globe
LIVING ROOM
This house was put together around two main principles. The first is to have one big statement in each space – be it an amazing chandelier, a wall of antiqued mirror tiles or an artwork that makes you gasp. Idea number two is good storage – and lots of it.
The architectural interior designer, Ali Salt, helped to re-imagine the house's floor plan with plenty of pockets of invisible storage tucked into alcoves and eased into unused corners – ideal for that all-too-familiar"chuck-it-in-and-shut-the-door-fast" method of tidying.
A grid of über-chic Crittall-style glazing is a masterstroke in the living room. They exude a feeling of modernity that gives older heirlooms and vintage finds a bit ofa "lift".
In the summer, these doors tend to stay wide open for most of the weekend, but on cooler evenings, they're brilliant at keeping the house warmly insulated.
The ordered mood of the black-framed glazing is matched by the clean, sleek lines of the super-wide floorboards. The floor was inspired by Dinesen's Douglas fir flooring at the Saatchi Gallery. This morebudget-friendly alternative in oak means it can run through the entire ground floor and up the stairs for a seamless flow.
See Also: Crittall-Style Doors, Windows And Room Dividers

The coffee table is made from a galvanised water tank which is brilliantly robust and can take kids sitting on it, even jumping off it.
Lush velvets and a texture-rich wall covering help soften thesharp edges of the metal-framed glazing.
DINING AREA
A wall of plates creates impact in the dining area.
These mini collections are one of the elements that make this home feel personal, aided and abetted by a fine display of quality vintage finds.
A wall in the dining room conceals a slim floor-to-ceiling cupboard, just the right size for coats, sports kit and dog-walking paraphernalia, which keeps the classic Victorian hallway free of clutter.
KITCHEN
Dark cabinetry links with the metal-framed glazing at the other end of the open-plan space, while a Sputnik chandelier adds glamour.
A glam Sixties-style fitting isn't your usual off-the-peg choice for a kitchen.
The softer, tawny tone of the oak flooring works really well against the dark painted kitchen and the golden Sputnik light.
A shelf lined with vintage glassware in jewel shades brings a layer of richness to the kitchen.
Decorative touches make a functional zone feel gorgeously glam.
BOYS' ROOM
The stylised palm-print wallpaper in the boys' room looks almost abstract when it wraps all around a room.
GIRLS' ROOM
This teenage girl bedroom hangout is an escapist den.
MASTER BEDROOM
Seamless, handle-free storage keeps this space uncluttered, so a selection of art and ceramics can shine through with a simple clarity.
FAMILY BATHROOM
This bathroom is quite a large space, so the wall of pictures makes it feel more welcoming and personal.
To see more of Ali Salt's architectural interior designs, visit alisaltdesign.co.uk
Photography / Paul Massey
See Also: Gallery wall ideas - 37 inspiring ways to turn art into an installation

Shining a spotlight on the now and the next in home design and decor, Livingetc is the UK's best selling high end and contemporary home design magazine. As a brand, Livingetc showcases the world's very best homes, breaks and makes the trends, and has access to leading international designers for insight and ideas. It was first published in 1998, and is currently edited by Pip Rich.