The 12 best minimalist rugs that fit into sophisticated and soothing schemes
The Livingetc team has found the 12 best minimalist rugs which add warmth and character without detracting from the overall look of your calming aesthetic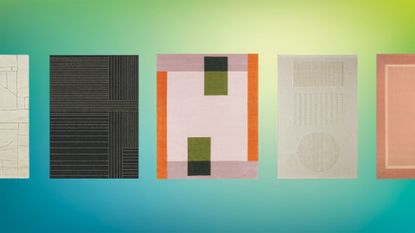 (Image credit: Lulu & Georgia, DWR, Ruggable & Wayfairugs)
The Livingetc Newsletter
For style leaders and design lovers.
Thank you for signing up to LivingEtc. You will receive a verification email shortly.
There was a problem. Please refresh the page and try again.
Minimalistic design has been praised by interior designers, architects, and artists for its ability to balance interiors, bringing peace and serenity into schemes. The same applies to rugs, these refined objects place importance on the negative space within a design. Their superpower lies in their simplicity.
To help you get closer to finding your perfect rug, you can take a look at our best rugs feature for our favorite finds and expert advice. We've scoured the best home décor stores and found our favorite minimal rug designs to help you find your perfect piece. From elegant outdoor options to crisp and colorful designs, these are our favorite minimalist rugs.
Best Colorful Minimalist Rugs
Material: Wool
Size: 8' x 10'
Price: $1,845
This 100% wool rug is hand-tufted for extra comfort but its defining feature is its vibrant use of color. Vivid blocks of bright orange, pink, and chartreuse are contrasted by a touch of deep black.
2. Impasto Blue & Red Rug
Material: Polyester
Size: 6' x 9'
Price: $339
Minimal but striking in its choice of colors, this impasto inspired red and blue patterned rug from Ruggable is a great choice for a variety of interior styles. The brush strokes give it a natural edge and soften the marriage of these two bold hues.
Material: Silk & Wool
Size: 144" x 108"
Price: $5,895
Designer Francesc Rifé created this wonderful abstract geometric rug in 2018, drawing inspiration from the enigmatic works of Mark Rothko. The yellow adds a touch of sun to this powder-blue pastel sky created in wool & silk.
Best Neutral Minimalist Rugs
1. Cream Lines Neutral Rug
Material: Wool & Cotton
Size: 8' X 10'
Price: $1,948
The texture and color palette of this Lulu & Georgia rug is refined and minimal, laying a perfect foundation for the abstract linework that makes its way across this neutral rug.
Material: Wool & Viscose
Size: 5'7" x 7'9"
Price: $945
Pink has been welcomed into the neutral family for a while now and this DWR design proves its versatility in more minimal designs. The elegant print on top plays with color and abstract lines with ease.
Material: Wool
Size: 6' x 9'
Price: $1,098
The appeal of this Lulu & Georgia rug designed by Jake Arnold is super simple, the contrasting shades of neutral brown feel warm and welcoming. What sets it apart is the addition of asymmetric fringing, playing with proportion and giving it an elevated look.
Best Geometric Minimalist Rugs
Material: Polypropylene
Size: 5' X 8'
Price: $209
Geometric and minimal rugs can be serene and soft too, as proven by this Urban Outfitters rug. Its calming motif would make a great addition to the living, bedroom, and dining rooms.
2. Geometric Charcoal Rug
Material: Polyester
Size: 6' x 9'
Price: $339
Some of the best patterned rugs can still be minimalist, as this monochrome design shows. A series of straight and strict lines add intrigue to this charcoal piece from Ruggable. Minimal is made easy with this design, it would smarten up even the most casual of schemes.
Best Outdoor Minimalist Rugs
1. Casual Minimal Outdoor Rug
Material: Recycled Polyester
Size: 9' x 12'
Price: $449.97
Cool and casual, this minimal rug feels effortless in its approach. The pattern doesn't try too hard and would make the ideal foundation for a laid-back dining space.
2. Muted Minimal Outdoor Rug
Material: PET
Size: 96" x 120"
Price: $2,147.50
Muted and a little bit moody, this outdoor rug from DWR featured a sophisticated and minimal use of pattern and color. Both work in balance to make this a durable and contemporary addition to outdoor spaces.
How do I choose a small space rug?
Smaller spaces are part of life and whilst they can seem more daunting when it comes to design, they don't have to be. There are a wealth of rug styles that can help your room feel lighter, more open, and most importantly, bigger. "If you don't have much space either pick a neutral or a fun pop of color. Make the rug as big as you can to create a larger sense of space," says, rug expert and fiber artist Rosemary Hallgarten.
Taking Hallgarten's advice into account, it's important to make sure you measure your space correctly and identify the right rug size before you start searching for your perfect piece. That way, when it arrives, the desired effect is guaranteed.
For style leaders and design lovers.
Writer and design expert Faaizah Shah is the founder of The Interiors Consultancy. She has worked with designers such as Staffan Tollgard and design houses such as Sanderson to help them understand and communicate their narratives. She is known for crafting engaging stories and imaginative content, and understanding great decor from her years alongside some of the best creatives in the industry. She is also a contributor to Livingetc.