'If you want to elevate your home, this is how.' The 12 best green patterned rugs are instantly elegant and luxe
From abstract prints to heritage designs our edit of the 12 best green patterned rugs is rich with elevated flair. An easy way to make your living room or bedroom look more smart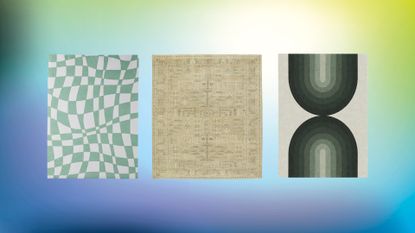 (Image credit: Urban Oufitters, Lulu & Georgia & Ruggable)
The Livingetc Newsletter
For style leaders and design lovers.
Thank you for signing up to LivingEtc. You will receive a verification email shortly.
There was a problem. Please refresh the page and try again.
Quick menu
There is nothing like a bit of green, it's revered for its biophilic properties, both inside and outside. The natural hue is also a great ingredient for patterned rugs, from graphic forest greens to soft sage statements.
Green's presence in the natural world means it lends itself well to interior schemes, injecting a sense of freshness as well as harmony into spaces. Patterned green floor pieces can serve as great foundations for contemporary or classic styles of furniture and lighting. Rugs are great for bringing softness and texture to schemes but can be so much more special in this energizing hue. For help finding your perfect piece, you can start by looking at our best rugs. Great advice features alongside our favorite finds.
After searching and scouring the best home décor stores, we have curated our selection of the best green patterned rugs.
Best Green Patterned Floral Rugs
Material: Jute & Cotton
Size: 5' x 8'
Price: $698
Natural in texture and appearance, this Anthropologie cotton and jute rug is ideal for adding organic texture and freshness to your interior. The botanical motifs dance across the jute in a bold green hue, adding a playful touch to the design. A great way of bringing the outdoors inside, this rug would work well in living and dining rooms.
2. Green Archival Floral Rug
Material: Polyester
Price: $289
Size: 5' x 7'
Bringing some British heritage into your home, Ruggable x Morris & Co.'s Pimpernel design showcases the elegance and beauty of green patterned floral rugs. The interlocking vines and tulips create a visual symmetry that helps this design sit into even the most modern of interiors. Its added bonus is the durability of being water and stain resistant as well as machine-washable.
3. Green Floral Persian Rug
Material: Polypropylene
Size: 9' x 12'
Price: $748
Set against an olive backdrop, Persian-inspired florals are showcased in this sophisticated design imagined by Chris Loves Julia x Loloi for Lulu & Georgia. Thanks to its softly distressed finish, this rug is a versatile design choice that is easy to pair with other elements. It's also ideal for living spaces where foot traffic is high with its durable and shed-proof surface.
Best Green Patterned Abstract Rugs
1. Green Curved Pattern Rug
Material: Wool & Cotton Blend
Size: 5'6" x 7'9"
Price: $1,549.00
Swooping lines and an asymmetric shape define this modern green patterned rug. Layered with other rugs or on its own, this contemporary creation was designed by Studiopepe for Muuto. Crafted with a wool and cotton blend, the dark green forest-like hue features a softly tufted texture. If you're looking for a design to elevate bedrooms or living rooms, this is it.
2. Green Abstract Painting Rug
Material: Polypropylene
Size: 3'3" x 5'
Price: $118.99
What I love about this green abstract rug is its resemblance to paintings of the past. Not only is this green patterned rug a romantic choice for your interior, but it also marries warm and cool tones making it suitable for a variety of schemes and design styles. It's also a practical choice, thanks to its stain-resistant properties.
3. Green Checkerboard Rug
Material: Polyester
Size: 5' x 7'
Price: $249
Cool and captivating is how to would best describe this checkerboard design from Urban Outfitters. Reminiscent of optical illusions, this abstract design is ideal for more modern schemes. Bringing home this rug means bringing joy into your interior but also supporting talented artist collectives like Deny Designs and addybambi. The rug has originality and a youthful spirit.
Best Green Patterned Persian Rugs
1. Sage Green Persian Rug
Material: Wool
Size: 6' X 9'
Price: $2,620
Lightly distressed, this sage green rug features a charming Persian inspired design that can add character to traditional and contemporary interior schemes. Timeless in its appeal, this 100% wool rug is entirely knotted by hand, which further adds to its authenticity. Soft yet durable, it allows you to bring a touch of contemporary Persian style into your home with ease.
Material: Polyester
Size: 8" x 10"
Price: $489
Rooted in contrast, this Persian rug from Ruggable is not only striking from a distance but beautifully detailed up close too. I love that it features a variety of earthy hues like sapphire blues, soft beige and dusky yellow against its moss-colored background. When deciding how to use it, you can opt to bring out one of the tones in the design or lean further into the darkened green. Whatever you choose, the design potential is vast and will prove to be rewarding.
3. Classic Green Persian Rug
Material: Polyester
Size: 7'6" X 9'6"
Price: $319
A little more traditional in its Persian design, this rug from Amazon perfectly pairs brighter tones of green with blue for a refreshing result. What I love about this design is how it can lend some levity to a space thanks to its slightly distressed finishing and lighter color palette. It can blended with neutral pieces for a more minimal look or can be positioned as the eclectic focal point for a more expressive scheme.
Best Green Patterned Minimal Rugs
Material: Wool
Size: 12' X 15'
Price: $3,998
Effortless and organic, this hand-drawn design realized in wool from Lulu & Georgia is endlessly inviting. Matched with other minimalist designs, this rug shines in living and bedroom spaces. Its soft texture and welcoming pile height further enhances the warmth it brings to interior schemes. Paired with complementing hues like ochre and terracotta, this khaki green really comes to life.
Material: Polyester
Size: 5' X 7'
Price: $219.00
Eye catching and alluring, this Bauhaus inspired design from Ruggable brings together the best of both worlds with its stain resistant properties. Not only is it distinctive in its style, but the gradient design also creates a focal point which can help anchor the surrounding furniture and lighting. The hunter green hue also works well as a neutral thanks to its cool undertones.
Material: Viscose
Size: 2' x 3'
Price: $99
With its gentle and painterly effect, this handwoven rug combines a palette of soft and soothing greens to evoke calm. The minimal design features a delicate patterned green that can temper more striking pieces or blend together with more neutral designs too. Versatile, this contemporary rug can work in a number of settings from living rooms to bedrooms.
Do patterned rugs make a space look smaller?
Patterned rugs when dramatically alter the appearance of size and how you feel in it. The wrong patterned rug can make the space feel smaller, visually confusing, and detract attention from what you really want people to focus on in the room. However, the right patterned rug can actually elevate your interior – both visually and experientially. Pattern when used correctly can give you a rug that opens up the room and creates zones that invite you and your family to connect, relax or concentrate depending on the purpose of the space.
The pattern can also prove to be a much-needed visual anchor that roots your design and serves as the central dial for all your furniture, lighting, and accessories. Another factor to consider is the type of pattern you opt for; smaller spaces might benefit from more minimal or large-scale patterns that feel open and inviting whereas larger rooms might benefit from the intricacy and engagement of a more detailed small-scale pattern. London-based rug experts, Riviere Rugs shared their insight commenting on the importance of color when it comes to choosing your patterned rug. "It all depends on the color, darker colors in a small space can make it feel smaller and vice versa," says Eleanor Dykes from Riviere Rugs.
The best place to start is by remembering that the answer to this question is entirely dependent on the size of your space, the design style you want to lean into, and ultimately what appeals to you.
For style leaders and design lovers.
Writer and design expert Faaizah Shah is the founder of The Interiors Consultancy. She has worked with designers such as Staffan Tollgard and design houses such as Sanderson to help them understand and communicate their narratives. She is known for crafting engaging stories and imaginative content, and understanding great decor from her years alongside some of the best creatives in the industry. She is also a contributor to Livingetc.