Small bedroom office ideas - how to make every corner of your home work for you
Small bedroom office ideas can be smart and beautiful if you follow this expert advice for getting the most out of the space you have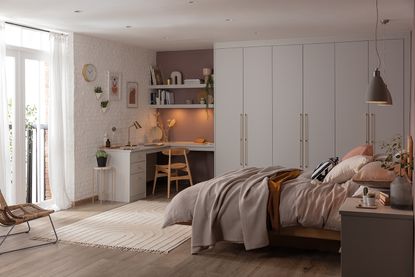 (Image credit: Sharps)
Small bedroom office ideas get a bad rep. Seen as poky, they're the last room to get allocated in a multi-gen or family home, evoking negativity amongst siblings because of their - apparent - lack of space. However, it's a bad rep that's undeserved if you ask us. Being made to come up with a host of small bedroom ideas actually allows you access to plenty of design possibilities. With clever fore-planning and imagination, you can create not just a comfy and special little bedroom, but also a multi-functional sleep-work space.
Sometimes it's just about scaling things down, or, in other instances, it's about using the right color or prioritizing which areas of the room are to be the focus. Spin the situation and see a small bedroom as a design challenge. An opportunity to show off your logistical and decorating skills and prove to everyone that, with a sprinkling of imagination and a can-do attitude, you can turn a small space into a desirable and practical one. Small is not a decorating downfall, it's an advantage.
Use an energizing and punchy paint tone
Contrary to popular belief, small bedroom office ideas can really work a bold color on the walls. Experienced decorators would advise you that, if you really want to use that striking wallpaper or eye-catching paint color somewhere, then do it in the smallest room of the home. Why? Because a small or dinky-sized space like a wash closet or small bedroom will never look that big anyway, so, to make it into a space that's special and really cossetting, opt for a fun decorating scheme and striking colorway. Now your little bedroom has charisma and is a little bit je ne sais quoi!
Squeezing a worktop or desk space into the room doesn't need to dominate. Here, Farrow and Ball demonstrate that a tiny shelf can be transformed into a work area, and it's a vivid, energizing, and fresh space thanks to the use of one of the best green paints.
Modular shelving and desks are neat and contemporary
A compact, modular, and chic shelving solution will click right into place in a small bedroom environment. String shelving does small bedroom storage ideas very well. Their contemporary aesthetic (all their shelving and desk solutions have a now-iconic linear design appeal to them) looks altogether effortless and timeless in one neat package. Thanks to its adaptable and minimal aesthetic, String shelving can be styled up and be tailored to suit any type of dweller; a striking monochrome scheme works particularly well for teenagers and young adults, whilst a natural wood finish works for those seeking a less dramatic feel.
Color-match your bedding with your desk and shelving color if you're keen on a coherent and calm aesthetic. With practical and minimal-fuss appeal, you'll go a long way to try and better this small bedroom-cum-office space solution.
Shift the surface texture and color, to zone your 9-5
Struggling with the concept of zoning your desk or workspace area within the bedroom? Splicing the room to separate your bed and desk space needn't involve building physical barriers within the space, and the cleverest small bedroom layouts might just be a case of shifting your surface texture or paint color, to zone the desk area and give it a different identity.
Take a top tip from interior design duo Jenna Choate and Mariana Ugarte who are the co-founders of London-based interior design firm Interior Fox. 'Not everyone has the luxury of a separate room for a home office, and with so many of us now working from home the need for a designated area is more important than ever,' Jenna says. 'A great way to find a space within the bedroom is to divide a small portion of the wall and paint it in a contrasting color. This zoning technique allows you to create an area that motivates you, even in the smallest of spaces. Here we did exactly that by paneling the small section of the wall and painting it with Olive from Little Greene,' explain Mariana. 'We installed a freestanding shelf which acts as a desk during the day and easily doubles up as a dressing table. Complete with a task lamp and a small stool to pop underneath and your new home office is set to go!'
Make the most of attic bedrooms and the sky is the limit
Attic bedrooms can be beautifully serene places to work, and to put into practice some clever small bedroom office ideas. Underneath the roof beams or, in this case, in a dormer-shaped window nook, look to carve out a little piece of workspace heaven at the top of the house. Place your workspace as near to the window as possible. Below a Velux or skylight, or placed in front of a sash and case, take the opportunity of being up high and get nearer to the sky.
Keeping the bedroom neutral and light maximizes the feeling of being 'up top', and by opting for twin desk lamps, as seen above, you give the workspace area a real presence within the room. Ruth Mottershead who is the creative director at Little Greene Paint Company, says, 'With us all spending more and more time at home, a home office space has become a necessity. Where space is limited, and your work area needs to be in a bedroom or living room, you can be creative, repurposing the corner of a room, an alcove, or space in the eves to create a workspace for focus that helps to aid your concentration,' says Ruth. 'For smaller spaces which you want to be calm, such as bedrooms, work with a soft neutral scheme such as 'Stone Dark Cool' combined with 'Slaked Lime' on woodwork or your desk, which will provide a gentle, yet brighter contrast, creating an elegant and functional space, perfect for creating a tranquil and comfortable work and sleep room.'
Prioritize key furniture pieces for a successful small bedroom/office design layout
Prioritizing items of furniture is a common occurrence when designing a smaller space. If you are looking to have both a desk and a bed, and within a smaller bedroom space, then be prepared to evict other items of furniture which aren't so high on your priority list.
'Use a desk to collate interesting objects, plants, and other memorabilia that will add a touch of personality without dominating the room. Light colors will work together to help even a large workspace blend with the wider design, keeping it spacious and relaxing despite its multi-function use. Using subtle colors that work well with white such as Mylands' Mint Street (No.95) will promote a fresh feeling that will help you stay focused during the day, but will create a cozier environment to unwind in in the evenings.' says Dominic Myland.
Sure you can keep some form of clothes storage, and even a bedside table and floor or wall lamp, but you might need to leave the full-length chaise in another room… By focusing the design attention on the two main elements - the bed and the desk - the room still manages to have breathing space. And, relax.
Fun, functional, and not at all childish
Studio Peake, a boutique interior design practice based in West London, specialize in curating bespoke interior design schemes for their clients. For this project, the clients needed a some boy bedroom ideas for their ten-year-old son. The team curated something truly special and befitting, by carefully selecting a color palette that is fun but not childish, and creating a space that is chic but also highly functional. Sarah Peake, the founder of Studio Peake, comments, 'It was a bedroom I was designing for a 10-year-old boy, still a child but soon to be a young adult. I loved the shape of the Another Country desk but was keen to do something a little different - we, therefore, asked Another Country to use a high-gloss lacquer color on the desk base while keeping the top walnut.'
The bright yellow provided an unexpected and playful contrast to the blue/grey paint (Edward Bulmers Aerial Tint). 'We then matched the walnut top to the shelves above the desk and other furniture elsewhere in the room, to give the room's aesthetic some structure,' Sarah adds. 'The desk chair was made of scrap wood by Piet Hein Eeik. I always like to play around with a variety of materials and contrasting colors, and this room was no exception!'
Sarah kept the bedding neutral, but then added a dash of daring design with a cow print club chair in another corner of the room. The result? A space that provides sleep and work functionality, but without jeopardizing on the style factor.
Create a dark, bygone-era influenced corner workspace
Feeling a touch more traditional? Or, maybe you just prefer a darker tone? That's cool, because you might want to consider opting for mixing it up, like the experts at Mylands suggest.
'Dark, moody colors that absorb light can add a sense of sophistication, while deep hues can help to promote that much-needed level of concentration required in your 'work corner' of the bedroom,' says Dominic Myland. Bringing to mind the rich, mahogany tones that we can often associate with traditional Wall Street banking offices, and - to an extent - the old-worldly home office ideas found in Hampton's mansions - this Mylands' hue (FTT-015) really hones in on the right kind of color palette, but with a contemporary twist. Classic, rich mahogany offices of bygone eras certainly inspire the color palette, but the furniture is strictly on-trend.
Make the functional part of the office into a piece of the bedroom decor
Whilst some people can make do with just a laptop, a pen, and pad, others - fairly so - need to get into the right working mindset by creating a bit more clutter around them and in front of them. We're not judging. Now that's normally fine, however, small bedrooms don't lend themselves well to work disorder and chaos.
Enter the wonderful design concept of a decorative - and oh so neat - pinboard, and, as you might expect, we're not talking about just any old pinboard. Here, Sarah Peake, founder of Studio Peake and whose project we mentioned earlier in the feature, demonstrates how to include an artful and bespoke pinboard behind a desk. Ok, admittedly this isn't a bedroom. It's a home office room. However, the design idea could be used equally well in a small bedroom office space.
'I made the pinboard myself out of fabric and braid remnants that I appliquéd onto a plain linen background,' Sarah says. 'I wanted something dramatic and eye-catching above the desk and it also had to be tall to draw the eye up - in a relatively small space like this, having something tall and bold on the wall can imply a far grander ceiling height than you actually have. I went for abstract shapes, with a variety of colors, to set up a contrast with the yellow patterned curtains and plain painted walls. Aesthetics aside, it was very useful to have a big space onto which I could pin ideas and images!' We're in awe of this clever craftsmanship.
Add art, and a chic wall light too
You can make a desk feel, well, less desk-like, by softening it with pieces of artwork. This really helps make a desktop feel more coherent in a bedroom area. Affordable art feels a little less formal, heaps more inspiring, and, the kind of corner that you don't mind looking at when you wake up on a weekend!
But artwork aside, we're also honing right in on the wall lamp here. Again, much like the artwork, a decorative wall lamp like this one from lighting design specialists Pooky might feel more comfortable and warming, as opposed to a task lamp. It's still direct and sufficient task lighting, just a little more luxurious! With its beautiful brass arm and fabric shade, it's a delicate and inspired addition to your bedroom workspace area.
'Furniture shuffle aside, you can change the mood in your home office back to the bedroom by switching up the lighting scheme – a couple of light dimmers, colorful fabric shaded table lamps and even a lightbulb temperature change will create the ambient lighting which is more often associated with downtime and relaxation.' says Rohan Blacker, founder and lighting design expert at Pooky. 'Equally, it is important to have adequate desk lighting if you are working from your bedroom, no strained eyes here! For maximum productivity, set up your designated "office" ideally by a window or somewhere with natural light. Light levels will affect your mood, efficiency levels, and ultimately, some daylight will make you feel more awake throughout the day,' says Rohan.
Keep it coherent with fitted furniture
Ok, we've furnished you with a host of different small bedroom office ideas and tricks to design and incorporate your workspace and desk. If you in any way feel overwhelmed with the options, or, maybe you still feel a little out of depth with the design elements to get it right, why not consider speaking to a fitted furniture specialist? Sharps offer up a selection of neat and chic ways to design a desk space into a bedroom area.
'If your bedroom is now also your working area, a clutter-free tidy desk space, in a previously unused corner, will aid a healthy work-life balance. Opting for a built-in desk solution, with the same design as your wardrobes, will create a cohesive look whilst having the desk in close proximity to the cupboards allows for easy to reach office storage and helps to maximize productivity!' says Rachel Hutcheson, from Sharps design. They can even blend your desk in with a fitted wardrobe so that you almost don't notice that it's there.
The Livingetc newsletter is your shortcut to the now and the next in home design. Subscribe today to receive a stunning free 200-page book of the best homes from around the world.
Rory Alastair Robertson has a long-standing history working across the interiors industry. Raised in Morningside, Edinburgh, Rory grew up surrounded by classically grand Scottish Georgian and Victorian architecture.
His first appreciation for interior decoration sparked when his mother hired scaffolding and decorated their three-storey Victorian staircase in Farrow & Ball Picture Gallery Red, by herself. She then painstakingly gold leafed the drawing room - by hand - over a base coat of Sudbury Yellow. This was the era of Jocasta Innes and Kenneth Turner, when paint techniques and maximalist style were the decorating raison d'être.
With this inherited gene of creativity, Rory went on to study Interior Architecture at the University of Edinburgh, and later, Theatre Set Design and Architectural Illustration at The Rhode Island School of Design on America's East Coast.
Rory's foray with the editorial world started a decade ago at Livingetc magazine, a title which he regularly contributes to today. Specialising with a deep-seated appreciation for historical homes and interiors, Rory often travels far and wide to be inspired by unique properties with a fascinating history.
If he's not uncovering an unusual National Trust property in the UK, then he's seeking out a Neo-Classical clifftop villa in Capri or a Palazzo in Florence.
Based in London's Shoreditch, working as a Senior Interiors Editor and Consultant, Rory's portfolio of work is a creative melting pot of residential and commercial interior design projects and a plethora of editorial writing work. Rory is also Guest Interiors Lecturer at the prestigious KLC School of Interior Design in Chelsea, London. His most cosseted possession is a ramshackle Citroen Deux Chevaux, which he has reupholstered in Pierre Frey yellow and turquoise silk fabric.
Discover more at roryrobertson.co.uk and @rory_stylist.