5 Expert Tips For Decorating Your Guest Bedroom
Transform your spare room into a stylish retreat...
While spending so much time at home, many of us have taken the opportunity to action those decor jobs we've been meaning to do - with updating the guest bedroom often top of the list.
Online bed and mattress retailer, Bed SOS, has seen sales of its beds, mattresses and bedroom furniture more than double (108% year-on-year) since the lockdown began.
To help those who are working on their bedrooms, the brand has worked with other interior design experts to provide five tips for decorating a spare bedroom so it's ready for when guests can stay over again.
HOW TO DECORATE YOUR GUEST BEDROOM:
Discover five expert tips on transforming your spare room into a cosy and welcoming space for when we can host guests again.
See Also:Gorgeous Master Bedroom Ideas
1. CHOOSE A THEME AND COLOUR PALETTE
When you decorate your guest bedroom, you can choose between staying conservative or being bold with the style. This is largely a personal choice, but the bedroom should have a clear overall theme and colour palette, and should not be a melting pot for different styles.
Alexandra Laird, Interior Design Manager of Burbeck Interiors, said: 'When decorating your guest bedroom, you can afford to take some risks and push the boundaries. Use this as a chance to experiment and explore your design personality. The best boutique hotels don't have cookie-cutter bedrooms, they are all a bit different, so apply this thinking to your guest bedroom and have some fun.'
See Also:Neutral Bedroom Ideas vsDramatic Dark Bedroom Ideas
2. KNOW WHO YOUR GUESTS WILL BE
When decorating a guest bedroom, it's important to think about who may be staying in it, as this can have a significant impact on your decor and styling choices.
For older relatives, make sure that you cater for their needs by investing in a comfortable and accessible bed. You can also consider a 'guest bed' that incorporates a pull out bed for multiple visitors. Zip together beds are another alternative that provide you with the flexibility to cater to different guests.
Family and friends will appreciate personal touches, such as family photographs. On the other hand, if you plan on catering to paying guests, you may want to avoid including any personal items.
See Also:Mens Bedroom Ideas: Cool, Masculine Design Ideas For Men
3. CHOOSE THE RIGHT FURNITURE
Including furniture, such as a sofa or armchair, will allow your guest to be able to relax without getting into bed. A full-length mirror might also be appreciated and it's always a good idea to include bedside tables and reading lamps. To go the extra mile, consider providing reading materials.
Additional furnishings, such as a chest of drawers or even an ottoman to keep spare bedding in, can add that finishing touch. However, it's important to bear in mind the size of the room when decorating, and the space should not feel cluttered.
Finally, remember the little additional touches to make your guests feel at home. Interior designer, Georgina Wood, said: "Guests will remember the little things, so it's a good idea to provide your guest with creature comforts like a dressing gown, fresh linen, an eye mask and toiletries, and including a bottle of water and fresh flowers in an elegant vase will really welcome them into your home."
See Also:Striking Statement Headboard Ideas vsFabulous Four Poster Bed Ideas
4. MAKE IT MULTIPURPOSE
Not everyone will have the room for a dedicated guest bedroom, but if you host a lot then it's a good idea to have a room that can be converted to accommodate your visitors.
Consider including a futon in your home office so you can convert the room into a temporary bedroom at short notice. Investing in good quality bed linen will make a fold-out bed feel much more comfortable and luxurious.
By making the room dual function, you can ensure that it sees lots of use all year round, and maximises the space that you have available.
See Also:Striking And Stylish Built-In Wardrobes Ideas
5. DON'T SKIMP ON THE BEDDING
One thing that guests will hate is a bad night's sleep in an uncomfortable bed, so it's important to invest in a good quality bed and mattress or mattress topper.
It's equally important to pay attention to the bedding. Paul Gibbens of Housebuyers4u, said: 'The bedding and sheets should be nice and fresh for your guest and it's important to allow guests to regulate their temperature when they sleep, so try including multiple layers, such as a quilt and a blanket.
'You should always include at least two pillows (or four on a double bed), while a headboard will allow guests to sit up and read if they choose.'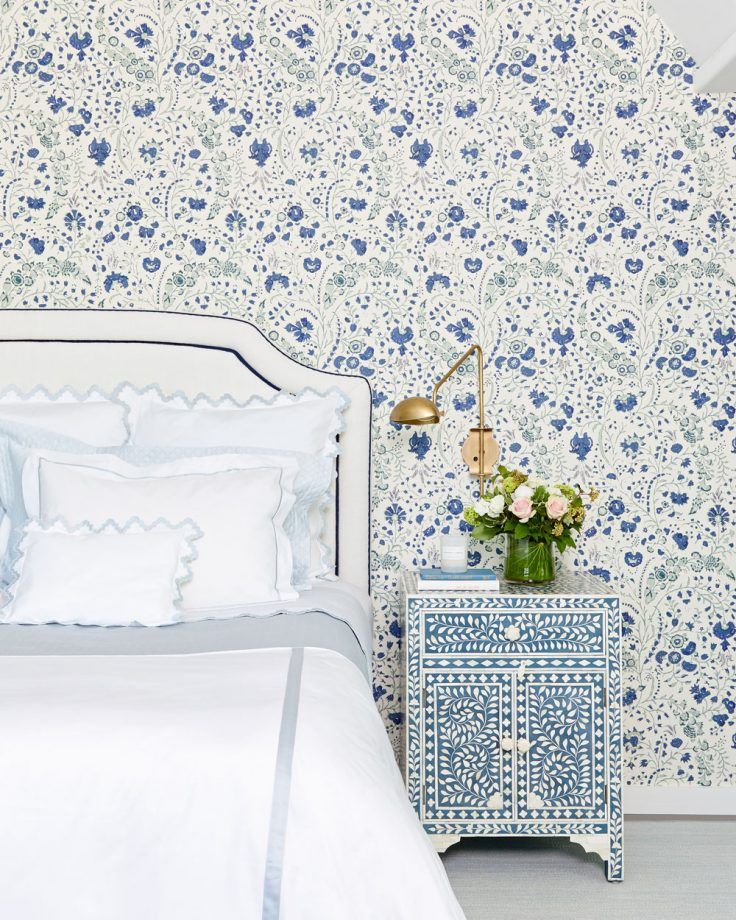 See Also: 5 tricks for styling cushions and pillows like a designer