Luxury Bathroom Ideas: 20 design ideas to steal for a luxury bathroom look
Taking cues from luxury boutique hotels, these luxury bathroom ideas showcase some seriously gorgeous designs for your master bathroom...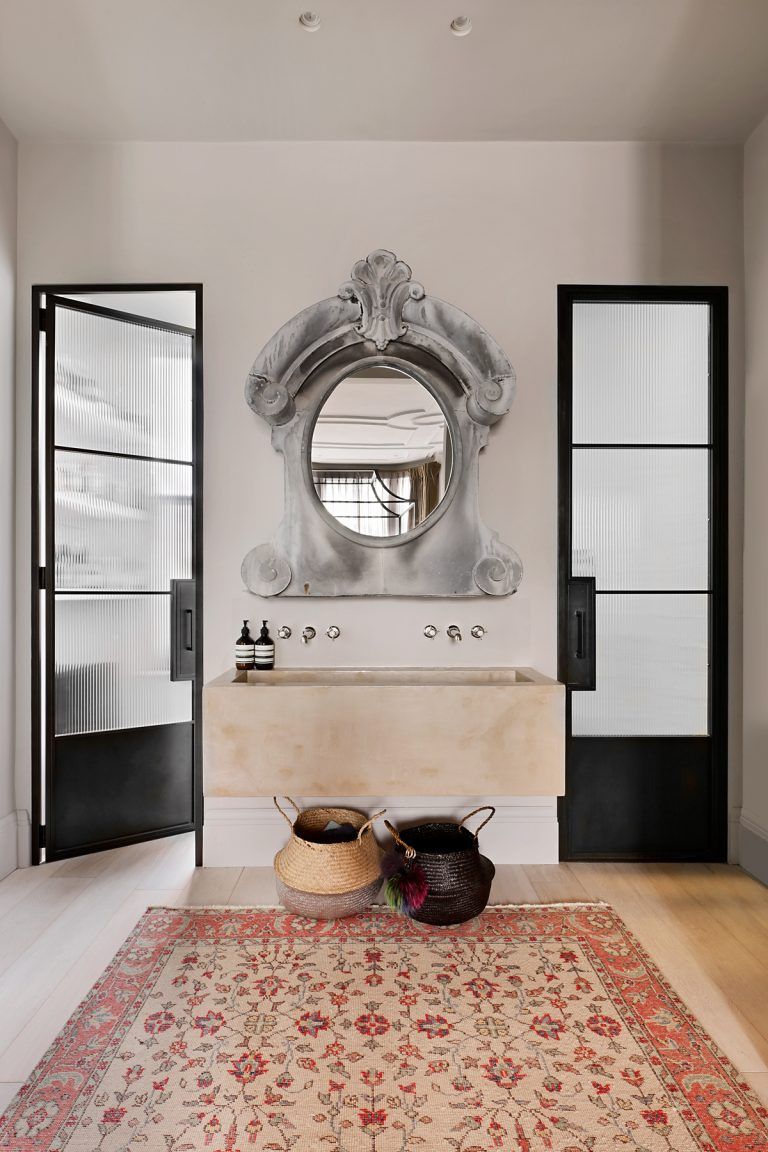 (Image credit: Future)
Taking cues from luxury boutique hotels, these luxury bathroom ideas showcase some seriously gorgeous designs for your master bathroom. From contemporary walk-in shower room ideas to modern bathroom lighting and modern freestanding baths, these havens all have one things in common: unmistakable glamour.
For minimalists, a black and white bathroom scheme might hit the spot, or for lovers of colour, how about an on-trend pink bathroom scheme – or try one of these funky bathroom colour ideas.
With luxurious materials, bespoke detailing, striking lighting and a generous dose of brass and marble, let these statement bathrooms lead your redesign.S plash out on quality taps and finishes, which even if teamed with the most minimalist of baths, will make a statement.
1. Netflix & chill
This bathroom is very large, making it instantly feel luxurious. There's also a TV is mounted into the wall near the bath (not pictured), perfect for watching Netflix while having a long soak.
2. Choose a modern bath
A luxe freestanding bath invites everyday indulgence.
With stunning details like the pearlescent wall tiles, slate floors and pretty window treatments, the tub isn't the first thing you notice. But it's the most-loved aspect of this master bathroom as the rim is wide enough to rest a glass of wine on.
3. Play with heights
The bath is decorated in a mirrored mosaic and installed on a custom made plinth that's been customised with the Union Jack pattern.
4. Create a home spa oasis
Who wouldn't want to be a guest at this house when you have a spa bathroom this gorgeous? The warm woods, graphic tiles and sleek fittings are beautifully combined.
5. Add some artwork
Art and real life happily coexist in this gorgeous bathroom.
Meanwhile the antique hand-painted wall panel adds drama to this bathroom below.
6. Install modern Crittall doors
Ribbed-glass Crittall doors separate the shower and WC from the basin, located in the bedroom. Painting ceilings in the same shade as the walls gives rooms a cohesive, cocooning feel.
A bedroom was sacrificed to create this luxe, spacious bathroom, with the wet room separated from it by a glazed steel divide. Metal-framed glazing in the bathroom creates a utilitarian look, while Majolica tiles always have the power to put you in a holiday mood.
7. Give it some drama
This bathroom is a place to totally disconnect, relax and indulge. The dark walls and luxe bath give it a grown-up, sophisticated vibe, while the raised bath turns it into a showpiece. Plus, there is a working fireplace, generous steam room and shower.
8. Choose all-over marble for a luxe look
Opting for a marble bathroom scheme is a sure-fire way to create a luxurious look.
The below shower room features floor-to-ceiling Carrara marble, a rain fall shower head plus two separate hand-held ones.
9. Dare to mix marble and metallics
Marble floors, a copper standalone tub with an artwork hanging above all work together to create a glamorous, grown-up space.
Meanwhile metallic accents make the bathroom below feel more youthful and trendy.
10. Bring the outdoors in
We're in love with this super chic bathroom space, from the whirlpool bath to the indoor-outdoor vibe that the light-well garden creates.
Similarly, the below bath is half inside, half outside, with a glass wall nestled neatly into the marble. A glass wall opens into the shower which is in this private outdoor light-well space. Magical.
See more Cool ways to bring the outdoors in
11. Add lounge seating
This master bathroom feels more like a luxe living space, with butter leather Barcelona bench seating, a vintage rug and modern art.
A lounge area in a bathroom is very luxe – especially when the lounge seating in question is a classic Eames lounge chair. The marble wall tiles help differentiate the wet area from the lounge area.
12. Consider a window seat
The existing window was replaced with a deeper version with enough space to install a window seat. This room is all about total relaxation and escapism.
13. Update brassware
The glamorous master ensuite is a beautiful balance of old and new, with marble tiles and a traditional contrasting against the modern lighting and taps.
14. Indulge with his & hers bathtubs
Take things up a notch with his and hers bathtubs. Can you imagine anything more luxurious than having two freestanding bathtubs, so you can comfortably soak together without having to share? A side table in the middle means that drinks are always within reach.
15. For large bathrooms, consider a vanity island
Interior designer Richard Felix Ashman decided to place this bathroom vanity in the centre of the room as the walls were all in use. The owners suggested the diagonal angle of the vanity island, which frees the circulation from a rigid grid. The custom hanging mirror is also double sided and flanked by customised pendants, all in polished nickel.
16. Separate the bathroom with sliding barn doors
Both practical and decorative, the sliding doors here take their cue from traditional barn doors. The walls are finished in polished tadelakt to contrast with the dark blue freestanding bath. Glossy plaster walls in the bathrooms chime with oak doors; taps, in bronze or brass, add an industrial glimmer.
17. Maximise every inch of space in compact bathrooms
Got a tiny bathroom? Transform it into a functional shower room.
18. Move the bath to the middle of the room
The centrally placed tub and walk-in shower, accessed from both sides, create a sense of spaciousness.
19. Modernise cabinetry with recessed handles
Bespoke units with recessed handles subtly echo the geometric mood of the mirror and lights.
20. Keep your parquet floors
This luxe bathroom retained the original floorboards by creating a splash-proof marble centre for the bath.