8 things you can do to create a wet bar feel in your home with minimal effort
Transform an unloved corner or unused surface into your very own wet bar with these easy tips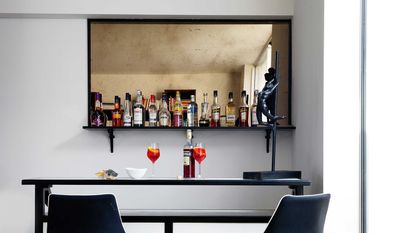 (Image credit: Simon Brown)
Entertaining at home has become the new going out, and to create the same feel as our favorite bar, we've turned our attention inwards and have started getting creative with DIY wet bars to host our guests. Whether it's the festive season or the balmy summer months, a home bar, no matter how big or small, is a welcome little addition to your living room or dining area that can bring that touch of class.
You don't need a fully installed all-singing, all-dancing wet bar either, a drinks cabinet or a space with installed plumbing. Sometimes, just the suggestion of a wet bar can add that feeling of elegance and sophistication to your home and help create a cozy feel to the space. Think floating shelves above an existing kitchen cabinet or a beautifully placed tray containing brassware and beautiful bottles on a countertop.
Read on for our tips for creating a wet bar mood in any unused corner of the home.
Oonagh is an experienced content editor and writer with an interest in the decorative element of interior design. For this story, she spoke to the design experts to gather wet bar ideas for creating the home bar look in the smallest of spaces.
How to turn a spare surface into a wet bar
1. Opt for a simple bar cart
One simple thing you can do to bring the wet bar feel with minimal effort is to invest wisely in a beautiful bar cart. For those with limited space, bar carts are a convenient and stylish addition to a small dining room or living room, and they can be tucked away when not in use and moved around the home to whatever room you happen to be entertaining in.
'Antique bar carts will add character and personality to a space, setting the mood for entertaining, but there are also so many on the market that will suit any style of home,' says Clara Ewart, head of design at interior design studio, Kitesgrove.
'I love working with bar carts and creating a beautiful moment with a record player, a special bottle of wine or spirit, and their favorite crystal and glasses,' adds Sam Tannehill of Sam Tannehill Interiors.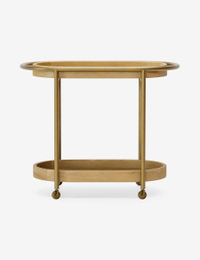 A simple and stylish bar cart with wheels, allowing you to move the trolley around and float your bar in any space you please.
3. Think about the decor
If you're creating the home bar feel in a small corner of a room, it all comes down to decor. Handmade bowls, beautiful glassware, a beautiful shaker, appetizer plates, crystal champagne glasses, or cocktail napkins make for beautiful console table decor ideas and are all items you can use to reinforce the idea that this is a designated bar area.
'Let the bottles and other items like fresh lemons, limes, rosemary, and pomegranates be your decor,' says Kristin Bartone, creative director and principal designer of Bartone Interiors. 'Fresh is always best! Add a rosemary plant, oranges with cloves, and other fresh fruits that add color and are edible and functional for the space. This is a sustainable approach by using edible decor. Whatever doesn't get used can be juiced or composted the next day.'
'For me, marble bookends propping up some books on cocktail making are a great way to dress the space,' says Gianpiero Gaglione of Gianpiero Gaglione Interior Design. 'Murano drinking glasses from Venice, a small plant in the corner. All these items feature on my home bar and combined with the liquor bottles, they create personality and tell a story that is special and unique to my home.'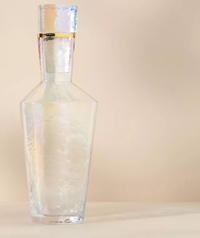 3. Really consider lighting
Lighting is key to creating atmosphere, and nowhere more so than with a home bar. A drinks cabinet could be lit from inside, or with low-dimmed LED lighting to set the mood, but if you don't have a cabinet, you can just light a shelf or cocktail station by simply adding candlelight to create the desired ambiance.
'A small table lamp will help bring a club-like feel, or simply light a candle to bring it to life,' says Clara. If you are creating a home bar out of a spare shelf, lighting from above can really help to draw attention to the area and make it feel like it's a proper drinks zone. This scheme from Gianpiero Gaglione takes an unused alcove, and fills it with shelving for glassware, but the finishing touch is the beautiful bulb that lights the dark space and makes it feel like a special corner of the home.
4. Add a mirror
Adding a mirror to your wet bar zone is an easy way to make your space feel like an actual bar. Not only does a living room mirror above your designated bar give off a sophisticated vibe and create a feeling of more space, but it also creates an inviting atmosphere for guests. It will also help to reflect the lighting in the room, adding a glamorous shine to your bar area.
For extra impact, you can use a mirrored glass countertop for extra reflective and luxurious flair. 'I love including a big mirror over the bar that adds an infinity effect to the countertop,' says Annie Obermann of the design house, Forge & Bow.
5. Create a moment with wall art
Look to wall art trends to set the tone and use your favorite framed pieces as a powerful design device to introduce character and set the tone for entertaining. From your favorite framed pieces hanging above a console table, to clever wallpaper ideas, something to draw the eye will help the space feel distinguishable from the rest of the room.
'We like to add a bold pop of color or a specialty wall treatment whether that's paneling or wallpaper and layer that with artwork or a tapestry to make it feel like it's part of the living space,' says Ginger Curtis, President of Urbanology Designs.
5. Display your favorite bottles in groups
It might seem obvious, but sometimes setting your home bar up is as simple as grouping a stash of your favorite bottles together to make a fabulous table centerpiece. Different colors of glass and artistic labels can work as sculptural pieces in themselves, with light bouncing off the grooves on the bottle and creating a special space for entertaining.
It's also a chance to make the space feel personal. 'A home bar has to be your bar and house all your favorite bottles,' says Gianpiero. 'Of course, you'll want to leave some room for pretty bottles, but for me, there's nothing worse than a full bar filled with obscure liquors no one cares to drink.
'I have many clients with home bars and I advise them to make a feature of their favorite drink. My personal drinks of choice are either a Negroni or an Old Fashioned, so my bar features both quite heavily. I love the story it brings to the bar.'
6. Add glamor through warm materials
Copper will bring a touch of glitz and glamor, giving a feel of Art Deco design to any space, 'while bold hardware like brass is a classic material for bars and brings texture and warmth,' says Clara. Even if you don't have a faucet or sink at the space, think cocktail napkin rings, a vintage decanter with metal detailing, or a beautiful brass cocktail mixer in brass or copper for some added shine and glamour. If you're creating your bar vignette on top of a counter, you can change up the handles for beautiful pieces of brass to bring that beautiful sheen.
8. Or even a simple and elegant tray
Last but not least, if you're lacking surface space, you can set your home bar up with a beautiful tray that can be easily put away again after use. Go for a silver platter that will bring the Hollywood Regency style style glamor, or something as simple as this tray console table. Accessorize with a selection of your favorite bottles, glasses and accessories. 'This can be easily incorporated into an existing joinery unit, decorating bookcases or simply placed on top of a kitchen worktop,' says Clara.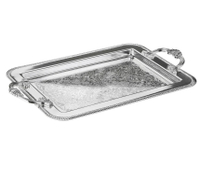 Livingetc content editor and design expert
Oonagh is a content editor at Livingetc.com. Previously, she worked on a London property title, producing long-read interiors features, style pages and conducting interviews with a range of famous faces from the UK interiors scene, from Kit Kemp to Robert Kime. In doing so, she has developed a keen interest in London's historical architecture and the city's distinct tastemakers paving the way in the world of interiors.