This iconic Manhattan home was once in a state of disrepair – this is what celebrity designers the Novogratz did with it
Two design stars took on a decaying but equally starry art nouveau-style mansion in Manhattan's West Village and brought it back to life in the most amazing way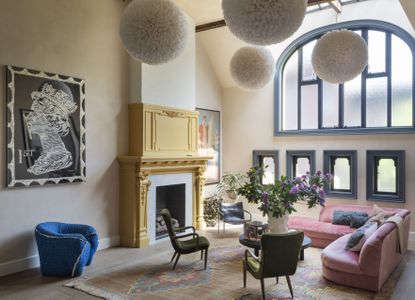 (Image credit: Matthew Williams)
The Livingetc Newsletter
For style leaders and design lovers.
Thank you for signing up to LivingEtc. You will receive a verification email shortly.
There was a problem. Please refresh the page and try again.
The owners of this home are designers Cortney and Robert Novogratz and their seven children, Major, twins Five and Holleder, Breaker, twins Bellamy and Tallulah and Wolfgang, aged 14 to 25. The couple has been renovating houses, hotels, and retail spaces for 25 years and have their TV show, Home by Novogratz, as well as a furnishings range (available at Next). Their previous home was a castle in LA's Hollywood Hills, so it's no surprise to learn that when it came to their next house, the prolific design duo and their family chose a pink palace – this time on the East Coast in the heart of Manhattan's West Village.
'We've returned to our New York roots, and even after more than 25 years of renovating spaces [their own homes and those for clients have been a frequent fixture in Livingetc magazine over the years] the fact that this iconic landmark building is ours is still slightly surreal,' says Robert of the 1826-built house.
It had been bubble-gum pink for the last 50 years, attracted much gossip, and was owned for decades by West Village eccentric Celeste Martin, a former Rockette (Radio City dancer) and actress who filled it with a merry-go-round of visiting artists and musicians.
When The Novogratz, as they are known, bought the property three years ago it was in a total state of disrepair – a mess both structurally and cosmetically. But here's how this modern home was completely transformed.
The Property
The six-floor house was built in 1826, with a Spanish Modernismo facade added in the 1920s. The garden floor has a bedroom and kitchen. On the ground floor is a living room, which leads to the garden, a dining room, a kitchen and a cloakroom. On the first floor is the master bedroom with a desk and seating area, plus a bathroom. Teenagers Holleder and Major have bedrooms on the second floor. The ballroom occupies the third floor, along with a bedroom and a half-bathroom for teenage son Five. At the top is a media room with a balcony overlooking the ballroom.
'For us it was perfect,' says Robert. 'We love a challenge and we wanted the house to be brought back to life, ready for the future.' Sadly, little of the original building – with its six floors of baroque splendor, including a once-magnificent ballroom and two outdoor terraces – was salvageable. Still, it was important to the couple that its spirit was honored.
'We saved chips of paint and scraps of old wallpaper as inspiration for its reinvention, and prioritized bringing back all the classic charm of the house with bespoke carpentry, antique fireplaces, and vintage lighting,' says Robert. A muted backdrop palette on the walls means the eye is drawn to the select punches of colorful wallpapers and fabrics, as well as focusing on the vibrant art, much of which has been collected over many years.
Design story
Unusually for the couple, the project ran over schedule. 'Largely due to having to keep the Landmarks Preservation happy, who also insisted that the exterior be returned to its original ochre shade,' says Robert. Along the journey came the couple's many children. The youngest three of the kids still live at home, while the others visit often for family party nights, with Breaker performing with his band in the ballroom-cum-cozy living room. 'Or they just come to chill and enjoy a home-cooked meal and a hot shower,' adds Robert.
This was the biggest project the couple had ever encountered – 'in scope, budget and amount of work, with many sleepless nights for sure,' Robert says – but even so, they don't rule out doing it all again sometime. Never say never, after all. Now the house is both beautiful and amazing to look at and fun to hang out in. 'From a design perspective, the house turned out exactly as we had planned. And we use the home in so many ways,' says Robert. 'We work there, we live there, entertain there, have the kids there, plus our very large extended family. It's a big home that needs to be full of life – and it is.'
Ballroom
In this ballroom, 'so many of the period features had disappeared, so we tried to find pieces like the mantelpiece that would honor the house's origins and fit in with our vision,' says Robert. The bespoke windows are from H Hirschmann, while the living room lighting is courtsey Pluma Cubic hanging lights, Heike Buchfelder. The vintage sofa is Alvar in Candy by Clarke & Clarke, The Frayed Knot; the vintage green Swedish chair is from Finch Hudson Blue; the blue chair from Tokujin Yoshioka, and the vintage rug, from ABC Carpet & Home.
Havana Extra Large Pendant
Material: Rattan
Price: $250
Choose this lighting piece crafted from cream rattan, to illuminate your room in a soft glow.
Kitchen
'Although it's a serious working space, designed for feeding our huge family, there was no reason not to mix up the marble kitchen with some fun pieces and amusing art,' says Robert. The cabinets are from Ideal Cabinets; the marble from Cullifords; artwork (on the wall) by Butch Anthony, and the vintage petanque player figure is a brocante find.
Dining Room
'We needed a large space for entertaining and eating as there are nine of us and we have a huge extended family, plus lots of friends,' says Robert. 'This 12-foot-long dining table has been in the Novogratz family for years and has seen a lot of life.'
The plaster wall finish is by Kamp Studios; the pendant lights from Natalie Page Studio, and the artwork by Francisco Larios.
Cloakroom
The petite powder room is designed like a jewel box. 'This room is all about fashion and fun so we chose a wallpaper we love and grounded it with timeless marble and statement brassware,' says Robert. The wallpaper is from Gucci and the sink and taps are from The Water Monopoly.
Type: Washable
Price: $120
To add a boost of personality to your powder room, consider this bright, colorful wallpaper and create an energetic vibe even in the tiniest of spaces.
Main bathroom
'We were inspired by boutique hotels like The Bowery Hotel for this space,' says Robert. 'The sense of luxe and sumptuousness makes us feel like we're on holiday. We also wanted to bring in natural elements to reflect the views of the garden beyond.' The luxury bathroom and pendant light are from Waterworks, and the curtains are from The Shade Store.
Main Bedroom
Image 1 of 2
'This vintage four-poster bed has been in all our homes so it has been with us for a long time and we're very attached to its style and comfort,' says Robert. 'All our children have grown up with it. The large-format art is something that also features here as well as almost every wall in the house.'
The vintage Indian four-poster bed is from ABC Carpet & Home; framed artwork (at the head of the bed) by Peter Beard; painting by Graham Gillmore; artwork by Donald Baechler; the pillow from Zabu, and chair from Cure Thrift.
'We created a private sitting and office area in our bedroom, which we both use every day,' says Robert. 'The inspiration came from boutique hotels we have enjoyed staying in.' The mantelpiece is by Ryan & Smith, 1stDibs; artwork (over the mantelpiece) by Rene Ricard, and a vintage Danish sofa from Finch Hudson.
Holleder's Bedroom
'All the kids' bedrooms reflect each of their interests and hobbies,' explains Robert. 'This house has three such rooms, and teenage bedrooms and each one is distinctive to its inhabitant.' The Damien Hirst Dots Skateboards (2009) is from Supreme; the bedspread, pillowcases, bedside cabinets, rug, and armchairs, are all by The Novogratz. The curtains from The Shade Store; vintage mid-century modern blue floor lamp, orange chair, and ceiling light, all from Finch Hudson.
Roof terrace
'Having a lush and large home with terraces is such a luxury in a city,' says Robert. 'And the views! We can see all the way uptown and downtown from the roof. It is such a great place to have parties, family nights, or just hang out and enjoy nature. A real gift in a city dwelling.' Furniture and cushions, all from The Novogratz.
For style leaders and design lovers.
A legendary houses editor, Mary Weaver held the job of Homes Editor on Livingetc for over a decade. She set the aesthetic for which the brand has become known. She is now a freelance stylist, art director and writer, regularly contributing to Livingetc and overseeing the brand's successful House Tours franchises of live and webinar events.