Best garden furniture 2021: the 15 must-have outdoor designs
Discover 2021's best garden furniture and transform your outdoor space with sunshine-ready sofas, al fresco dining sets and resort-worthy recliners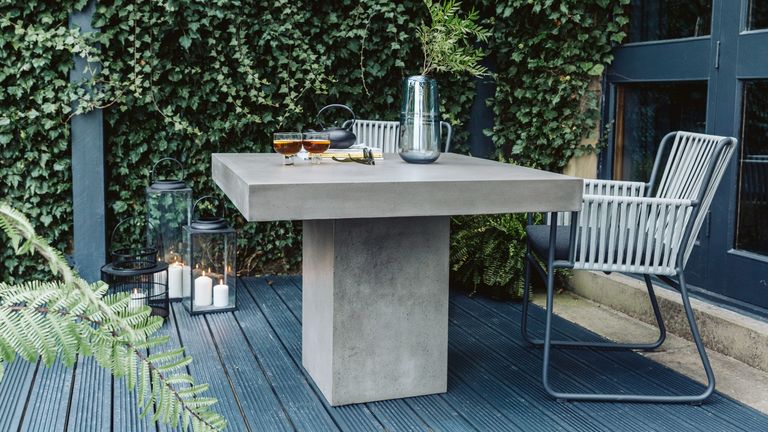 (Image credit: Barker & Stonehouse)
By Amy Lockwood
Our edit of the best garden furniture for 2021 will ensure you're ready to maximize your outdoor space this spring and summer.
Spending time outside has been proven to enhance both our mental and physical wellbeing, so even it's just a few moments in the garden with your morning cup of coffee, sourcing the best garden furniture will make it easier to get some mood-boosting fresh air.
Design-led deckchairs, outdoor sofas built for relaxation, resort-worthy sunloungers, and modern alfresco dining sets; we've sourced the best garden furniture to help you soak up the rays as soon as that sunshine hits.
So whether you're hankering after a restful retreat, planning ahead for outdoor entertaining, or looking to extend your living space out into the garden for the summer months, read on to discover the best design-led garden furniture of 2021.
Indoor lounging more your thing? Check out our guide to the best sofas of 2021.
Best garden furniture of 2021
1. Heal's Tanso Outdoor 3 Seater Sofa
Best garden furniture; retreat-worthy Zen relaxation
Specifications
Size: H85 x W286 x D94cm
Materials: Grade A teak wood
Reasons to buy
+Relaxed lounging+Versatility to use outside or indoors+Hardwearing teak wood
Designed by David Irwin, a past winner of Homes & Gardens New Designer of the Year, the low-to-the-ground Tanso outdoor sofa and armchairs epitomise relaxed outdoor lounging.
Inspired by the refined simplicity of Japanese furniture, the collection fuses robust and weather-resistant grade A teak wood with a level of craftsmanship that makes the range as suitable for indoor use as outdoor.
Available in a low-slung 3-seater sofa, armchair, table, and contemporary garden bench, this contender for 2021's best garden furniture will bring Zen-like calm to your outside space.
2. Ferm Living Desert Lounge Chair
Best garden furniture; laidback lounging
Specifications
Size: H77.5 x W63 x D66cm
Materials: Powder coated steel frame; PET yarn seat
Reasons to buy
+Eco-credentials+Add contemporary art to the garden with handwoven graphics and abstract geometrics
Graphic black powder-coated tubular steel frames are offset by textural handwoven sling-seats in Ferm Living's Spring Summer 2021 Desert Lounge Chairs.
The new collection showcases the Nordic brand's move towards a more sustainable product line; the removable seats are woven from 100% PET yarn, recycled from post-consumer waste plastic with each chair repurposing the equivalent of 53 plastic bottles.
Taking their cue from desert sands, the eco-conscious loungers are available in four muted shades; from neutral cashmere-coloured weave to modern stripe and Ferm Living's signature abstract geometrics. A great way to bring some contemporary art into the garden.
3. Hay Palissade Rectangular Table
Best garden furniture; smart alfresco dining
Specifications
Size: H75 x W160 x D80cm
Materials: Powder-coated or galvanized steel
Reasons to buy
+Clean-lined simplicity+Wide range of chairs, tables and benches to mix and match
Contemporary, yet classic enough to remain timeless, the elegant simplicity of the Hay Palissade collection works effortlessly in a natural or urban setting, creating a modern outdoor dining space.
Designed by French brothers Ronan and Erwan Bouroullec, the interplay of straight lines and fluid curves are formed from durable and highly weather-resistant powder-coated or hot galvanised steel, enabling the collection to endure the elements gracefully.
The linear ribbon design and curving silhouette make the Palissade one of the best garden furniture options for smaller courtyard gardens or outdoor areas where you don't want to block the vista with a solid form.
4. Fold Outdoor 3-Seater Sofa with Arms
Best garden furniture; outdoor sofa-surfing
Specifications
Size: H72 x W264 x D97cm
Materials: Powder-coated stainless steel tubular frame; selection of cushion fabrics
Reasons to buy
+Comfortable cushioned seating+Variety of upholstery options
Designed for The Conran Shop by award winning British industrial designer Samuel Wilkinson, the Fold outdoor sofa wraps a powder-coated black tubular steel frame in a cocoon of easily-removable fold-over cushioning.
Available in twelve quick-drying upholstery options, including wish-you-were-here Bora Bora woven in Spain and the nautically-striped Strange Loves crafted in Italy, the Fold sofa is the ideal spot to get comfortable outdoors.
5. MDF Italia Rock Outdoor Round Table
Best garden furniture; colourful centrepiece
Specifications
Size: Ø 140 x H73cm
Materials: Concrete and steel
Reasons to buy
+Eye-catching colour+Contemporary shaped concrete
Terracotta stone chips are used to colour the new outdoor version of Jean-Marie Massaud's iconic Rock table.
The mottled terrazzo-effect surface adds further subtlety to this carefully balanced design that plays with all kinds of juxtapositions; contrasting delicacy and solidity, heavy and light, raw materials and refined finishes.
Pairing with the Massaud-designed Neil Twist outdoor chairs offers a further interplay of contrasting surfaces. High tensile strength, UV-resistant coloured cord is woven in geometric pattern around tubular metal chair frames that themselves appear entangled like steel thread.
For the best garden furniture for entertaining, we don't think it gets better than this wow-factor outdoor dining space.
6. Skagerak Between Lines Deckchair
Best garden furniture; design-led deckchair
Specifications
Size: H90 x W61.5 x D93.5cm
Materials: FSC-certified teak wood
Reasons to buy
+Hardwearing FSC-certified teak+Weathers well outside
Add some cushions and this clean-lined Scandinavian lounge chair is the perfect spot a morning cup of coffee.
Designed to be passed from generation to generation, Skagerak's Between The Lines deckchair is crafted from FSC-certified teak sourced from sustainably-managed forestry plantations.
Protected from the elements by the high natural oil content of teak wood, you can let this contemporary outdoor chair weather to a beautiful silvery-grey over time or apply furniture oil to maintain the golden-honeyed colouring.
7. Eos Outdoor Rectangular Table Rust
Best garden furniture; a colourful outdoor furniture range
Specifications
Materials: Powder-coated aluminium
Size: Table: H73 x W162.5 x D78cm
Reasons to buy
+A great way to add contemporary colour to the garden+Wide range of complementary outdoor furniture
Awarded the Furniture Maker's Design Guild Mark, the minimalist Eos collection from Case Furniture includes a variety of complementary outdoor furniture, including dining and armchairs, bench seats, sun loungers, tables and stools.
Opt for classic black or white, or add colour to even the most dismal of days with our favourite; the rust red option.
8. Cane-line Conic Sun-lounger
Best garden furniture; resort-worthy recliner
Specifications
Size: H40-83 x W78 x L220cm
Materials: Aluminium frame, SoftTouch fabric cushions
Reasons to buy
+Lightweight aluminium and roller wheels for easy manoeuvre+Comfortable quick-dry cushions+Gas spring for easy reclining
We're all craving a good dose of poolside relaxation, but if international travel remains off the cards this year, we'll be aiming to bring the resort to us with Cane-line's luxury Conic sunlounger.
Quick-dry upholstered cushions and a simple gas spring reclining mechanism will allow us to lay back in comfort the minute the sun peeps out from behind the British clouds, whilst a lightweight powder-coated aluminium frame and rear wheels make for easy manoeuvring. Perfect for following the rays.
You can find more reclining options in our guide to the best sun loungers.
9. Ames Caribe & Maraca Armchair
Best garden furniture; eco-friendly colour-clash
Specifications
Size: H72 x W62.5 x D65.7cm
Materials: Recycled plastic threads; thermolacquered galvanised steel
Reasons to buy
+Eco-friendly recycled materials+Fair trade initiative+Supports indigenous craftsmanship
Travel to more tropical climes in your imagination, if not in body, with Sebastian Herkner's Spring Summer 2021 collection for Ames.
Inspired by the creative exuberance of South America, the high-backed Caribe armchair is woven by hand in Santa Marta on the Caribbean coast using the traditional 'momposino' technique to braid threads of brightly-coloured recycled plastic.
The similarly happiness-inducing Maraca lounge chair benefits from the traditional skills of the indigenous Zenús women from Columbian Bolivar. Hand-dyed with seeds, leaves, nuts and roots that are fixed with salt and natural starch to create the vibrant colours, the chair's cotton sling-back seats are adapted from the women's traditionally woven hammocks.
Bright, beautiful and breathing new life into traditional craftsmanship, the collection will uplift even the dullest of days.
10. WM String Indoor Outdoor Dining Chairs
Best garden furniture; indoor outdoor dining chairs
Specifications
Size: H80.5 x L52 x D47.5cm
Materials: Epoxy lacquered steel
Reasons to buy
+Use indoors or out for maximum versatility
For versatile and contemporary dining seating Menu's WM String chairs look great indoors or out.
Opt for the high-seated dining chair or low-to-the ground armchair depending if you're eating or lounging.
11. Trestle Outside Table and Bench Seats
Best garden furniture; seat 12 people on this trestle table and bench seat
Specifications
Size: H75 x L240 x W76cm
Materials: Aluminium with polyester powder-coating
Reasons to buy
+Spacious dining for up to 12 guests+A great palette of colour options+Coordinate with the indoor furniture range for a seamless extension outdoors
Also makers of one of the most stylish picnic tables we've come across - the A-Frame Bench - Jennifer Newman Studio's SS21 outdoor launch includes the spacious eight or twelve-seater Trestle table and bench seats.
Designed with the intention to bring playful optimism to the outdoor space, the bright powder-coated colours and sociable seating set-up makes for mood-boosting alfresco dining.
12. Silverstein Tree Trunk Table
Bets garden furniture; statement garden table
Specifications
Size: H78 x W240 x L130cm
Materials: Resin-sealed wood and toughened glass
Reasons to buy
+Wow-factor outdoor dining
Handmade from resin-sealed wood with a toughened glass tabletop, this outdoor/ indoor dining table offers spacious seating for eight.
Pair with contemporary outdoor dining chairs, such as the WM String chair from Menu, and you've got yourself a statement alfresco dining set that's sure to be a talking point amongst guests.
13. Houe Click Reclining Chair
Best garden furniture; get horizontal with this reclining chair
Specifications
Size: H90 x W64 x L180cm
Materials: Bamboo, metal and plastic
Reasons to buy
+Not sure if you want to sit or lie down - do both
Epitomising the word laidback, Houe's Click reclining chair will get you from seated to horizontal with one gentle push backwards.
Once reclined the curved chair form elevates your legs to the optimal relaxation posture of just-above-heart-level, whilst bamboo armrests offer the perfect support for your book, or cocktail, holding arm. Bliss.
14. Monique Consentino Fuori Serving Trolley
Best garden furniture; outdoor mixology
Specifications
Size: H76 x W75 x D48cm
Materials: Powder-coated aluminium and teak
Reasons to buy
+Lightweight aluminium frame and roller wheels for easy manoeuvre+Weather-resistant teak wood
Alfresco cocktail hour can now quite literally roll around quicker with the Fuori outdoor drinks trolley.
Influenced by her Danish upbringing and Italian roots, designer Monique Consentino believes in aesthetics that combine core product functionality with sculptural sensibilities.
Her easily maneuverable outdoor drinks trolley showcases teak wood shelves and a powder-coated aluminium frame for enhanced weather-resistance, whilst smooth-running roller wheels ensure a zippy drinks service.
15. Geradis Campos Dining Table
Best garden furniture; contemporary outdoor dining
Specifications
Size: H76 x W100 x D100cm
Materials: Fibre reinforced concrete
Reasons to buy
+Contemporary outdoor dining
Pay homage to Brutalist architecture whilst you dine alfresco on the squared-concrete Geradis Campos table.
Available from Barker and Stonehouse in four sizes of concrete dining and coffee table, plus two concrete-formed bench seats, these weighty propositions will ground a contemporary garden planting scheme, contrasting rigid form against an organic backdrop.
We particularly like the hard-edged minimalism of the Geradis table juxtaposed against frothy ferns or ever-shifting grasses.
Complete industrial outdoor dining look with Barker and Stonehouse's rope and aluminium-frame Duke dining armchairs.
Maximise your outdoor space beyond the best garden furniture
Once you've chosen the best garden furniture to transform your outdoor space from occasional use into all-summer-long additional living space, there are plenty more ways to maximise your outside area.
Enjoy the full alfresco dining experience with our guide to the best barbecues and outdoor kitchen ideas that will keep food, drinks and conversation flowing late into the evening. Or get to grips with the best in contemporary landscaping in our modern garden ideas.
And if your outside space is more bijou than bountiful, find out how to make brilliant use of a smaller space with these balcony ideas.