Sofa vs sectional – which one is right for you?
If you're looking for the perfect couch for your living room, you might be caught between a sofa and a sectional. We asked the experts what you need to know to decide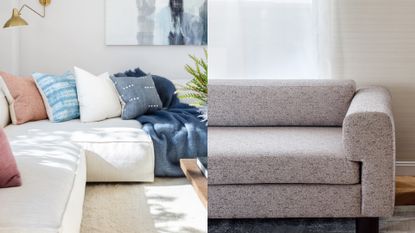 (Image credit: Federica Carlet. Studio credit House of Hudson Interiors. And Tim Veresnovsky)
Sinking into a comfy couch to read or watch television is one of life's simple joys, but choosing the right sofa isn't always so easy. One of the first decisions you'll probably need to make is between a standard sofa or a sectional – an important choice for the layout of your space.
Largely, both these designs are ideal for a living room of any style but when you do get into the finer detail of their design, you might find that at times and depending on the size of the room, there might be one that is better suited than the other.
To explore the ins and outs of sectionals vs sofas so that you have all the information you need to make the right choice, we asked the experts about the differences, and why your decision matters.
What is the difference between a sofa and a sectional?
It's good to understand the anatomy of these two living room furniture pieces before you make your decision. You probably don't need a designer to tell you what a sofa is, but we'll define it as a single piece of furniture, upholstered with fabric, and features arms and a back, providing a comfortable seat for more than one person. These are available in different sizes, such as two-seater, three-seater, or four-seater pieces.
A sectional, on the other hand, is a type of sofa that consists of two or more joined sections for sitting. These are available in versatile configurations to suit different room layouts and preferences but are largely known for the chaise lounge (which has three seats and an attached chaise at the left or right side), L-shaped sofa (in an L-shape, with five or more cushions and a connecting seat in the middle), and a U-shaped sectional (with a center sofa and an equal number of seats on either side).
The critical difference between the two is that while a sofa is a single piece, a sectional often has multiple pieces within it, expanding the seating area.
'Largely, sofas take up less space and are typically used in more formal seating arrangements,' says Barbra Bright, founder of Barbra Bright Interior Design. 'Whereas, sectional seating has a more relaxed, intimate vibe that works well in family room settings.'
Is sectional or a sofa better in a living room?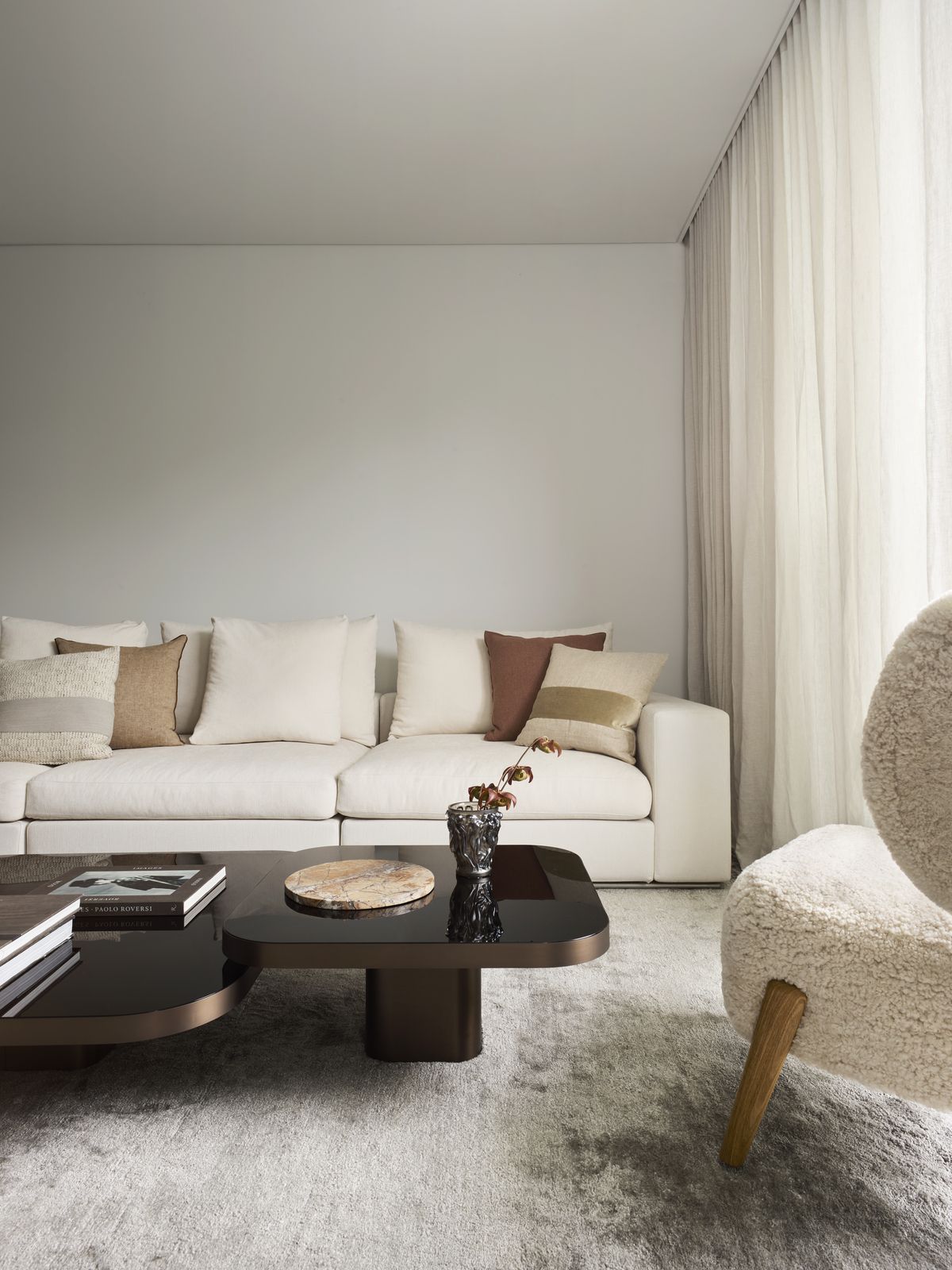 A sectional is a great piece when you want to design a cozy living room; an additional seating space when more than two people need to sit regularly. Or, you can use a sectional in place of two sofas, and make it the perfect fit for that room. A sectional is also terrific when the traffic flow to a room needs to be strictly defined, and the seater provides that definition.
A sofa, on the other hand, is ideal when you need just two or three seats in the room, and can supplement the rest with chairs. If you have a large family or like to host often, and if you are looking for five or more seats, you may wonder whether a sectional would be a better fit. Also, while sofas have a more formal, clean-lined, and sleek feel, a sectional looks more casual.
'This all comes down to preference as both styles can work great in all types of settings,' says Silvia Roldan, lead designer at the Stylesmiths. 'If you're more the loungy type and like to have your legs up when watching TV or reading a book, then a sectional is the ideal choice. If you prefer something a bit more formal then a sofa is the way to go.'
'A sectional works great in a corner as it fills the room and can avoid any dead-end corner space,' adds Silvia. 'Sectionals can also help close off a low-traffic area of a room. A sofa, on the other hand, can be teamed up with a pair of armchairs to allow for flexible seating arrangements, and here's where you can have a bit of fun and mix and match different styles or fabric options.'
Also, if you have a small space, a traditional sofa typically works best. For medium-sized spaces, you could go for a sectional or two or three sofas.
What are the pros and cons of sectionals?
Sectionals are great for homes that have large families or a shared space between several flatmates. These allow more than three individuals to stretch out, and for everyone to be together at the same time. These are also great for when you host a lot and there are always several guests over at yours at any time of the day.
Sectionals are also great when you want to maximize space, say in a TV room or a family room. A sectional can fit snugly against a wall or within the dimensions of the space, offering space for multiple people to sit on, without the need for more chairs or sofas.
Sectionals also come in handy if you have visitors and need an extra bed for them to sleep on. Some sectional sofa models also come in pull-out forms, making it a better pick for extra bedding.
On the cons side, a sectional is a large piece of furniture and takes up a lot of space in a room. This rules out almost all tiny living rooms. Also, because it is bulky, it can only be arranged one way, which makes rearranging the furniture in your family room very difficult. These also cannot be pushed and moved around in the room. These have an inherent casual vibe so if you're planning an elegant living room that looks plush and smart, a sectional may not be able to add to that aesthetic.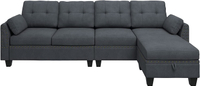 Want to add more seating space to your living room? Choose this deep-toned, 4-seater piece that also has a storage bag and ottoman within it.
Is it a good idea to have a sofa and a sectional together in a room?
'Both styles of sofa can be used in a room together however it will all come down to how big your room is and the location of the sofas,' says Silvia. 'If I've specified either a sectional or a sofa, I will combine this with a couple of armchairs to provide flexible seating options, or team two sofas together.'
A large living room allows for both these seaters to exist together and even increases the functionality of the room. In a luxury living room, you could create two seating systems – a formal one with sofas, armchairs, and ottomans, and an informal one with a sectional and stools.
'Do keep in mind that when planning a layout, it's important to have adequate seating and different types of seating,' says Victoria Holly, principal, and founder of Victoria Holly Interiors. 'You don't want to just have a sofa or just have a sectional, which doesn't allow for a conversation space. I like to have at least three types of seating, such as a sectional or sofa, accent chairs, and then an ottoman. This is great for kids who want to jump around and have fun while watching TV or use the ottoman to build things or set up a train station, and more. It's also great for when you have friends over for different conversation locations. Having multiple types of seating allows for breakout conversations as well as main conversations within the space.'
While all of these considerations are noteworthy, there is no single determining factor on whether a sectional or sofa is better. It's a personal choice and you need to ask yourself what are you more drawn to. You may like an elegant sofa, be more drawn to a trendy couch, or like the cozy appeal of a large sectional. Do make sure the piece fits with your existing furniture and home decor. And lastly, make sure you've kept all the factors in mind because, unlike smaller elements in the house, you do not replace a sofa or a sectional for decades.
Aditi Sharma Maheshwari is an architecture and design journalist with over 10 years of experience. She's worked at some of the leading media houses in India such as Elle Decor, Houzz and Architectural Digest (Condé Nast). Till recently, she was a freelance writer for publications such as Architectural Digest US, House Beautiful, Stir World, Beautiful Homes India among others. In her spare time, she volunteers at animal shelters and other rescue organizations.