Passivhaus: everything you need to know about this eco-friendly German building design
So what exactly is Passivhaus? How much does one cost to build? What's it like to live in a Passivhaus? We've got all the answers in our expert guide...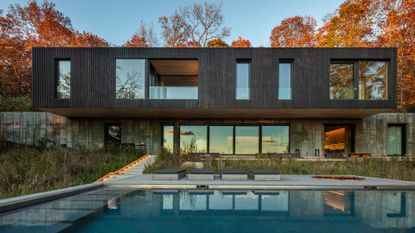 (Image credit: Alloy Development / Photography: Richard Barnes)
Every industry is trying to be more sustainable, and architecture is no different. Enter: Passivhaus, the eco-friendly building design taking the architectural world by storm.
To limit global warming to 1.5C, the world needs to halve its global emissions in the next decade and reach net-zero carbon emissions by 2050. Much of the UK's greenhouse gas emissions come from heating our homes and workplaces, so it is vital that efficient heating becomes both a target and inherent to new building design.
'The world's first Passivhaus was constructed in Darmstadt-Kranichstein, Germany in 1991, following a research project by Dr Wolfgang Feist and Bo Adamson on the idea of 'a house without heating',' explains Richard Tibenham, building performance expert at climate tech company, IES. '30 years later, the first Passivhaus is still performing well and operating as designed.'
The design style has only grown ever since, from student accommodation high rises to health centres, to independently planned cottages and houses. But what is actually is a Passivhaus and how does it encourage sustainable living? Read on for everything you need to know about this eco-friendly design.
What is Passivhaus?
'Passivhaus is a building performance standard derived by the Passivhaus Institute, who are located in Germany,' explains Richard. 'The standard provides buildings that are energy-efficient, comfortable, and affordable.'
Passivhaus translates from German to 'passive house', and they are designed to save energy.
'A Passivhaus is designed to have minimal energy requirements for space heating and cooling, and have excellent indoor air quality making it extremely comfortable to live in,' adds Alex Clifford, architect and founder of Clifford Designs, with extensive Passivhaus experience.
What are the principles of Passivhaus?
'The Passivhaus approach is to concentrate on the fabric of the building, producing a super insulated and airtight building that will require only a minimal amount of heating,' says Alex.
Passivhaus design therefore centres on five core principles: insulation, high performance windows, airtightness, mechanical ventilation, and reduced thermal bridging.
'A passive house not only has lots of insulation, but careful detailing to eliminate thermal bridging that allows heat to transfer directly through building junctions or gaps in insulation,' Alex explains.
How does a Passivhaus work?
'Rather than rely on expensive complexities and gadgets to generate energy, Passivhaus places a heavy emphasis on reducing the amount of energy required to operate a building in the first place,' explains Richard.
'This allows a Passivhaus to operate with low energy demands day or night, throughout the year, irrespective of whether the sun is shining or whether the wind is blowing.
'Passivhauses achieve exceptionally low operational energy demand and peak energy loads,' Richard adds. 'This makes the standard especially well suited to the current transition away from fossil fuel energy sources.'
As we move towards green energy and away from fossil fuels, Passivhauses need very little energy at all. 'As the Passivhaus Institute in Germany say, 'efficiency is the first renewable energy',' says Richard.
What criteria needs to be met for a building design to be Passivhaus?
Passivhauses can be certified through the Passivhaus Institute or accredited third-parties. A building design must meet the following criteria to achieve Passivhaus certification:
Thermal insulation: U-value no higher than 0.15 W/(m²K)
High performance windows: U-value no higher than 0.8 W/(m²K), g-value around 50% - achieved through well-insulated frames and low-e glazings filled with argon or krypton to prevent heat transfer
Airtightness: uncontrolled leakage through gaps must be smaller than 0.6 of the house's volume per hour – tested via a pressure test at 50 Pascal
Mechanical ventilation: 75% of heat from the exhaust air is transferred to fresh air again via a het exchanger – this allows for good air quality and saves energy
Reduced thermal bridging: All edges, corners, connections and penetrations are planned and executed with great care to avoid thermal bridges
What is a thermal bridge?
A thermal bridge – also known as a 'cold bridge' – is a weak spot in the insulation where heat transfer is much higher. This could be due to a break in insulation, less insulation, or if the insulation is interrupted by a material with higher thermal conductivity, such as wood.
How are Passivhauses designed to meet these standards?
'The design tool used to evaluate a Passivhaus design is known as the 'Passivhaus Planning Package' (PHPP),' says Richard. 'This is, in fact, an Excel spreadsheet.
'Although the PHPP is accessible to anyone with a PC, a good degree of building physics knowledge and Passivhaus experience is helpful to navigate the design process,' he adds.
Once built, the Passivhaus can be furnished however you like, but sustainable furniture will add a final eco flourish.
Is the Passivhaus building design effective?
'Passivhaus stands apart from other design approaches, which often claim to be 'carbon neutral' on paper, but don't necessarily stack up in reality,' says Richard.
'Many design options rely on a net-positive summertime energy balance using on-site solar PV to offset wintertime energy consumption and resultant CO2 emissions,' he adds. 'Whilst this stacks up in isolation, it is not a scalable model, because it will inevitably lead to excess energy generation during the summer, but maintain an energy deficit during the winter.
'Passivhauses avoid this by limiting energy demand at all times, but most notably during the winter when most of us are reliant on natural gas heating.'
What is it like to live in a Passivhaus?
'Passivhauses are not only energy-efficient and low-cost, they also provide a healthy and comfortable internal environment,' says Richard. 'This is largely due to the mechanical ventilation and heat recovery (MVHR) system required for the standard.
'Internal room surfaces also provide limited temperature ranges due to the use of high levels of insulation and triple glazing,' Richard adds. 'This removes the potential for any cold spots, damp, mold, or the uncomfortable sensation of being near a cold surface.'
'Passivhaus is a proven and measurable design methodology for building low energy homes that are extremely comfortable to live in,' Alex agrees. 'I would find it very hard to move to a non-Passivhaus now I have become accustomed to the benefits of living in one.
'It even makes going on holiday to stay in damp, cold housing a lot less appealing,' Alex adds.
How does a Passivhaus stay warm?
'A Passivhaus must achieve a very strict level of air tightness to remove heat loss through draughts,' says Alex. 'Pre-warmed fresh air is then supplied continuously to individual rooms in the house through a MVHR (Mechanical Ventilation and Heat Recovery) heat exchanger, transferring heat energy from the warm, damp stale air extracted from kitchens and bathrooms.'
Can you retrofit an existing house to be a Passivhaus?
'Passivhaus has a separate standard for retrofitting of existing buildings called EnerPhit,' says Alex. 'The design principals are the same as Passivhaus but not quite as strict as those for a new build, taking into account that it is harder to retrofit existing homes than build from scratch.
'EnerPhit also uses PHPP, the Passivhaus modelling software, which allows designers to make informed decisions about where to spend money and to understand what cost and energy implications there are in various retrofit measures,' Alex explains.
Is it expensive to build a Passivhaus?
'Based on the 2019 Passivhaus Construction Costs guide, the pre-pandemic cost uplift for a Passivhaus was found to be 9% when applying 'best practice', as compared to a building regulations compliant design,' Richard explains. 'When Part L of the building regulations is revised in June 2022, this price uplift will most likely shrink furthermore.
'Costs can vary, however, depending on the experience and competence of the design and construction team,' Richard adds. ''Energy-efficient architecture' can go a long way to reduce projects costs and improve performance, so don't overlook this when setting out.'
However, Passivhauses are much cheaper in the long run: 'Because the efficiency is built into the construction fabric, this provides a much longer service life than renewable energy generation systems, which in turn reduces the whole life cost of the building,' says Richard.
Is Passivhaus cost-effective?
'Passivhaus dwellings generally incur operational energy demands and costs which are closely aligned with the design intent,' says Richard. 'This compares favourably to 'Energy Performance Certificates' (EPCs), which have a reputation for incurring a 'performance gap', i.e, the actual performance is often worse than the designed performance.
'Passivhauses achieve this by not only tightly controlling the design process but also tightly controlling the construction process as well,' says Richard.
'The non-financial and health related costs such as better air quality and damp free environment should not be underestimated,' adds Alex.
Is retrofitting your house according to EnerPHit cost-effective?
'An EnerPHit renovation typically involves the gutting and deep-refurbishment of a property,' Richard says. 'Deep retrofit such as this is typically bespoke, time-consuming, and costly. Such projects, therefore, incur long pay-back periods and are hence far less popular than new-build Passivhaus buildings.
'This is unfortunate because this type of approach is exactly what is required to achieve the global decarbonisation agenda,' Richard adds. 'The fact that it is so expensive to retrofit buildings at a later date demonstrates why it is so important to build them well in the first place, or at least have a cost-effective means of futureproofing built into the design.'
'For the retrofit of existing houses, the EnerPHit standard is less likely to make short term commercial sense,' Alex adds, 'but investment in housing stock needs to be thought of long-term including energy costs.'
Can you implement Passivhaus principles without building a Passivhaus?
'Both the AECB (Association for Environmentally Conscious Builders) and LETI (originally 'London Energy Transformation Initiative') offer standards suited to UK housing stock that are designed to deliver energy efficient, resilient and healthy homes,' says Alex. 'Not needing third party certification, this can be cheaper to meet.'
If Passivhaus and EnerPHit are out of your budget, you could try eco flooring or designing an eco bathroom.
How popular is Passivhaus?
According to The Passivhaus Trust, there are currently over 1500 certified Passivhaus and EnerPhit units in the UK, with a further 330 certified projects, and 6000 units under development. Certified projects are entire developments, such as blocks of flats, schools and university buildings, while certified units are individual flats or houses within bigger projects.
In 2016, there was approximately 60,000 certified Passivhaus buildings across the globe, from Canada to Japan, and including nearly all European countries.
Is it worth getting Passivhaus certification?
'Yes!' says The Passivhaus Trust. 'Because if you don't, you won't have quality assurance that the building performs as it has been designed.'
'Certification is a rigorous process that proves that the house has been built to meet specification and standards set out at the design stage,' Alex adds. 'The 'Performance gap' in new build housing (where the final build does not meet the design criteria) is a huge issue and many new builds in the UK underperform, largely due to poor build quality and lack of quality control.'
'The Passivhaus certificate demonstrates to others that the building has achieved the required design performance. This removes uncertainty if the building is sold or let,' says Richard.
The Livingetc newsletter is your shortcut to the now and the next in home design. Subscribe today to receive a stunning free 200-page book of the best homes from around the world.
Olivia Emily is one of the most exciting new talents in consumer lifestyle journalism. Currently finishing off a Masters in Journalism at the City University, London, she has quickly proved herself at being adept on reporting on new interiors trends. A regular contributor to Livingetc, she is brilliant at being able to decode information for our audience.