Designer Profile: Tiffany Duggan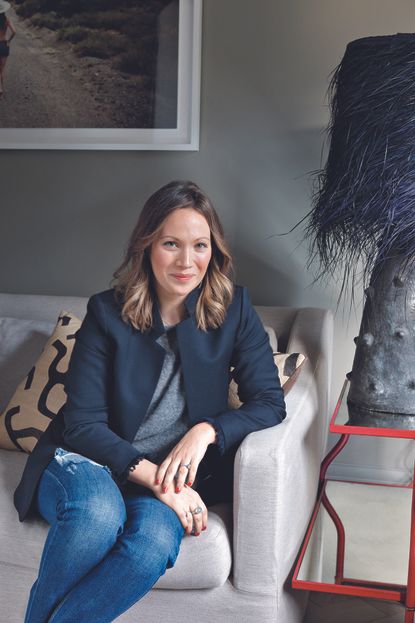 HOW DID YOU FIRST START OUT?
I studied scenic design at the Royal Central School of Speech and Drama before working on sets and backcloths for the theatre. Then I interned as an interiors stylist on magazines. Although fun, both disciplines lacked permanence – it was always a rush, with no budget and everything was torn down afterwards. It wasn't about creating something that lasts.
HOW DID YOU MOVE INTO INTERIORS?
Wanting more longevity in my work, I started designing houses for friends, including a property developer who I worked with on everything from city apartments to large houses. At the same time, I did a course at KLC School of Design before setting up on my own in 2011.
HOW WOULD YOU DESCRIBE YOUR STYLE?
There's always a varying degree of eclecticism, a little old and new, a touch of the unexpected and a bit of drama, rather than any one style. It's a little like my own home, a renovated Edwardian townhouse in Queen's Park, London, where I'd say it's a carefully considered collection of things I love and that make me happy.
HOW DO YOU APPROACH EACH PROJECT?
The bones of a house should always be the first guide – there's no 'one size fits all' solution. First, we get surveys done and work out what decorative and structural work needs doing. Then we draw up a detailed furniture plan, right down to where the last lamp will go. Design analysis with the client is next: that entails poring over books, magazines, tear sheets, samples and sites such as Pinterest to get a really good idea of what they're drawn to, whether it's a colour or design period. Finally, we work on the budget – boring but essential to guard against getting too carried away as it's better to cut back on paper at this early stage than get halfway through the project, splurge on something like Crittall doors and realise you can't afford to finish the job.
HOW DO YOU CREATE INTERESTING BEDROOMS?
A chest of drawers used as a bedside table frees up surface space for candles, frames and chunky lamps. Bedroom storage is key – I always measure how much hanging and folding space a client needs and add to it with under-bed storage or ottoman-style blanket boxes. If a bedroom is easy to keep clean and tidy, mentally it makes you feel so much better. Interestingly shaped headboards, such as those from Ensemblier, are a great way to finish off a space.
ANY CLEVER TRICKS WITH A BATHROOM?
I love making bathrooms not look like bathrooms! I separate the loo, which gives flexibility to blend it with the bedroom and make it feel like a bigger suite. If there's space, I'll add an armchair or a side table, like Reda Amalou's Dot tables from The Invisible Collection, which are perfect for perching a book or glass of wine on.
DO YOU HAVE A FAVOURITE COLOUR PALETTE?
Rather than white, for instance, I work with soft colours such as pinks and greys, Farrow & Ball's Setting Plaster and Little Greene's Livid. I find painting everything one colour – skirting boards, walls, dado rails, cornices and ceilings – unifies the mood of a room, making it feel modern but cocooning. That said, painting the ceiling a contrasting hue can lend drama.
HOW ABOUT INTERESTING PAINT TECHNIQUES?
I love the bespoke nature of hand-painted walls by Flora Roberts. Rather than wallpapering the whole room, you can create something decorative in one corner or trace around a bed head or doorway. It feels unique and personal to the space.
WHAT ABOUT PATTERN?
I love Bennison Fabrics's Roses in Shocking Pink on Oyster, velvets by Créations Métaphores and Nina Campbell's Bargello velvets for Osborne & Little on upholstered pieces such as sofas and headboards. I'm dying to work with Caesarstone's Concetto semi-precious stones – with such amazing colours, it's an exciting way to add interest. Preedy Glass's antique mirror finishes are ideal for powder rooms, in the middle panels on cupboard doors or as a splashback in the kitchen to help bounce light around.
HOW DO YOU DEAL WITH LIGHTING?
I like sculptural chandelier designs by Vaughan and Giopato & Coombes, which look amazing switched on or off. Fortables, I opt for unusual bases by Irving & Morrison or the retro vibe of House of Hackney's brass bases, teamedwith quirky lamp shades in funky prints.
HOW DO YOU MAKE A KITCHEN FEEL MORE COSY?
The hob and oven are what the kitchen is all about, so I make them the focus. Kitchens can have more personality than just being banks of flat, flushed cupboards. I prefer to hide away the fridge, create a dedicated larder from the space of just two cabinets, then have fun withglass-fronted cupboards to show off ceramicsand glassware.
WHAT'S WORTH INVESTING IN?
Antiques are a smart buy because they retain their value. And a good mattress with beautiful, high-quality sheets too – there's nothing more important than getting a great night's sleep.
WHAT ABOUT SURPRISING FINISHING TOUCHES?
I like to edge a natural material like sisal or linen with a brightly coloured velvet, or team a luxe fabric for curtains with a patterned backing fabric. Vivid cushions by Rifat Ozbek or Penny Worrall make it easy to change the mood of a room. Black as an accent provides a great thread from room to room – I like the handles from Buster + Punch – and lends an unexpected edge to a more muted scheme, while faux-bamboo furniture from Chelsea Textiles adds an exotic touch.
WHAT OTHER PROJECTS ARE IN THE PIPELINE?
We've just done some rooms at the Dart Marina Hotel & Spa in Devon. We're working on a moody lake house near Munich, a colourful bachelor pad in Notting Hill anda whimsical family home in Queen's Park. Product-wise, we're about to launch our first scented candle, No 7 RIAD, infused with a heady mix of tobacco, leatherand cognac. And next year, we'll launch our own capsule furniture line.
For more info about Studio Duggan, visit studioduggan.com
The Livingetc newsletter is your shortcut to the now and the next in home design. Subscribe today to receive a stunning free 200-page book of the best homes from around the world.
Shining a spotlight on the now and the next in home design and decor, Livingetc is the UK's best selling high end and contemporary home design magazine. As a brand, Livingetc showcases the world's very best homes, breaks and makes the trends, and has access to leading international designers for insight and ideas. It was first published in 1998, and is currently edited by Pip Rich.