Modern homes – a guide to modern architectural styles and design
From Le Corbusier to Frank Lloyd Wright, by knowing the roots of modern homes and its game changing ideas you can make more informed choices about your own projects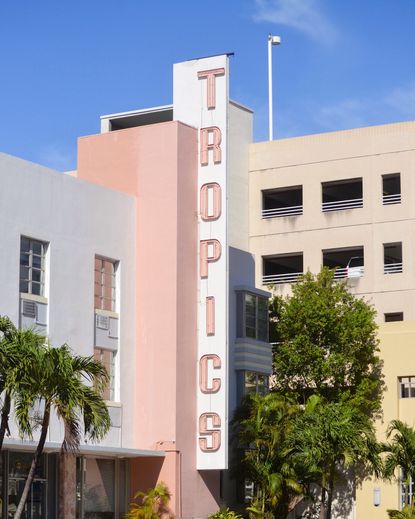 Modern homes and modern architectural styles dominated 20th century architecture and transformed the skylines of cities around the globe. And it still influences our homes today. Pioneering architects – Le Corbusier, Frank Lloyd Wright, Alvar Aalto and Walter Gropius – led the modernist movement with a design philosophy that jettisoned ornament and embraced minimalism. Clean-lines, flat roofs, open-plan interiors and expansive windows to maximise natural light characterised the modern style. Alongside architecture, designers made functional furnishings to fit these free-flowing spaces. These pieces are now highly collectable, like Eero Saarinen's Tulip table and the Charles and Ray Eames Lounge Chair. Through the eras, the modern aesthetic shifted with the times. Art Deco was more decorative, then Bauhaus presented a starker, unadorned architecture that shaped the next waves of modernism, from Mid-Century Modern to Brutalism.
Read on for our complete guide to modern architectural styles and design.
1. Art Deco
What is Art Deco?
After the ornate Art Nouveau trend of the early 20th century, modern homes in an Art Deco, or 'moderne style', burst onto the scene. Synonymous with luxury and hedonism, Deco's sources of inspiration were eclectic, from far-flung travel and the pyramids of Egypt to luxury cruise ships that could transport you there. Architecturally, sleek curves and symmetrical lines created a streamlined look and rich materials, including chrome, lacquer, mirror and brass were popular finishes. Geometric, abstract and nature-inspired motifs, like the popular sunburst design, influenced everything from exterior facades to furniture, lighting and ceramics.
See Also:Modern Interior Design – a guide to modern interior styles and design
When was the Art Deco period?
France was Art Deco's birthplace. The style first emerged in1925, taking its name from the Exposition Internationale des Arts Décoratifs held in Paris. Deco's popularity rose through the 'roaring twenties' and '30s Great Depression and thrived internationally, from America and Britain to Brazil and China.
Who were the leading Art Deco architects?
French architect-designer, Pierre Chareau, was a genius of the style, known for his furniture and exquisite Parisian residence, the Maison de Verre. In Britain, Oliver Hill designed spectacular Deco buildings. The Midland Hotel, Morecambe, and Frinton Park housing estate, Essex, are perfect destinations for Art Deco lovers to explore.
2. Bauhaus
What is Bauhaus?
The influential Bauhaus school of art and design was founded in Germany by architect, Walter Gropius, and named after a German expression meaning 'building house'. At the school, a band of avant-garde architects, designers and artists learned their craft. The Bauhaus ethos rejected all ornamentation. These architects embraced classical architectural ideas to design functional buildings known for their streamlined form, flat roofs and smooth facades. Bauhaus was about collaboration and furniture, particularly plywood and tubular steel pieces were made to furnish these new buildings, alongside artworks and textiles by makers like married artistic duo, Josef and Anni Albers.
When was the Bauhaus period?
The first Bauhaus school opened in 1919 in Weimar and Gropius completed the design of a new building in Dessau in 1926. In the thirties, during WWII, Bauhaus designers fled Germany for America, Britain and Europe. They spread their ideas and architecture across the world and shaped the modernist movement throughout the 20th century.
Who were the leading Bauhaus architects?
Without the Bauhaus, there would arguably be no modern style. Figureheads like Mies van der Rohe, who famously said 'less is more', believed in distilling buildings, like is famous Farnsworth House into simple forms. Isokon Flats, designed by Wells Coats in London's Hampstead (1934), was the first British residential block to be built from reinforced concrete and it demonstrates many early Bauhaus ideas. Pioneers like Gropius and architect-designer, Marcel Breuer, also lived here.
3. Modern Scandinavian
What is Modern Scandinavian?
Scandinavian architects reinterpreted modernism. The Scandi approach was softer and it celebrated craftsmanship and simplicity. Calm, cosy interiors were designed for the colder Nordic climates, favouring muted and neutral colour palettes. Famous Finnish architect, Alvo Aalto, embraced flowing curves and fluid shapes throughout his designs to counterbalance modernist angles and sharp lines.
Scandinavian modern homes connected to nature through materials. Warm-toned woods like teak and rosewood were juxtaposed with glass and steel. Danish and Swedish furnituremakers, like Hans Wegner and Arne Jacobsen, the brains behind the iconic Series 7 chair, created pieces that combined unrivalled practicality and elegance, which remain iconic today.
When was the Modern Scandinavian period?
Known in the Nordic countries asFunctionalism, Modern Scandinavian flourished in the pre and post WWII years and played a leading role in popularising Mid-Century Modern style. Sweden's largest design export, Ikea, opened in 1943 to provide affordably stylish furnishings.
Who were the leading Modern Scandinavian architects?
Alvo Aalto is said to be the Modern Scandinavian forefather and The Aalto House, his family residence and studio, is now a Helsinki visitor attraction. The work of prolific Danish architect and designer, Finn Juhl, made the term 'Danish Design' globally recognised. His private home inOrdrup is also a museum.
4. Mid-Century Modern
What is Mid-Century Modern style?
A style that emerged in America, Mid-Century Modern flourished globally and remains enduringly popular. Inspired by architect Frank Lloyd Wright, mid-century homes like his much loved Fallingwater were designed to integrate with nature. Large windows, sliding glass doors and open-plan living areas, supported by structural columns, enabled interior and exterior spaces to seamlessly flow. Playful colour palettes using pops of bold colour and graphic monochrome were offset with calm neutrals. And natural materials, like wood and stone, sat happily alongside concrete and glass. Mid-Century Modern furnishings by designers like Charles and Ray Eames, like their Vitra Eames House Bird remain timeless.
When was the Mid-Century Modern period?
Mid-Century Modern was the prominent style in the 1950s and the decades before and proceeding it. After WWII, a housing boom led to a flurry of mid-century homes and suburban housing developments in Britain and around the world.
Who were the leading Mid-Century Modern architects?
Leading Bauhaus figure, Mies van der Rohe, was the mastermind behind many mid-century homes, like the much-applauded Farnsworth House in Illinois. Brazilian-Italian architect, Lina Bo Bardi, built her mid-century masterpiece, Casa de Vidro, on the outskirts of São Paulo and was influential in the Brazilian modernist movement. While Paul Revere Williams transformed the Los Angeles landscape, designing modern homes for celebrities like Frank Sinatra and actress, Lucille Ball.
5. Brutalism
What is Brutalism?
Love it or hate it, brutalist architecture is a fixture in the landscape of our capital cities. Swiss-French architect, Le Corbusier, whose many designs include the 214 chair, gave a name to the style when he used the phrase 'béton brut', meaning raw concrete, to describe his buildings' construction. Finished with rough concrete surfaces and exposed steel, Brutalist architecture is stark and monolithic. Le Corbusier said, "A house is a machine for living in". He believed that housing should maximise living space and provide just the essentials, devoid of unnecessary decoration. Brutalists believed in a utopian vision of communities living together in 'streets in the sky', which shaped the template for dense high-rise blocks.
When was the Brutalist period?
Brutalism grew out of early 20th century modernism, and emerged in the 1950s, lasting through to the '70s, when many public and private housing estates were built in the Brutalist style. While not popular with everyone, many important structures from the period have been preserved.
Who were the leading Brutalist architects?
Le Corbusier's master work, Unité d'habitation in Marseille, was a prototype for a vision of an entire city in a building and it influenced many Brutalist designs. The 18-storey high 'Unite' combines apartments with shopping 'streets', offices and a roof top terrace. Inspired by Corbusian ideas, married architects, Alison and Peter Smithson, led British brutalism, along with Hungarian-born architect Ernö Goldfinger whose achievements include east London's redeveloped Balfron Tower.
6. Postmodernism
What is Postmodern architecture?
Postmodern architecture reacted against the modernist 'less is more' ethos and stepped away from minimalism. An experimental style, it celebrated individuality and an 'anything goes' approach drawing on a mismatch of classical architectural motifs and unusual shapes. Buildings were designed, inside and out, to be playful, highly decorative and even kitsch and cartoonish, utilising bright colours, from neon to pastels. A style associated with urban areas, postmodern buildings were inspired by regional traditions, particularly in America, Britain and Europe. Cities like Dubai are filled with postmodernist architecture and this undefinable style has been no stranger to criticism.
When was the Postmodern period?
Postmodern architecture took shape in the late seventies, lasting through the 1980s and '90s. London-based historian and writer, Charles Jencks, coined the godfather of postmodernism, popularised the term in his 1977 book The Language of Post-Modern Architecture.
Who were the leading Postmodern architects?
Frank Gehrywas known for his prolific architectural canon of American multiunit housing and public buildings, like the Walt Disney concert hall, Los Angeles. James Stirling was Britain's best-known postmodern architect, designing housing estates and well-known commercial buildings, like London's No 1 Poultry office block.
See Also:Modern home extension ideas – from side returns and conservatories to lofts and basements
Your modern design and modern architecture questions answered
When was modern architecture invented?
Modern architecture's pioneers, like Le Corbusier and Walter Gropius, were born in the 1800s, so modernism was really invented in the early 20th Century. But the style became popularised in the 1920s and 1930s.
Who are the most famous modernarchitects?
The most famous modern architects are Le Corbusier, Frank Lloyd Wright, Alvar Aalto, Walter Gropius and Mies van der Rohe. But Lina Bo Bardi, Paul Revere Williams, Alison and Peter Smithson, Erno Goldfinger and James Sterling cannot be forgotten.
What makes a modern home modern? What does it need?
A modern home needs a rectangular or cubist shape, a flat roof and open-plan living spaces with large horizontal windows to maximise natural light.
Why makes modern style homes such special places to live?
"The best modern houses open onto the landscape, use tactile and sustainable materials, and harness natural light effectively, connecting us with nature and promoting health and happiness," says Matt Gibberd, founder of The Modern House,an estate agency specialising in modern architecture that helps people live in more thoughtful ways.
The Livingetc newsletter is your shortcut to the now and the next in home design. Subscribe today to receive a stunning free 200-page book of the best homes from around the world.