On the House: Sophie Heawood's Property Binge: This week, houses on the river
Sophie Heawood ponders life by the water, featuring Reese Witherspoon and some scones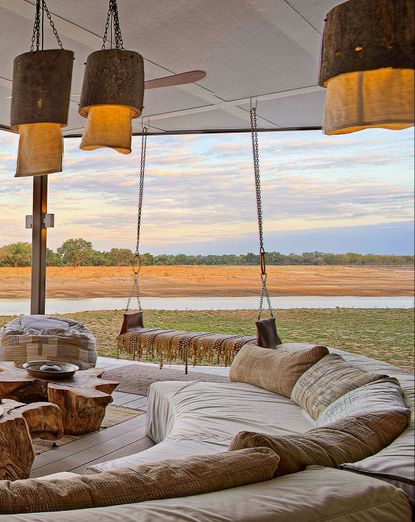 (Image credit: PR)
"I'd rather live in a cave with a view of a palace than live in a palace with a view of a cave," the esteemed contemporary philosopher Karl Pilkington once said. I agree with him entirely, except I'd always choose a view of a river over the view of a palace, and also apart from the cave part, because I'd want to live in a palace, not a cave, but otherwise, twin souls. A room with a view isn't enough either: I want a whole house with a river running right outside the window. Here are five such properties. Read em and WEEP:
1) Old farmhouse on the River Thames in Chiswick, £3,495,000, Riverhomes
How wrong would it be, in a time of need and loss and mourning, to set up a crowdfunding campaign to raise three and a half million pounds for me to buy this house? It's an old farmhouse, you see, an actual farmhouse, with the feel of a secret, rural hideaway where poetry comes to life and William Morris casts an approving eye. But it's right on the River Thames in London! Rural, but in walking distance from the Tube! With all that ancient wallpaper! Heavens to Betsy! If this is wrong, do I want to be right? Can't I be shamefully wrong but still also quietly keep all the money? Isn't that how cancel culture actually works? I don't even want the money, you understand. Just the £3.5m house.
Oh but it's such a beautiful little cottage with a mere five bedrooms and two gardens and ten green bottles standing on the wall, I mean the window, catching the light, catching my heart. If you go on the Riverhomes website you can do a virtual tour which is even better than the photos, and if you go on Google Streetview you won't get very far because of the way the river roads and paths separate round here, and believe me I've tried. The restraining order doesn't help either. But after each of you donates a minimum of 250 quid to the fundraiser you'll be invited to visit my new house in person, so please give generously.
This particular stretch of the river Thames is full of the most exquisite houses and barely any two are the same. It starts around The Dove Pier, peaks at Chiswick Mall, and then swoons into life again at Strand on the Green. These are all names for the same stretch of riverfront and I swear I will live on it one day if I achieve nothing else in my life. Although unfortunately, due to the way money works, I will have to achieve everything else in my life first, and then I'll be dead, which is just rude. So pls cough up.
See more of the property here.
2) Californian waterfront living in Cornwall
Well it's not quite Monterey, the mega-rich strip of Californian coastline where Big Little Lies was set, but I like to imagine this exclusive bit of the Cornish coast has just as many dramas featuring some similar characters. Especially since this house dates from 1935 when it was the site of a boathouse belonging to the Birds Custard Family. Imagine if Reese Witherspoon owned it now! Imagine if Reese was the heir to the Birds Custard Boathouse but she was determined to build a bigger hot tub to keep up with her neighbour Laura Dern, who had started a war with the whole neighbourhood about access rights to her canoes! Omg, what if everyone from Big Little Lies was in St Mawes?
What if Shailene Woodley was the only skint neighbour and she'd met a local weed dealer who'd based his personality on Cyderdelica and said "splee" rather than spliff and she couldn't stop getting high on his supply because she suspected if she ever came down she might realise the true horror of the situation. And Zoe Kravitz had started running sensitivity training courses for DFLs (Down From Londons) who want to understand Cornish cream teas and if the jam or the cream goes on the scone first (jam) without being accused of cultural misappropriation (or of being from Devon.) And if Nicole Kidman lived in an even bigger house than this one and spent a lot of time gazing out over the estuary thinking enigmatic and powerful and tortured thoughts that we'd never know a damn thing about because of all the Botox. Imagine.
Now look at the chandelier that someone has hung in the actual boat cellar - who puts a thing like that in there? A character, that's who. Commission this series immediately.
See more of this property here.
3) Reed House, Aldeburgh, Suffolk, £1.89m, The Modern House
I mean I love The Modern House with all my body and soul but isn't it a delight just marvelling at what absolute bobbins they've come up with now? Oh look here we go, it's a massive shed made from corrugated iron and some plywood on a disused lot in Suffolk, big red letter S on the wall, two million pounds please. What's that you say - it looks like an Andersen Shelter?
Hush now, it says here the design draws inspiration from the vertical reedbeds and fishermen's huts of the coastal vernacular and that it offers uninterrupted views across the Suffolk coastal marsh and the River Alde. Doesn't say anything about wartime air raids or Dad's Army. Don't panic, Captain Mainwaring. Whistle while you work. Hitler is a berk. Etc etc.
Anyway, let's start the checklist. Pendant lights lined up like an executive stress toy? Bare plaster bathroom walls gloomily imbued with a sense of their own mortality? Logs rolled into containers like stuffed vine leaves? Bedroom lampshade that looks like a sea urchin? A wood burner with a wonky black flue as if the witch from Hansel and Gretel did a range at Ikea? BINGO! You've got a full house, or rather, a Full Modern House. Which is a new game I have just invented, and which will now keep me happily occupied for the next five years. I don't get out much.
See more of this property here.
4) An estate of five properties in Hampton Wick, £18,400,000. Savills.
Alright so I'm back on my River Thames bullshit but look at this madness. £18m for an entire estate, which seems to mean four separate properties plus a staff cottage, along three acres of riverside. Ffs! Some bastard is going to own all of that. The revolution starts here so I can ensure that bastard is me. Or you - maybe I'll let you have this one. The houses seem to be called Leander, Denbigh, Teddington Lodge and The Elms Boathouse and you can pocket the lot of them, the idea being that they're ripe for renovation. Though personally I think you should leave them in their curious timewarp so when all the guests arrive for your swinging party they'll feel immediately disoriented and more likely to hand over their car keys.
I mean - have you seen that swimming pool? With the weird bird sculpture on the left and the elephants trying to get in for a dip down at the end? Can you not see Ang Lee directing the long-awaited sequel to The Ice Storm in here? (In case you missed it, it was a film set in the 1970s about two neighbouring families who wandered over from one house to the next and - stuff went down. I watched it at a pivotal age and was sexually affected by it in a way that… wait can everyone actually read the stuff I type into this little box? Wild.)
It's not as if they need any sexual encouragement round these parts, since the location is Hampton Wick, a place famous for having given us the Cockney rhyming slang for prick. Or dick. Or both. Also thought to be the origin of the phrase "getting on my wick," something that could never happen if you owned that little blue boathouse and that little silly pier and you sat out on the riverside thinking happy thoughts about swimming with your sculpted elephants for the rest of your life. Swimming and swinging. But mostly swinging.
See more of this property here.
5) Treasure Island house in Stratford on Avon, Savills
Oh dear lord forget the last swimming pool - THIS is the pool you truly need to see, and it counts as the body of water for this property as it's a view and a half, alright. How could you look at anything else, especially once you spot the palm trees sprouting up in the middle of it and the pineapples that hold up the dining table alongside it? And the shipwreck painted inside it. Then there's the kitchen island shaped like a boat, the bed shaped like a dream and the scary man up in the rafters shaped like an actual nightmare. This house is what would happen if Pirates of the Caribbean ran out of budget and had to film on the set of TFI Friday. Or TGI Friday. Or Pat Sharp's Funhouse.
Highfield, this property, was built by the late Felix Dennis as his 21st century folly. He wanted to live as a poet but had also become rich from publishing magazines, some of which were seen as saucy or sordid, and he once told a Times interviewer that he had killed someone, then said afterwards that he hadn't. Which was fun! He was also the first person to say the C word on British television - ah, they don't make them like they used to. (I actually had to ring him up for work once - I was fundraising for a literary charity and he was incredibly generous and nice and oh it's so sad that he died and I can't ring him up again and ask him to pay for my Thames farmhouse, have I mentioned, I only need £3.5m, life is pain.)
Why is everything the same shade of golden brown? I'm getting a contact high from just looking at that bar with the snooker table in it. Please don't shout at me if it turns out to be a pool table, I'm stoned. The cinema! With seats that appear to be leaning back and punching us, like boxing gloves. "The property has two boilers which work in tandem to ensure neither boiler is stressed," says the listing. No consideration to how stressed I've got just looking at it though. There should be danger money. Felix please come back.
See more of this property here.
See Sophie's other Property Binges here:
homes ideal for getting away from it all
town houses that feel like country homes
mansions for under a million, bohemian homes
The Livingetc newsletter is your shortcut to the now and the next in home design. Subscribe today to receive a stunning free 200-page book of the best homes from around the world.
Sophie Heawood is a journalist and author, who writes regularly for The Guardian, Evening Standard and The Observer. She lives in London, and also contributes to titles such as Red. Her book, The Hungover Games, was published in 2020. As well as being brilliant on her own instagram, she runs the left field interiors instagram account @propertyjazz