Where to buy the Hotel Chocolat Velvetiser?
The Hotel Chocolat Velvetiser has officially sold out on Amazon, after being discounted to just £89.99 for Black Friday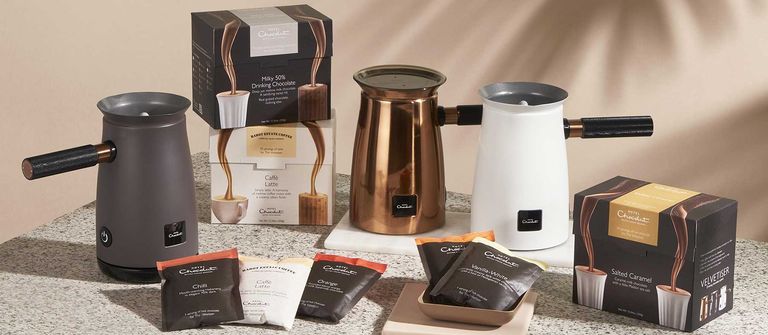 (Image credit: Hotel Chocolate)
By Hebe Hatton , Annie Collyer published
It's true: the Hotel Chocolat Velvetiser has already sold out for Black Friday. This sought-after machine was reduced to £89.99 at Amazon, from £109.95 – that's almost £20 off. By this afternoon, Amazon had run out of stock of all colours. There's no surprise really that there's none left, seeing as it's the first time that it has been on sale ever.
So, where else can you find the Velvetiser on sale right now? We spotted the Hotel Chocolat Velvetiser at Currys, for £89.99, and in all three colourways. Get yours now to avoid disappointment – and to treat someone special this Christmas.
The best part? When you buy this machine from Currys, you'll get a voucher to spend at Hotel Chocolat – on sachets and more. A £26 voucher is definitely a nice extra surprise, so we'll definitely take it!
And if you want more of our top picks from the Black Friday sales be sure to check out our hub page where we have done all the hard work for you.
Where to buy the Hotel Chocolat Velvetiser?
Hotel Chocolat Velvetizer – our verdict
Our Appliances Editor Millie Fender had the joy of testing one out. Here's what she thought...
"The Hotel Chocolat Velvetiser is seriously luxurious. It heats chocolate to the perfect drinking temperature while lightly frothing the milk to a creamy consistency. I love to pair it with Hotel Chocolat's own hot chocolate, but it's also fun to experiment with your leftover Christmas chocolates and make your own flavours."
What is the Hotel Chocolat Velvetizer?
The Velvetiser is Hotel Chocolat's answer to recreating their delicious drinks at home. It's a hot chocolate machine of which you fill with your choice of milk, pop in a sachet of delicious grated chocolate in whatever flavour you fancy, it whizzes it up in less than three minutes and you are left with the most delightful mug of hot chocolate you could hope to make at home.
And the Velvetiser isn't just for hot chocolates, you can use it to up your lattes and cappuccinos too, giving you lovely smooth milk to add to your coffee.
Is the Hotel Chocolat Velvetiser the same as a milk frother?
You might think that a Velvetiser is just a glorified milk frother, but it's so much more. A standard milk frother wouldn't give you the smoothness, and most wouldn't get hot enough to melt the flakes of chocolate.
Millie says, 'The Velvetiser isn't comparable to a milk frother because it only very lightly froths milk to reach a silky consistency. It won't do the job of making a stiff layer of foam to top a cappuccino, and a milk frother can't compare to the way the Velvetiser is able to melt chocolate into thick and creamy hot chocolates.'
So if you are a hot chocolate fan, or buying for the hot chocolate connoisseur in your life, the Velvetiser really is unrivaled.
Hebe is the Digital Editor of Livingetc; she has a background in lifestyle and interior journalism and a passion for renovating small spaces. You'll usually find her attempting DIY, whether it's spray painting her whole kitchen, don't try that at home, or ever changing the wallpaper in her hallway. Livingetc has been such a huge inspiration and has influenced Hebe's style since she moved into her first rental and finally had a small amount of control over the decor and now loves being able to help others make decisions when decorating their own homes. Last year she moved from renting to owning her first teeny tiny Edwardian flat in London with her whippet Willow (who yes she chose to match her interiors...) and is already on the lookout for her next project.