Home bar ideas - how to make Christmas merry by Jonathan Adler
The designer shares his favorite home bar ideas for turning any evening into a party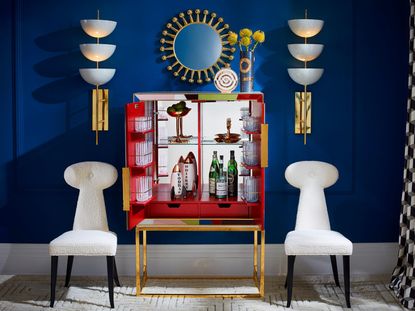 (Image credit: PR/Jonathan Adler)
We've asked the designer Jonathan Adler for his home bar ideas because he is known for putting a witty twist into all his work, for making all of his spaces feel glamorous and fun. He has never known a surface that couldn't be improved with a gilt edge, or unexpected slogan, or stripe.
So when you're thinking about Christmas decorations, follow his lead and ensure that every evening can become a party, where even a quiet night in can be given an air of glamour and intrigue.
"A home bar signifies swagger," Jonathan Adler says. "It makes young people seem sophisticated and old people seem young. Getting a bar is almost a rite of passage – it indicates you have entered your James Bond years but it's a helluva lot cheaper than an Aston Martin!"
And the best home bar ideas aren't just about where to store drinks. "Of course, a bar cart is a go-anywhere-funster piece of furniture," Jonathan adds. "In our NYC bathroom we use a vintage Aldo Tura bar cart as a perch for a stack of towels. The resulting tableau makes us appear rakish and improvisational. We're anything but, yet that's the effect."
When creating a home bar, Jonathan believes it's not just a piece of hedonistic design, but a convenience, too. "As for the bar cabinet, it's a more stately decorating move. We have a bar in our living room so we don't have to run back and forth to the kitchen to freshen up our guests' drinks," Jonathan says. "Its scale also works to bring another dimension of height to the furniture in the room."
See also: Hear Jonathan Adler talk about how he got to where he is today on our Home Truths podcast
"I designed my Torino bar (above) to function as a cross between art and furniture," Jonathan says. "The bold colours and dynamic lines bring eccentric glamour to any space. And, somewhat like a painting, the Torino bar doesn't have to match your colour scheme."
Jonathan thinks a home bar can be life changing. "So here's my advice, and why home bar ideas are the best ideas: buy a bar and watch your life transform," he says. "Suddenly you're no longer Mildred from Accounting or Henry from HR. You're Swinging Milly or Swanky Hank. A bar, you shall discover, will make you the toast of the party."
See also: Christmas is not cancelled! The festive events going ahead in 2020
Shining a spotlight on the now and the next in home design and decor, Livingetc is the UK's best selling high end and contemporary home design magazine. As a brand, Livingetc showcases the world's very best homes, breaks and makes the trends, and has access to leading international designers for insight and ideas. It was first published in 1998, and is currently edited by Pip Rich.