10 Black Friday buys to help you host the chicest Christmas party
From decorations and tableware to cooking essentials and appliances, here's everything you need to host the most stylish of Christmas parties (courtesy of the Black Friday sales)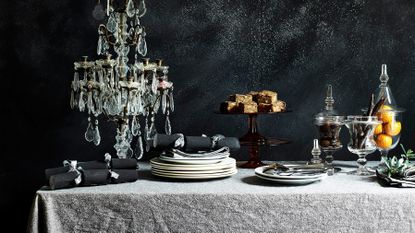 (Image credit: Annie Sloan)
Tis' the season of hosting, so whether you are having a few friends over in the run-up to Christmas, throwing a little party with drinks and nibbles on Christmas Eve or hosting the big day, the Black Friday sales are a great opportunity to stock up on everything you need. We've trawled all our favourite stores to pull together the best picks, from tablecloths and glassware to cooking essentials and must-have appliances, to ensure all your hosting needs are met, your house looks wonderful and your guests are happy.
And if you want to make the most of all the amazing offers going on this week, be sure to have a peruse through our best bits of the Black Friday sales.
The best Black Friday sales on right now
Before we jump into our favourite Christmas Black Friday buys, here's what a our favourite retailers have going on:
1. A crisp white table cloth
Washed linen tablecloth | £39.99 £31.99 at H&M (opens in new tab)
Because what is a Christmas table without a tablecloth? It's an essential! And in our opinion you can never have too many – red wine, cranberry sauce, gravy, it's the season for all these tablecloth staining foods so it helps to have plenty on hand so you aren't having to frantically wash them between events.
Personally, we are fans of a nice simple white tablecloth and then you can put your own stamp on it with how you choose to decorate. This is a washed linen material so has a lovely slightly slubby texture to it, perfect if you like a more rustic look.
2. A new dinner set
Symons Bone China - 12 Piece Set | £160 £128 at The White Company with the code JOY20 (opens in new tab)
Because maybe this will be the year when all your plates match! This is a classic set that you could either keep for best or it's simple enough to be part of your everyday crockery too. We love simple white plates for a Christmas party, you could always add a touch of colour or pattern with a charger plate.
3. This ever so real looking Christmas wreath
Ultimate Green & Berry Wreath | £135 £108 at The White Company with code JOY20 (opens in new tab)
Because every Christmas party house needs a wreath on the door! Much like The White Company's artificial trees, their wreaths are some of the most beautiful out there. We particularly love this fresh green wreath, filled with mixed evergreen leaves, eucalyptus, and white berries. Hang it on the front door, at a window, or use it as a table centrepiece.
4. A stylish and practical drinks trolley
Brass Two Tier Drinks Trolley | £270 £189 at Amara (opens in new tab)
A bar cart makes a party, and makes a party easier for you too. Rather than having to walk around topping up people's drinks, you can just let them help themselves. Just be sure to keep it well stocked and include an ice bucket too.
Gold feels suitably festive, but not out of place to have in your living room or dining room all year round. Make it more of a focus by wrapping around some fairy lights and dotting a few decorations amongst the drinks.
5. Some stylish serveware
Le Creuset Stoneware Deep Rectangular Oven Dish | £24 - £40 at John Lewis (opens in new tab)
The best thing about having good looking serveware is you can do the whole everyone helps themselves and it still looks really chic. There's plenty of Le Creuset pieces on sale at John Lewis this Black Friday in so many colours to suit whatever scheme you are going for on your table.
6. These classic Champagne flutes
Monroe Cut Glass Champagne Coupe | £40 £32 at The White Company with the code JOY20 (opens in new tab)
A lovely addition to a bar cart or a glasses cabinet, these coupes have a retro feel to them and would be perfect for serving bubbles or festive cocktails. They have a nice height, so will add more than just a glass to the table but become part of the decor too.
7. This cute drinks tray
Cheers Cocktails Tray | £108 £81 at Anthropologie with code JOY (opens in new tab)
So cute, so kitsch, so going in our basket! Anthropologie have some really gorgeous pieces in their sale (it's 25% off everything with the code JOY) so make the most of it. This quirky tray would love so lovely on a side table filled with bottles of festive beverages and when not in use you could turn it into decor in your kitchen by propping it up against your backsplash.
8. A candle to fill your home with festive scents
Neom Organics London Christmas Wish | £46 £36.80 at John Lewis (opens in new tab)
What is more welcoming when you enter a home at Christmas, than being hit with a waft of festive scents. Neom's Christmas Wish is a classic with notes of cinnamon, mandarin, and vanilla. Pop it in the hallway so it greets your guest, or in the living room to up the cosy vibes.
9. These chic cheese knives
Set of Six Fromagophile Cheese Knives | £68 £51 at Anthropologie with code JOY (opens in new tab)
Cheeseboards are a Christmas party essential so make them even more of a focal point of the event by picking up a set of stylish cheese knives in the Anthropologie Black Friday sale. These would make for such a lovely gift too.
10. A coffee machine for after dinner drinks
Nespresso Vertuo Next Coffee Maker by Magimix | £125 £74.99 at John Lewis (opens in new tab)
And for after-dinner coffee (or for the morning after pick me ups) a quick and easy-to-use coffee machine makes all the difference. The Nespresso machine is a bargain in the John Lewis Black Friday sale and means you can make perfect, barista-style coffee for your guests over the holidays and a treat for you too for the new year.