What should I put on my kitchen walls? These decor ideas will help fill up that unloved, empty wall space
What should I put on my kitchen walls? Give empty walls a new lease of life with these decorative ideas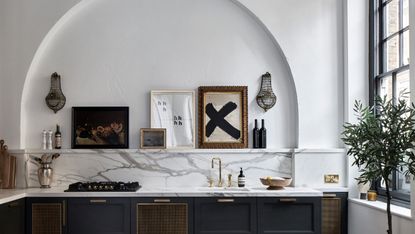 (Image credit: Future)
The Livingetc Newsletter
For style leaders and design lovers.
Thank you for signing up to LivingEtc. You will receive a verification email shortly.
There was a problem. Please refresh the page and try again.
What should I put on my kitchen walls? The style of the modern kitchen is changing, and more and more, our kitchens are moving away from being characterless spaces, void of any ornamentation and color, and evolving to become rooms where decor and design come together to express the personality of the homeowner.
'The kitchen is no longer a place to retreat to, or a space to hide,' says Sarah Zames, interior architect at General Assembly, 'instead, it has become a central gathering area that is both functional and social. To us, the detailing in a kitchen is just as important as heirloom furniture that you may keep in other spaces of the home,' she says. 'The kitchen should be built to last, but have enough interest in it to be admired.' If our kitchens are another room in the home where we can create a warm and welcoming feel, the kitchen walls are the canvases where we can put our stamp. From light fixtures to decorative wall art, from plants and greenery to beautiful splashback design, we run through the best kitchen ideas to make your kitchen wall design really go the extra mile.
Oonagh is a homes editor and writer who enjoys the decor aspect of interiors. For this story, she spoke to the kitchen designers to find out how best to decorate and fill up empty wall space in kitchens, and how to put your personal stamp on the home.
1. Try adding wall art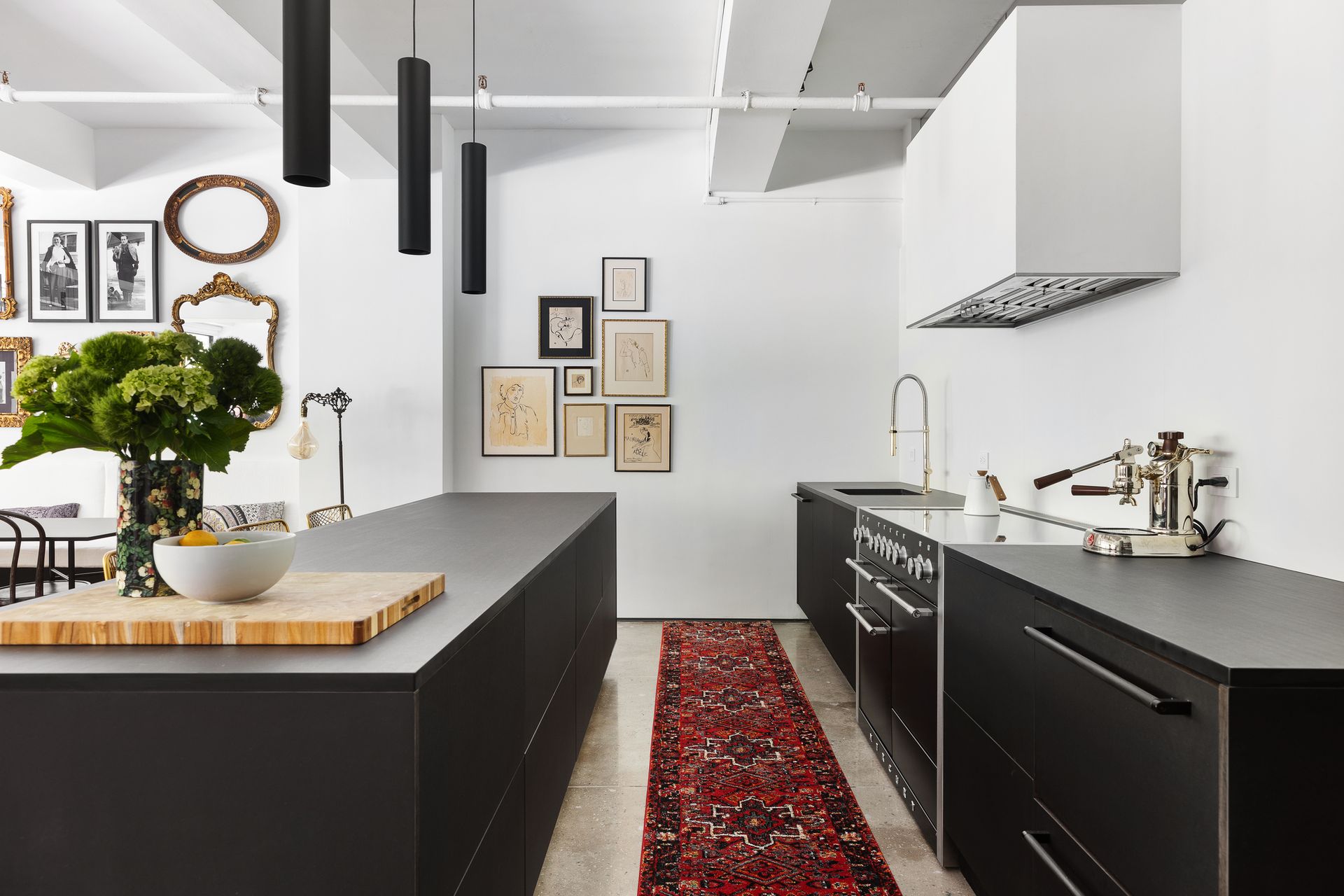 A simple addition to your kitchen walls that can really give empty space a lift is one beautifully framed piece of wall art, or a grouping of some prints and photography you've been meaning to hang for a while. You might not have considered the kitchen a great space for your mini gallery, but if you have any empty wall space that needs some attention, this is a quick fix that can bring heaps of personality to the room. Kimberly Peck Architect has designed this loft with a minimalist kitchen featuring black cabinetry and counters, juxtaposed against a stark, white porcelain clad wall and hood.
To add some extra personality and interest, the artwork gives it a real homely feel, while the rug also adds a feeling of coziness underfoot. 'For the client's home, she had a very distinct vision, to let the space be what it is, a former commercial loft, and fill it with things, art and rugs, that make it feel like a home,' says Kimberly. 'To this end, the architectural goal for the space was to keep and in some cases to emphasize the industrial kitchen feel in order to contrast with the owner's life collection of art which serve to create the warmth in the space.'
2. Create space for a free-standing shelf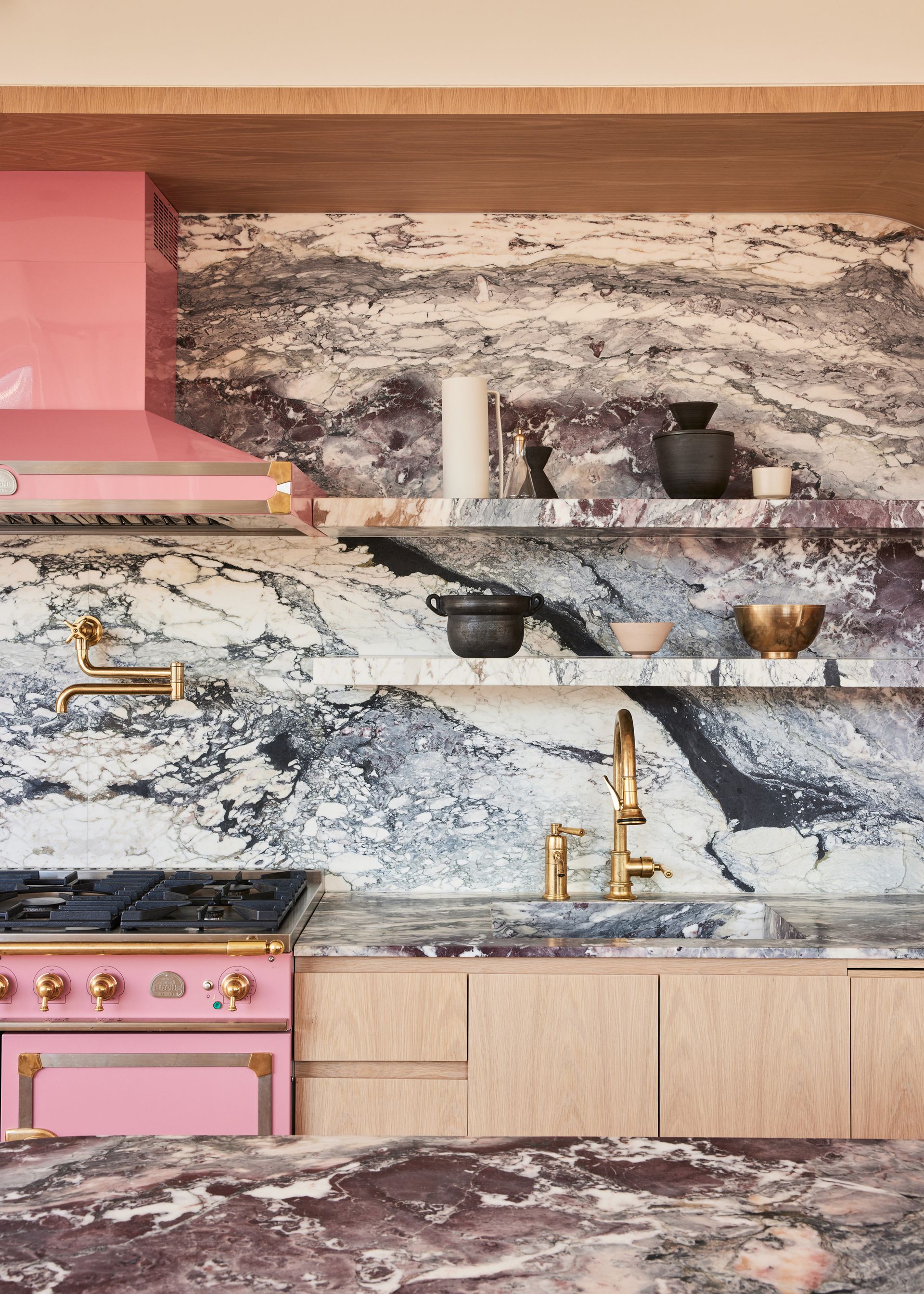 While kitchen cabinets provide a fabulous kitchen storage solution in what is a busy room in the home, more and more, homeowners are getting rid of their upper cabinets in favor of the sleek and clean aesthetic that comes with open kitchen shelving. This look gives you the opportunity to create a considered display in your kitchen, creating a vignette on your shelves where you can carefully display sculptural vases, ceramics, cooking books and beautiful pots filled with trailing plants, much like how you would consider the decor on your coffee table.
If you're fearful of losing precious cabinetry space, think where a spare wall in your kitchen might look neat with the addition of a simple shelf - perhaps it's between two cabinets above the kitchen sink, or maybe it's a high shelf above a kitchen window. Use your imagination - it's what you place on your shelving that can really add a personal touch.
'I like to use contrasting textures in the items I display, like glass next to a textured vase or a wooden vessel to get contrast,' says global interior designer, Julia Dempster. 'The contrast of textures, of reflective glass next to a raffia bottle or rough pottery makes the items stand out.'
3. Or try stylish kitchen hooks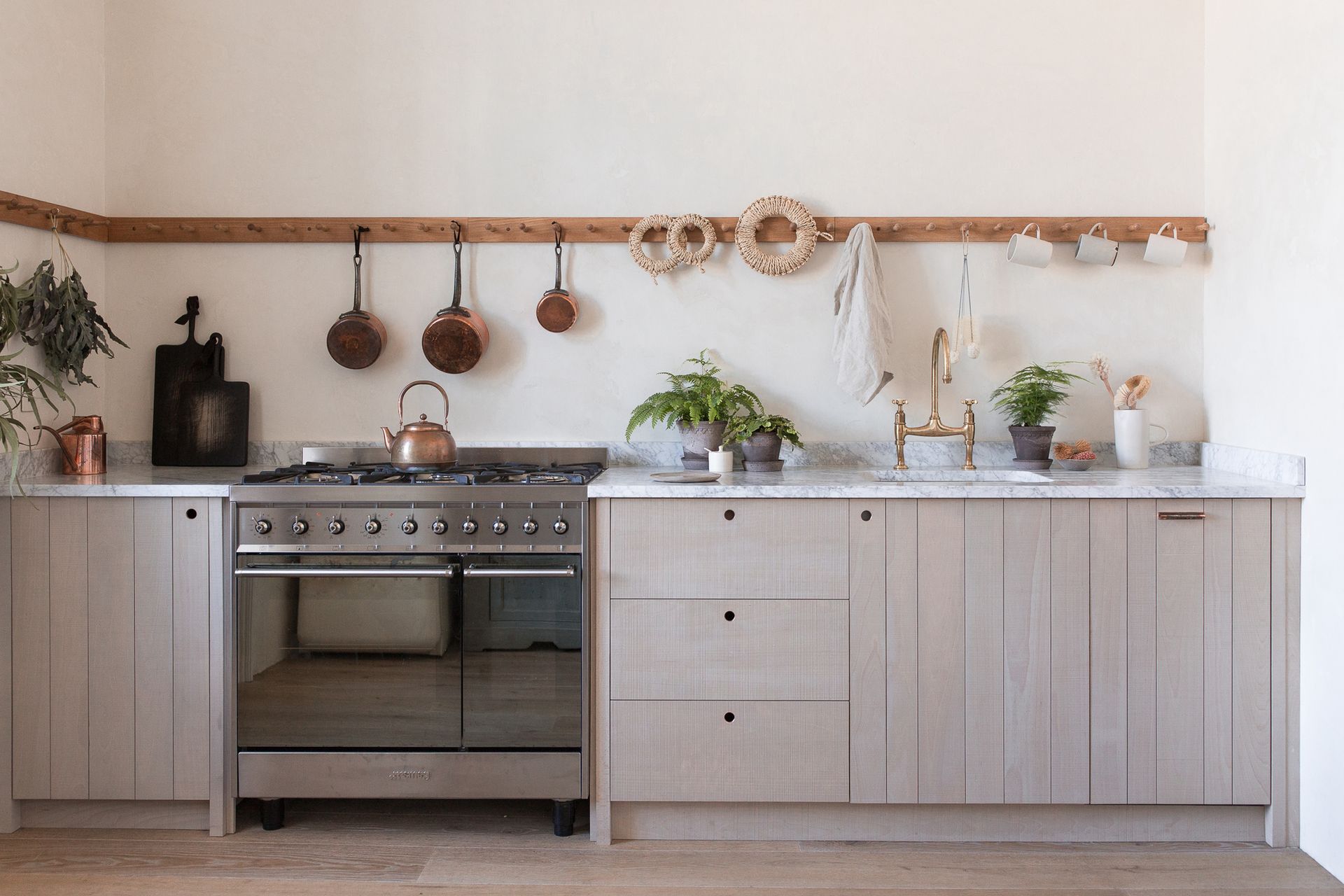 If you're fearful that shelving just gives you more space for clutter to emerge, turn instead to simple kitchen hooks that can easily wrap around the perimeter of your kitchen, or just one wall. This kitchen adds wooden hooks from where you can hang utensils, aprons, mugs, making use of the wall space while keeping things simple and aesthetic.
Think outside the box with material too. Brass might keep things looking sleek, while wood always brings warmth and a touch of farmhouse kitchen to the space, albeit in a modern way.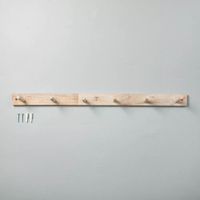 Wood six peg wall hook from Target
Try these cute wall hooks out for size. Super simple, complete with nails, this wall mountable wall rack is perfect for a kitchen. If wood isn't the look for you, a lick of paint can bring a pop of color.
4. Make space for a vertical garden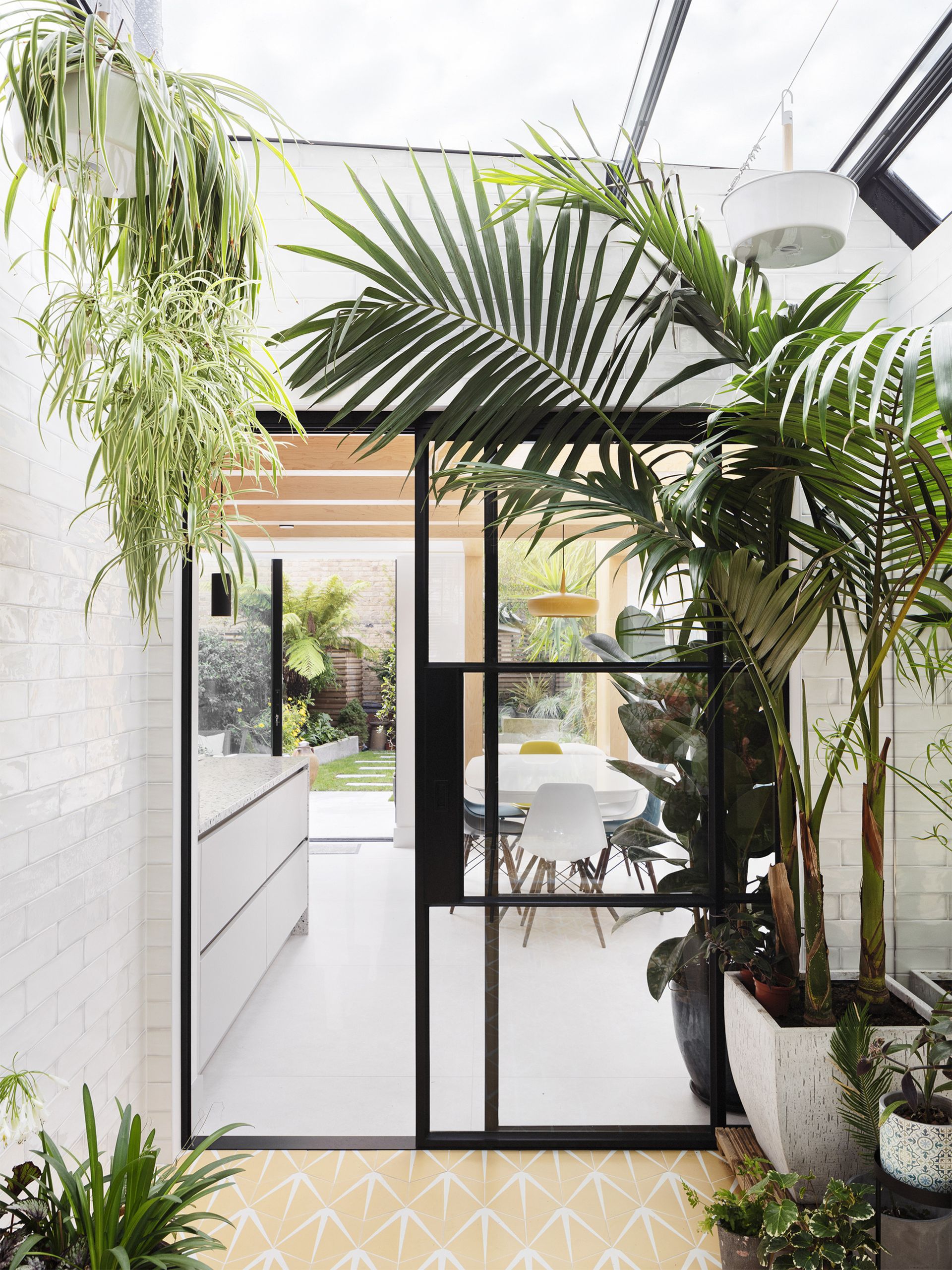 Another super simple way to add personality in abundance to your modern kitchen is to make space for hanging wall plants and indoor trees. Greenery in the home should not be treated as an afterthought, and more as a decorative addition to a space that brings warmth, calmness and helps regulate air quality. Think planters that can be nailed into the wall, hanging baskets and tall plants that cover that uninspiring bare wall.
For this project by architect firm, Amos Goldreich, the brief was for a constant connection to greenery on a tight urban site. Oak-clad beams spanning the breadth of the expansive kitchen mean there was space to hang plants from, while other walls are decorated with ceiling high plants. The green kitchen frames the view into the garden beautifully.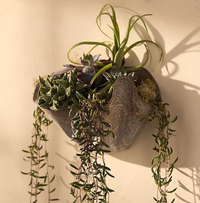 5. Wow guests with unique backsplash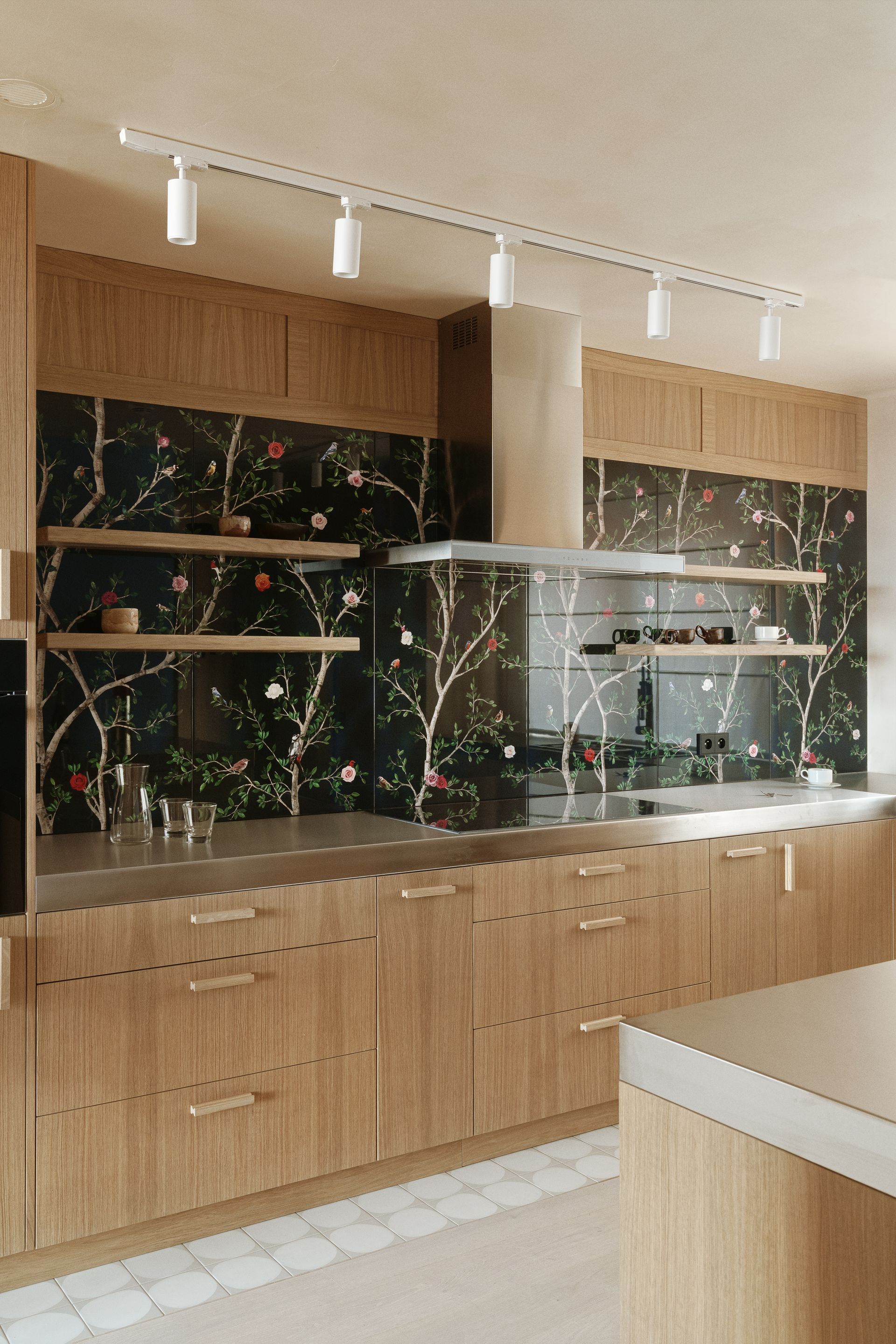 Kitchen backsplash covers a huge section of your wall and is so often left to the end of the design process. But if you begin your kitchen design with a statement backsplash idea in mind, you can build your kitchen around it. Alternatively, if you're looking for a quick way to refurb your kitchen wall, a more interesting backsplash than square tiles in a block color can add a focal point. Think about how the backsplash can add drama, like a rose gold mirror effect, or this floral mural idea from Sikora Interiors.
When it comes to trends, strong colors, in greens or blues, or marbles where the veining can run down into the worktop are popular at the moment.
When it comes to material, think practically. Glazed tiles are a popular choice for splashbacks, thanks to their glossy coating that seals the tiles and ensures they are moisture and stain resistant for easy cleaning and a beautiful finish.
6. Add leaning utensils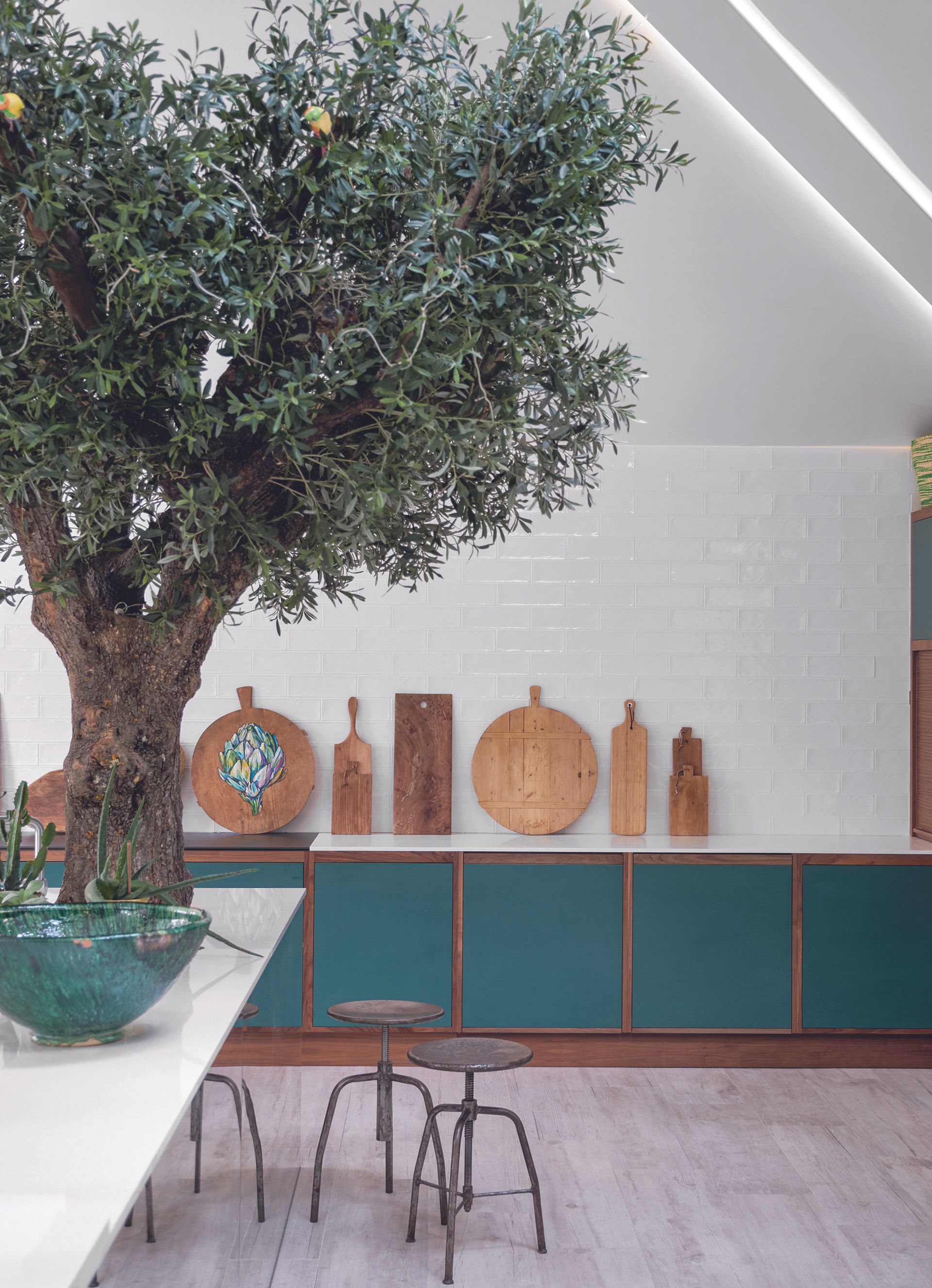 Invest in the best and proudly display your most beautiful utensils in the kitchen, reinforcing the purpose of the space and acting like artwork. A stack of leaning chopping boards made from olive wood makes for a great kitchen wall decor idea, and even piece of art when leaned elegantly against the wall. Try layering them over each other so the contrasting woods and grains really pop.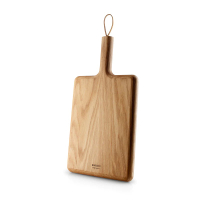 7. Create atmosphere with wall lights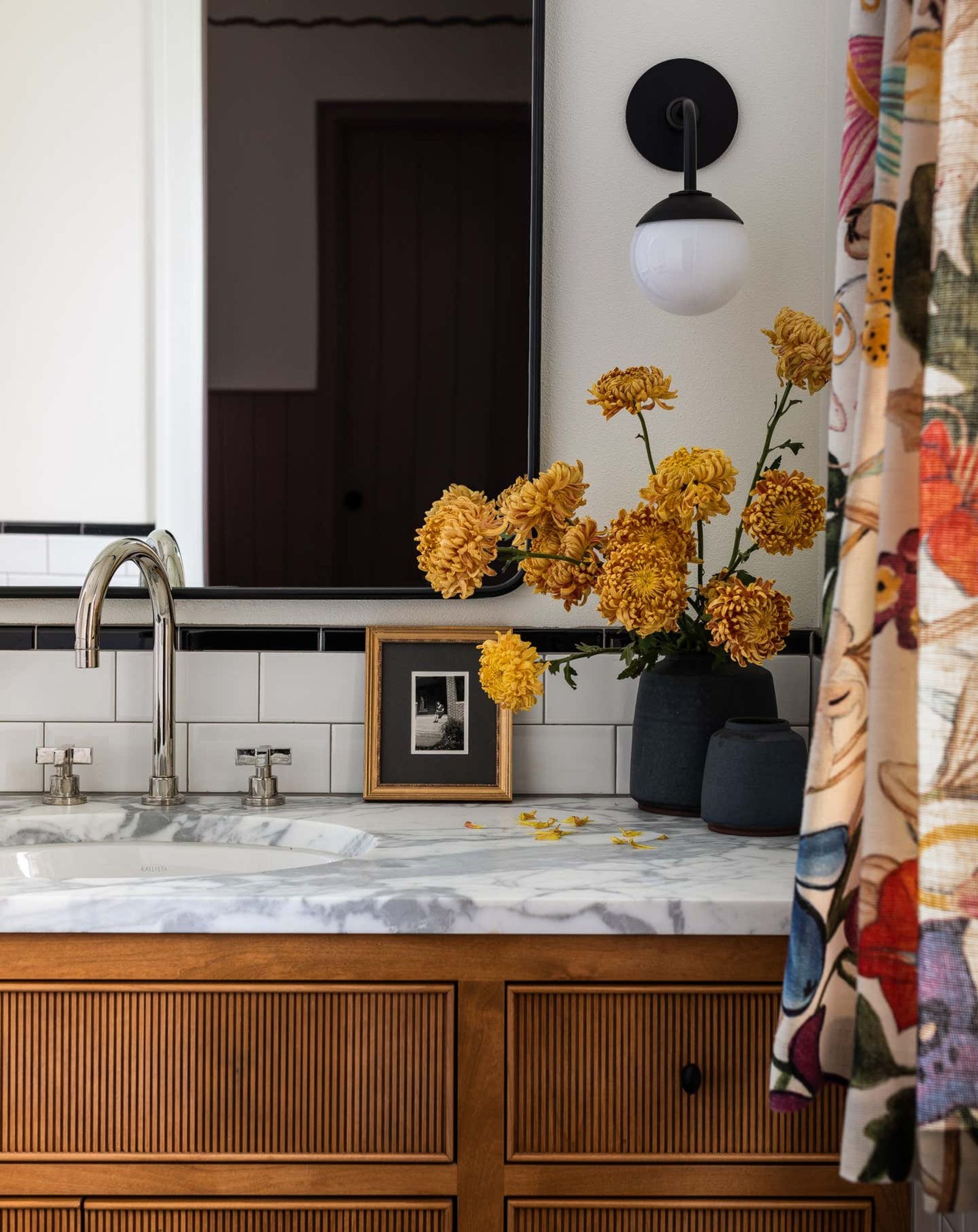 Kitchen lighting is of crucial importance, so why not make a feature out of it with a smart wall light, and make use of that spare blank wall space. Adding a bit of spotlight lighting while creating a decorative focal point, the wall light is a nice addition to the modern kitchen wall. Never underestimate lighting in the kitchen - it's as important in this room as any other space in the home, creating atmosphere, helping focus for specific tasks, and ultimately adding to your decor.
'Quick fixes might include under-cabinet lighting, or wall lighting such as a sconce, which will brighten any room and make it more enjoyable to live and work in as well,' says Eugene Colberg, principal of Colberg Architecture.
8. Cover the wall in color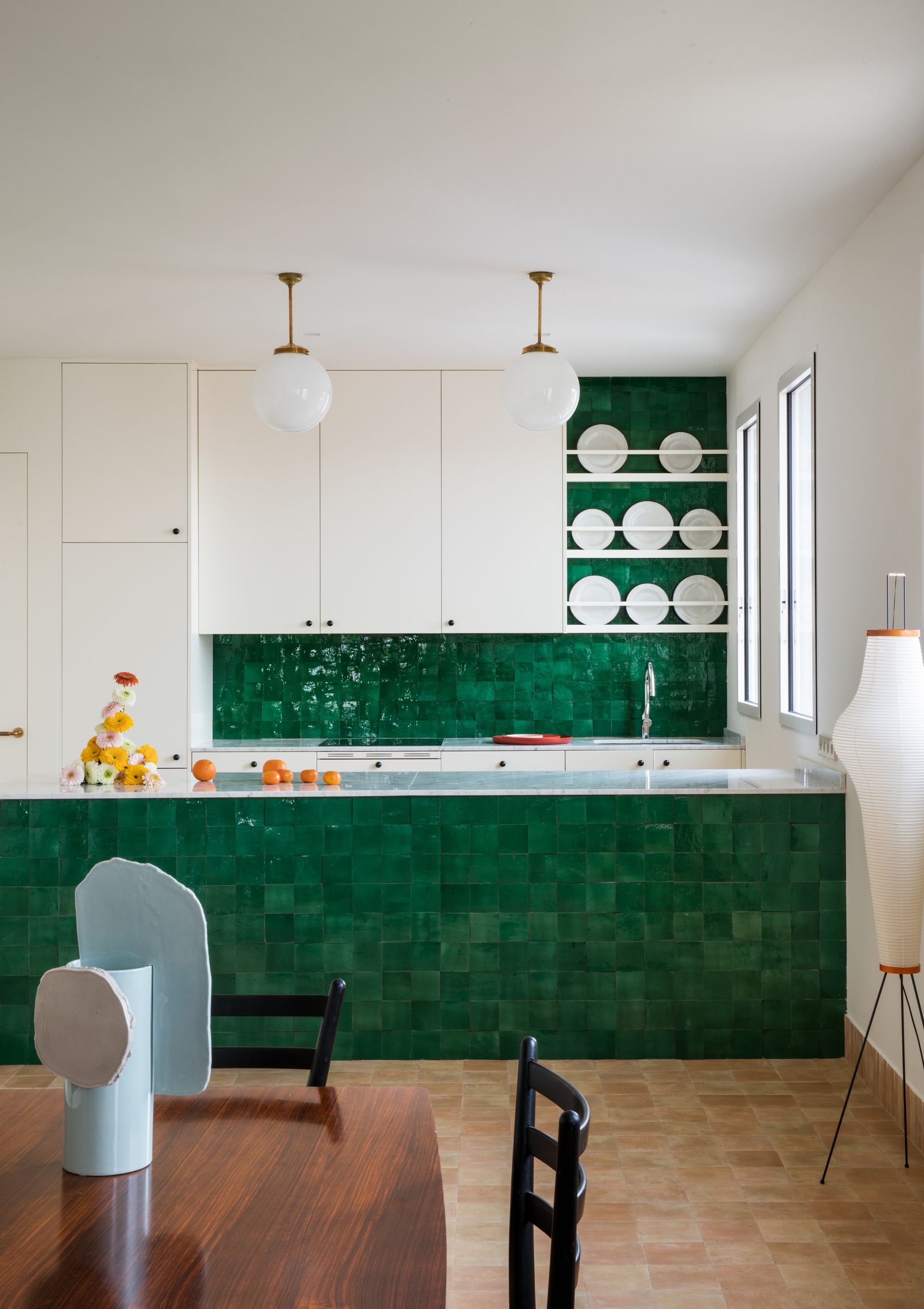 Last, but not least, think about how a spare, unloved wall can transform through the use of dramatic color. Wallpaper - so long as its suitable to the potential moisture of a kitchen, tiling that goes all the way to the ceiling, or just a lick of paint can go a long way to bring color and personality to the space, and works to add interest to even the smallest apartment kitchens.
Be daring with your choice of coloring too. This Madrid apartment by Sierra de la Higuera used glazed green tiles for some texture, and makes a small space all the more dramatic.
For style leaders and design lovers.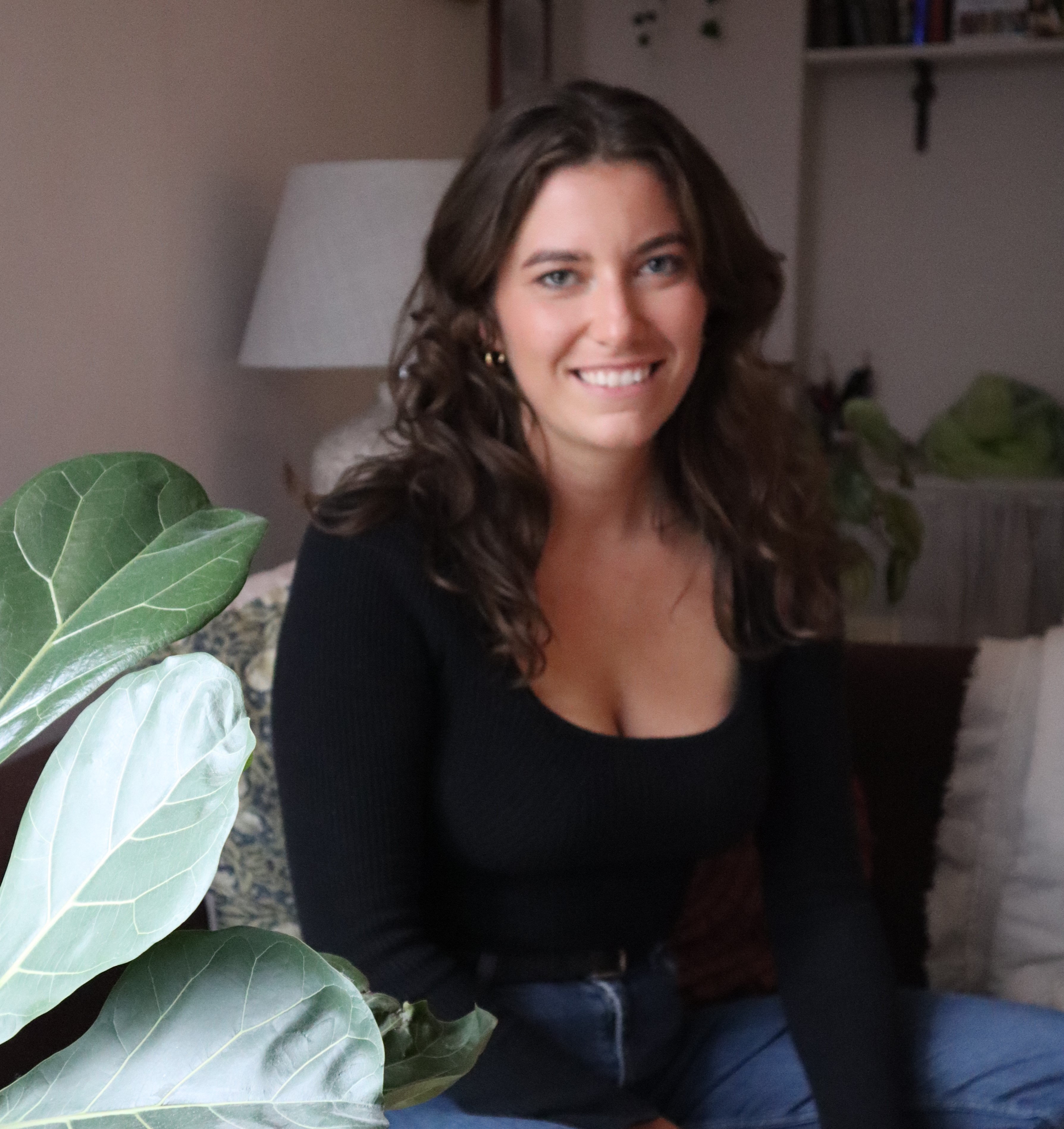 Livingetc content editor and design expert
Oonagh is a content editor at Livingetc.com. Previously, she worked on a London property title, producing long-read interiors features, style pages and conducting interviews with a range of famous faces from the UK interiors scene, from Kit Kemp to Robert Kime. In doing so, she has developed a keen interest in London's historical architecture and the city's distinct tastemakers paving the way in the world of interiors.