'I didn't know I could have this in a small space!' This new furniture trend makes the most of even the tiniest homes
A desk that turns into a bed? A cupboard that opens into a table? A wall that hides a kitchen? This is how you do transforming furniture to perfect small space living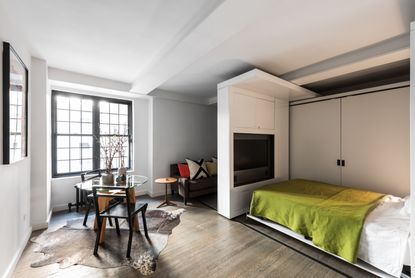 (Image credit: Alan Tansey)
The Livingetc Newsletter
For style leaders and design lovers.
Thank you for signing up to LivingEtc. You will receive a verification email shortly.
There was a problem. Please refresh the page and try again.
Transforming furniture may sound a bit... futuristic. We get if your mind first goes to bedrooms that appear from the ceiling at the press of a button, or fully stocked bars slowing rising a kitchen island. But the innovative, multifunctional furniture designs of today are far less ostentatious and can be a sleek and stylish way to just make more of a small space.
If you are designing a space that's slightly lacking in square footage, you will know that every piece of furniture you bring in has to work hard, and if it can double as something else, or extend to make it more usable, even better. The best home decor stores have transformed the way that transforming designs look and function. And may of the examples here I never would have believed I could have had in a small space.
The best transforming furniture ideas
From extending islands, to the sleekest Murphy beds you will ever have seen, here designers talk us through their approaches to flexible furniture.
1. Turn a peninsular into an extending table
If you are tight on space in your kitchen, you will understand the battle with trying to squeeze in even a small kitchen table – especially if you would ideally like one that's large enough to sit more than just you and your coffee mug. But bear in mind dining tables are usually not needed in the kitchen all the time, only at meal times. So really you don't need to have one filling up the space until it's time to eat or host.
Take note of this innovative modern kitchen idea by designer Nicholas Gurney. When the table is not in use it slides neatly and discreetly under the peninsular, and when it's time for meal times it expands into a sizable table suitable for a family.
'This 160 square foot one bedroom apartment in the Modernist building known as 'Broadwaters' by acclaimed architect Hugo Stossel,' explains Nicholas. 'The open place space beyond the kitchen is square and accommodates both living and dining areas. I conceived of a conceal-and-reveal dining table to enable complete flexibility in the plan. A modular sofa and armchair can be configured in any number of ways and the table can be utilized in whatever space is vacant.'
2. Bring in extra secret seating to a bench
This tiny London house designed by Studiomama is just 139 square feet. So you can imagine transforming furniture was a huge part of the design. This expanding bench in the perfectly formed but small kitchen is just one of many creative ways this team have made more of the space.
'As space becomes more and more of a premium, we have to rethink how we live and how we organize our living space' explains co-founder Jack Mama. 'There is a new generation seeking out different ways of living, whether it is a micro-living, houseboat living, a co-living lifestyle or the flexibility of a job-gigging lifestyle with a flexible Airbnb housing arrangement – all alternative ways to facilitate a roof over one's head. It goes beyond flat sharing into the realms of a new social dynamic where being nomadic is also a factor in your live-work existence.'
'This is a carefully considered scheme, where simple furniture elements are integrated to make a flexible space that looks and feels way beyond its minuscule square meter area. A series of volumetric spaces assembled and fitted together to make a cohesive area. This small space dwelling was driven by defining requirements and designing a home that offers a decent bed size, sufficient storage, comfortable lounging seating, a workspace, a sitting/dining area, cooking and shower facility. In an era of space deprivation, this is a thoughtful structure that provides a livable space.'
Co-founder Nina Tolstrup says 'We have created small spaces before but this is a great challenge as it is impossible to get a small space like this to work using any off-the-shelf furniture – all interior has to be custom made for the space, it is more like designing the interior of a boat or caravan.'
3. Choose a table that doubles in size
We've all heard of folding tables, expanding tables, drop down tables, etc. They are a savior for when square footage is limited, but let's be honest, they don't tend to be the chicest of options. However, have you ever seen a design as sleek as this by Tsai? We love that you can't tell it's a folding table and transforms from a compact circular table into a six-seater rectangular table – perfect for if you live solo or in a small household but like to host.
'We wanted to create a table that's suitable for the client who lives on their own in the apartment, but can extend for occasional entertainment when friends/families are over,' explains founder Jack Chen. 'We wanted to create a table that converts from a circle to a rectangle as we want the table in its everyday compact form to have the elegant form, the extension then is to serve a practical necessity so a rectangle profile seems appropriate. So a reverse take on typical holding tables out there where it typically starts in a square profile then folds to form the circle.'
BUY NOW - Transformer table
This clever transforming table can sit people from 2 to 12 with just a quick swivel.
4. Pull a dining table out of a kitchen cupboard
Another innovative transforming table design from Nicholas Gurney. This time it expands from a kitchen cabinet and back into a space as small as a kitchen drawer.
'A significant downsize for a mature couple after a move to the inner city from a large property in the country, this residence marks their 29th place of residence. With a preference to prioritize circulation space over fixed or fitted furniture, a proprietary conceal and reveal table was employed. The table folds away very neatly and is stored in a space no greater than that of a kitchen drawer. The position of the table in reference to the living room means that the latter can swell outside mealtime and provide a greater sense of openness and space when it is preferred. The table mechanism is from Hafele,' explains Nicholas.
'Transforming furniture alleviates spatial overwhelm. Ones appreciation for space and circulation in small spaces suffers when furniture is stagnant. In essence, multi-function furniture can help bridge the spatial divide between spaces small and large and does so without additional floor area,' he adds.
5. Disguise a guest bedroom in a desk
Murphy beds get a bit of rep as not being the most glamorous addition to a home. However, as this space designed by General Assembly proves, they can look really stylish and discreet and be a practical addition to a small space.
'The key to maximizing a small apartment is often duality – finding ways to create efficient spaces that can serve more than one purpose,' explains co-founder Sarah Zames. 'Strategically playing with the design of your space can help to manipulate the feeling of your square footage.'
'For the Vinegar Hill project, we optimized the square footage by organizing all the functional spaces on one side of the apartment, while keeping the other side open and loft-like. By placing a Murphy bed beneath the built-in desk, we took advantage of the available spatial real estate in the room, avoiding the need for other furniture pieces to be rearranged when guests stay over. This room serves multiple purposes, functioning as a kitchen, living area, built-in desk, and a spare bed for friends and family.'
6. Turn a mirror into a full sized bed
And another chic Murphy bed example, again from Tsai. The bed hides behind the huge mirror in the dressing room and once folded down, turns this niche into a cozy guest bedroom (a rare thing in a studio apartment).
'The bed design was inspired by the building itself, the apartment was one a prominent railway head office in the center of Melbourne. It has dramatic two-story arches in the foyer that are still there today, it seems to represent drama,' explains Jack. 'Translating that to the apartment design, we wanted to create a walk-in closet for the client that's not typical in a studio apartment, with a large full-height mirror to match their lifestyle. The client also wanted a Murphy bed in the apartment, so the solution came as a bed space during the night, and closet during the day. We also create a vaulted ceiling, extending from an existing arch on the wall, only reminiscent of the grander function of the apartment in its previous life.'
7. Make a murphy bed a beautiful piece of furniture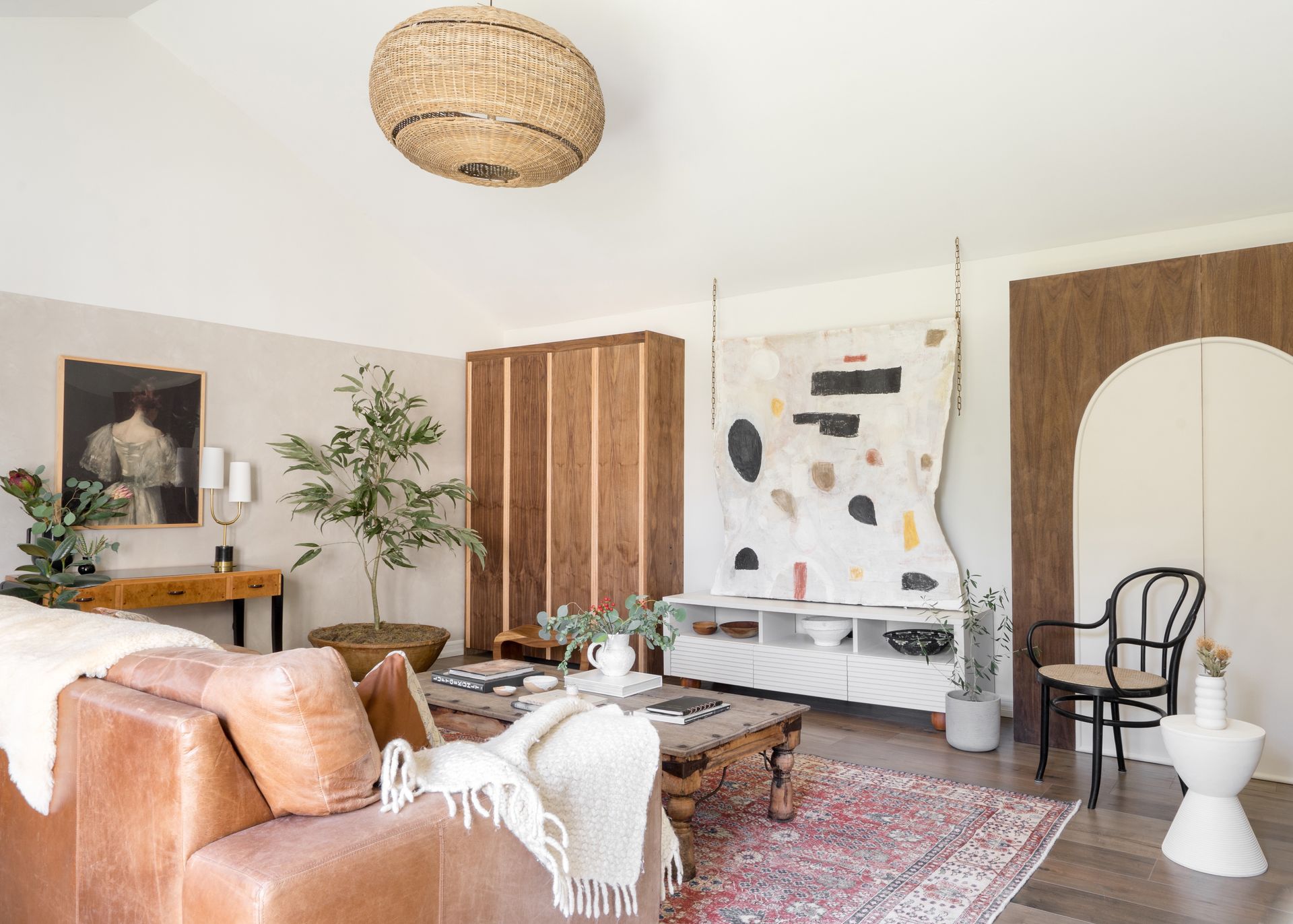 Spot the Murphy bed in this living room? It's actually hidden in what looks like the wooden built-in cabinetry.
'This space is the workhouse in the home serving as an office, TV room and an occasional guest room. And yet it feels like just a beautiful living room,' says Emily Brownell, founder of Gilded Hearth. 'To accomplish this the key is to really nail down the flow and how it will function from the start. Working off a solid floor plan means you know how each different function will be served by the space and from there can form the design elements.'
'This space was an easy candidate for a Murphy bed to keep the floor plan open so it was designed in tandem with the storage cabinet opposite. I often opt for vertical closed storage since it maximizes floor space, brings height and whether you are storing family games, bed linens or file boxes once you swap from one function to the other you don't feel like you're say watching TV in an office because those items are hidden away,' adds Emily.
'While furniture and built-ins often anchor a space if you leave out the styling elements like greenery, art, rugs, and accents then you have left off the details that give a home soul. Always budget for the details, they may seem small but they are just as important. And that's my secret sauce for multi-functional spaces, which as we know is to become more the norm these days.'
8. Fit a folding bed under the eaves
This whole apartment designed by toi toi toi creative studio is a lesson in small space living. It's pretty tiny, just 70 sq.m, but does manage to fit in a kitchen, dining room, and an open plan living space, as well as a bedroom that's packed full of storage – and yet the space is light, airy, and spacious feeling. The only thing that couldn't be fitted in is a guest bedroom, so a transforming piece of furniture was an essential.
'Upon entering the bedroom, the eye follows the lines of the sloped ceiling as natural light from a skylight above reflects in all directions. Playing off the existing angles, we designed a custom wall unit that acts as a backboard for the king-size bed, a wardrobe and additional storage. The colored millwork wraps around the corner of the room integrating a fold-down bed into the flush wall surface.' explains the t3 team.
9. Hide and separate rooms with a folding wall
This isn't so much a transforming piece of furniture, but a transforming, incredibly multifunctional, wall that runs the span of this 258sqf apartment designed by Batiik Studio. This wooden built-in unit houses a dining area with a banquette and niche shelving, the tiniest kitchen (that's what you can see here), a dressing room, and a bathroom sink. There's also the foldable wall that can hide the kitchenette and join the two spaces, or be totally opened to separate the living areas depending on what's needed of the space. And it all looks totally gorgeous and doesn't feel cramped at all.
'The apartment is intended for seasonal rental,' explains Batiik Studio's founder Rebecca Benichou and her associate Florence Jallet . 'It has been designed like a real hotel room with all the comforts of a real small apartment. This door separates the bedroom/dining area from the bathroom/dressing area. It makes it possible to intimidate the two spaces. When open it hides the kitchen and gives the impression of a real hotel suite.'
10. Switch up the room's purpose with a moveable wall
Architecture practice MKCA have designed some amazing transforming spaces that really make the most of the smallest square footage. This studio apartment is one of their latest, and through innovative use of space (and design) the small space manages to hold a living room, dining space, kitchen, home office, and a bedroom.
'The 5:1 Apartment is the latest evolution of MKCA's work on ultra-functional urban micro-housing, containing the functional and spatial elements for living, working, sleeping, dressing, and entertaining within a compact 390 square feet,' explains founder Michael Chen.
'A motorized sliding storage element glides from one end of the room to the other, creating several distinct spaces within the apartment and revealing and exchanging spaces between daytime and nighttime zones. As the moving volume pulls away from the wall, it reveals a dressing room zone with built-in dresser drawers and clothing storage. Fully extended, the space for a queen-sized fold-down bed is created.'
'Sophisticated hardware and components for motion are essential to a project such as this, as is a great sensitivity to the ergonomics, the choreography, and the rhythms of use and space in a small apartment. The transactional exchange of space from one use to another at different times of the day is enabled by the moving elements of the project. Individual spaces and furniture elements were situated in the apartment to favor the intelligent exchange of floor space and to preserve circulation and accessibility of each space in the transition from day to night,' he adds.
11. Choose a transforming floor sofa over a traditional couch
Technically you could call a sofa bed a transforming piece of furniture, right? But these on-trend sofa designs that are made up of individual floor cushions are so much more flexible – and in our opinion look far chicer. Not only do you have the option to switch them into a bed, but you can also easily reconfigure the setup as and when you need to. A sofa that's ideal for a movie night, or you could transform it into multiple chairs, to create a more sociable space.
'Having floor mattresses as extra seating in the house gives you instant relaxation. Anyone who comes over feels comfortable to lounge around and it takes away from any stiffness. The dual function as extra beds is a big plus!' explain Jen and Mar founders of Interior Fox who designed this space.
'This space a small snug that connects the back guest bedrooms to the open-plan kitchen. It's a perfect place to rest and drink a glass of wine while the busyness of the kitchen takes place. The stackable mattresses are a favorite of ours as they are so versatile as sometimes we have an overflow of guests who can unstack them to be a bed. We often will have movie nights for our visiting families with their kids and making an entire den of cushions is the most satisfying experience for them. They are also surprisingly sturdy with a solid structure so you don't feel like you're sleeping on a college dorm floor.'
12. Add a fold-in desk to built in shelving
Desks are a piece of furniture we see a lot of in transforming designs. Perhaps because in a small house or apartment, it's a luxury to have a full-on home office. Having a desk in say a living room or bedroom that can be folded away or hidden out of sight is a far better use of space. In this home designed by MWAI the living room, kitchen, and 'office' all sit within the same open plan area, so it made sense to design the desk so it could be folded away when not in use so the work space doesn't intrude too much on the living space.
'To keep the interior sleek yet functional, we developed bespoke concealed storage and collaborated with specialist joiners to create a specifically crafted kitchen and living room cabinetry, complete with a folding work desk, ' explains Alessia Mosci, Director of MWAI. 'We thought accommodating sleeping, living, dining, and working in a 398sqf apartment whilst also delivering the feel of a spacious interior was a very challenging brief. We decided we should not look at it like a residential project but rather like a hotel suite where all functions are carefully and discreetly planned to provide a functional response to business and leisure traveling needs, from folding desks to concealed makeup mirrors, clothes steamer, and mini fridge'.
13. Hide tech behind a sliding door
With a home office usually comes a lot of tech, and when your office has to be suited within another room of your home, it's nice to be able to close away all those screens and wires so the room can fully commit to its other functions, especially if that room is a bedroom or guest bedroom.
Studio Oink designed this transforming desk to do just that. 'Under the sloping roof, part of the desk is hidden behind wooden sliding doors with a perforated pattern. Since the room is also to be used as a guest room, it was important to us to make the technology invisible. Under the desk there are also discreet drawers for hiding any other work things,' explains Lea Korzeczek co-founder of the studio.
For style leaders and design lovers.
Hebe is the Digital Editor of Livingetc; she has a background in lifestyle and interior journalism and a passion for renovating small spaces. You'll usually find her attempting DIY, whether it's spray painting her whole kitchen, don't try that at home, or ever changing the wallpaper in her hallway. Livingetc has been such a huge inspiration and has influenced Hebe's style since she moved into her first rental and finally had a small amount of control over the decor and now loves being able to help others make decisions when decorating their own homes. Last year she moved from renting to owning her first teeny tiny Edwardian flat in London with her whippet Willow (who yes she chose to match her interiors...) and is already on the lookout for her next project.