The 14 best home decor stores that the Livingetc team always keeps bookmarked
The best home decor stores are the places we get all our inspiration...and furniture, accessories and finishing touches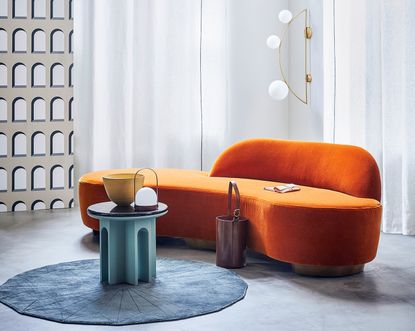 (Image credit: Future)
At Livingetc we pride ourselves on knowing not just how to put a room together, but where to shop for the perfect scheme, too. But we're not selfish, and don't want to horde this intel for ourselves. No, these are the best home decor stores that the team and I rely on and that will help you put together contemporary, liveable and wonderful rooms of your own.
I've been an interiors editor for 20 years, and am so proud of the Livingetc aesthetic. It's the most wonderful style to live by. I tend to think of our interior design approach as contemporary/transitional, meaning that we're happy to blend eras and aesthetics but we'll always do this with a modern edge. So you might find a mid-century table or accent chair but it'll be mixed in among more organic shapes or gleaming finishes.
Think of this directory as my secret address book. Some of these brands you'll probably be familiar with, but did you know they're the go-to for specific types of product? Read on to be inspired.
---
The best home decor websites to shop from for modern schemes
Best for organic shapes: Lulu and Georgia
And relax. Because browsing Lulu and Georgia is the visual equivalent of an afternoon in the spa. Rounded shapes, soft textures, boucle, linen and curves. This is where you'll find furniture and accessories that come together to make a soothing home, where subtle colors envelope you and in a way that makes you feel serene.
The editor's pick of what to buy from Lulu and Georgia
Best for dining chairs: Interior Define
One of the many great things about Interior Define is how customizable its products are. From fabric to finish it basically offers a bespoke service, letting you spec out the product you're buying in the way you want it. But its edit of dining chairs is particularly worth a mention - each one is the sort of piece you can imagine having the most wonderful dinners in, living the best versions of your life. Put simply, they're smart, but relaxed, setting just the right tone for how we want to live.
The editor's pick of what to buy from Interior Define
Best for table lamps: Crate and Barrel
Crate and Barrel has honed the urban take on bleached-out, beached-out chic since long before the coastal Grandma trend was a thing. Rough finishes, vaguely distressed wood and a sense of pervasive calm. But it's the table lamps that really stand out - a trove of stellar pieces that are easy to mix into most rooms, adding a sense of careworn elegance.
The editor's pick of what to buy from Crate and Barrel
Best for accent chairs: OKA
If you've got a dark corner you're unsure what to do with, or a room that needs a little pizazz then chance are OKA will have just the accent chair you need. Its brand style is traditional-meets-quirky, meaning it sells a aura of grandness that is nothing if not personality-filled. In other words, it's an ideal source for that statement piece you've been missing.
The editor's pick of what to buy from OKA
Best for affordable decor: Society6
Bring art into every corner of your home with Society6, the ultimate site for shopping prints, the best pillows, rugs, wallpaper and so much more. Every order is custom made by artists, meaning all you have to do is pick the home decor pieces that speak just to you and your personal style.
The editor's pick of what to buy from Society6
Best for vases: Jonathan Adler
Friend of Livingetc Jonathan Adler made his name as a potter. And while the only guest editor in the magazine's history has expanded into furniture, textiles and interior design it's his characterful objet that he is truly known for. His vases are always refined, works of art in their own right. They're surprisingly delicate, a fact that belies the wit with which they're made. And what they add to a room is character in spades.
The editor's pick of what to buy from Jonathan Adler
Best for contemporary fabric: Kravet
A one-stop shop for all the most dynamic and desirable fabric brands, it's impossible to browse Kravet and not come away inspired. Donghia, Lee Jofa and Kravet's own lines showcase the best of both recent and heritage prints. Yet every pattern on display feels fresh and exciting in its own way.
The editor's pick of what to buy from Kravet
Best for design-forward blankets
The era of the desk blanket is upon us. The cashmere or wool wrap that can coddle you as you type feverishly all day while still looking good on your Zoom calls. And then can go with you to the sofa to keep you snug while you decompress. The ultimate in day-to-night home-working dressing.