These 10 kitchen Feng Shui rules showed me how to make a much more calming, organized space
Follow these kitchen Feng Shui rules to bring a sense of balance and peace and organized calm to your decor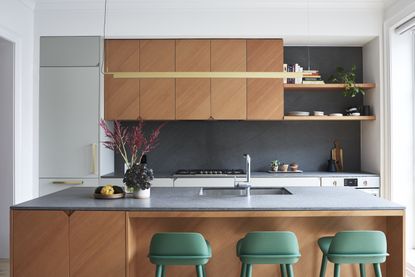 (Image credit: Studio Nato. Photo credit Hanna Grankvist)
The Livingetc Newsletter
For style leaders and design lovers.
Thank you for signing up to LivingEtc. You will receive a verification email shortly.
There was a problem. Please refresh the page and try again.
Kitchen Feng Shui is all about following certain rules to create good energy that will further your well-being and happiness. As per the ancient Chinese philosophy, the placement of your kitchen stove, and the presence of certain colors, plants, artworks and more play a vital role in optimizing the flow of qi, or the natural energy present in a space. When all the elements come together, the room automatically becomes a haven to cook, socialize and spend time in.
There are also certain do's and don'ts you need to watch out for. To help you out, we spoke to top experts who shared useful information on kitchen ideas aligned with Feng Shui rules. Take a look for a more prosperous home.
Aditi is an experienced homes writer and editor. She has written hundreds of articles for various international titles helping readers make the best home design choices, and spends her days interviewing interiors industry experts to bring the latest ideas to her readers. For this piece she spoke to the world's best Feng Shui experts to learn how to make the kitchen a more prosperous space.
10 kitchen Feng Shui rules to abide by
1. Place the stove in line with the kitchen door
'The position of the stove is of utmost importance in the kitchen,' says Anjie Cho, Feng Shui expert. 'It needs to be in the commanding position – positioned so you can see the door while cooking at your stove. This is because as humans, it is inherent in us to always be front-facing toward danger; not with our backs to it. If you aren't in the commanding position, you are transferring your stress into the food you consume. In case you can't see the door, you can place a mirror or a reflective object in front of the stove so the door is visible in it.'
Also of importance is the placement of the kitchen in the house. While planning a modern kitchen redesign, use the opportunity to push the kitchen to the back of the house. That's because, as per Feng Shui, having it at the entry point means that guests may come over to dine and then leave immediately. But when this room is placed at the back of the house, it will encourage people to stick around and will eventually lead to greater, deeper friendships.
Also, if your stove (or the kitchen) is setback further into the home, 'the more secure your money and finances will be, as the stove represents wealth,' says Julia Sarasola, Feng Shui expert and founder of Sarasola Interiors. 'The stove oversees your wealth and resources, so it's also important to use it regularly and keep it in good working condition. And, if you are culinarily challenged, even boiling a pot of tea often counts!'
'Take note: your bedroom wall, particularly the head of the bed, should not share a wall with the stove,' says Julia. 'That's because the kitchen is related to the fire element and yang energy, so this alignment will not only disrupt your sleep but lead to various illnesses. As far as sharing the wall with the refrigerator, you can imagine that having any large appliance, constantly emitting EMFs, behind your head will also greatly disturb your health and wellness.'
2. Ensure the space is always well-lit
Ensure your kitchen has a nice balance of task, accent, and ambient lighting.
'Ample light is essential in Feng Shui,' says Feng Shui Master Dana Claudat. 'While it may not be possible to do major renovations on kitchen wall lighting or ceiling lighting, you can bring in brighter, full-spectrum light bulbs, and open curtains or blinds to let in more natural light. This can be revolutionary in terms of changing the energy in the space.'
'Light affects the color of things that you see,' says Dana. 'For instance, very warm yellow bulbs can make everything look sallow or aged. Dim lighting in kitchens can make it difficult to cook and it can also make the overall space feel less energized. If you can switch out an existing light fixture, aim for a fixture that can safely manage a high enough wattage to truly illuminate your kitchen.'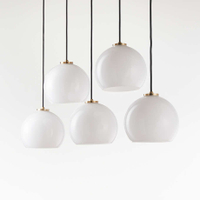 3. Bring in plants
'Bring some life energy into the room with plants,' says Anjie. 'A good idea would even be with a fresh herb garden in this space.'
The best house plants for the kitchen are those that symbolically attract wealth and support good health like the Money plant or the bamboo. Also consider plants that can be used in cooking like mint or basil, or bring in fruit-bearing varieties.
If your kitchen doesn't receive a lot of sunlight or is usually dim, then the best houseplants for low light that could work in this space are Monstera Deliciosa, ZZ plant, Parlor palm, or Devil's Ivy.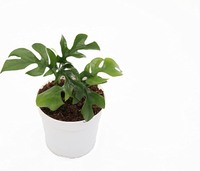 Looking for a plant for your small kitchen? The mini Monstera is the ideal one that requires only indirect light and only water it when the soil starts drying out.
4. Keep the fridge and pantry clean
'Keep the fridge clean because this and the pantry represent how you store your wealth,' says Anjie. 'If you have any expired or spoilt food, it can represent that expired or spoilt qi in your body or life. Regularly clean these spaces with mindful intention.'
Look for interesting pantry ideas to keep this space organized at all times. One way to enhance your well-being is to place a clear quartz crystal inside the pantry or fridge to amplify the nourishment that your food provides you. This is also helpful in promoting a flow of positivity in the house.
5. White, green and ochre are ideal colors for the kitchen
'When it comes to best colors for this space, white kitchens are ideal,' says Anjie. 'White represents clarity, purity, and cleanliness. It is also a color fed by the water element, so having a white kitchen is highly recommended for peace and happiness.'
The kitchen has an inherent connection with the fire element, with the stove being an integral part of it, 'so adding too much black (water element) will energetically put out your fire, passion, and vitality,' says Julia. 'The same goes for having too much red (fire element), which can effectively burn up your resources. Greens, blues, and teals (wood element) will feed the fire and work well if you need more enthusiasm in your life.'
'Similarly, ochre, yellow, and brown (earth element) will stabilize and support good health overall,' says Julia. 'And finally, greys, and metallics (metal elements) will bring a sense of purity and productivity to the space. To further enhance your results, consider what you might want to strengthen in your life or invite into your space. Set a clear intention, and let the color do the rest.'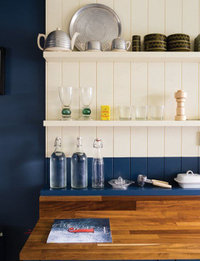 Wimborne White from Farrow & Ball
If you want a warm, welcoming kitchen, then consider this off white tone that is far from clinical and cold. It's only a shade away from a pure white and contains a lovely tinge of yellow.
6. Create small vignettes in the space with fruits and herbs
Fruits signify abundance in terms of health and wealth, and of course, provide key nutrients to us. Plus, fruits are endowed with the most beautiful natural tones and can add a pop of color to your modern kitchen.
'Bring in lots of freshness in the kitchen,' says Dana. 'Fresh fruit in bowls, fresh herbs or sprouts growing in this space, and even fresh flowers placed on countertops can all bring messages of abundance to a kitchen.'
'Consider placing a bowl with nine oranges inside it, and yes you can eat the fruits,' says Anjie. 'The fruits will also add a little sweetness to your life.'
Do note: never decorate with dried flowers, as they represent dead qi.
7. Ensure all appliances are running smoothly
'It's a good practice to ensure all appliances, doors, windows, handles, drawers, lights, and switches function well in the kitchen,' says Julia. 'When left unattended, these little inconveniences can represent obstacles or issues in your life.'
Also, it is important to remove broken or chipped items, like mugs or plates, from your home as these represent broken energy and, as per Feng Shui, is thought to bring bad luck.
That being said, if you do decide to repair a broken item, consider doing so with kintsugi – a Japanese practice of repairing broken pottery using powdered gold, silver, or platinum. It is then, that these items become a beautiful part of the item's story, rather than a flaw. These can also become lovely kitchen wall decor items.
8. Keeping it always clean is imperative as per Feng Shui
An organized and super clean kitchen is a given in Feng Shui, as this encourages the free flow of positive energy.
'Scrub the entire space from top to bottom,' says Dana. 'Quite literally, scrubbing the kitchen walls and kitchen cabinets, countertops and floors, as well as all appliances, with a natural, effective degreasing cleanser is a big job, and an essential part of Feng Shui. Even with great ventilation, kitchens can develop a film of grease, dirt, barely-visible splatters and other debris that often gets overlooked. This is a wonderful way to get a true energetic fresh start in your kitchen.'
9, Include imagery of food
While art is a great way to add layering to your kitchen color scheme, or inject a pop of hue to a muted room, be mindful of the type of artwork you choose. As per Feng Shui, the theme and subject matter of the artwork should revolve around the imagery of food, like cut fruits, a prepared meal, an indoor or outdoor cafe-diner scenery etc.
In terms of colors for the artwork, look to earthy colors such as ochres, browns and greens.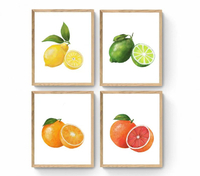 10. Balance the five elements
The five elements, namely wood, fire, earth, metal, and water, are the very foundation of Feng Shui. Balancing these in the space is essential for the room's smooth running. Ensure you have representation of all in this space: water (sink), fire (stove), wood (cabinets), metal (appliances), and earth (kitchen countertop stones or backsplash tiles).
Once that is done, you need to balance them effectively. For instance, water and fire don't mix, so, avoid placing the sink next to the stove. Similarly keep the metal and the fire elements too, at a distance.
What is the lucky color for kitchens as per Feng Shui?
Feng Shui dictates white as the most positive and peaceful color for this space, as it also encourages you to keep this space clean and clutter-free at all times. Apart from white, light green kitchens, along with blue and brown too can help create a harmonious and airy atmosphere.
For style leaders and design lovers.
Aditi Sharma Maheshwari is an architecture and design journalist with over 10 years of experience. She's worked at some of the leading media houses in India such as Elle Decor, Houzz and Architectural Digest (Condé Nast). Till recently, she was a freelance writer for publications such as Architectural Digest US, House Beautiful, Stir World, Beautiful Homes India among others. In her spare time, she volunteers at animal shelters and other rescue organizations.