Grey dining room ideas from interiors experts to create a cool and calming space
Grey dining room ideas are the ultimate in sophisticated spaces, and designers explain how to get them right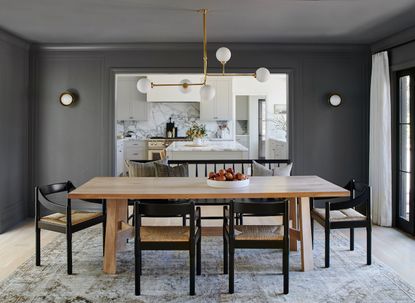 (Image credit: Amber Interiors)
Grey dining room ideas are often turned to by people who want a grown up space in which to entertain. Painting a dining room grey can make the space feel anything from calm and cozy to moody, understated, or even sophisticated. It's a surprising range for a shade that's supposedly neutral, and interior designers have a knack for making the most of its versatility.
In the right space, and for the right client, interior designers choose grey in their dining room ideas to add personality and depth to undeniably adult-centric dining rooms (often in contrast to kid-friendly breakfast tables) that beg for clean and modern vibes. Painting a dining room grey is like lighting a candle; grey sets the mood. And like moods, the vibe can change dramatically with just a hint more or less shade in either direction.
From dark and dramatic to soft and serene, take a look at the full range of rooms below, and see why interior designers love making the dining space a worthy grey area.
Grey dining room ideas
1. Decorating a dining room for adults? Go grey.
In this California family home by San Francisco's Katie Martinez Design, Farrow & Ball's Down Pipe grey creates a sophisticated dining room for adults, offering contrast to the home's more frequently used (and notedly kid-friendly) breakfast table. "The homeowners planned to use this room for special occasions and daily adult use, mostly at night," explains Katie Martinez of the mature vibe.
"The combination of the dark grey paint and wall paneling instantly creates a moody and sophisticated atmosphere," adds Martinez. "You don't need a ton of light in a dining room, rather you want to create a welcoming and memorable environment." This explains why grey is often used in small dining room ideas too - you can make an impact with it easily. Certainly, this terribly handsome dining room is hard to forget.

2. Add grey limewash for a touch of drama
Grey paint may seem hyper-modern and clean, but limewash, made from crushed limestone thinned with water, has made grey walls a staple since ancient times. If you're wondering how to design a dining room, the effect of this hand-applied finish brings texture, if not a sense of wonder. "Dining spaces can feel great if they provide a sense of drama and glow at night," says Keren Richter, co-founder of NYC's White Arrow, who used a textured limewash finish (made by Ressource Paints) in this downtown Brooklyn dining room.
"It can add a sense of depth, casualness, history, and travel," says Richter. "The 'old world' material's subtle imperfections, movement and matte chalky texture, provided the perfect canvas to bring in a layered mix of antique and contemporary furniture and lighting in natural materials such as white oak, unlacquered brass, marble, and linen."
3. The right shade lets true colors shine
Think of grey like your furniture's biggest fan: as a natural shade, it doesn't hog the spotlight, allowing the colors that go with grey and textures to pop throughout the space. "Grey is a naturally calming colour, and less stark than white," explains Edo Mapelli Mozzi, founder of the UK's Banda who chose Farrow & Ball's Ammonite grey for the panelled walls in a recent townhouse design.
"We feel the right shade of grey, a more warm grey tone, creates the perfect backdrop for statement pieces like the dining table, which tends to be a large dominant feature of the room, and the dressing of that table." Banda's grey paneled walls allow the dining room's rich, earthy toned furniture to stand out—textures of bronzes, woods, marbles, brass, and leather all get their moment.
4. Consider wallpaper for visible texture
Dining room wallpaper ideas are a tried-and-true method to add visual interest through texture. In Vancouver, Gillian Segal Design used a Phillip Jeffries Manila Hemp graphite wallpaper to bring sophistication and comfort to a recent apartment's dining area. "When choosing a grey wallpaper I look for depth and warmth over a flat cool tone," says Segal.
Just like dark grey, heavy texture can be tricky, especially when it blankets the wall—in order to create balance, Segal opted for lighter, if not daintier furnishings. "This way it doesn't lean bland," explains Segal. "We knew we wanted to keep within neutral tones but chose silhouettes of interest and added in additional textures of glass and natural woven [seats] as interesting visual elements."
5. When grey meets pink, they complement each other
For a modern classic, the combination of pink and grey is a no-brainer— in fact, grey is one of the best colors to go with pink, so long as there's balance. In this California home, the interior designers at Newport Beach's Pure Salt Interiors used a very dusky pink paint on the walls, anchoring the room with soft grey Shaker-style chairs. "What we find works well in this space is that the pink is a softer tone, more aligned with peach or beige, and the gray is just a shade darker and cooler than a stark white, making both colors feel more like neutrals," says Aly Morford, co-founder of Pure Salt Interiors. "And the closer to neutral you stay, the more classic and timeless a design becomes."
Here, the muted greys and pinks add dimension, contrasting warm and cool tones that vibe with other complimentary neutrals like light woods, greenery, and woven materials. "The result is a dining room that feels fresh and bright, full of interest without anything shouting too loudly for attention," adds Morford.

6. Embrace the dark side of grey
In this delightfully dark dining space, Brooklyn's Re-a.d created a moody atmosphere in this Harlem penthouse with limewash by Resource Paints. In fact, dining room lighting ideas often revolve around adding a sparkle to grey. "Greys in dining spaces act as breathing moments," says Re-a.d's Côme Ménage. "The dark grey palette we used acts as the quiet background and allows for the dining experience in front of it to pop out."
The deep-dark kitchen creates contrast and allows the eye to focus on the warm dining experience, complete with a Skagerak Scandinavian wood table and matching bench, and a warm-toned Nanimarquina rug. "The idea behind the dark limewash and the use of darker tones in the kitchen was to create an elegant, almost zen-like cooking experience," adds Côme Ménage. "By using different shades and textured dark greys, we were able to create a monochrome yet rich environment for gathering."
7. Just the trim, a rich history
Maybe you're not ready to go all grey, and that's all good - not all dining table ideas have to be all out. Especially in historic homes, there's a long history of contrasting trim tones—a modern grey trim can balance out the old-school charm of traditional white walls.
In the Millbrook, NY country house below, the interior designers at Connecticut's Hendricks Churchill chose a rich grey trim with green undertones (in this case, Farrow & Ball's Hardwick White, which is grey despite its name), allowing the trim to stand out while still creating a serene backdrop. "Since grey is such a neutral color, we like to use it in dining rooms so that more elements can be featured on the table, allowing for a rich color palette composed of food, textiles and floral arrangements, without making the space feel too cluttered," says Heide Hendricks, principal interior designer at Hendricks Churchill.
8. Lighting is key to grey spaces
Just like in grey weather, a little bit of light can go a long way. In their recent project for star chef Jason Atherton, London's Rosendale Design chose an earthy grey tone for the textured wallpaper of this decadent dining space. But it was their choice lighting that truly creates a warming atmosphere, one that chimes with stained timber details and striking art.
"We selected warm white leds that really call out the warm hue of the wallpaper," says Rosendale Design's founder, ​​Dale Atkinson. "We also selected pendant lights that had opal diffusers on them again to visually soften the space. The dedicated picture lights then call out the reds in the Andy Warhol pieces, further highlighting them. Of course natural lighting plays an equally important role in any space. We installed the mirror over the mantle to help reflect the natural light that floods the space."
9. When in doubt, Down Pipe will do
We've said it before and we'll say it again: Farrow & Ball's Down Pipe works in nearly every room. That's no different for the intimate London dining room above. "Because Down Pipe has a subtle green element there is a surprising warmth through it which makes it wonderfully versatile, even for north facing spaces with limited natural light," explains Patrick O'Donnell, Farrow & Ball's brand ambassador.
"As most grey shades are considered modern and clean, the richness of Down Pipe happily transitions between modern and traditional elements," adds O'Donnell, who often uses it in his grey living room ideas, too. "It creates cohesion in this space by allowing the Victorian architectural detail to juxtapose happily against the marble dining table and caramel leather mid-century chairs, but also pulls on the discreet colouring of the Persian rug."
10. Double up with wall-to-ceiling grey
If light is plentiful, double-down with an extra dark coat. In this Los Angeles home, natural light pours into the dining room from every angle—this allowed the team at Amber Interiors Design Studio to use a dark and moody Amherst Grey by Benjamin Moore on both the walls and the ceiling. "By carrying the paint color up the ceiling, it allowed the space to feel cohesive and cozy,"explains founder Amber Lewis. "As you can see, the dining room leads right into the kitchen, so we chose a shade that complimented the cabinets and the natural marble veining."
"The key to furnishing this space was choosing pieces that would provide a subtle contrast against the moody, grey paint," adds Lewis about her modern furniture ideas. "We leaned into a more clean and modern vibe with [our] Ozzie Dining Table in bleached walnut, and mixed it up by adding texture through vintage woven Magistretti Chairs and a vintage bench. Then we introduced lighting with brass accents which also complimented the kitchen hardware and gave the space a pop of brightness."
IS GREY A GOOD COLOR FOR A DINING ROOM?
Grey is a good color for a dining room. Its versatility, and its ability to get along with others, makes it a surprising fit.
"Gray is a great color for dining spaces because it is so neutral, yet impactful," says Leigh Lincoln, co-founder of California's Pure Salt Interiors. "You can play with shade and tone to create an earthy look, or go monochrome for a sleek look. And unlike an all white space which is equally evergreen and classic, gray has a bit more personality and depth. Traditionally dining rooms are smaller spaces where you can play with color without it becoming overwhelming. And if you have an open concept floor plan where your great room and dining area share walls, adding gray is a great way to define the space."
HOW DO YOU DRESS A GREY DINING TABLE?
"Grey dining tables offer a neutral, forgiving backdrop that opens up what you can do to style it without too much risk," says Becky Shea, founder of New York's Becky Shea Design. "Though, as with any beautiful tablescape, keeping a consistent palette of colors as you dress the table will yield the best results."
To create a sense of calm, Shea tends to stay clear of tones and colors that are too loud. "We prefer adding muted natural tones through the use of textiles, vessels and plateware that contrast, but not too sharply, and save any brighter pops for the flowers and food styling (think edible flowers, bright veggies) since they are transitional in nature and available at harvest."
How to dress a grey dining table: "Start by defining your color story with swatches that represent each element on top of the grey table," says Shea. "This way you'll know generally what colors you'll need to source as you begin hunting for those special pieces. On a materials front, you can have a ton of fun mixing mediums such as ceramics, woods, stone and even leathers for items like napkin holders or leather wrapped vases with a grey table. We love linens for their cozy yet durable nature and recommend the textile for not just napkins, but even tablecloths or placemats. The key while you source is to refer back to the color story you defined for your table's specific grey so that you don't lose the harmony of it all coming together in the end."
HOW DO YOU BRIGHTEN A GREY DINING ROOM?
Although grey walls can be warm, it can lack brightness without a little help. Your best bet is to create contrast—a grey wall paired with a pure white ceiling opens up rooms that lack southern exposure, for example. Other decor can brighten the mood as well, using grey's more complementary characteristics. Juicy pinks and bursting yellows, tender blues and crisp greens—pick a color, any color, and it's bound to pop against grey, creating little bombshells of brightness everywhere you look.
Of course, furniture is another way to lighten the vibe, too. "When using heavier colours and textures on the wall, we put our focus on balancing through furnishing," explains Vancouver's Gillian Segal. In the past, Segal opted for items with dainty profiles to lighten the space—a minimal dining table with a glass table top, for example, or unlacquered fixtures and bright art to create an airy feel that allows your eye to wander throughout the room.
The Livingetc newsletter is your shortcut to the now and the next in home design. Subscribe today to receive a stunning free 200-page book of the best homes from around the world.
Keith Flanagan is a New York based journalist specialising in design, food and travel. He has been an editor at Time Out New York, and has written for such publications as Architectural Digest, Conde Nast Traveller, Food 52 and USA Today. He regularly contributes to Livingetc, reporting on design trends and offering insight from the biggest names in the US. His intelligent approach to interiors also sees him as an expert in explaining the different disciplines in design.