Butler's pantry ideas – how to create the handy addition in any sized kitchen
Because butler's pantry ideas aren't just reserved for grand period properties, here's how to make one work in your space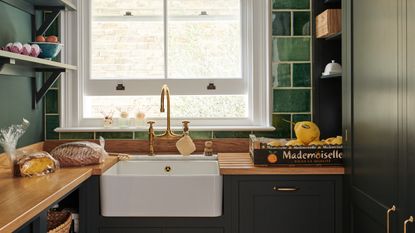 (Image credit: deVOL)
The Livingetc Newsletter
For style leaders and design lovers.
Thank you for signing up to LivingEtc. You will receive a verification email shortly.
There was a problem. Please refresh the page and try again.
Name something more deliciously decadent than sizable storage and commodious butler's pantry ideas? In a world where space is increasingly at a premium, good walk-in storage space is worth its weight in gold. That's right, for those of us who like to keep our homes looking chic and clutter-free usable storage spaces are something to desire and aspire to (it's true!).
A butler's pantry may seem, initially, a rather traditional and old-fashioned choice for an interior, but the demand for built-in and freestanding butler's pantry-style storage is rapidly gaining traction in 2022. Kitchen and furniture designers are being approached about butler pantry designs for residential and hospitality sector projects, from both interior designers and directly from private clients.
With such demand for chic pantry ideas we've carried out a sweepstake of the designs that should be on your radar now, and, we've spoken to the pantry cupboard experts who know a thing or two about how to nail a strong, sturdy, and chic (yes, you heard right) butler's pantry design. The time to tune in is now.
What is a butler's pantry?
A straightforward pantry is traditionally a small room, either just adjacent to or within the kitchen itself, where dry goods can be stored and kept out of sight. A butler's pantry takes kitchen storage step further. Alongside being somewhere to store dry goods it can also house smaller appliances, like, for example, a coffee machine, microwave, or an additional kitchen sink.
A butler's pantry might also traditionally include a small additional area of worktop space for tasks like cutting flowers. The most convenient and common place for a butler's pantry to be located is adjacent to the kitchen, and, historically, in-between a kitchen and a dining room (for obvious reasons).
1. Treat a butler's pantry like a small scale kitchen
Kitchen design specialists deVOL know a thing or two about designing lust-worthy kitchen cabinets and storage in kitchens and utility areas. Founders Philip DeVries and Paul O'Leary joined forces and created DeVOL in 1989, and they have been making the creme de la creme of kitchens ever since, including, of course, some of the most fabulous looking walk-in butler's pantry designs!
Helen Parker, creative director at deVOL, says, 'If you are lucky enough to have a walk-in pantry, that's the perfect scenario, leaving you lots of space in your kitchen to keep things simple and uncluttered. Our love of food, good ingredients and a desire to be ethical and sustainable and cut down on packaging and plastics makes the idea of a much larger space for food a very sensible option. Bulk buying, hoarding your jars of preserves, fermented foods and bottled vegetables from the summer garden are all things that become much more achievable with a pantry.'
2. Keep everything accessible on open shelving
A pantry is very traditional, whether it's a big cupboard or a walk-in pantry, it has come in and out of fashion as people lean towards fully fitted rooms with floor-to-ceiling and wall-to-wall cupboards. But for us, it is one of the quintessential parts of a classic English kitchen, it is so practical and so easy to manage. Everything stored together in one place and everything really easily accessible. It also harks back to the days of less is more, as it treasures the household and family objects as pieces of importance, pieces that need to be held onto and stored together in the pantry.
A recent example from deVOL includes a traditional The Real Shaker Kitchen butler's pantry which boasts pretty much everything that anyone would ever want a stylish butler's pantry to be, including super handy pantry shelving, and all wrapped up in a luscious rich green color palette too.
3. Choose a freestanding option to save on space
Acknowledging the fact that space is at a premium, kitchen designers and cabinet makers are taking to the drawing boards to design versions of a butler's pantry which can be easily accommodated into smaller kitchens in modern homes.
This means incorporating the benefits of a butler's pantry into the kitchen design itself. Not everyone has space to dedicate to walk-in kitchen storage, but these cupboards and cabinets all offer a modern-friendly reinterpretation of the butler's pantry, and they all look super chic too. Some are freestanding designs, others are built-in to the kitchen or utility room.
Known for their classic and elegant wooden furniture designs, The Cotswold Company is a go-to for a standalone sizable storage cupboard, and it's the freestanding Kingscote Larder that we love. Its capacious design spins a modern-friendly version of a butler's pantry. Ok, it isn't a walk-in, but it holds pretty much everything you would need a butler's pantry to hold and there's a granite slab kitchen countertop area that feels a cut-above, if you excuse the pun.
4. Opt for a seamless built in design
This Teal-toned dream of a cupboard (the color is called Sapphire) is eye-catching and ever-chic, from kitchen specialists LochAnna. It's a built-in design, so it's probably one of the smallest and smartest examples of a butler's pantry-style storage cupboard that we've seen. It's neat and bijou, but it will hold everything you'd want it to and it's perfect for modern homes and kitchen's that might be a little tight on space for a full walk-in or freestanding butler's pantry. This offers up the ideal compromise.
'As the 'curated' style takes over, we have seen a huge demand for storage that offers a display element. However, often these open cabinets don't allow for a lot of practical storage space. A dresser is perfect for storing anything from crockery and glassware to baking equipment and ingredients and with the Durham's bi-fold doors, you can choose to conceal or display your wares", says founder of LochAnna Kitchens Paul Jenkinson.
Paul explains, 'Placed on top of a worktop, the dresser offers the perfect compromise for those customers that desire both the elegance of a walk-in butler's pantry and the accessibility of countertop storage. The bi-fold dresser can be fitted as a stand-alone furniture unit on top of base units, or in a run of base and wall units for a seamless wall-to-wall layout that would be at home in either a modern townhouse or country farmhouse kitchen.'
5. Make use of every inch of space
With built-in lighting and a wood interior, this is a chic-looking pantry system. Storage baskets align on the bottom shelf – practical and stylish – and there's ample shelving for kitchen accouterment. We particularly like the spacing on the door shelves, making room for tall bottles as well as smaller jars and containers.
Eleanor Pepper, partner and fitted kitchen buyer at John Lewis, explains, 'More and more customers are looking to include a pantry in their kitchen design and it's often near the top of their wishlist. With everyone spending more time at home, having an organized kitchen is more important to our customers than ever before. Cooking at home more, means that most of us generally need more ingredients in the kitchen as we are eating on the go less, and a shift to online shopping means we are more likely to buy our food for the week in one go rather than popping to the local shop on the way home from work, which means that maximizing storage is key.'
'Not everyone has a room to dedicate to being a walk-in butler's pantry, but pull-out units have always been popular for us and we are seeing more customers ask for a pantry style, they love to feel that they have everything they need at hand. However, if you do have the space, walk-in butler's pantries are becoming the new walk-in wardrobe, and we think that this is a trend that will continue to grow, as this will be going up the wish list for kitchen extensions and renovations.'
How should you style a butler's pantry?
Good question! Styling a pantry is all about the neat and tidy appearance, because nothing gives a calming sense of contentment like a neatly laid out cupboard, right?
Some of the top tips to a beautifully styled butler's pantry include investing in a set of matching storage jars, preferably a timeless clear glass type, that can sit pretty on open shelving. Dried goods and grains arguably look their best in this uniformed and effortless container style. A smattering of gorgeous ceramics doesn't go a miss – if in doubt keep it chic and simple with an off-white or cream – and if you're opting for larger storage units try considering the more beautiful option of wicker and woven, baby! Plastic, meh, that's all feeling a little old hat and incorrect now, isn't it? So try selecting a few beautiful natural wicker baskets to contain loose items, and if you need storage that's sealable look for a glass alternative.
For a vintage feel? Paul Middlemiss, founder of specialist vintage furniture and lighting brand Merchant & Found comments, 'In terms of styling, a vintage element such as one of our cabinets or freestanding pantry cupboards adds depth and character and a talking point with ultimate 'soul', to a home.'
How can you source and repurpose a reclaimed butler's pantry?
Paul Middlemiss of course knows how to source and curate chic butler's pantry storage options. 'We are being asked increasingly for vintage storage units – whether apothecary chests or haberdashery units or others – that we buy for clients and fit out to their bespoke requirements at our workshop using our trained craftspeople. A unique and bespoke butler's pantry is something for people to cosset, and use everyday. Whether you are fitting out a traditional butler's pantry (a purpose-built pantry room) with vintage pieces, or if you're looking to curate a freestanding butler's pantry-style cupboard, it can be done.' explains Paul.
'In the first instance, I'd say look around on the internet or visit a dealer you know and trust. At Merchant & Found we have clients that want pieces for specific projects and if we do not have it at our Hampshire warehouse we can source it for them through our extensive European network - we will then kit it out bespoke at our warehouse with our trained craftspeople so the look and feel is authentic but, and this, of course, is the vital key, practical too.'
For style leaders and design lovers.
Rory Alastair Robertson has a long-standing history working across the interiors industry. Raised in Morningside, Edinburgh, Rory grew up surrounded by classically grand Scottish Georgian and Victorian architecture.
His first appreciation for interior decoration sparked when his mother hired scaffolding and decorated their three-storey Victorian staircase in Farrow & Ball Picture Gallery Red, by herself. She then painstakingly gold leafed the drawing room - by hand - over a base coat of Sudbury Yellow. This was the era of Jocasta Innes and Kenneth Turner, when paint techniques and maximalist style were the decorating raison d'être.
With this inherited gene of creativity, Rory went on to study Interior Architecture at the University of Edinburgh, and later, Theatre Set Design and Architectural Illustration at The Rhode Island School of Design on America's East Coast.
Rory's foray with the editorial world started a decade ago at Livingetc magazine, a title which he regularly contributes to today. Specialising with a deep-seated appreciation for historical homes and interiors, Rory often travels far and wide to be inspired by unique properties with a fascinating history.
If he's not uncovering an unusual National Trust property in the UK, then he's seeking out a Neo-Classical clifftop villa in Capri or a Palazzo in Florence.
Based in London's Shoreditch, working as a Senior Interiors Editor and Consultant, Rory's portfolio of work is a creative melting pot of residential and commercial interior design projects and a plethora of editorial writing work. Rory is also Guest Interiors Lecturer at the prestigious KLC School of Interior Design in Chelsea, London. His most cosseted possession is a ramshackle Citroen Deux Chevaux, which he has reupholstered in Pierre Frey yellow and turquoise silk fabric.
Discover more at roryrobertson.co.uk and @rory_stylist.