How to create an orangery kitchen extension that adds space and style
Orangeries are back and better than ever. Architect Sophie Goldhill shares her expertise for planning an orangery, from start to finish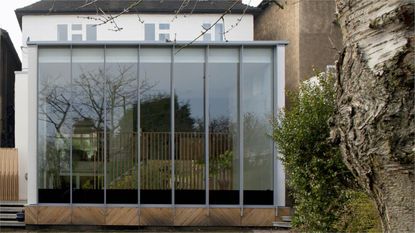 (Image credit: Keith Collie)
The Livingetc Newsletter
For style leaders and design lovers.
Thank you for signing up to LivingEtc. You will receive a verification email shortly.
There was a problem. Please refresh the page and try again.
Believe it or not, an orangery kitchen extension can be a really contemporary addition to a modern home and one that will add value, light, and space.
Back in the 17th, 18th and 19th centuries, an orangery was a room or extension where orange and other fruit trees and exotic plants were protected during the winter months. Essentially they were a very large form of greenhouse or conservatory, but a brick structure with large glass windows rather than fully made from glass. Orangeries became associated with intricate architecture and grand homes but towards the end of the 19th century, orangeries gave way to fully glazed structures, like the conservatories we know today.
Orangeries are seriously back in fashion and range from traditional Georgian-style designs with ornate windows to completely contemporary builds. By stripping away the lower part of the rear facade, the architects created a new double-height home extension, floating halfway between the ground floor and basement. The Orangery acts as a lantern, gathering sunlight into the living spaces deep within the house. Architect Sophie Goldhill shares her advice for planning an orangery...
Top tips for adding an orangery kitchen extension
1. Choose the right location for your orangery
'The first thing to consider is the location of your proposed orangery. How it will connect to your existing house and importantly which way it faces,' explains Sophie. 'East facing orangeries will catch the sun in the morning, whereas westerly placed extensions will catch the sun in the afternoon and the evenings. Therefore, the ideal positioning is in the south-east or the south-west as it will be bathed in sunlight for a portion of the day and will then have time to cool off.'
Designed by Liddicoat & Goldhill, slender steel-framed glazing gives the new structure a sense of fine fragility, while the handmade oak furniture, staircase, and kitchen inside create a continuity between the new and old spaces. If you're considering adding an extension to your home, whether an orangery or otherwise, here are the best extensions to add value.
2. Check whether you need planning permission for an orangery
'Depending on the size and location of the proposed orangery you may need planning permission. It's good to check with your local authority or work with an architect who will be able to advise,' says Sophie. If you're about to plan a kitchen extension, always make sure you're clued up on everything from planning permission and building control to windows and lighting.
3. Assess if you need to lay foundations
This modern kitchen overlooks a double-height orangery style extension that brings in heaps of lights into an otherwise dark space. Shaker units and antique glass island pendant lighting tone down the contemporary nature of the vast glazing.
'If you're building a new structure, foundations will probably be required. You may need to dig a trial pit to advise on the existing soil conditions. A structural engineer should be consulted on this. Also if you want to expose structure you'll need to work closely with your architect, engineer, and building control,' explains Sophie.
4. Decide on what will your orangery be used for
This orangery-style living room extension has been incorporated into the existing space rather than built as a separate room, which is what an original orangery would have been, making it feel connected and part of the home.
'It's important to consider what you are creating the orangery for? Will it be an extension of your existing living spaces or a separate space for relaxing, eating, working in?' asks Sophie. 'It's important to work out the internal layout of furniture and of course access and the relationship to outside space is key. How much solid wall space is required and where the windows and doors are located. It's good to consider it as an all-round space to maximize its use so considering how it will work in all the seasons is imperative.'
5. Use an orangery extension to maximise light
'Maximising daylight and views over the garden is vital,' stresses Sophie. 'Think carefully about the type of glazing you want to have. Do you want full-height panels or smaller ones to frame a particular view. Also thinking about the type of doors you have is key. Do you want to open up one facade in the summer? Thinking about the thresholds is also important. How and where do you want the new space to meet your garden, and so on.'
6. Get the heating right
'Getting your heating system and cooling right is high on the checklist,' says Sophie. 'The room will need to have good heating for the winter months, and that's where underfloor heating can work so well. Ventilation is key for the summer so having high-level openings for natural ventilation works well. We would always suggest working with a service engineer who can advise and model the different environmental conditions and advise on a strategy.'
Crittall door kitchen extension ideas remain an incredibly popular choice and continue to add character and a slight industrial edge to your new space.
7. Fill your orangery with greenery
'The fun bit is dressing in your new space at the end. We often work with plant stylists and designers who can advise on the best type of plants and species that will work best in the new space,' says Sophie. 'Historically an orangery was a room on the grounds of high-end residences from the 17th to the 19th centuries where orange and other fruit trees were protected during the winter so filling it with greenery seems very fitting.'
Can I extend my kitchen with an orangery?
Just like a conservatory or any other extension, it's completely possible to extend a kitchen with an orangery. Whether you just want some extra space for dining, or you want to start from scratch and incorporate a new modern kitchen in the new orangery, it's all doable with proper planning and with the help of experts.
Will an orangery add value to my house?
An orangery will add value to your house if it's done well and in accordance with all building regulations. By adding an orangery you're adding extra square footage to your floorplan and allowing more light and flood into your space - who wouldn't want that?
For style leaders and design lovers.
As the Houses Editor on Livingetc, Rachel has been obsessed with property ever since she was a kid. With a diploma in interior design and more than a decade working on interior magazines under her belt, she feels very at home sourcing the best contemporary houses the world has to offer for Livingetc. It's not just the day job either, she admits she's spent a scary amount of her own time researching schemes for her own renovations - scrolling Instagram, stalking Rightmove and Modern House, flicking through magazines and snooping in other peoples' windows - so she really does live and breathe houses on a daily, if not hourly, basis. Before Livingetc, Rachel had a stint finding homes for Ikea Family magazine where she was lucky enough to gallivant around the world on shoots meeting and interviewing interesting people, all with a very keen eye for blending high-end design with everyday items from Ikea. It inspired her to not be afraid of mixing new and old, expensive and affordable, vintage and modern and so Rachel's current Victorian terrace in north London is very much an updated, contemporary take on a period property; think open-plan modern kitchen with concrete floors, feature fireplaces and her grandmother's paintings on the walls. Rachel is currently crushing on reeded glass, large gingham prints, squishy curved furniture; like Buchanan Studio's Studio chair, and vintage wall sconces; she especially adores Retrouvius for sourcing antique finds and feels inspired by Lonika Chande, Beata Heuman and Matilda Goad and already can't wait to start planning her next home, wherever that might be.