Tour this Edwardian house in northwest London with a distinct Brooklyn edge
An Edwardian house in northwest London gets its edge from Brooklyn and colour inspiration from the Mediterranean – all mixed up with cool British textiles.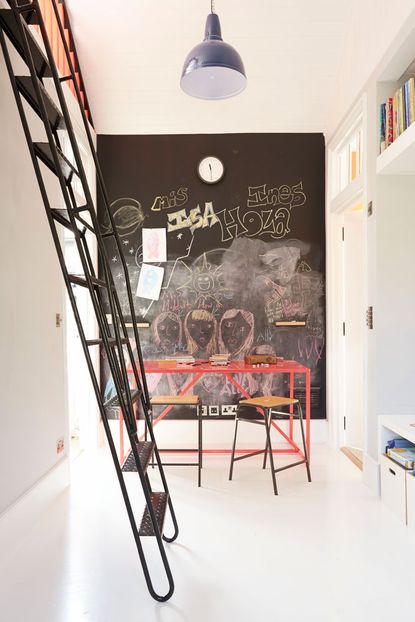 THE PROPERTY
An Edwardian house in northwest London. On the ground floor of this modern home (opens in new tab), the family room flows into the kitchen and living room (opens in new tab). There's also a utility room (opens in new tab), WC and boot room. Upstairs there is a playroom, WC, two bathrooms, the children's bedrooms (opens in new tab), the main bedroom and a dressing room.
KITCHEN
Concrete fire surrounds, pendants direct from Fifth Avenue and cabinets painted in what Americans would call 'Barn Red': it's no coincidence that this kitchen has more than a hint of New York sass about it. One of the owners worked in America for five years and was keen to recreate some of the buzz of life there back home.
With help from interiors consultant Edward Bridges, the owners reimagined this space with a Brooklyn slant. Getting the right shade of red – something between English pub tiles and an American barn – kept them awake at night!
See Also: Explore this glamorous townhouse in Brooklyn with serious design flair
(opens in new tab)
Blackboard paint transformed cupboard doors into a family planner with a sense of humour.
FAMILY ROOM
In contrast, the female half of the couple loves colours that recapture the hazy warmth of Barcelona, where she lived until her first career as a model brought her to London.
Colour lends character to each space, from that energetic red in the kitchen to a warm, sunset-on-sandstone pink that envelops the family room at the back of the house.
LIVING ROOM
In defiance of the house's original Edwardian layout, the ground floor has been opened up into a run of three connected rooms and fireplaces have been reworked with the owner's imaginative eye – the chimney breast in the living room (opens in new tab) is clad entirely in mirror glass, while the one in the family room (above), with a similar concrete surround, is painted in an uplifting wash of soft pink.
Manolo Valdés's paintings add bold strokes of pure, Iberian blue and mosaic-like flashes of yellow.
See Also: Living room ideas (opens in new tab) - 24 decorating tricks to inspire
PLAYROOM
The owner's love of Stateside style is threaded through the living spaces, but really goes to town in the children's vaulted playroom (opens in new tab). Here, a glossy black New York-feel fire-escape-style ladder ascends to a mezzanine level, with balusters outlined in a sharp red.
EN SUITE BATHROOM
The owner loves the natural feel of marble, opting for a basin shape that's simple rather than ornate.
MASTER BEDROOM
The patterned headboard was made to blend with a background of identical wallpaper (opens in new tab) in the couple's old house, but it works against a plain backdrop too.
With its uplifting mix of city textures, bold art and intoxicating colours, this is a home that radiates urban warmth.
Contact interiors consultant Edward Bridges at edwardbridges@edwardbridges.com
Photography ⁄ Paul Massey
See Also: Master Bedroom Ideas (opens in new tab) - 31 stunning bedroom schemes

Shining a spotlight on the now and the next in home design and decor, Livingetc is the UK's best selling high end and contemporary home design magazine. As a brand, Livingetc showcases the world's very best homes, breaks and makes the trends, and has access to leading international designers for insight and ideas. It was first published in 1998, and is currently edited by Pip Rich.