A split level home in Canada has gone from cramped and dated to spacious and connected
A design overhaul means this split level home now feels cool, casual and connected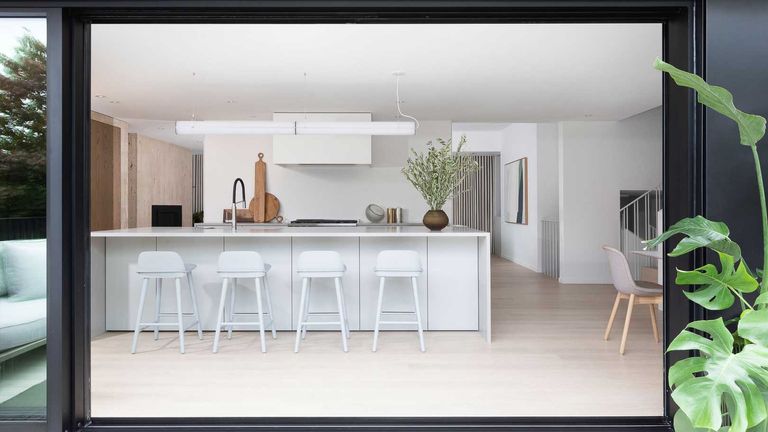 (Image credit: Falken Reynolds project)
THE PROPERTY
A 1960s split level home in Vancouver, Canada. Although, 3,500 square feet of living space, the two storey property shifted to four levels in the centre and was divided up into small rooms, making it feel dark and cramped.  
The space was remodelled into a modern home by Falken Reynolds who have opened the space for casual, twenty-first century living for a young couple and their son.
See Also: Open plan living is a breeze in this flexible family home
THE KITCHEN
West coast modern architecture from the 1960's and 1970's was the starting point for the design. Both the designers and the owners wanted the house to be true to its roots since the original structure was built really well and was still in excellent condition. 
A generously sized kitchen is now the centre of the home. Quartz counters for the kitchen island and cooktop area make the high traffic area incredibly durable.
The West coast lifestyle is very casual and active so the house really needed to feel like it supports life both outside and in. Practical and functional spaces were key, and especially important in the kitchen, where typical Canadians do a lot of informal entertaining – the extra large island and sliding doors to the back garden make it easy to entertain and for guest to feel at ease.
Once the designers started working on the space planning they found opportunities to use the split levels to help connect the spaces. 
See Also: Staircase decorating ideas - colour, pattern and material wizardry
The kitchen and dining area are now visually connected to a play room for the owner's young son, but the play area is still contained so it doesn't feel like it overflows into the kitchen.
LIVING ROOM
The travertine fireplace is the original fireplace from the sixties – the owners and designers agreed that it was a strong beautiful element that should stay, so the rest of the palette was built from it. 
Light oak hardwood flooring brings the lightness of the travertine throughout the house while medium toned oak millwork added warmth. 
To balance the wood, white walls give the spaces a sense of Scandinavian minimalism. 
MASTER BEDROOM
Warm colours in the bedroom give the space a calm and soothing feel.
MASTER ENSUITE
An all-white backdrop in the bathroom is juxtaposed with graphic black brassware.
The skylight brightens the space during the day and cove lighting in the skylight well createSa calming ambience in the evening.
KID'S BATHROOM
Puzzle tiles by Mutina make a playful statement in the son's bathroom.
STUDY
Vitsoe shelving designed by Dieter Rams in the 1960s in the study is a nod to mid-century modernism.
See Also: A 1920's farmhouse in Canada is brought up to date with modern rustic style and Californian funk
See more modern homes