The 12 best pink and green rugs that use this palette to create soft and soothing schemes
The Livingetc team has chosen the 12 best pink and green rugs which play artfully with this enduring color palette trend to create rich and beautiful designs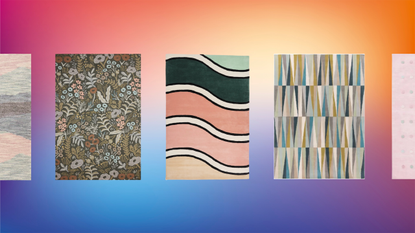 (Image credit: Target, DWR & Wayfair)
The Livingetc Newsletter
For style leaders and design lovers.
Thank you for signing up to LivingEtc. You will receive a verification email shortly.
There was a problem. Please refresh the page and try again.
Present in the natural world across a variety of flora and fauna as well as the mood boards and projects of many interior designers, pink and green are a popular partnership. Pink provides softness and light whilst green brings depth and darkness, making these shades the ideal ingredients for a beautiful rug. Depending on the shade of green and pink as well as the balance of colors in the design, a rug can be a playful or elegant addition to your room. We've curated our favorites in this exclusive list, from the best-patterned floor pieces to the most washable options.
As you begin your search for the perfect rug for your room, you can take a look at our best rugs feature to help you get started.
Expert advice on how to choose the right rug for your space sits alongside a wide selection of engaging rug designs. If you know it's pink and green you want, explore our selection below, gathered by searching and scouring the best home décor stores, so you can find your ideal rug a little faster.
Pink and Green Persian Rugs
1. Muted Persian Pink &Green Rug
Material: Wool & Cotton
Size: 5'6" x 8'6"
Price: $1,199
The presence of pink and green in the grand Persian rug from Anthropologie is perfectly muted. The rosy pink blends into the floral pattern and brings out the best in the sage green ground.
2. Forest Green & Pink Persian Rug
Material: Polyester
Size: 5' x 7'
Price: $219
Two shades of green are used cleverly to create this detailed floral washable rug. The sage soothes while the forest green creates depth and contrast against the delicate pale pink, yellow and blue.
3. Outdoor Pink & Green Rug
Material: Polyester
Size: 5' x 7'
Price: $229
Take the intricate patterns of Persia outside with this coral pink and sage green large rug. The detail is exquisite and its warm coloring would blend beautifully with wooden or rattan furniture.
Pink and Green Patterned Rugs
1. Brushstrokes Pink & Green Rug
Material: Wool
Size: 9' x 12'
Price: $2,368
Taking an artistic approach, this Wayfair wool rug features a collection of pink, green, orange and yellow hues. These vibrant hues would work well to energise bedroom, living and dining rooms.
2. Pink & Green Landscape Rug
Material: Wool & Cotton
Size: 2' x 3'
Price: $39.10
Resembling a picturesque landscape, this pink and green patterned rug featured tufted wool for added softness. The pastel color palette would add some light and levity to a variety of contemporary schemes.
3. Floral Green & Pink Rug
Material: Wool
Size: 2'6" x 7'6"
Price: $270
Decorate your entrances and hallways with the hand-made green rug from Wayfair. The dark green ground creates a wonderfully crisp backdrop for the pink, grey, and blue flora and fauna.
Pink and Green Wool Rugs
1. Chevron Pink & Green Rug
Material: Wool
Size: 8' x 11'
Price: $569.99
Chevron-inspired, this geometric rug from Wayfair combines pale pink with chartreuse, forest green, and teal. The ideal addition to modern and maximalist schemes, its bold tones would work well as a statement.
Material: Wool
Size: 6' x 9'
Price: $2,595
A large scale print, this hand-dyed wool rug showcases a playful use of pinks and greens. Soft underfoot but suitable for high-traffic areas, this rug would right at home in a modern living rooms.
Pink & Green Outdoor Rugs
1. Moroccan Green & Pink Rug
Material: Polypropylene
Size: 3'11" x 5'11"
Price: $74.99
Geometric shapes in warm pink and deep blue adorn a sage green base in this Morrocan inspired rug. Place it under your outdoor dining area for an earthy and inviting look.
2. Floral Pink & Green Outdoor Rug
Material: Polypropylene
Size: 4' x 6'
Price: $75.99
Blooming pink florals spring across this Wayfair outdoor rug. Connect your outdoor scheme back to nature through the charming floral motif and green ground.
What color rug for a green room?
Green is growing in popularity when it comes to interiors. As more and more of us choose shades of mint, olive, and sage for living spaces, the question comes to mind – what color rug works best with green? The answer depends on the shade of green you choose. "If the room has an overall lighter green tone, compliment it with warm neutrals to create a peaceful palette. If the room has an overall darker green tone, play on this richness with burgundy or indigo for a nod to the old world," says,Hayley English of Hayley English Interiors.
You can also opt to balance the shade of green you choose with your rug design. Warm and dark tones like olive and forest green can be balanced by lighter rugs whilst paler hues like tea green and sage would benefit from bolder rug designs. When choosing your rug, don't forget to let your personality guide you. Look to colors, patterns, and prints you love to help you find a rug that you will always be happy to see.
For style leaders and design lovers.
Writer and design expert Faaizah Shah is the founder of The Interiors Consultancy. She has worked with designers such as Staffan Tollgard and design houses such as Sanderson to help them understand and communicate their narratives. She is known for crafting engaging stories and imaginative content, and understanding great decor from her years alongside some of the best creatives in the industry. She is also a contributor to Livingetc.