The best yoga mats: 6 best buys that'll help you find your center
Keep your wellness goals on track with six of the best yoga mats
Included in this guide:
1

Yogi
Bare Paws Yoga Mat
2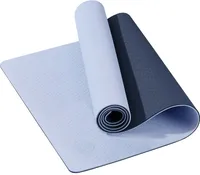 IUYGA
Yoga Mat
3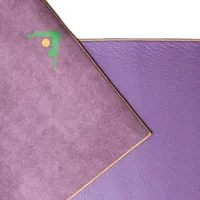 Aurorae
Synergy 2 in 1 Yoga Mat
4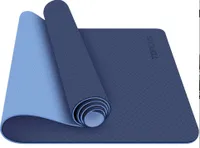 TOPLUS
Yoga Mat
5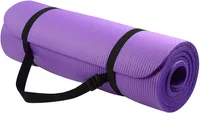 BalanceFrom
GoYoga All-Purpose Yoga Mat
6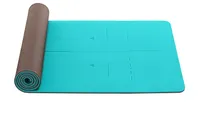 Heathyoga
Eco Friendly Non-Slip Yoga Mat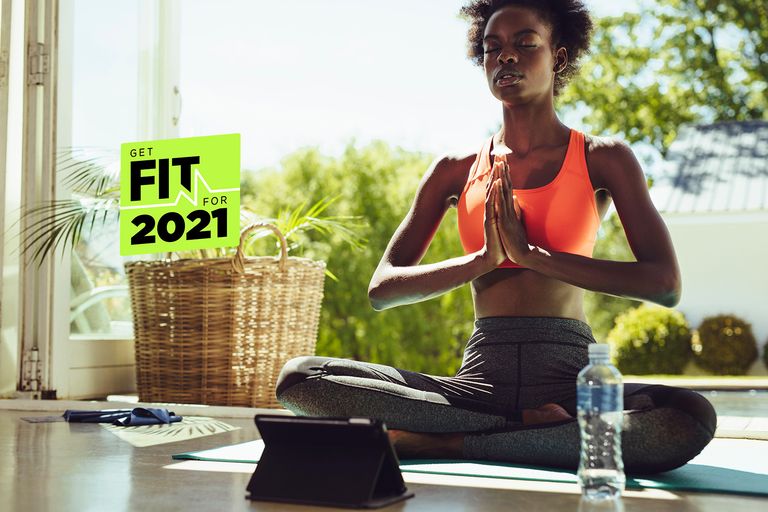 (Image credit: Alamy)
I'll never understand the appeal of a yoga mat, let alone the best yoga mats. Admittingly, I am the least zen person on the planet and have absolutely no shame saying that. When an ache or pain approaches, nine times out of ten, I'll grab a foam roller and be on my way.
It wasn't until the pandemic that I realized the true magic of a yoga mat. If you're like me and wake up with tight quads or a painful back (due to one-to-many at-home workouts), you need to stretch your muscles out. And, most times, you can't do that without a proper mat.
The best yoga mat will help alleviate all of your aches and pains and continue to impress. They'll also improve stability while preventing bone and muscle fatigue at the same time.
Plus, if you are looking to meditate or find your center, they're a sure-win to do that too. But finding the best yoga mat that accomplished one of these tasks, let alone all of these tasks, is no easy vice, and that's where we come into play.
Whether you're like me and looking for ways to avoid muscle fatigue post-workout or are hoping to keep your chakras in check, we've not only rounded up a handful of yoga mats; we've rounded up the best yoga mats on the market. We've trialed and tested dozens to find you the best options for every price point, level of expertise, and size.
Don't believe us? Continue scrolling to see the six best yoga mats — and don't forget to check out our best dumbbell buying guide!
The six best yoga mats to invest in:
1. Yogi Bare Paws Yoga Mat
The best yoga mats: Lightweight, portable, good looking, and eco-friendly. What more could you want?
Specifications
Dimensions: 180cm x 66cm
Thickness: 4mm
Material: Natural rubber
Eco-friendly?: Yes
Reasons to buy
+Easy to clean+Non-slip+Lightweight+Body alignment markers
Reasons to avoid
-Only suitable for yoga-No carry strap
Hard-pressed that you will find a yoga mat better than the Yogi Bare Paws. This mat is undoubtedly the best option available on the market (if not in the top five), and why are we so smitten over this one?
Good for the planet
Easy, let us start with the basics: this made is constructed from 100% natural PU rubber, eco-friendly, biodegradable, and recyclable (after use, of course). We live in a world where sustainability is essential, and this mat will make strides in reducing our carbon footprint.
Features
In the event you lack grace or coordination, rest assured, you're not alone. This mat will not only help with your stability but provide the marks you'll need to perfect your position. But how? Here, users will notice a 'central line design' that acts as a marker where you should (and shouldn't) place your hands and feet. All you have to do is follow them to the end, and ta-da — you're look like a pro, whether you are or not.
Design
The design features an extreme non-slip grip; that offers an extra firm perforated rubber surface to stop sweaty hands and feet from slipping during practices. Which if asking us? Absolute magic!
Here, you can endure rigorous exercises for hours on end and never have to interrupt your workout to wipe your mat down.
2. IUYGA Yoga Mat
The best yoga mats: Nama(stay) at home with this colorful option
Specifications
Dimensions: 183cm x 61cm
Thickness: 4mm
Material: TPE
Eco-friendly?: Yes
Reasons to buy
+Lightweight +Non-slip+It comes with a free carry strap+Double-sided+Great for all kinds of exercise
Reasons to avoid
-Lacks body alignment markers
Another top contender is the IUYGA Yoga Mat; it's ideal for shoppers not looking to compromise comfort for performance.
Suitable for
Whether attending a HIIT class on the weekends, pilates on the weekdays, yoga occasionally, or simply looking for an at-home mat, this option offers it all. Plus, it is suitable for everything you throw its way.
Design
This mat is 100% eco-friendly and completely free of latex, PVC, and other harmful materials.
Additionally, this mat features a polyurethane top layer that absorbs sweat and ensures a slip-free surface. This mat is perfect for those who are worried about sweaty sessions resulting in unsafe sessions.
Features
This perfect piece also offers peace of mind and will not show any signs of wear and tear over time. Additionally, there is no flaking, stretching, or falling about either, and it weighs roughly 2.5lbs — half the weight of traditional rubber yoga mats.
3. Aurorae Synergy 2 in 1 Yoga Mat
The best yoga mats: one side microfiber towel, the other side mat
Specifications
Dimensions: 183cm x 61cm
Thickness: 5mm
Material: PER/microfiber towel
Eco-friendly?: No
Reasons to buy
+Foldable+Comfortable+Extremely non-slip+Machine washable
Reasons to avoid
-Do not put in the tumble dryer-Only good for hot yoga
Are you a fan of hot yoga — if so, we highly recommend turning your attention to the Aurorae Synergy yoga mat (as users will find it particularly beneficial).
First of its kind
The one major takeaway about this yoga mat? This mat is a league of its own and the first product of its kind; it bonds the bottom surface with a 5mm patented material and has a lush, non-slip microfiber towel on top.
Design
This mat is 5mm thick and is foldable. In addition to that, this mat is SGS tested, free from latex, silicone, and phthalates, too. More importantly: its design favors function over anything else. All of the five available colors offer a non-slip experience that provides an undeniably superior grip.
4. TOPLUS Yoga Mat
The best yoga mats: For sweaty palms and slippery floors
Specifications
Dimensions: 183cm x 61cm
Thickness: 6mm
Material: TIPE
Eco-friendly?: Yes
Reasons to buy
+Reversible+Thick+Comes with a carrying strap+Five colors
Reasons to avoid
-Basic design
The TOPLUS yoga mat is brilliant for sweaty yogis or if you want something to use on a slippery floor.
Good for the environment
The upgraded TOPLUS Yoga mat has been re-designed with premium TPE-friendly material. While the brand notes this is design comes at a pricer cost to them, they have no regrets. Compared to the traditional non-green PVC, NBR, and EVA yoga mats, this mat — and the TPE material — it's made of offers the latest technological improvements on the market.
Design
This 1/4-inch thick yoga mat provides a double-sided, non-slip texture that includes a superior grip suitable for wood floor, tile floor, and even cement. Plus, the material is flexible and stretched for durability and cushion.
Support
If you deal with achy joints, bad knees, or are you in need of a little added support? You're in luck. This mat provides all of the above and is the optimal level of support, and the cushion is well-received among current users.
5. BalanceFrom GoYoga All-Purpose Yoga Mat
The best yoga mats: With nearly 30,000 reviews to back it up
Specifications
Dimensions: 180cm x 61cm
Thickness: 125mm
Material: High-density foam
Eco-friendly?: No
Reasons to buy
+Very affordable+Six colors+Comes with a carrying strap+Durable+Easy to clean
Reasons to avoid
-Very thick
Another fantastic option — and #1 bestseller — is this BalanceFrom GoYoga All-Purpose 1/2-Inch Extra Thick Mat.
Versatility
Available in seven sensational shades, every option measures 71" long 24" wide. According to the brand, this mat easily adjusts to any user's weight or size, and the material is flexible. Plus, you can use this mat for anything from hot yoga to HIIT classes.
Design
Like our other recommendations, this mat features a double-sided non-slip surface, is resistant to sweat, and looks to avoid any injuries. The moisture-resistant technology is easy to wash with soap and water, and the added strap makes it easy to carry from one location to the next.
6. Heathyoga Eco Friendly Non-Slip Yoga Mat
The best yoga mats: an extra-wide non-slip option
Specifications
Dimensions: 183cm x 66cm
Thickness: 6mm
Material: TPE
Eco-friendly?: Yes
Reasons to buy
+Comes with strap+Extra-wide+Six colors
Reasons to avoid
-Only for yoga
Lastly, if you're new to yoga — or yoga mats — the Yogi Bare Paws is designed for all beginners out there.
Why do we love it
It offers a similar experience to that of the Yogi Bare Paws – our top favorite yoga mat – since it has body alignment lines to ensure your feet and hands are in the correct places.
Good for the environment
Furthermore, this mat is eco-friendly and made from TPE, while it boasts a double-layer structure design for optimum grip and cushioning.
Design
In addition, to its wide range of colors (there are six in total!), there's also a carrying strap to easily transport this version from one area to the next. And, as if that wasn't favorable enough? This mat is slightly wider than other mats at 26-inches; here, this 72-inch version will accommodate all heights and sizes.
How to choose the best yoga mat?
When choosing a yoga mat, be sure to bear in mind some key features: from its price to its size. You'll also want to consider what kind of exercises this mat with for and the sole purpose.
A great frame of reference is: the thicker the mat, the better it is for meditation. However, with that said, it won't be as versatile when it comes to your high-intense, sweaty workout.
Another factor is the eco-friendly credentials the mat has and whether or not that is important to you. If so, you want longevity: you will want to stray from a recyclable version, as it will wear out quickly.
And finally, if you plan to take your yoga mat to the gym with you, make sure you choose one with a strap and carry handle. If you're only using it for home workouts, there's no point paying extra for these features.