10 wall hooks to create additional space in your home
With these wall hooks, you can hang your coats, towels or even handbags or hats all with ease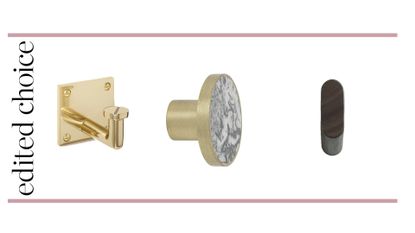 (Image credit: Future)
You can't overstate the usefulness of wall hooks, which are perfect for creating space in entryways, bathrooms, and mudrooms. A cure for coats strewn on sofas or towels left on the floor, these hooks are certainly essential for keeping things tidy. They can also add a touch of style to whichever room you choose and change the atmosphere of a space, depending on which design most catches your eye.
There are traditional metal hooks if you want to match your minimalist surroundings, or more experimental looks, featuring different shapes and designs if you want to add intricate detailing to your home through one of these small additions. When shopping around for wall hooks, take note of how each choice is mounted, and think about where you want to place your hooks for maximum use. If you rent, or you want to keep your walls unmarked, then you can opt for over-door hanging hooks, and switch up the style whenever you want to.
You could even make use of a wall hook for holding smaller storage baskets, to save floor space anywhere from your entryway to your bathroom or even your bedroom. This is also a handy way to store toys, scrunchies, toiletries and other smaller items that are easy to lose. In short: wall hooks are super versatile. Here, we list our favorite designs for keeping things neat and tidy at home.
---
10 wall hooks that will change the way you hang clothes
---
Browse more wall hooks to accentuate your space...
Wall hooks are many and varied, and you might have a particular vision in mind when it comes to your space for hanging coats and bags. These are our favorite retailers for picking out high-end hooks: