Best TV brands: our picks for OLED, 8K, budget-friendly, and more
Looking for the best TV brand for the biggest screen? Or with the latest tech? Here's our rundown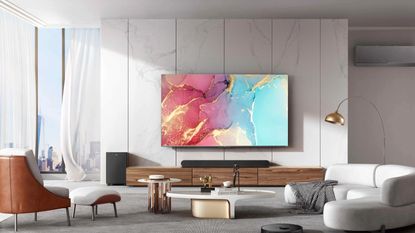 (Image credit: TCL)
Choosing the perfect TV for your home can be a tricky business, and with so many choices out there, it's difficult to know where to even start. Cutting through the noise of new releases, old favorites, and fresh technology can become a full-time job, but we have assembled this guide to the best TV brands to hopefully help make the process a little easier.
We'll go through the key highlights that you might be shopping for, which brand leads the way, and some of the best models in that range.
Of course, if you're dead set on going big, then you can take a look at our guide to the best 85 inch TVs. We also have guides to everything from 8K vs. 4K and OLED vs. QLED. You can also head to our roundup to find the best TV deals year-round.
We have taken a look at what each of the biggest brands has to offer, from Samsung's range of lifestyle TVs to LG's cheaper OLED models. As new technology is released, these rankings may change, but for now, you can see our recommendations below based on what sort of purchase you are looking to make.
All information below was current and correct at the time of writing, but as 2023 gets underway, and Samsung, Sony, LG, and the rest unveil their latest innovations, we will update this page to reflect the best new technology.
Best TV brand - head to heads
---
Best mid-range TV brand: Samsung
1. Samsung
Samsung's mid-budget range ($250-$1,500 for the purposes of this article) consists mainly of QLED panels - which makes sense since this is Samsung's own technology developed as an alternative to OLED. The most notable outlier is the S95B OLED TV, released in 2022, and there are Neo QLED TVs (basically a better version of the QLED panel) further up the price scale.
The largest models you will find from Samsung within this price range are 85 inches, all with 4K resolution and standard LED panels. All of the smart TVs in this price range run on Tizen, and those with an in-built smart assistant sport Alexa and/or Bixby rather than Google Assistant (though it's compatible).
2. LG
LG's offering in the middle of the price scale consists of standard LED, NanoCell LED, and OLED panels, with the latter at the top end. NanoCell TVs impact how light interacts with the LED panel, giving a better overall picture. LG also offers various TVs with QNED technology, which brings on board Mini LEDs.
The largest models from the brand are 86 inches, all with 4K standard LED panels. LG TVs run on webOS, and besides a few outliers, offer in-built Google Assistant and compatibility with Alexa and HomeKit.
3. Sony
The majority of Sony's mid-range is standard LED, with some OLEDs at the more expensive end. Models higher in price also have both Alexa and Google Assistant built-in, while only a portion of these has compatibility with HomeKit. The largest models are 75 inches, with 4K standard LED panels.
Best budget TV brand: TCL
1. TCL
TCL has a good range of budget-friendly TVs, offering several Full HD (1080p) sets and a few 4K ones at the top end of the price range ($50-$250 for the purposes of this article). The sets have standard LED panels, with most running on Roku TV - though TCL TVs have started sporting Google TV as an option. The largest model is the 50" 4-Series Roku TV.
For its smart TVs, you will find Google Assistant built-in with Alexa compatibility only present across its 3-Series Roku TVs. They do not support HomeKit.
2. Hisense
Hisense's offering at the budget end of the market is similar to TCL's, with standard LED models spread across HD, Full HD, and 4K. All but the Hisense A4G sport Google Assistant rather than Alexa built-in, and there is no support for HomeKit. The largest model is the 50" A6G 4K Android TV.
The smart TV interface is where Hisense differs, with its budget TVs spread across Roku, Android TV, Google TV, and - a unique offering - VIDAA.
3. LG
LG has a smaller amount of budget TVs, but they're worth considering if you're looking for a smaller set. You won't get an LG TV larger than the 43" UQ75 for less than $250, and the model is also the only 4K set in this price range. The TVs that do support smart assistants offer support for Alexa, Google, and HomeKit.
Caroline heads up all things smart home and shopping for Livingetc, and a decade in tech journalism and many years as an ecommerce writer has prepared her for the role of recommending the very best products to our readers. Sifting through the overwhelming choice of everything from TVs and soundbars to smart plugs and WiFi boosters is what she considers a good time, and in the end, she's happy to present only the products she feels are worth your cash.
Best TV Brand for OLED: LG
1. LG
OLED TVs are what most people looking to upgrade their TV are looking for, with the technology boosting the color depth and brightness of the screen to make it an overall better experience than traditional LED. LG now offers a wide range of OLED panels, with the majority being 4K alongside a select few 8K sets.
The smallest OLED screen from LG is the 42" C2 TV, while those looking to supersize can opt for one of the brand's 80-inch plus models - though they don't come cheap! Almost all of the LG OLED sets come with Google Assistant built-in and compatibility with Alexa and Homekit.
2. Sony
Sony is our runner-up for OLED screen offerings, with sets ranging between about $1,000 for the 48" A9S to $5,500 for its 83" A90J OLED. The TVs run on Android TV or Google TV, with both Alexa and Google Assistant built-in to several models (and compatibility across the rest). Homekit support is sporadic, and 8K is not yet widely available as part of Sony's OLED range.
Best TV Brand for 8K: Samsung
1. Samsung
4K hasn't been the newest trend in TVs for a while, with 8K well and truly taking over in 2022 and beyond. Now that the technology has more adoption, ordinary households can afford examples from some of the biggest companies. That includes Samsung, which has a very solid range of QLED, and Neo QLED sets.
Prices for the best 8K TVs range from $2,500 for the 55" QN700B Neo QLED all the way up to $7,000 for the 85" QN900B Neo QLED.
Now, the amount of content that is available in 8K is still extremely limited, but if history has taught us anything, it's that getting in early can be a solid investment. All boast both Alexa and Google Assistant built-in but no support for HomeKit.
2. LG
With fewer options at the higher end of the price scale, LG comes in second with a range of OLED, NanoCell LED, and Mini LED 8K options. That extra tech in the panel - ensuring that the picture is as deep and bright as possible - means you'll be paying quite a bit more, and the cheapest option right now is $2,000 for the 65" QNED99 set with Mini LEDs. If you want the best of the best, you'll be shelling out around $13,000 for the 77" Z2 OLED.
All but one of LG's 8K TVs comes with Google Assistant built-in, with support for Alexa and HomeKit.