TV deals: when is the best time to get a bargain on 4K, OLED, QLED, and more?
Find out when to save on a new big screen for the living room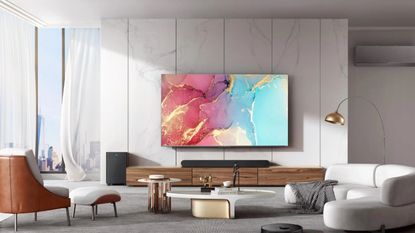 (Image credit: TCL)
The holiday season is now over, and you may be wondering if now is the best time to bag yourself a deal on a new TV. While it's true that the start of the year is a time when prices are lower and discounts are plenty, it's not the only time that is true. In this article, we will detail when you should be shopping, as well as bring you the best TV deals live right now.
This is because significant tech events like CES at the start of the year often see all of the major brands releasing their brand-new ranges, meaning that this year's (and last year's) crop automatically becomes lower in price. That 75-inch OLED you've had your eye on? Its price tag is likely going to look a lot more agreeable.
Throughout the year, we will be collecting the very best TV deals from around the web and putting them right here, saving you time and energy scouring the retailer sites yourself. Expect not just slashed prices on older models but also bargains on newer 2022 (and even 2023) models to get your lounge bang up to date.
For more advice on which TV you should buy, you can head to our guide on the best TV brands for our expert advice.
TV deals: Where to shop
The best TV deals right now
Why do TV prices drop after Christmas?
The period between Christmas and New Year has traditionally been a time for sales across the board, with TVs being discounted ahead of top brands' announcements of new models early the following year. Events like CES see the likes of Samsung, LG, Sony, and more revealing updated tech and shiny new ranges, which means it's easier to find a great deal on 2022 models and older.
---
When you'll find the best TV deals
Super bowl TV deals
Do TVs go on sale around the Super Bowl?
Following holiday and new year sales, the next opportunity to grab a TV bargain is around the Super Bowl. The event is a huge deal for a lot of obvious reasons, but one of them is the amazing discounts that crop up - including for the best TVs from brands like Samsung, LG, and Sony.
Of course, a new 85 inch TV is also a brilliant purchase ahead of your Super Bowl party, allowing you to enjoy the game in the best way possible.
When do Super Bowl TV deals start?
The Super Bowl will take place on February 12 2023, but you can expect offers to start appear the week before.
Presidents' Day & Memorial Day TV deals
Do TVs go on sale in the spring?
Spring is a great time to grab a TV at a discount, as this is typically when new models are released by the big brands. You won't find many bargains on these, but their appearance means that last year's TVs are heavily discounted. With specs less than a year old, it's the perfect opportunity.
When do Presidents' Day TV deals start?
Presidents Day takes place on February 20 2023, but you can expect deals to being before this.
When do Memorial Day TV deals start?
Memorial Day takes place on May 29 2023, but you can expect deals to being before this.
Amazon Prime Day TV deals
Are Amazon Prime days really worth it?
You may associate Amazon Prime Day sales with the best smart speakers, doorbells, and - if you're anything like us - stocking up on everyday items in bulk. But the annual sales event is also a great time to find a bargain on that big-screen TV you've had your eye on. We'll note that Amazon pricing can fluctuate wildly, even at the best of times, so be sure to come back here for the deals that are actually worth it.
When do Amazon Prime Day TV deals start?
There's no firm date for 2023 yet, but 2022's Amazon Prime Day took place on 12-13 July.
Black Friday TV deals
Should I wait for Black Friday to buy a new TV?
As you may be able to detect from this article, there are many opportunities throughout the year to grab a TV deal, but some will be tempted to wait for the big one - Black Friday. Perhaps the year's most significant and widespread sales event, Black Friday does bring with it some amazing deals on the best TVs and smart tech.
While we wouldn't necessarily say you should wait for November if you're in the market for a new TV at the beginning of the year, Black Friday week is definitely an excellent time to strike.
When do Black Friday TV deals start?
Black Friday will take place on 14 November 2023 but, in our experience, deals will start popping up much earlier in the month and continue through Cyber Monday.