The 12 best patterned rugs chosen by our editors to make the perfect design statement in your home
The 12 best patterned rugs range from soft prints to geometric lines, but all have share in common the Livingetc stamp of approval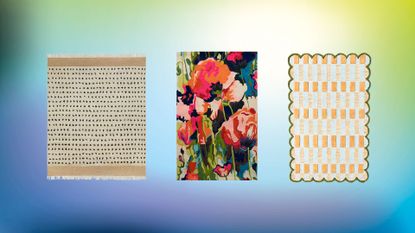 (Image credit: Lulu & Georgia and Anthropologie)
The Livingetc Newsletter
For style leaders and design lovers.
Thank you for signing up to LivingEtc. You will receive a verification email shortly.
There was a problem. Please refresh the page and try again.
Fill your floor with color, texture, and fun with the perfect patterned rug. A rug is often pushed back to last place on the design decision scale, but it can prove to be the make-or-break factor of a room. Finding the right floor piece can help you lift your entire interior, create zones for connection with family and friends and lend some softness to your scheme. If you don't know where to start, you can begin by taking a look at our best rugs, along with expert advice there is a selection of our favorite finds.
Patterns make for an easy way to add visual intrigue to your design. Whether it's a colorful floral pattern or a contemporary print, these are the best rugs to balance more minimal furniture and lighting designs. Having scoured the best home décor stores to find the best-patterned rugs, see our exclusive edit below.
Best Neutral Patterned Rugs
Material: Wool & Cotton,
Size: 2'6" X 8'
Price: $498
I love this hand-knotted black and white rug from Lulu & Georgia because it combines clean and contemporary design with organic and artisanal craft. Created in collaboration with renowned designer, Sarah Sherman Samuel, this versatile patterned rug can easily be imagined in elegant and laid-back dining and living rooms. The coloring makes it incredibly easy to pair with minimal furniture or colorful additions.
Material: Cotton, Jute, Polyester, Wool,
Size: 79 x 118
Price: $442.85
If you're on the hunt for a grey patterned rug that is incredibly versatile, this is it. This large Chenille rug from H&M Home is not only incredibly soft, its neutral tones of beige and dark gray create a subtle design that lends texture and warmth to schemes without overwhelming them. Perfect for bedrooms or living spaces, its muted coloring allows you to pair it with a variety of colors and design styles from contemporary to classic.
Material: 100% wool,
Size: 5'7" X 7' 11"
Price: $549
Inspired by a calming landscape of plowed fields, this Pottery Barn Lorena Canals rug evokes the meditative essence of Japanese zen gardens where perfect lines are raked into the surface. The texture elevates this design, creating something that feels engaging but is also a perfect minimalist option for interior schemes. Along with its contemporary look and feel, this handcrafted 100% wool rug is washable making it a beautiful and practical choice for your home.
Best Floral Patterned Rugs
Material: Wool
Size: 9" X 12"
Price: $1,598
A riot of color would be the best way to describe this playful rug design from Anthropologie. The joyful choice of color in this slightly abstract floral composition is what makes it such a great patterned rug. Bold patches of every color make it both easy to pair with furniture and accessories but also make this rug a great statement to liven up more paired back schemes.
Material: Polyester
Size: 5" X 7"
Price: $289
Add a touch of Arts & Crafts to your interior with this Ruggable x Morris & Co. Blackthorn rug. Thanks to its small-scale floral pattern, this maximalist rug feels intricate yet easy to work with. I love the use of dark green in the background, the dark hue grounds the rest of the pattern and helps anchor the design into both modern and traditional interiors.
Material: Cotton and Fiber
Size: 4'7''x6'7''
Price: $339
What's great about this Kathy Kuo Home green patterned rug is its ability to seamlessly fit into interiors designed for adults or children. With its sketch-like pattern depicting flora and fauna and welcoming pile height, this rug is an easy option to fall in love with. It would really shine in a child's bedroom or a more playful living room design.
Best Graphically Patterned Rugs
1. Scalloped Geometric Rug
Material: Wool
Size: 3''x 5''
Price: $298
Filled with personality and charm, this Matilda Goad & Co. for Anthropologie scalloped rug is a great example of how patterned geometric rugs can be playful too. I especially love the contrast of colors within the design, from the soft sky blue to the sunshine-soaked yellow and vivid green.
2. Colorful Trellis Pattern Rug
Material: Cotton & Rayon
Size: 9''x 12''
Price: $1,598
Hand-knotted, this geometric rug from Anthropologie feels like an optical illusion. The trellis design provides a great foundation for the striking color palette to really sing. Ideal for bedroom designs, the pile height of this rug means it is guaranteed to give your feet a soft welcome every morning.
Material: Wool & Cotton
Size: 9''x 12''
Price: $2,298
Perfect for larger spaces where you want to ground furniture, lighting, and accessories, this Lulu & Georgia rug designed by Nina Freudenberger brings together a striking geometric design and a muted and moody color palette. Honoring influential textile designer, Otti Berger, this hand-knotted rug is a love letter to the past but still feels incredibly relevant.
Most Eye-Catching Patterned Rugs
Material: Polyester
Size: 5''x 7''
Price: $429
Referencing the graphic designs of the mid-century, this striking teal rug from Ruggable x Jonathan Adler would work perfectly in living and dining spaces where you want to make an impression. The teal and coral pink featured in the design complement contemporary schemes but also add energy and vibrance to their surroundings.
Material: Cotton & Viscose
Size: 5''x 8''
Price: $698
Bringing together the intricate and expressive patterns of the best Persian rugs and a bold and bright blue color palette, this Anthropologie design is the ultimate choice for more maximalist interiors. As it's suitable for high-traffic areas, this design would work well in public spaces like living and dining rooms as well as more private ones like bedrooms and home offices.
Material: Wool
Size: 8''x 10''
Price: $926
A perfect ombre, this distressed blue patterned rug from Pottery Barn looks almost iridescent thanks to its beautiful pattern. If you are struggling to find your perfect shade of blue, this rug provides the answer by showcasing a variety of darker and lighter tones. Not only does this make it easy to pair other items with, but it also creates the illusion of a larger space.
How do you choose a patterned rug?
It can be overwhelming to know where to start on your journey to find the perfect patterned rug for you but the best place to start is by identifying the needs of your rug and where it will sit. For instance, if you are looking for a patterned rug for your bedroom, the needs of the rug might be comfort which would impact the pile height you are looking for but also the type of pattern – larger scale patterns that feature soothing color palettes might work best in this space for calming beginnings and ends to the day. Size and design style are also impacted by the existing furniture in the room.
London-based rug experts, Riviere Rugs shared their advice on choosing the right patterned rug for you. "Consult the scheme in the room - matching with a plain textured fabric, or an existing pattern can help to choose the style rug," says Eleanor Dykes from Riviere Rugs. She also shares the importance of coloring. "Tone-on-tone rugs are easy on the eye, for calmer schemes or to be paired with busier patterns," Eleanor adds.
Your pattern needs to reflect you as well, look to trends for inspiration but your ultimate choice needs to speak to your design sensibilities and be something that brings you joy every time you look at it. Durability is another factor as you might opt for darker patterned rugs for more high-traffic areas which varying pile heights for their forgiving nature when it comes to hiding stains. This pattern hack and a synthetic fiber rug are also incredibly useful if you have a family or pets as machine-washable or stain-resistant options will last longer and retain their vibrancy.
For style leaders and design lovers.
Writer and design expert Faaizah Shah is the founder of The Interiors Consultancy. She has worked with designers such as Staffan Tollgard and design houses such as Sanderson to help them understand and communicate their narratives. She is known for crafting engaging stories and imaginative content, and understanding great decor from her years alongside some of the best creatives in the industry. She is also a contributor to Livingetc.