The 12 best navy blue rugs - chosen for how they create a sophisticated mood
The 12 best navy blue rugs help to make light homes seem more smart and dark spaces more alluring - a mix of the best designs and styles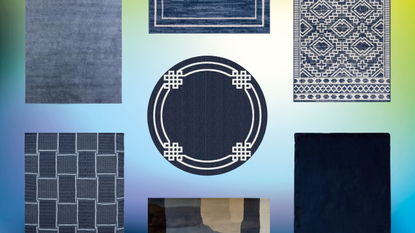 (Image credit: Kathy Kuo Home, Pottery Barn, Wayfair & Urban Outfitters)
The Livingetc Newsletter
For style leaders and design lovers.
Thank you for signing up to LivingEtc. You will receive a verification email shortly.
There was a problem. Please refresh the page and try again.
A sophisticated and smart hue, navy blue got its name from the deep blue shade that was worn by the British Royal Navy and many other naval forces around the world. Indigo dye was the ground for this sapphire-like hue. Modern-day navy makes for a solid foundation for your room, creating a rug that presents itself as a solid hue or confidently present pattern.
From indoor patterned options to durable outdoor ones, we've searched high and low for the best rugs, sifting through the best home décor stores so you don't have to.
Best Round Navy Blue Rugs
1. Sapphire Navy Blue Rug
Material: Polyester
Size: 3'3"
Price: $139
A dense pile height gives this sapphire round rug depth of color and comfort too. It would be an ideal piece to layer with carpets with lower pile heights.
Material: Wool
Size: 6'
Price: $749
This 100% wool rug from Pottery Barn is rooted in contrast, the deep navy pops against the crisp white detailing. It would be right at home in a Hamptons inspired scheme.
Material: Polyester
Size: 8'
Price: $349
Taking a duskier approach to the traditional navy hue, this blue patterned rug features a collection of abstract patterns. Machine-washable and stain-resistant, this engaging pattern would be perfect for dining rooms.
Best Solid Navy Blue Rugs
Material: Wool
Size: 6' x 9'
Price: $1,676.50
Knotted entirely by hand, this dark blue rug is an investment piece that will stand the test of time. The wool makes for a plush pile but also provides a great basis for the soft navy tones to shine.
Material: Wool & Cotton
Size: 5' X 8'
Price: $661.50
This pure wool rug features an interesting interplay of pile heights thanks to its flatweave border. A sophisticated tone of navy covers the design making it an wonderful foundation of neutral and bold styles.
Material: Polyester & Cotton
Size: 5' x 7'
Price: $259
A plush experience awaits those who take home this Urban Outfitters navy blue rug. Its deep pile height mirrors the softness and texture of rabbit fur but is animal-friendly, thanks to its polyester and cotton fibers.
Best Patterned Navy Blue Rugs
1. Detailed Navy Blue Rug
Material: Wool
Size: 5' x 8'
Price: $399
Made with 100% wool, this abstract rug features an intricate and interesting tile pattern on a navy blue ground. It would bring energy and elegance to living and bedroom design with ease.
2. Abstract Navy Blue Rug
Material: Wool, Viscose & Cotton
Size: 5' x 8'
Price: $613
Blocks of beige, navy blue, and ivory play out across this graphic rug from Kathy Kuo Home. Tufted by hand, this rug is sure to provide comfort and softness, making it a perfect choice for casual living spaces.
3. Interwoven Navy Blue Rug
Material: Recycled PET
Size: 5' X 8'
Price: $300
An eco-friendly option, this blue and white rug is made from recycled PET fibers. It showcases an intriguing large scale pattern with interwoven blocks drawn out in contrasting white.
Best Outdoor Navy Blue Rugs
1. Geometric Outdoor Navy Rug
Material: Polyester & Polypropylene
Size: 8' x 10'
Price: $139.99
A series of engaging geometric designs decorates this navy blue rug. Not only do they give levity and light to the navy ground, these patterns have a gently eroded finish giving the rug a softness.
2. Navy Border Outdoor Rug
Material: Polypropylene
Size: 5' x 7'
Price: $99.99
This minimal yet bold navy blue rug can be taken from inside to outside with ease thanks to its durability and stain resistance. The crisps white borders provide structure for the design and us, allowing us to create a design that sits within their parameters.
How long does a cheap rug last?
Cheap doesn't always mean bad quality, this is an important distinction to make when choosing your rug. When buying your rug, always remember to take a closer look at the construction method, material composition, backing and care instructions of your rug. Whilst hand-knotted and flatweave rugs are more long-lasting, hand-tufted rugs will shed more over time and tend to be less long-lasting. Wool and polyester are both washable so there are more likely to stand the test of time than more delicate fabrics like silk and cotton.
The location of your rug is another factor to consider, high-traffic areas will naturally wear down a rug faster than more private areas in the home. "Depending upon how often you vacuum, the foot traffic in your home, and the material itself, some inexpensive rugs can last up to 5 years or beyond," says Elisabeth Lyons Becker, Design Director at MDI Interior Design.
For style leaders and design lovers.
Writer and design expert Faaizah Shah is the founder of The Interiors Consultancy. She has worked with designers such as Staffan Tollgard and design houses such as Sanderson to help them understand and communicate their narratives. She is known for crafting engaging stories and imaginative content, and understanding great decor from her years alongside some of the best creatives in the industry. She is also a contributor to Livingetc.