The 12 best modern Kilim rugs, handpicked by the Livingetc team for their pattern and flair
The 12 best modern Kilim rugs vary in shape, size and color, but all have a contemporary graphic design that is perfect for an uplifting interior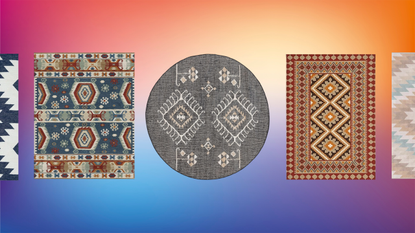 (Image credit: Wayfair, Pottery Barn & Amazon)
The Livingetc Newsletter
For style leaders and design lovers.
Thank you for signing up to LivingEtc. You will receive a verification email shortly.
There was a problem. Please refresh the page and try again.
What is a kilim rug? The answer to this question dates to the 11th century and the former Persian empire. Referencing the Persian term 'galim' which means 'to spread roughly', this style of rug is now more closely tied to modern-day Turkey. Somewhere these styles have become synonymous with the nation. These woven rugs are defined by their tightly interloping fibers that produce a flat and pile-free surface as well as their geometric and colorful motifs. These decorated surfaces would tell stories of motherhood and fertility and also act as amulets to ward off evil eyes.
Modern kilim rugs take the mythology, pattern, and magic of the originals but fuse them with modern construction, color palettes, and compositions. We've searched high and low to find the best rugs that use this history for their inspiration, scouring the best home décor stores so you don't have to.
Best Round Kilim Rugs
1. Charcoal Kilim Round Rug
Material: Jute
Size: 5'
Price: $108.62
Made with the durable and textured fibers, this charcoal jute rug features distinctive motifs in its center. A great choice to add character to dining rooms or entrances.
Material: Cotton & Wool
Size: 6'
Price: $125.99
Soft denim forms the basis of this blue patterned rug, decorated with a traditional kilim design. It will work wonderfully with contemporary schemes as well as traditional styles.
Material: Jute
Size: 4'
Price: $43.99
Decorated with a modern kilim design in crisp white, this textured round rug would fit into bohemian schemes with ease. Add it to entrances and patio designs for textured yet smart style.
Best Colorful Kilim Rugs
Material: Wool & Cotton
Price: 5' x 8'
Size: $789
A joyful design, this colorful Pottery Barn patterned rug features a selection of fiery reds and cool blues. It would be right at home in eclectic or bohemian schemes. Paired with warm wooden furniture, this patterned rug would make for an alluring interior.
Material: Polyester
Size: 5' x 7'
Price: $369
This washable rug features a multitude of Kilim inspired designs. Painted with vibrant shades of blue, yellow, green, orange and purple, this rug is a playful and contemporary take on the traditional Kilim.
Material: Cotton
Price: 23.6'' × 51.2''
Size: $18.99
Blocks of terracotta, orange and denim blue make for a striking modern Kilim rug from Amazon. This small rug would add character and color to kitchens, entrances and hallways with ease. It can be easily washed which further enhances its appeal.
Best Minimal Kilim Rugs
Material: Polyester
Size: 5'3" x 7'3"
Price: $111.75
Nude tones of pink, beige and blue form an enticing geometric rug pattern on this Wayfair design. It takes one of the sharp shapes of a traditional Kilim rug and opens it up to become a minimal print.
Material: Polypropylene
Size: 8'9" x 12'5"
Price: $2,059
Contrasting pile heights create an engaging texture for this large rug from Bloomingdales. Place it under your sofa or bed for a plush under-foot feeling.
3. Beige Minimal Kilim Rug
Material: Polyester
Size: 5'3" x 7'3"
Price: $110.95
The neutral coloring of this grey patterned rug from Wayfair give it serenity and softness. It would seamlessly fit into contemporary schemes. Pair it with darker and complementary tones of brown for an elevated interior.
Best Outdoor Kilim Rugs
1. Navy Kilim Outdoor Rug
Material: Cotton
Size: 2'7" x 4'11"
Price: $389.99
Machine washable, this cool outdoor rug from Wayfair from would make a fine foundation for patio designs. Place crisp ivory furniture and accessories with it for a Hamptons inspired look.
Material: Polypropylene
Size: 5'3" x 7'7"
Price: $79
Rich tones of brick red, terracotta and charcoal come together in this patterned Kilim rug from Amazon. It would instantly add a touch of heat to your outdoor living and dining spaces.
What is the difference between a rug and a kilim?
A traditional rug and a kilim share many similarities, the first being that both qualify as rugs and can make for fantastic floor pieces. Whilst rugs are a wider category, traditionally rug designs are created using a loom where fibers are woven across a frame to produce detailed patterns. These can be broken down further into hand-knotted, hand-tufted, flatweave, and power-loomed. "Kilims are rugs, that are woven in a different way to hand-knotted rugs," says rug expert and fiber artist Rosemary Hallgarten.
Kilim rugs fall into the flatweave category as they are woven and don't have a pile which by nature makes them less soft but more lightweight. Patterns are directly woven into the design and there is no backing on these rugs. "A kilim is a type of rug that originates from Turkey and indicates a flatwoven rug with a geometric pattern with a linear design. The weaving technique is so precise that the rug is virtually identical on the top and bottom so it can be flipped for increased lifespan," says Elisabeth Lyons Becker, Design Director at MDI Interior Design. Alternatives like power-loomed, hand-knotted, or hand-tufted rugs are much softer and make for a plush underfoot feeling thanks to their high pile height. Modern-day kilim rugs don't all fall into the flatweave category, comfort-rich versions take their geometric motifs to denser pile heights to offer all of the styles of a traditional kilim to a softer surface.
For style leaders and design lovers.
Writer and design expert Faaizah Shah is the founder of The Interiors Consultancy. She has worked with designers such as Staffan Tollgard and design houses such as Sanderson to help them understand and communicate their narratives. She is known for crafting engaging stories and imaginative content, and understanding great decor from her years alongside some of the best creatives in the industry. She is also a contributor to Livingetc.