The 12 best grey patterned rugs that our editors love for their soothing coolness
Our team has found the 12 best grey patterned rugs to bring a subtle hint of a print to your decor, while not losing any of the elegance you're after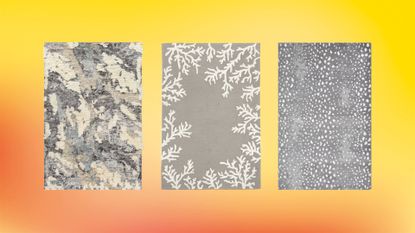 (Image credit: Lulu & Georgia, Pottery Barn & Kathy Kuo Home)
The Livingetc Newsletter
For style leaders and design lovers.
Thank you for signing up to LivingEtc. You will receive a verification email shortly.
There was a problem. Please refresh the page and try again.
Grey gets a bad rap for being boring, when, it can introduce sophistication and calm to a room. Pattern and gray go well together, and the stability of this cool-toned neutral makes it the ideal foundation for expressive and intricate prints. Gray mixes well with a library of color codes too. It doesn't matter if you pair it with the hottest of hues, like vermillion and tangerine, or zestier and fresher tones like lime and sky blue, gray always works.
For expert advice on your search to find the ultimate rug, you can start by exploring our best rugs. If you know gray is the one for you, we've combed through the best home décor stores to find you the best-gray patterned rugs, see our favorite finds below.
Best Grey Shag Patterned Rugs
Material: Wool
Size: 6' x 9'
Price: $2,445
This intricate design elevates the traditional shag to become one of the best minimalist rugs on the market. The subtle stripes would work well to open up surrounding spaces and add textures to interior schemes. Hand-knotted with 100% wool, this beauty is sure to stand the test of time too.
Material: Polypropylene
Size: 8' x 10'
Price: $366.69
Evoking some of the best Persian rugs, this is both elegant and inviting. And this cozy design from Target would make a great fit for more laid-back living rooms. Under a bed would be another great option for a warm welcome for your feet each morning. The pattern is softened by the shag and comfort isn't compromised either.
Material: Wool & Viscose
Size: 8' x 10'
Price: $1,998
One of the best grey rugs there is, it's akin to artwork. This contemporary shag rug design from Lulu & Georgia brings together tones of ivory, gray, steel blue, and charcoal to create a truly mesmerizing effect. The contrasting piles heighten the experience and add depth to this textured masterpiece. Proof in point that shag rugs can also pack a visual punch.
Best Grey Geometric Patterned Rugs
Material: Leather & Cotton
Size: 5' X 7'6"
Price: $468
This flatweave rug proves that gray can work with warm and earthy tones like terracotta and sand. One of the best geometric rugs, it showcases an interplay of proportion and color but still feels easy to pair other pieces with. Handwoven with leather and cotton, the material palette only adds to the appeal of this modern rug.
Material: Cowhide
Size: 60" x 96"
Price: $1,495
Easily one of the best patterned rugs on the market, this cowhide rug is a labor of love, each diamond of cowhide is individually hand-sewn together. The result is a rug that effortlessly bridges the natural and the contemporary. Imagined by Moll Gunderman for Linie Design, this clever design showcases both cool and warm tones of grey so it will be sure to add an optical effect to any scheme.
Material: Viscose
Size: 4' x 6'
Price: $1,024
Another geometric marvel, this 100% viscose rug will make for a soft foundation in many a living and bedroom design thanks to its deep pile height and lustrous sheen. You can lean into the darker grey pattern and create contrast with bolder hues of your choice or create a pared-back and open interior.
Best Grey Wool Patterned Rugs
Material: Wool & Cotton
Size: 5' x 8'
Price: $630
Take inspiration from the natural world with this grey animal print rug. Hand-knotted, this gun-metal grey rug feels balanced with its use of color and playful pattern. With a 1 inch pile height, it would make for an charming bedroom rug, one that looks and feels great.
Material: Wool
Size: 7'6" x 9'6"
Price: $599
Made to last, this 100% wool design presents a watercolor like finish with for this cool grey and stone blue patterned rug. Hand-tufted, the choice of material makes this a naturally durable design and yarn-dyed fibers mean that it won't fade with time so the grey is here to stay.
Best Grey Outdoor Patterned Rugs
1. Striking Gray Outdoor Rug
Material: Polypropylene
Size: 6'7" x 9'
Price: $152.99
Blue and gray make for another perfect match in this outdoor rug from Wayfair. The contrasting piles heights highlight the striking nature of this design. Equipped with stain-resistant properties, this rug works seamlessly outside and inside.
2. Coral Gray Outdoor Rug
Material: Polyester & Acrylic
Size: 7'6" x 9'6"
Price: $699
A pattern that takes you to the beach, this coral inspired outdoor rug from Pottery Barn showcases gray's superpower as a grounding neutral. The coral pattern is balanced by the gray backdrop, so it doesn't overwhelm you but draws you in.
3. Smart Gray Outdoor Rug
Material: Polypropylene
Size: 3' x 5'
Price: $71.60
Perfect for chic outdoor areas, this outdoor rug by Jill Zarin for Macy's creates an amazing geometric surface for open-air dining and living areas. Winning in both ways, the large-scale pattern is not only easy on the eyes but the pared-back gray and white color palette feels effortlessly modern too.
What color rug should I put on a grey carpet?
Grey's superpower lies in its versatility. A stable neutral, grey can work to balance bolder hues that you might be scared to see on their own. The best advice when deciding on what color rug to put on your grey carpet is, don't be afraid to take a risk.
"So many colors work well with grey - Ilove a bright yellow with grey for a fun pop," says rug expert and fiber artist, Rosemary Hallgarten. Your rug can be an opportunity to make more of statement with your interior, whether it's with a distinctive print, vibrant color, or abstract shape. When choosing your rug color, try and lean into shades that appeal to your personal taste, hold value to you and you would be happy to see as accents around the rest of room. This will help you find a hue that feels bespoke to you but also works with the other elements of your interior.
For style leaders and design lovers.
Writer and design expert Faaizah Shah is the founder of The Interiors Consultancy. She has worked with designers such as Staffan Tollgard and design houses such as Sanderson to help them understand and communicate their narratives. She is known for crafting engaging stories and imaginative content, and understanding great decor from her years alongside some of the best creatives in the industry. She is also a contributor to Livingetc.