'Like instant art for your floor!' To see the 12 best geometric rugs is to fall in love with them
The best geometric rugs are so full of design flair, a speedy way to suddenly make your room feel much more considered. Here's our edit of what to buy now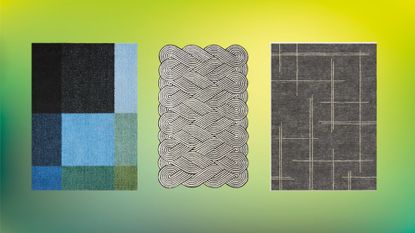 (Image credit: DWR, Anthropologie, Ruggable)
The Livingetc Newsletter
For style leaders and design lovers.
Thank you for signing up to LivingEtc. You will receive a verification email shortly.
There was a problem. Please refresh the page and try again.
Geometry, a pursuit started by the Ancient Greeks is rooted in the study of shapes, distance, and size. All of which seems entirely appropriate given its prevalence in the world of design and mathematics, geometric forms continue to be a source of inspiration for designers around the world across disciplines. Many praise geometry for its ability to find visual cheat codes that can help us soothe us or in turn, drive attention and focus. It's also a reason why geometric rugs are so popular; they are easy to use and offer us a peaceful and beautiful simplicity.
When searching for the best rug for you, it can be difficult to know where to begin and which style, material, and size to choose. To help get you started, we have curated our best rugs, along with expert advice there is a selection of our favorite finds.
If geometric styles appeal to you, then we can help. After searching through the best home décor stores, we have created our selection of the best geometric rugs, ranging from neutral and serene options to colorful and creative ones.
Best Geometric Neutral Rugs
Material: Wool & Cotton
Size: 10' x 14'
Price: $3,298
Bringing together elegance and comfort, this geometric design from Lulu & Georgia invites you to engage with its grid design. The use of wool and cotton makes it not only a hand-made heirloom but also offers you a warm and welcoming experience. I think it would be a great choice for bedrooms thanks to its soft and cozy feel.
Material: Wool & Cotton
Size: 5' x 8'
Price: $521
Hand-knotted and shaggy, this black and white rug from Kathy Kuo Home showcases a wonderful contrast between its woolly texture and clean geometric design. The classic color combination makes it easy to pair other items with and further enhance the distinctive pattern. I can see it being a great fit for more relaxed living rooms and modern bedrooms.
Material: Polyester
Size: 8' x 10'
Price: $489
A duskier and more dramatic option, this is one of the best grey rugs from Ruggable perfectly demonstrates that darker geometric rugs can still be neutral and inviting. The asymmetric cream lines add another layer of visual interest to this design. In practice, this feature would work well to direct your eye around the room and open up your space.
Best Geometric Colorful Rugs
Material: Wool
Size: 9' x 12'
Price: $1510
Made from 100% wool, this bold and bright design from Lulu & Georgia was designed by Sarah Sherman Samuel. It evokes the heat and romance of a sunset thanks to its vivid orange coloring and clever geometric design. What I love about this rug is its simplicity. Whether paired with complementing neutrals or bolder statements, it would be a great addition to any scheme.
2. Refreshing Geometric Rug
Material: Recycled Plastic Bottles & Polyester
Size: 24" x 34"
Price: $170
Designed by Oslo-based designer, Kristine Five Melvær, this colorful creation is a great way to welcome guests at the door with its complimentary tones of green, blue, and black for a contemporary and crisp effect. Green patterned rugs are trending, but this palette of adding blue too works just as well. It also fuses style and substance thanks to its durability and sustainable material palette featuring recycled plastic bottles and post-consumer use polyester.
Material: Wool
Size: 5' x 8'
Price: $698
Advocating the case for colorful interiors, this Anthropologie rug proves how geometric designs can make multi-colored rugs appear calmer and cleaner in their aesthetic. I especially love the stripe detail which not only showcases each color in this rainbow-like design more distinctively but also serves as a cheat sheet, highlighting which complementary tones to pair the rug with.
Best Geometric Outdoor Rugs
1. Freehand Sketch Outdoor Rug
Material: 100% recycled PET
Size: 5'7" x 7'x10"
Price: $3,830.00
A labour of love, this outdoor rug showcases incredible craft with its laborious embroidery-on-kilim technique. Designed by renown artist and designer, Jaime Hayon for Nani Marquina, it showcases a playfulness that you seldom see in outdoor rugs, thanks to its inclusion of freehand drawings and geometric shapes.
2. Indigo Denim Outdoor Rug
Material: 100% recycled PET
Size: 5" x 8"
Price: $610
Reminiscent of indigo-dyed denim, this weather-resistant and durable piece is suitable for indoor and outdoor use making it one of the best blue patterned rugs. The small-scale pattern adds freshness to the overall effect of the rug and makes it easy to pair other items with. Whatever the weather, rain or shine, this rug would help your outdoor scheme sing.
Material: Polyester and Polypropylene
Size: 8' x 10'
Price: $167
With its jute rug-like appearance and natural geometric pattern, this Wayfair outdoor rug can help finish your outdoor scheme with ease. Resistant to stains and mildew, this indoor/outdoor rug creates a foundation for outdoor living or dining areas but is also easy to maintain and take care of, which further enhances its appeal.
Best Geometric Contemporary Rugs
1. Rhythmic Contemporary Rug
Material: Wool
Size: 9' x 12'
Price: $1198
Subtle yet entrancing, the highlight of this geometric design from Lulu & Georgia is its textured detailing. Rhythmic in its design, this rug is a contemporary and calming creation that will work well in bedrooms because of its natural wool pile. Its simple and elegant color means it's an easy addition to schemes, merging well with a variety of design styles.
2. Striking Statement Rug
Material: Wool & Viscose
Size: 5' x 8'
Price: $698
A perfect example of geometric magic at play, this captivating rug makes for a striking statement. The pattern feels almost woven into the design with the curved edging emphasizing this effect further. Perfect for spaces where you want to make more of an impression, this hand-tufted wool rug would really shine in living and dining rooms. The black-and-white color palette also heightens its sense of drama.
Material: Polyester
Size: 5' x 7'
Price: $219
Think pink with this pastel geometric rug from Ruggable. The feminine hue is balanced by the strong forms created in this contemporary rug. Against a backdrop of neutral stone, the pink feels refreshing and relaxing in equal measure. Matched with bleached wooden furniture or neutral lighting, this rug would really come to life.
What shape rugs make a room look bigger?
Square, oval, rectangular, round or none of the above? Rugs like people, come in different shapes and sizes. When it comes to finding the right shape, there is no one size fits all so a tailor-made approach is necessary. "There is no one shape it really depends on the room, but you can create a sense of a larger room by maximizing the size of the rug," says rug expert and fiber artist, Rosemary Hallgarten. Taking Hallgarten's advice on board, looking to larger shapes to create a sense of escape can be helpful when looking to expand the size of your room with a rug.
Using the rug as your anchor, create moments with furniture, lighting, and accessories where people can engage as a group or individually. Start with the rug first, often people leave this decision until the end of the design process, and it can make it harder to make the most of your room. A great way to look at the rug is the same way we see the floor, the foundation of an interior. Get the size right by going big and opt for colors that reflect the light in your space to further enhance the effect. That way, when you are choosing your complementing pieces, they will naturally feel more cohesive with the rug and the room.
For style leaders and design lovers.
Writer and design expert Faaizah Shah is the founder of The Interiors Consultancy. She has worked with designers such as Staffan Tollgard and design houses such as Sanderson to help them understand and communicate their narratives. She is known for crafting engaging stories and imaginative content, and understanding great decor from her years alongside some of the best creatives in the industry. She is also a contributor to Livingetc.