Best dog beds: 6 stylish buys, fit enough for your living room
Buying the best dog bed for your canine friend is important – in both the comfort and looks department. Here are the top dog beds in 2021, as recommended by Livingetc...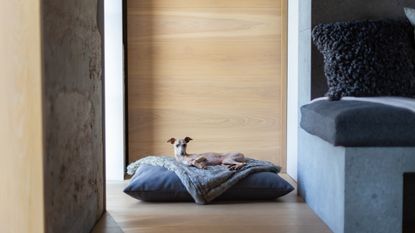 (Image credit: Charley Chau)
If you are searching for the best dog bed – so that your pup can snooze in style – then you've arrived in just the right place. We have asked our dogs (begrudgingly, of course) to try and test a range of beds – from sofas to mattresses and donut beds – so that you'll have peace of mind that you are buying something that's of the utmost comfort for your furry family member. Because we know that your pet's bed is an integral part of your decor – whether it be placed in your living room, bedroom or maybe they have their own room. And, we know that if they are uncomfortable, they'll definitely let us know with a night of no sleep. So it's important to get this one right.
Keep scrolling for six stylish dog bed options, from everywhere including Made, HiK9, Charley Chau, Sleepeeze and more.
Looking for something for humans? Head to our best sofa bed guide for recommendations for your guest bedroom.
The best dog beds for 2021
Why you can trust Livingetc Our expert reviewers spend hours testing and comparing products and services so you can choose the best for you. Find out more about how we test.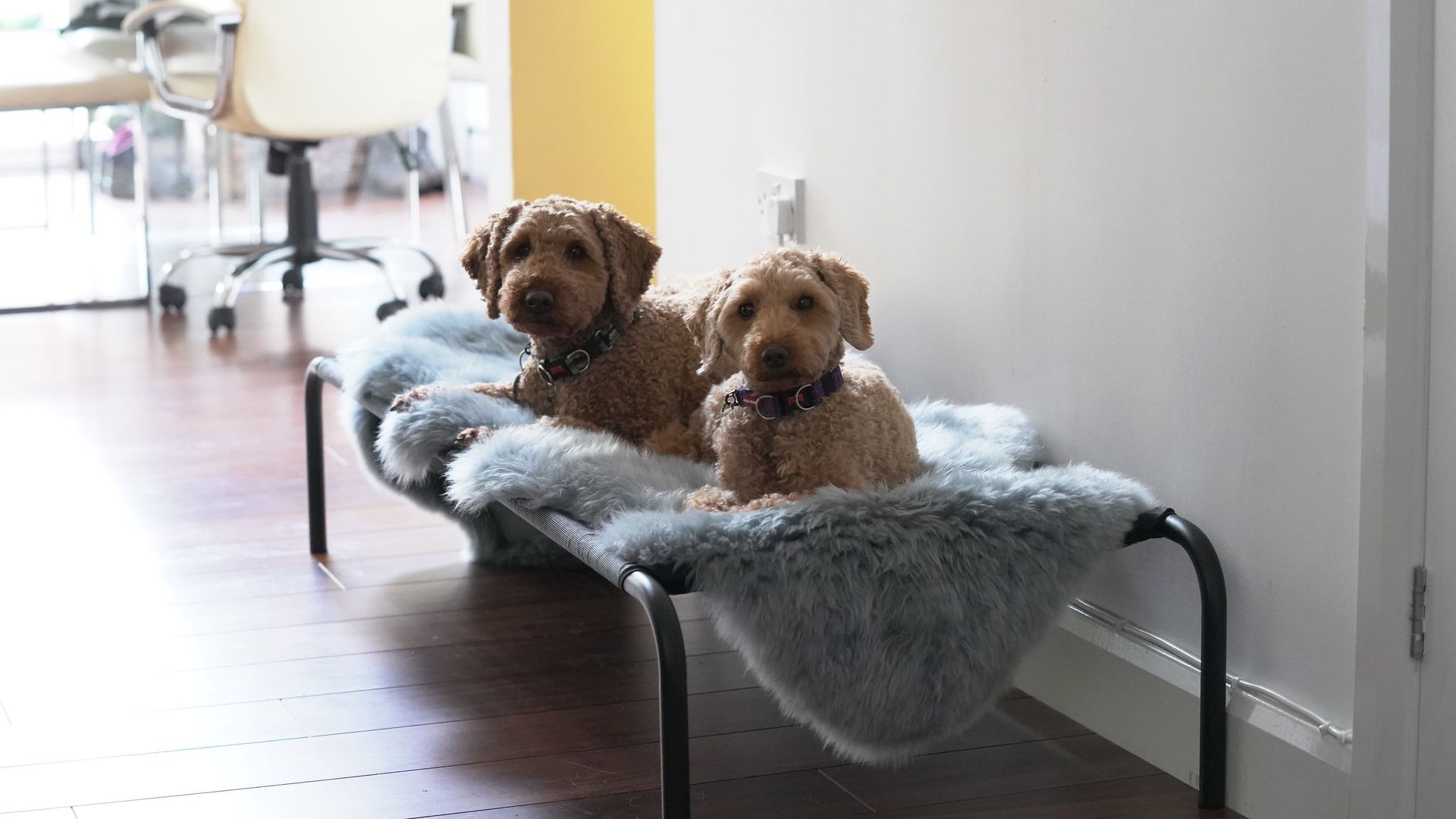 1. The Original Mesh Raised Pet Bed – HiK9
The best dog bed around
Specifications
Sizes: 6
Colours: 13
Materials: Mesh with metal frame
Washable?: Yes
Reasons to buy
+
Great size range
+
Huge colour range
+
Breathable
+
Raised bed
+
Great for using outdoors, too
+
Comes with a carry bag
If you are after a raised dog bed, perhaps for a pet who isn't too keen on the floor and likes to be elevated when they sleep, then you can't go wrong with anything from HiK9. These beds are made from breathable mesh with a metal frame for stability. Mesh allows dust and hair to fall through for a hygienic night's sleep, and also makes this bed breathable for hot sleepers or long haired dogs – this will also help regulate your pet's temperature. You can also buy a cover for this bed, to make it look slightly nicer in your home – see the HiK9 Grey Cosy Sleeve (opens in new tab).
About the brand
Based in Manchester, this family-run business specialises in versatile pet products that are practical, too. HiK9 also make a conscious effort to conserve the planet and energy, sourcing their packaging and products accordingly.
Materials
With a strong metal frame and four legs, this raised dog bed has a tough plastic coated polyester cover. This cover is breathable to prevent their bed from smelling.
Washable?
While the entire bed can't be popped in your machine due to its size and nature, you can take it on your garden and give it a wash down with your pressure washer. The mesh cover can be removed and washed in your machine
Size
This dog bed comes in six sizes, from XS to XXL. Their XS bed is 11cm high and is best for toy breeds such as Chihuahuas, Yorkshire Terriers, Pomeranians, Miniature Dachshunds – and even cats, rabbits and ferrets. The small size is 15cm high and is great for Pugs, Border Terriers, Jack Russells and more, while the medium size is a teeny bit bigger and sits at 18cm high – this bed is great for Whippets Border Collies, Springer Spaniels and more. The large bed is 21cm high and is ideal for Labradors. Weimaraners, Huskys, Boxers, Dalmatians and other large breeds. As for the XL bed that sits at 23cm high, choose this one for a Great Dane, Japanese Akita, St Bernard or any other sizeable dog. The XXL is 28cm from the floor, and it's best for huge breeds, or if you have two dogs that like to share their bed.
Click to shop all dog beds at HiK9 (opens in new tab).
2. Luxury Mattress Style Dog Bed – Charley Chau
The best dog bed for larger breeds
Specifications
Sizes: 4
Colours: 3
Materials: Inner: Hollow Fibre; Outer: Polycotton
Washable?: Yes
Reasons to buy
+
Washable and zippable cover
+
3 colours
+
Plush
Reasons to avoid
-
Not the best for small dogs who like to be cuddled
This luxurious dog bed is designed to be as comfortable for your dog as it is stylish in your home. Super cosy and plush, minimalist in design, practical in that it's easy to move around your home and clean, and it comes in four sizes and three colourways – to adapt to the breed of your dog, and to your decor style. We think this dog bed is a lovely option for larger breeds who love to stretch out and sink into their bed. When paired with the Charley Chau Faux Fur Dog Blanket (opens in new tab), this dog bed will have your pet snoring till morning.
About the brand
Charley Chau is an award-winning dog bedding designer with customers in 60 countries around the world. Everything they sell is made in England with love, it's unique and designed to exact specifications. Stylish and practical comes to mind.
Materials
With an insulating hollow fibre filling that's commonly used in human anti-allergy pillows, this mattress-style dog bed is plush enough that your dog will sink into it. In fact, it even has internal walls to provide the ultimate comfort. In order to keep the filling in place, there is a 60/40 polycotton outer. Atop this, you'll find the luxury weave cover – made from a 53/47 polycotton blend. This cover comes in three colours – Linen, Pewter or Slate.
Washable?
This entire pet bed is washable – including the inside. The outer cover boasts a zippable closure that's fully removable and machine washable, and the mattress inner can be popped in your machine, too. You can purchase waterproof mattress liners separately, should you need them, and spare bed covers are available, too.
Sizes
There are four sizes to choose from when considering this dog bed. Small measures 60cm by 50cm by 12cm, the medium size is 70cm by 55cm by 13cm, medium-plus is 80cm by 68cm by 15cm and large is 100cm by 80cm by 16cm. We had Daisy the Labradoodle try this out for us in a medium – along with the blanket – and she more than loves it.
(opens in new tab)
3. Small Velvet Dog Bed – Joules
The best dog bed for small dogs
Specifications
Sizes: 2
Colours: 2
Materials: Velvet
Washable?: Yes
Reasons to buy
+
Great for smaller breeds
+
Makes a statement
+
Completely machine washable
+
High walls
+
Reversible cushion
Reasons to avoid
-
Very chewable – not the best for puppies
This velvet dog bed is fit for a smaller dog – perhaps a Pug or a Border Terrier – and it'll be sure to make a statement. Buttoned detailing and the fact it is upholstered in a velvet fabric makes it look luxurious, and feel it, too. It's plush, with high walls and a reversible cushion. Not to mention the practicality behind it – it has a non-slip base and it's fully washable.
About the brand
Joules is a British clothing company that also sells homewares. Colour and fun is everything to do with their mission, and, as a brand, they are loved by British country lifestyles.
Materials
With extra warm padding, this firm bed is covered in soft velvet and it features buttoned detailing. It comes with an inner cushion that is reversible, and it's definitely warm enough. Choose from gold or grey, to suit your colour scheme at home.
Washable?
The good news is that this entire bed is washable – pop the entire thing into your machine at 30ºC to give it a refresh.
Size
This dog bed comes in two sizes – small and large. The small size measures 50cm in diameter, and the large is 70cm. We gave the smaller size to a Pug called Doug to test for us – and he loved it. Apart from the need to chew (he's a puppy!) but other than that, he loved having the sides to rest his head while napping.
(opens in new tab)
4. Luxury Tweed Donut Dog Bed – Mutts & Hounds
The best donut dog bed
Specifications
Sizes: 4
Colours: 6
Materials: 100% tweed, fibre filling
Washable?: Yes
Reasons to buy
+
Range of colours and patterns
+
Donut-style bed to cuddle your dog
+
Made with high-quality tweed and 100 per cent pure virgin wool
+
Toys, collars, leads, harnesses all available to match
There is no denying that the Luxury Tweed Donut Dog Bed by Mutts & Hounds is comfortable – you might actually struggle to get your pet out of it in the morning. This is because donut-style beds are renowned for being cosy, due to the fact they cuddle your pet with rounded, plush edges. Not just that, this donut bed comes in a range of styles – from oatmeal check to tweed grey. This dog bed is a stylish addition to any room in your home – whether you are buying a new bed to stay in your living room, or for your study, kitchen or elsewhere...
About the brand
Mutts & Hounds is a premium British lifestyle brand for dogs – and their owners –selling everything from coats to beds and accessories. Everything, including the beds, is made in Somerset.
Materials
The Donut Dog Bed is made using the highest quality tweed and 100 per cent pure virgin wool that has been dyed, spun and finished in the Outer Hebrides.
Washable?
Not just stylish but convenient, too, as you can wash this dog bed at 30 degrees – the entire thing, that is – to keep it looking fresh and smelling lovely.
Sizes
This bed comes in four sizes, so whether you have a sleepy Pug or a lazy Labrador, you'll find a size that suits. Choose from the smallest size which measures 50cm in diameter so is perfect for toy breeds, the medium size (60cm) is great for Corgis, Schnauzers and Terriers, the large option which measures 70cm is perfect for beagles and spaniels, and the extra large (80cm) is ideal for labradors and larger spaniels. Something for all breeds...
(opens in new tab)
5. Moby Pet Sofa – Made.com
The best dog sofa
Specifications
Sizes: 2
Colours: 2
Materials: 100% Polyester Velvet; Copper legs
Washable?: No
Reasons to buy
+
Stylish copper legs
+
Great for medium-size dogs
+
2 colours
+
2 sizes
Reasons to avoid
-
Professional cleaning only
If you are in search of a dog sofa, rather than a dog bed (per se) then this is the sofa of your pet's dreams. Thanks to the Moby, you can wave goodbye to that boring, worn-out pet bed currently in your living room. This curved sofa has a high back and arms, for their head to rest on, and it sits very low to the floor to make it easier for them to reach. It's upholstered in your choice of pink velvet or a mustard coloured fabric, with copper or wooden legs. It's ideal for medium-sized breeds, from Jack Russels to Beagles. You could even go the extra mile and match your pet bed to your sofa – the Moby is available in human size, too, in everything from armchairs (opens in new tab) to sofa beds (opens in new tab) and two-seaters (opens in new tab).
About the brand
Made.com are the creators behind the majority of designer furniture you see on Instagram, and they somehow manage to sell it at affordable prices. They work directly with independent designers, and hence the name, their furniture is MADE to last.
Materials
With stylish angled copper legs and a large padded seat, this pet sofa is upholstered in 100 per cent polyester velvet if you choose the pink sofa. When choosing the mustard option, it's 100 per cent polyester, but with angled rubberwood legs.
Washable?
Due to its nature – it's a sofa, not a bed, this option is not washable. You will be able to spot clean, as you would your human sofa, and spray with antibacterial to give it a clean. Something to bear in mind...
Sizes
There are two sizes to choose from when buying this dog sofa. There's the small to medium – measuring 28cm high, 72cm wide and 44cm in depth. The larger size is 28cm high also, but 112cm wide and 60cm deep.
(opens in new tab)
6. Flat Dog Bed – Sleepeeze
The best dog mattress
Specifications
Sizes: 3
Colours: 5
Materials : Memory foam
Washable?: Yes
Reasons to buy
+
Great for elderly dogs
+
Can be personalised
+
Made from odour-eliminating fabric
+
5 colourways
+
Washable at 60ºC
+
Thick to provide protection against the floor
Reasons to avoid
-
Not the best pick for dogs that like to be cuddled, or puppies
If you are in search of a dog mattress – perhaps for an older pet, one who suffers from aching joints or pains, or one who loves to snooze on your memory foam mattress – then this Sleepeeze one should be in your basket. It's so comfortable that we would actually sleep on it – your pet's paws will sink into the memory foam. This pet mattress is handmade in the UK, and you can personalise it with their name to make it extra special. Choose from five lovely colour options.
About the brand
Sleepeeze is a mattress brand (for humans!) that have been around to give a good night's sleep since 1924. Based in Kent and they make everything right here in the UK, rest assured that your pet bed will be as comfortable as your own bed when you buy from Sleepeeze.
Materials
This pet mattress is indeed made from an odour-eliminating fabric. It's also filled with memory foam. Comfortable? Tick. Hygenic? Tick.
Washable?
With a zippable cover that's removable and washable at 60ºC, this pet bed can be used by accident-prone pets, and you can give it a refresh every few weeks.
Sizes
This mattress comes in small, medium or large. All of which are 9cm thick to provide a comfortable base for your pet. The small is 75cm by 60cm, the medium 100cm by 79cm and the large is 125cm by 80cm. Doug the Pug loves his Sleepeeze Flat Bed in the size small – he uses it as a second bed when the floor is too hard, but he has had enough of napping in his several other super soft beds. He is also very small so finds it easy to get on and off this bed – he loves enjoying a bone on it.
What to consider when buying a dog bed?
Apart from the obvious – looks! – there are a few things to bear in mind when choosing a new dog bed for your favourite fluffy family member. Here's what they are:
Size
Lots of dog beds come in a range of sizes, to suit all pet breeds. It goes without saying that the bigger your dog, the bigger the bed you need, however, do bear in mind if your dog prefers to be cuddled (if so opt for a smaller bed) or if they tend to stretch out when it comes to nap time.
Colours
This one is totally for style reasons, but it'd be a smart idea to consider where your dog's new bed is going to live, and what type of colours you have in that room already. Some beds come in a range of colourways to make this decision easier.
Materials
This completely depends on your dog, and where they tend to knuckle down for a snooze. Some dogs will prefer a firmer bed – like the Sleepeeze Flat Dog Bed (opens in new tab) – while others would prefer a cushioned option, such as the Charley Chau Luxury Mattress Style Dog Bed (opens in new tab).
Washable?
A very important feature when it comes to buying a dog bed – whether it's washable. The majority of pet beds have removable covers that can be washed, and some can even be fully washed in your machine. Just bear in mind how long it'll take to dry as you won't want to leave your dog without their bed for too long.
Head to the RSPCA (opens in new tab) website for more advice when it comes to choosing the right dog bed for your pet.
Annie is Livingetc's Deputy Ecommerce Editor, and with a penchant for shopping and four years of ecommerce experience in her cart, she's more than equipped to advise when it comes to exactly the home decor you need to buy for your home. With a particular love of home fragrance, she always ensures her interiors emanate a luxurious scent to match her bijou residence. Annie and her team work to provide you with the best in-class content, whether you are searching for fluffy towels for your bathroom, clever drawer organizers for your kitchen or even a new dinnerware set for when guests come to dine. Whatever the season — or the latest trend — Annie and her team work to cover events for Livingetc, whether that be holidays or sale events, spanning Mother's Day to Black Friday.
Annie's knowledge has been sprawled across several homes websites, including Real Homes, Ideal Home, Homes & Gardens and Gardeningetc. She has also injected her ecommerce skills into the titles of Woman & Home and Country & Townhouse.
Annie lives in South East London in a sizeable two-bed apartment with her husband-to-be and her Pug called Doug. Annie's space, though surprisingly substantial, lacks storage space meaning that she's always on the lookout for things to buy to maximize space at home. She's currently redecorating this space whilst on a budget, and loves discovering a dupe or DIYing something to look triple its price tag. Next on her list of things to do at home are DIY crittal-style doors leading from her living room to her hallway.
You can follow Annie's home Instagram account at @athome.withannie.