The 12 best black and white rugs to help you make a graphic monochrome statement
The best black and white rugs chosen by the Livingetc team to to create a bold scheme and dynamic statement, adding a touch of monochrome magic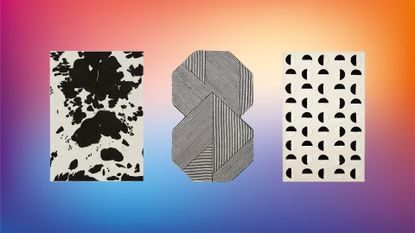 (Image credit: Ruggable & Anthropologie )
The Livingetc Newsletter
For style leaders and design lovers.
Thank you for signing up to LivingEtc. You will receive a verification email shortly.
There was a problem. Please refresh the page and try again.
Black and white are a match made in heaven. The secret to the success of these color codes lies in their ability to balance one another. Whilst white brings light and levity to schemes, black injects depth and drama into the room. Designers and homeowners alike can experiment with a variety of rug styles from clean geometric styles to organic animal prints. The pared-back nature of this color combination makes it the ideal option for a rug that works with the room but can also hold its own.
To help you in your search for the right rug, you can take a look at our best rugs feature. Advice from interior designers and rug experts offer their insight, alongside a curated list of our favorites. For those with their heart set on a black and white rug, we've searched and scoured through the best home décor stores to find you the very best selection.
Best Contemporary Black and White Rugs
Material: Viscose & Wool
Size: 5' x 8'
Price: $598
Lunar inspiration forms the basis for this tufted black and white rug. The viscose and wool make for a comforting pile and gentle luster. This almost geometric rug makes for a great conversation piece in the center of your scheme. Mirror the moon-like shape with your choice of furniture and accessories for an elevated and cohesive finish.
Material: Wool & Cotton
Size: 5' x 8'
Price: $499
Black waves dance across the white ground of this Urban Outfitters patterned rug. Not only do they add a sense of movement to this rug, but they also offer a more organic take on the traditional stripe. A cozy and classic design, this rug would make a great addition to more minimal spaces.
Material: Polyester
Size: 5' x 7'
Price: $279
A maze-like design comes to life with this Ruggable piece. Created in collaboration with interior designer, Jonathan Adler, this smart rug would seamlessly sit into modern interiors. The ivory ground and hand-drawn black pattern will last too, thanks to its machine-washable and stain-resistant nature.
Best Irregular Black and White Rugs
Material: Wool
Size: 2.5' x 9'
Price: $398
A structural and abstract shape gives this rug a distinctive personality. The striped pattern showcases a monochromatic black-and-white color palette and invokes a sense of drama. Look to a smaller size to give your interior an added layer of intrigue.
2. Fringe Contemporary Rug
Material: Wool, Polyester & Cotton
Size: 6' x 9'
Price: $598
A departure from traditional fringing, this contemporary black and white rug presents a juxtaposition of pattern and proportion. The color palette makes this design familiar and an easy addition to schemes but the shape and texture give it a point of difference.
Material: Jute
Size: 5' x 8'
Price: $498
An elegant scallop design, this black and white jute rug would be great for layering with larger pieces or on wall-to-wall carpets. It would work well to break up more linear shapes in a room and add a sense of personality and playfulness.
Best Outdoor Black and White Rugs
1. Cozy Black & White Rug
Material: Wool & Nylon
Size: 5' x 8'
Price: $629.95
Covered with a natural print that still feels modern, this cozy outdoor rug from Anthropologie would instantly add warmth to your interior. You can lean into the black and pair with bolder furniture and accessories or choose lighter accompaniments for a more neutral vibe.
Material: Polypropylene
Size: 5'3" x 8'
Price: $88.99
Inside or outside, this zebra print rug transports you to warmer climates and exotic lands far away. Polypropylene gives this design added durability, making a great fit for outdoor living and dining spaces or public spaces where foot traffic is high.
Material: Polyester
Size: 5' x 7'
Price: $349
Mirroring the impressive pattern of cow hides, this Ruggable design feels natural but still packs a punch. Match this rug with vibrant colors for a maximalist dream or evoke a more rustic touch by opting for lighter woods and natural fabrics.
Best Minimal Black and White Rugs
Material: Recycled Plastic
Size: 6' x 9'
Price: $159
Black and white don't just work indoors, they can add a touch of elegance outside too. As proven by the Urban Outfitters woven rug. Lean into its high contrast by choosing striking furniture and accessories and create a statement outdoor space.
Material: Polyester
Size: 5'7' x 7'10"
Price: $2,070
Hand-loomed, this flat weave rug uses the complimentary tones of black and white in a softer way thanks to the addition of a canvas like hue. The black fringe detail and white center band help add a sense of structure to the design that makes it stand out from the traditional outdoor rug.
3. Stone Black & White Outdoor Rug
Material: Polyester
Size: 5' x 7'
Price: $229
Slabs of black and ivory come together in this abstract outdoor rug. A great foundation for outdoor dining spaces, the black detailing is wonderfully organic and inviting. It works to pull you in and offers visual excitement in every corner.
Does a white rug make a room look bigger?
White encourages feelings of peace and expanse which makes it an ideal choice for making your room look and feel bigger. This is a sentiment that the experts agree with. "White will make a room look bigger as it reflects and bounce light around the room," says Eleanor Dykes of Riviere Rugs. When looking for your perfect white rug, look to durable and stain resistant materials like wool, polypropene, and polyester so your rug stays sparkling. You can accentuate the effect of the room by pairing the white rug with pared-back neutrals that further opens up the space.
For style leaders and design lovers.
Writer and design expert Faaizah Shah is the founder of The Interiors Consultancy. She has worked with designers such as Staffan Tollgard and design houses such as Sanderson to help them understand and communicate their narratives. She is known for crafting engaging stories and imaginative content, and understanding great decor from her years alongside some of the best creatives in the industry. She is also a contributor to Livingetc.